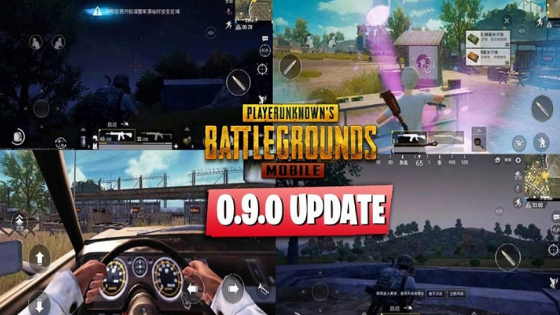 PUBG Mobile Update 0.9.0 Bring Night Mode, Halloween Theme on 25 October
PUBG mobile has ready to give a special gift to it fans in this festival week on 25 October with PUBG mobile update 0.9.0.
PlayUnkown BattleGround corporation has ready to launch update 0.9.0 for the immensely famous PUBG mobile. This update has a big list of changes including the night mode for the Erangel map, a new spectator mode, Halloween special themed addition, weapons improvements, performance, customizable outfits and redesigned royal pass missions page. This will be the biggest update for next few weeks for mobile user. Let's discuss in detail:
According to the official statement posted by PUBG mobile developer Tancent games that the Erangle maps will now optional between day and night in a classic mode, it means the night mode is finally coming with this update which also include night vision Goggles to improve your vision. New buildings, covers and more trees are also coming in Erangle map.
In new spectator mode in PUBG mobile, user will allow to see their opponents after they are killed.
PUBG mobile has special update for Halloween fans, Spawn Island will come with themed makeover that includes pumpkins and candies, you can kill your enemies by Hellfire-AKM turn into scarecrows and scary face will appear after a grenade goes off. After update players will get main menu with Halloween theme and background music.
You will get some new weapons such as grenades and guns with new vehicles including the Rony pick-up trucks, it allows to seat 2 people in front and 2 in the back. For increasing the hype some cars will come with music player.
With the help of new customizable outfits features in-app purchase PUBG mobile player allow to choose colors and logos before purchasing.\
With redesigned royal pass page make more convenient to PUBG mobile user to view the weekly mission and also collect weekly mission rewards.
Matchmaking features allow you to get paired with a player who speaks your language. It will excite you more and make battle easier and faster.
Now with this update players are allows to book their room in advance which allows them to set their weapon, attachment, play zone shrink and other parameters.
Now the leaders of the group can participate in crew challenge tournament. And the winning team will receive rewards and plying this tournament will also help to earn challenge coin, which is a new currency that come with this update.
PUBG mobile 0.9.0 update will resolves the performance issue "Lagging issues when player encounter other player from afar, which some player believe that it might be resolved for the render leg that many complained with PUBG mobile update 0.8.0.
Already there is some leaked version of this update is came but we suggest have some patience and wait for till 25 October for the official update to roll out.