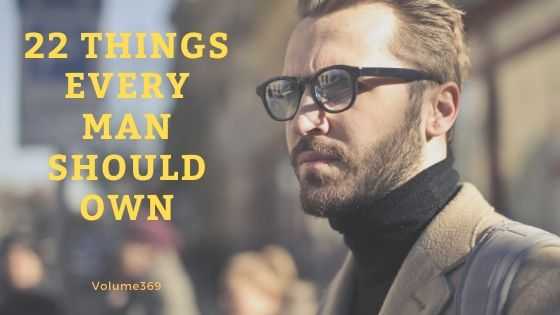 22 Things Every Man Should Own
What makes you The Man? Who is ready for every situation, good or bad?
Now you're grown up and most of all you have started doing things by yourself. So you need a list of necessities and that's where we come in. We have listed 22 things which every man should own.
There are thousands of things I could list here but I choose only the best 22 things every man should own:
Things Every Man Should Own
1. A Nice Watch
You can consider a watch as the grandfather of all accessories!!!
You can check time in your cell phone or laptop but a nice wristwatch says lots about your taste. A watch can be the first item every gentleman should own. So go and buy the best watch within your budget.
2. Nice pair of Sunglasses
A nice pair of sunglasses compliments your face!!!
A good pair of sunglasses is something that never goes out of fashion and it should be your go-to for everything else. So, having a pair of sunglasses that are well crafted and stylish with each outfit is only one of those parts of being a gentleman.
They don't need to be too expensive but do need to made from a material that won't break easily.
3. Real Storage Units
While it probably won't sound sexy, having your stuff cleanly places in the respective box rather carelessly tossed into the void underneath your bed is a life changer. This makes you feel more confident and lightly because how can be man sure of himself if he's not even sure where his black belt is?
4. Skincare Products
Most men don't care about their skin, they just wash their face and don't moisturize is well. But a well glowing or moisturizing skin will reflect your personality so take the 2 minutes to properly cleanse your face. It makes you someone who will age like some fine-ass vine.
HANDPICKED RELATED CONTENT:
5. A book Collection
American film director John Waters said, "If you go home with someone and they don't have books, don't f**k them." Books on your rack speak so much about you. Just as you keep an eye on the fitness and health of your body, you should perform regular maintenance on your mind by perusing good books.
Go with which speak to your interest rather than popular but do read and endeavor to fan out now and again.
6. Signature Scent
A signature scent is something which separates a man from the boys. Having a mark scent is a piece of building the true gentleman thought with the normal people you meet. It doesn't need to be flashy or bold.
You can choose which speaks mildly of lemons, herbs…Why would you ignore an attire sense with regards to style claim? Yah, you wouldn't.
7. Grooming Kit
Pure gentlemen take care of everything about hygiene. Keeping your nail well trimmed and clean is actually a bit boring as well as important for a man. A small grooming kit includes nail clippers, scissors, tweezers, and a nail file.
8. A Good Pen
Where the world filled with chats, tweets, emojis, and snaps than a good classy pen makes a real statement. It needs to be stylish or expensive but to be nice with a simple metal pen that takes refills as opposed to getting hurled out when it's vacant.
9. A Tailored Suit
A suit that actually fits, that's all!!!
Every man should have a nice looking suit which fits perfectly. This can be for weddings, parties or any formal occasion. By the age of 25, you're bound to begin getting wedding invitations. So rather than renting, invest in one nice looking suit.
10. A good sense of Humor
When it comes to being a pure gentleman than having a good sense of humor can't be overlooked. You should know how to find a positive aspect of any situation and allowing others to be who they are.
11. A Passport
A passport is one of the things which you should have; it is just like the social security card. It's really one of the marks of being a real gentleman.
Now you're grown up and you never know when you may leave for abroad for pleasure or business and the renewal process takes so much time. So it's always good to have a passport.
12. Journal
Every man should keep a journal to keep record of important events, practicing your writing skill. I know we have Google keep but you remember more when you write by your own hand. Imagine how amazing it would be for a new generation to stumble upon your journal they'll get a glimpse of who were you.
13. Shaving Kit
Shaving plays a big part in your daily life, a cleaner shave and healthier skin is very important for every man. I know modern razors are full proof but you should know how to shave the old school way.
14. Leather Dress Shoes
You may have many pairs of shoes in your wardrobe like loafers, sneakers, sports and many more but without proper leather dress shoes your wardrobe is incomplete. You should have proper leather dress shoes that match with your tailored suits, formal attire or dress casually for an evening out.
15. A Bag
A do-everything bag can helps many times like while traveling for a small trip, for office use and many more.
16. A good Luggage bag
Above we talk about the bag now let's talk about luggage. If you're travel lover than the right luggage is must. A great luggage can last for years.
17. A good Chef Knife
In today's era when eating fast food became a habit of every man that is why you should know how to cook. And that's why you need a good chef knife that helps you to maximize utility without taking up space. A good knife is an investment, a high-quality blade can be expensive but it last for years and many knives come with warranties.
18. A good Umbrella
A modern gentleman should always be ready for every situation. Some items are must-own for men that will prove their value when circumstances call for it and umbrella is one of them. A good umbrella can save you from unpredictable weather. Don't go with cheaper ones which made of plastic and other materials go with a good one with wooden handle.
19. A Leather Belt
A good leather belt is something that every man should own. A good belt keeps you pant securely in place and stands out a stylish accessory with your attire, especially with your tailored suit. One or two belts will add more quality in your wardrobe and last for years.
20. Pocket Knife
Rather than full-size knife a pocket knife is mush have essentials for every man. It helps you to get out from the tricky situation like self-defence and you can slice apple, open a bottle, scale a fish and many more.
21. Headphones
In today's world when everyone minds their own business then you should go with a quality headphone because everyone has a different musical taste. Whether you're at home or office a good headphone allows you to enjoy your favorite music without bothering other people.
22. A Lighter
A classic lighter should be part of you even you don't smoke. Lighter is not for only smoking but can be handy during starting a campfire, keeping yourself warm and many survival situations when you badly need to start a fire.
Apart from this list, there are some more things which you should have:
A leather wallet
Iron & Ironing board
Shoe polish
A bicycle
Dress shirts
A towel collection
Frequently asked questions:
So here is the list of 11 things every man should own. I hope you like my list, if you think anything is missing in this list then let us in the below comment section.