Top 7 Best Beaches in Spain – Locations And Timing
A country with diverse geography, and multicultural people, Spain is one of the most sought after places to enjoy with family and friends. Occupying about 85% of the Iberian Peninsula, the beaches are contemporary and yet have retained their natural charm.
With flawless sand and white pebbles, the beaches here are striking. Just like you will fall in love with the Spanish food, you will not be able to resist getting arrested with the charismatic beaches. Let us take a look at some of the resplendent beaches in Spain where you can plan a holiday and feel rejuvenated.

Check out: Top 25 Beaches in the World
1. La Concha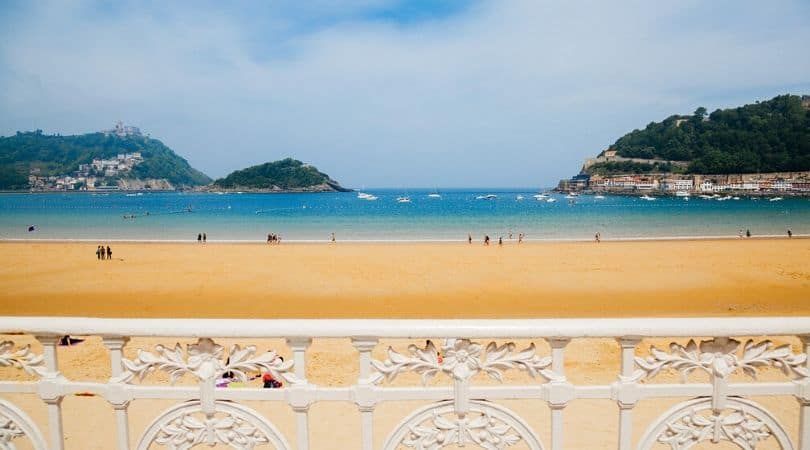 The beach is symbolic because of its shell shape and is the most visited beach as it always has room to accommodate people. The shoreline is also rather long (1350 meters with an average width of 40 meters) so you can invariably look for a quiet space here at the beach.
A lot of the urban population comes to the beach to enjoy their maritime. You can enjoy your time here by walking on the soft white sand or indulging in water sports.
You can opt for Kayaking on the nearby islands, or paddling at the beach. The beach often remains calm throughout the year and hence, is apt for swimming.
Location:
Located in the country Basque (in Northern Spain), in San Sebastian at the bay of La Concha.
Famous For:
The beach is famous for its location, and its shape. The name of the beach itself explains the shape, as La Concha in Spanish means Crescent Shaped. The beach is surrounded by green mountains and is often referred to as the best beaches in not just Spain, but in Europe too.
Suggested Tour: From Bilbao: San Sebastian and Biarritz Full Day Tour
Entry Fee:
There are no entry charges to the beach and you can enjoy the walk for free.
Best Time To Visit:
Summers are the best months to visit the beach. Months of May, June, July, and September are the best months when the temperatures are perfect ranging between 20 degrees to 25 degrees.
How To Reach:
From the Airport of San Sebastian, you can either take a bus, train, taxi, Car or a town car. For a bus from the airport, you need to take bus number N-638 Amute and it will take about 21 minutes.
The train is rather cheap and takes approximately 35 minutes to reach Donostia from Amara; the price ranges between 170-240 INR Per person. the best way is to explore, is to drive on your own, for which you need to have a license, and it is rather pocket friendly, ranging between 190 -280 INR for the car.
Taxis are the most expensive, and takes less than 20 minutes; ranging between 2700-3200 INR.
Where To Stay:
Pension Artea Narrika, Talaia HT, Artea, Pension Aristizabal Guesthouse are some of the places near the beach and provide amenities needed for a perfect urban life.
Also read: Top 7 Beaches of Australia
2. Playa De Silencio: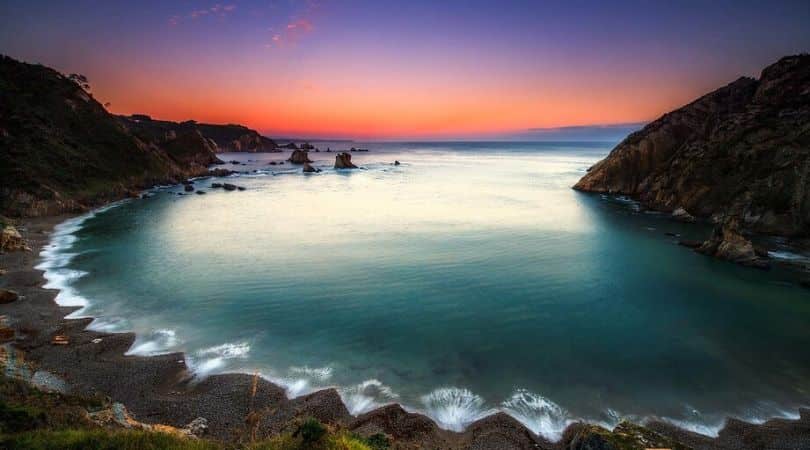 Rocky boundaries around this beach are a natural creation of the rocks. These rocks were perhaps designed by the Almighty to prevent the divinity of the sand and the waters here.
It is for this reason why the beach is also called 'The beach of Silence'. The waters here may not be considered best for a dip, but a walk along the shoreline is an unmatched experience.
You may click lots of pictures and enjoy the scenic beauty while you bask in the glory of the golden light emitted by the Sun.
Location:
N-632, 33157 Castañeras, Asturias, Asturias, Spain.
Famous For:
The silver sands and the natural rock formations under the water.
Entry Fee:
Free entry and free parking are available. You will be happy to know that the entire area has free Wifi and Internet also.
Best Time To Visit:
The ideal weather to visit this beach is between October to June. The weather during this time is rather pleasant. If you are looking to visit in the hot months, then July to September are ideal months when the humidity and sun both are at their peak.
How To Reach:
You need to reach the village of Castaneras in Asturias. From here you can either take a car or walk to the cliff and then climb down to the beach.
Where To Stay:
Hotel El Fornon, Casa Rural Ofelia, Hotel Casa Vieja del Sastre, and Apartamentos Pumarin are all within the range of 5 km. making the beach accessible on foot.
3. Playa De la Ribera, Sitges: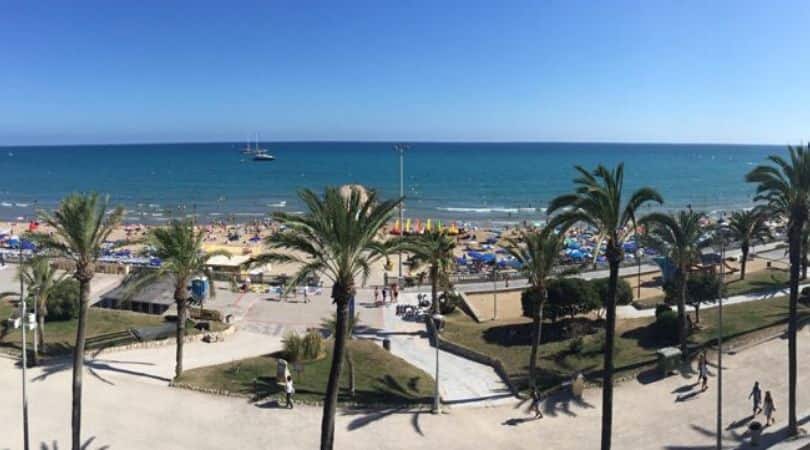 Tailor-made for holidays and getaways, this beach is a delight for urban dwellers. They will feel familiar with the buildings around the beach and would absolutely love it. It is an incredible place for people who like sandy beaches and wish to soak themselves up in the sun.
The place is famous for those who love to party and enjoy the bars and the incredible places to eat. You will thoroughly enjoy the feel and vibrant vibes around the beach and the city too.
Check out – 50 Best Places Visit in 2020
Location:
This is a beach of Ceuta, in Sitges.
Famous For:
The beach is known for sunbathing, and swimming and is very popular with Gay Holiday makers. The place is rather occupied on the weekdays by the party-goers.
Entry Fee:
Absolutely free to enjoy the sun at the beach.
Best Time To Visit:
Any time of the year is perfect for a visit to this beach.
How To Reach:
Barcelona is the closest airport to Sitges. So you need to take a train from Barcelona to Sitges. Trains from Barcelona run approximately every twenty minutes. The train journey lasts 46 minutes from Estació de França, 37 minutes from Passeig de Gràcia and 30 minutes from Estació Sants to reach Sitges.
Where To Stay:
Parador De Ceuta, Ceuta Puerta De África, Hotel La Muralla, Sofitel Tamuda Bay Beach and spa is the place in the vicinity of less than 5 km and offer pools and spas as well.
Check out: 10 best places to stay near playa de la Ribera beach
4. Cala Agulla: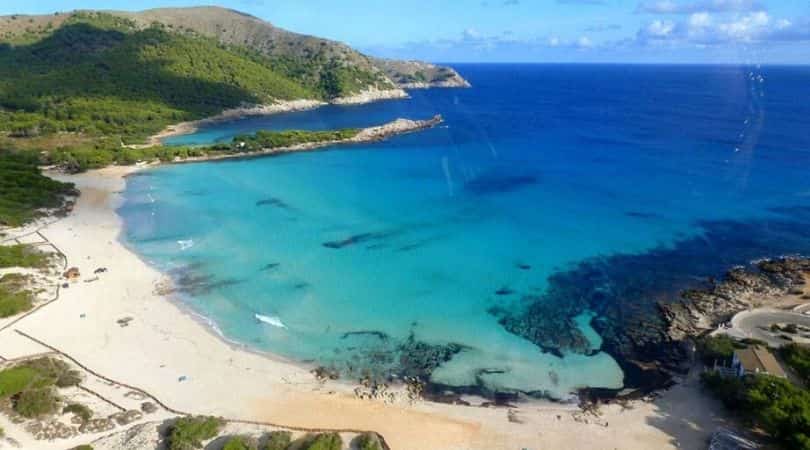 With all the facets of nature in one place, the place will indeed be the brightest and the most beautiful one. Cala Agulla is one such beach that has mountains in the backdrop, lush green trees in the surrounding, and of course a lot of sand and ultramarine waters.
The beach is a unique blend of low civilization, yet all the requisites for the tourists. This indeed makes it worthwhile for the tourists as they receive what they want and yet are in a state of tranquility.
Location:
Carrer d'es Niu de s'Àguila, 07659 Cala Figuera, Islas Baleares, Spain. It is located on the northeastern coast of Mallorca.
Famous For:
The beach is famous for being a blue flag beach. Certification from the Foundation of Environmental Education is given to those beaches that meet the standards set by them. It is also famous for water sports like paddle boats, kayaks, and SUP (Standup Paddleboarding).
Entry Fee:
The car parking here is charged and the entry to the beach is free. If you wish to take umbrellas and sunbeds along with a locker to keep some valuables, you need to pay Eur 7,90 per person.
Best Time To Visit:
June To September are the best months, but the crowd during these months and even after these is quite high.
How To Reach:
If you are traveling from Capidera, you may hire a taxi that is available aplenty along with tour buses which are rather cheap. You can also arrive by boat as there are several moorings available.
If you are traveling from Palma you can hire a taxi that costs 100€ – 120€ and takes approximately 1hour. Also, from Palma, there is a direct bus that departs from Estació Intermodal and is available Monday to Friday.
Where To Stay:
Hotel Bella Playa & Spa, Hotel THB Cala Lliteras, Green Garden Aparthotel, and Hotel Diamant Mallorca are some places within the vicinity where you can stay and enjoy the visit to the beach as long as you are holidaying in the city.
5. Playa De Ses Illetes: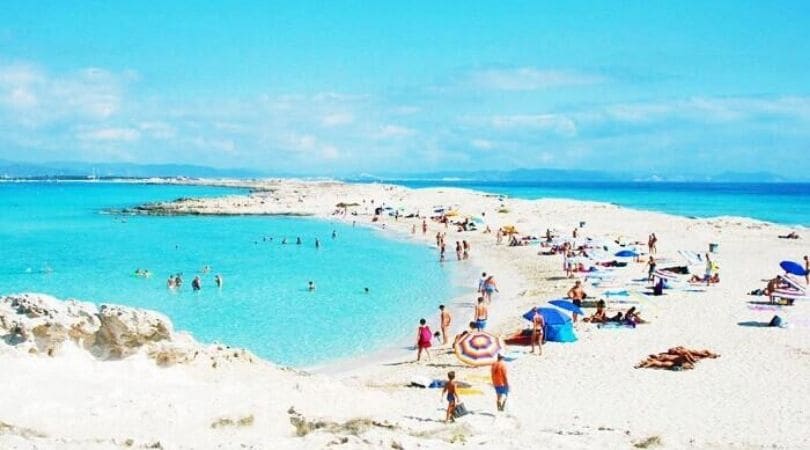 The Caribbean in the European Continent', is the popular reference to the beach, primarily because of the turquoise waters it is bestowed with. The beach is the most visited beach because of the presence of restaurants and bars lined on the beach.
One can enjoy the food and gulp down the amazing drinks available to enjoy the beach even more. The golden sand and the waters together make it look absolutely stunning.
Location:
It is located in Formentera Island on the Peninsula of Es Trucadors in Spain.
Famous For:
The beach is famous for clear waters and coral sand that will bewitch you.
Entry Fee:
The beach is maintained by a nature reserve and hence admission fee is charged according to how you are traveling to the beach.
If you are traveling by car, you need to pay 6 Euros, by scooter the charges would be 4 Euros. If you are on foot, then there is no charge and you can enter the beach free.
Best Time To Visit:
Although it is suitable for a visit the entire year, if you wish to avoid crowds you can come to the beach in June or in September. February is also good but is rather crowded.
How To Reach:
Formentera Island is accessible from Ibiza by boat; however, if you go on foot, you can save some money. To please yourself, you can opt for Catamaran Cruise and enjoy the luxury.
Where To Stay:
Apartamentos Sabina Playa, Paraiso De Los Pinos, Hotel Casbah Formentera and Bungalows Paraiso de Los Pinos are beautiful places to stay within the range of 5 km.
6. Cala Comte: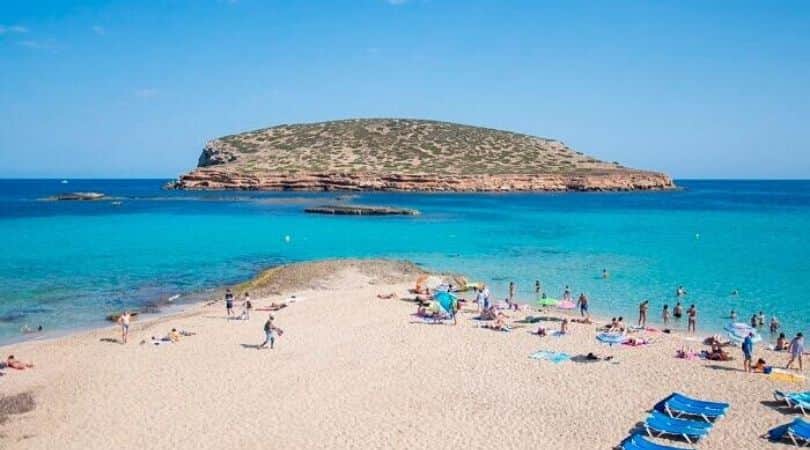 Enjoy this scenic beach and its vibes that would leave you wanting for more exploration. Some amazing islands on the beach can be spotted near Ibiza's coastline, enhancing its beauty and traversing the island.
In summers, you must come early in the morning to sprawl in the sand and feel the earth and the sun hitting your body. You will thoroughly enjoy the adjacent restaurant after a long sunny day at the beach.
Also Read: Top 9 Beaches in Bali
Location:
07830 Sant Josep de sa Talaia, Balearic Islands, Spain.
Famous For:
It is famous for two significant coves. One of which has a rocky and craggy coastline and the other is backed by a scenic sunset.
Entry Fee:
No charges are levied to enter this beautiful beach.
Best Time To Visit:
The best time to visit this amazing beach is from June to September. Among these months, you will find July and August most crowded. In October, the beach is at its best and you can enjoy without much of a crowd as well.
How To Reach:
Opt for a taxi or self-driven car, You can also take a bus or ferry if you are visiting in Summers. Ferries depart regularly from San Antonio harbor and various hotels along San Antonio Bay. The bus can be caught at the bus station in San Antonio or along the bay road
Where To Stay:
Hotel Playa Sol Cala Tarida, 7 Pines Kempinski Ibiza, Apartments Badia De Sant Antoni, Apartamentos San Antonio Beach are wonderful places to stay close to the beach and enjoy the breeze.
7. Es Trenc Beach Mallorca: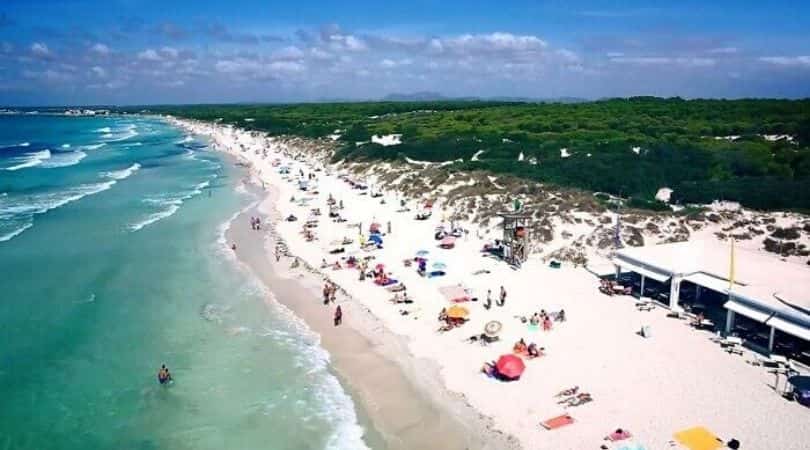 The pertinent beach that has all the elements of nature and some urban elements together make this beach very popular. Equipped with lifeguards, and wheelchair accessibility, makes the beach popular among older people, families, and couples as well.
If you are a bird lover, you must visit, as you will get to see varied species of birds and will thoroughly enjoy the tweets and other sounds with the cold breeze wafting into your senses.
The beach does not have many eating joints though, you can get some extra food and water along if you have kids with you. You may buy some walker street food though! Enjoy nature and its elements at this stunning beach.
Location:
Es Trenc-Salobrar de Campos, Mallorca, Spain.
Famous For:
Azure and clear waters along with granulated sand are the highlights of this beach and which is why most people visit this awesome place.
Entry Fee:
There is no charge to enter the beach and there are more than one way to enter the beach.
Best Time To Visit:
April to September are the best times to visit this amazing beach as the time is perfect for beach holidays. The weather during this time is warm.
How To Reach:
From Palma, you can reach Es Trenc by bus which takes approximately one and a half hours. The cost of the bus ranges between 1500 to 1900 INR. Alternatively, you can take a taxi, the price of which can be 5500 to 6500 INR. You may self drive as well, which is far more cheap ranging between 500 to 600 INR.
Where To Stay:
Blau Colonia Sant Jordi Resort & Spa, Universal Hotel Cabo Blanco, Aparthotel & Hotel Isla De Cabrera and Fontsanta Hotel and a few more places are available near the beach within the 5 km vicinity.
Check out – Top 25 Honeymoon Destinations in the World
These beaches make it more accessible and desirable for travelers to be here and soak up the sun. You will be thrilled and tanned after this exciting beach holiday in Spain. Wait no more, and pack your bags to get going to the beaches where the agglomeration would be awed by beautiful coastlines and sands.
Some strange and steep entrances, some accessible and easy ones, all will bring to you a package full of adventure and rejuvenation and a pleasant respite from the daily chores.