Top 15 Beaches in Greece (With Photos and Stay)
Mediterranean climate with shorelines everywhere is how you can define your beach holiday in Greece. Besides the Greek Looks of men and women, it is also famous for the beauty of its beaches. The beaches define Greece and make it a hot spot for water lovers to be here during the summer season.
You will enjoy the free-spirited people, and the temperatures to the core and would wish to be back each year during the summers to enjoy every bit of the beach holiday:
Check out – Top 25 Beaches in the World
Elafonisi, Crete: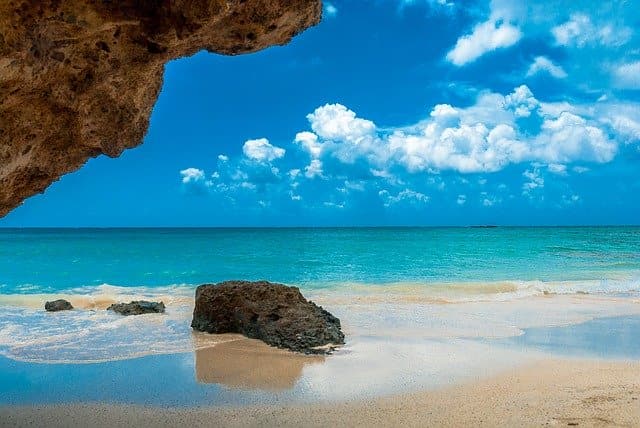 Soft sand that is pink neat the shoreline is something to look forward to at this amazing beach in Greece. The beach is a natural reserve and hence attracts lots of people.
This beach is pretty much crowded during early autumn. So to avoid crowds you can visit this beach as early as possible and enjoy the sand and the warm waters that are the significant attribute of this beautiful beach.
Also Read – Top 10 Beach Outfits Ideas for Men/Women
Location: Located on the West coast of Greece's Largest island, the beach lies in the southwestern side of Crete and about 75 kilometers from the town of Chania.
Famous For: A tint of pink is reflective on the sand of this beach and this is a distinctive feature of the beach that happens due to coral being broken down naturally.
Best Time To Visit: Early Autumn is the best time to visit this beach, that is September and October. The waters during this time are warm and favorable for a dip.
How To Reach: The island is within walking distance from the mainland. If you are in Chania, you can walk and reach here. A daily bus service also runs, you can take the daily bus service from Chania city also. Other alternatives are boat and car.
Things-To-Do: If you visit in November, the water will be cold, but you will be able to explore nature reserve on this island. Near this beach, you can also visit the Aspri Limni Beach, Surf island, and Elafonisi Kite Club.
Where To Stay: The closest place to stay near this beach is within the radius of 5km. Panorama, Room Kochilas Elafonisi, Xasteria, and Elafonisi Resort by Kalomirakis Family are some of the places where you can stay and enjoy your trip.
Suggested Tour: From Rethymno: Day Trip to Elafonisi Island
Glyfada, Corfu: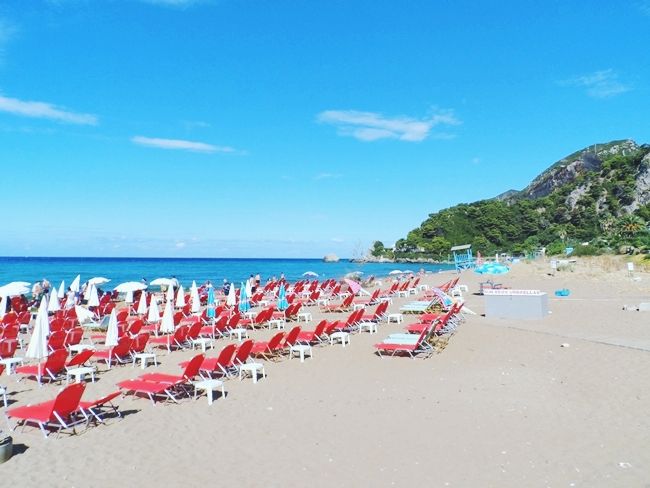 Located on the island of Corfu, the beach is brimming with people. Being the first drop if you are traveling by tram, most people come here to enjoy the parties that keep the spirit of the beach alive.
If you coming with family, you will enjoy the umbrellas, the sunbirds, and the proximity of plush eating joints. If you like to enjoy the quietness, you can move towards the northern end of the beach where it is far quieter.
Check out – Top 7 Beaches in Europe
Location: The beach is located in South Athens, Diadochou Pavlou 3, Glifada.
Famous For: The island is famous for Blue flags and famous seafood restaurants.
Best time to visit: April and May are the best months to visit this beach. These months are most likely to find a lot of tourists. Alternatively, if you like cold waves, you can travel between September to November.
How to Reach: The Corfu island on which the beach is located can be accessed by many ferries. Numerous ports are around. The closest city is Igoumenitsa. From here a ferry departs each day and takes about 1 to 2 hours to reach. You can also take a ferry from Patra which takes about 7 hours to reach Corfu and departs daily.
Things to Do: Have a close look at the Sea Turtle Rescue Centre, you can also visit the Saints Constantine and Helen Cathedral along with enjoying shorelines of Astir and Asteras Beach.
Where to Stay: Sunrock Corfu, Corfu Glyfada Beach Menigos Villas & Apartments.
Myrtos, Kefalonia: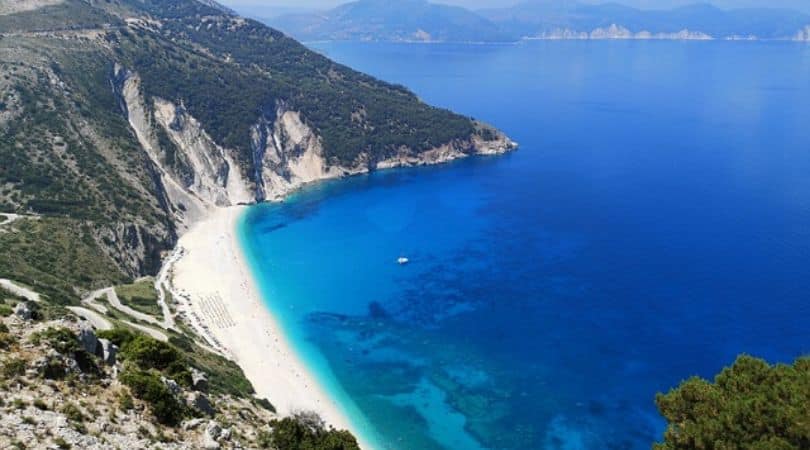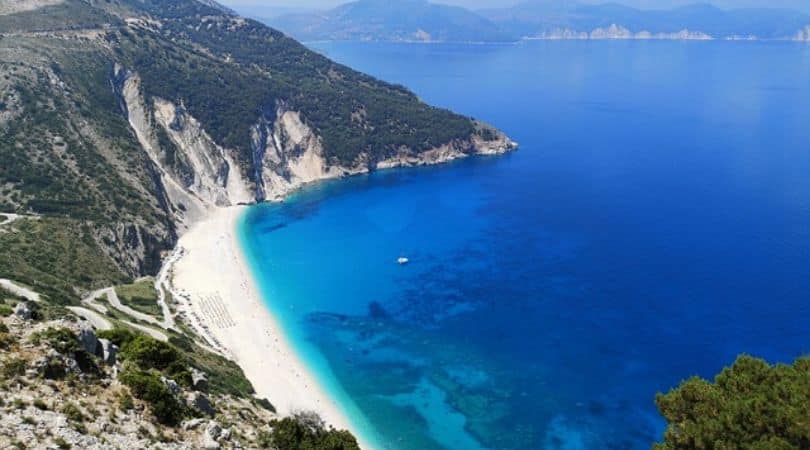 One of the best beaches not on the island of Kefalonia, but in entire Greece, this beach is an epitome of a beautiful sunset. With an amazing underground lake and caves around, you will thoroughly enjoy your time at this Mediterranean beach.
Check out – Top 50 Travel Destinations in the World
Location: Myrtos Beach is in the region of Pylaros, in the north-west of Kefalonia island, in the Ionian Sea of Greece. Myrtos beach lies between the feet of two mountains, Agia Dynati and Kalon Oros.
Famous For: It is described as the most dramatic beaches in Greece and is famous for a mile and a half long arc with white pebbles. This was also captured in the film Captain Corelli's Mandolin.
Best time to visit: Summer months are the best to visit this beach. It is open between 10:a.m. to 2:00 p.m. and is fantastic to soak the noon sun.
How to Reach: You can opt to reach the beach from Kefalonia by bus or by taxi. The bus takes 2h 35 minutes and the taxi takes approximately 40 minutes to reach the beach. You can also drive on your own to the beach as it has ample parking.   
Things to Do: Around the beach are many other beaches, Antisamos Beach, Fiscardo Harbor are some that you will admire. You may also visit Melissani Cave and the Monastery of Agios Gerasimos.
Where to Stay: Myrtos View Apartment, Forest Villas Kefalonia, Amarianos Villas, Studios, Vrionis Panoramic Sunset are placed around the beach.
Anthony Quinn Bay, Rhodes: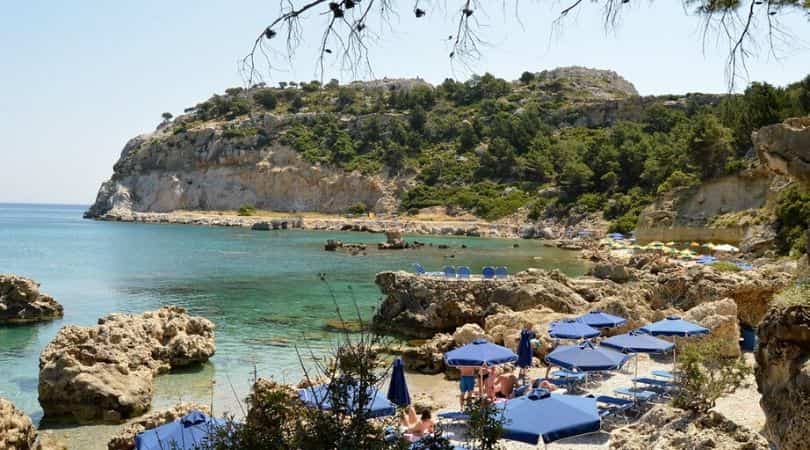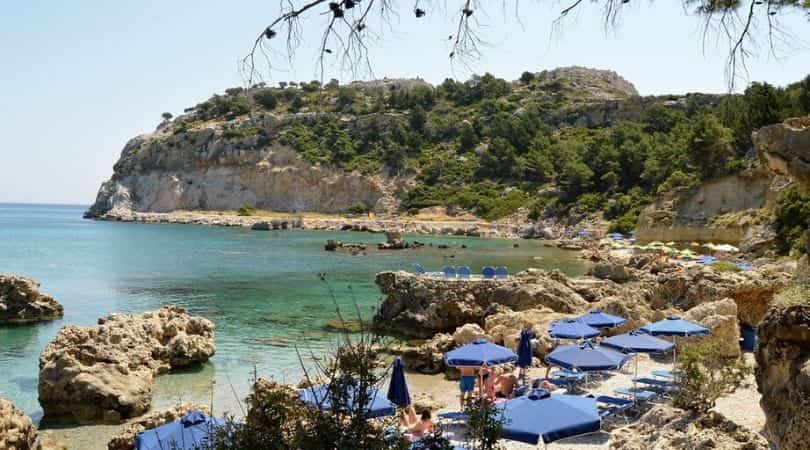 Already a celebrity status, the beach has activities galore. You will forget where the day went once you step on to this amazing and friendly beach offering swimming and snorkeling. The lovely ambiance, canteen, restrooms, and other basic facilities make this an apt choice for families visiting Greece.
Location: The beach is located in Kallithea on the Rhodes island
Famous For: The beach is famous for its name. It is named after Late actor Anthony Quinn who wished to purchase the place to create into an international center for artists.
Best time to visit: Summer months that are April and May are best, but since the beach faces the northeast, you must reach early to enjoy the warmth of the sun.
How to Reach: You can take a taxi that takes about 17 minutes to reach the bay and about 2€.
Things to Do: Enjoy the water to its fullest. Take a dip into the waters and swim your heart out. You can also indulge in snorkeling and other water sports at this amazing beach that is a traveler's paradise.  
Where to Stay: Lido Star Faliraki Rhodes, Miva Sea View, Tassos Apartments, Castello Di Cavalieri Suites are some famous places near the beach where you can relax.
Ornos, Mykonos: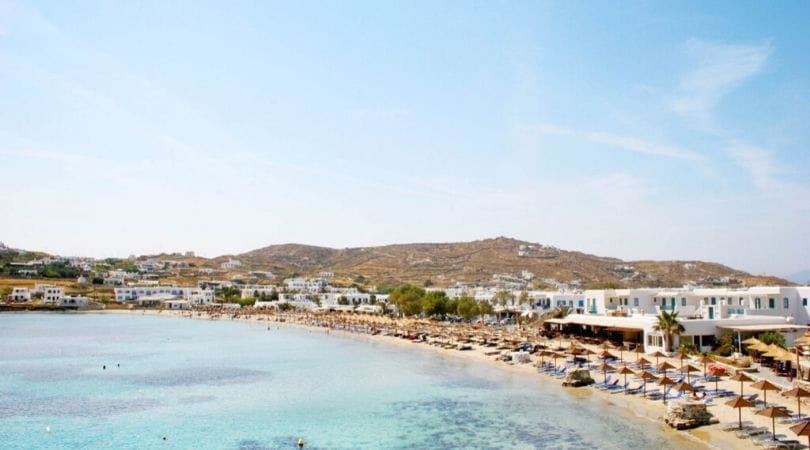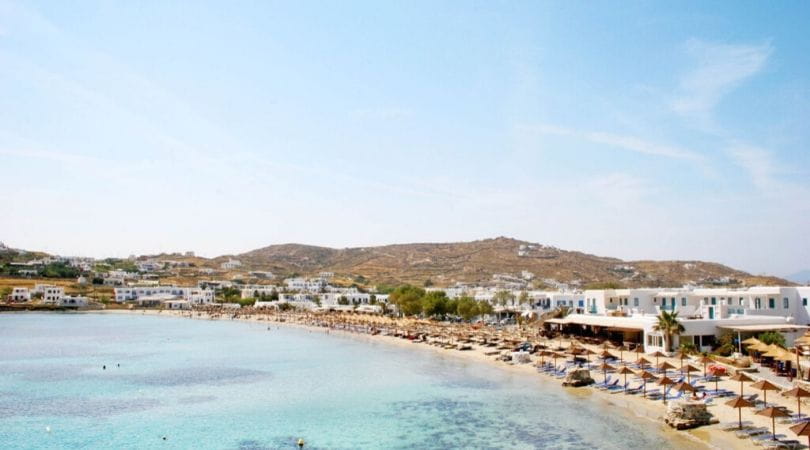 Dipping into the cold waters with friends or family would be an ideal thing to do at this buzzing with people's beach. You will thoroughly enjoy the sip of your favorite drink while you relax at the beach after a fantastic and rejuvenating dip into the blue waters of the beach.
You will be exhilarated to be here to find a bunch of crowds sitting relaxing and enjoying the sun and the warm waters.
Check out – 17 Family-Friendly Destinations in the World
Location: It is located just 3.4 km south of Mykonos Town.
Famous For: Its famous for many facilities that it provides and hence is very popular among family and friends.
Best time to visit: Months between June to September are best for a visit to this amazing beach. The water during these months is perfect for swimming.
How to Reach: From Fabrika Central station take a bus to reach Ornos, following the route to Mykonos town. From the town, you can also walk or drive to the beach.
Things to Do: Numerous places to eat and drink are around the corner. Visit the famous seafood restaurants and pubs to get that high.
Where to Stay: Filoxenia Apartments Mykonos, Luxury Sea House Ornos, Studio Ornos Mykonos, Casa Bianca can be chosen for your stay.
Sarakiniko, Milos: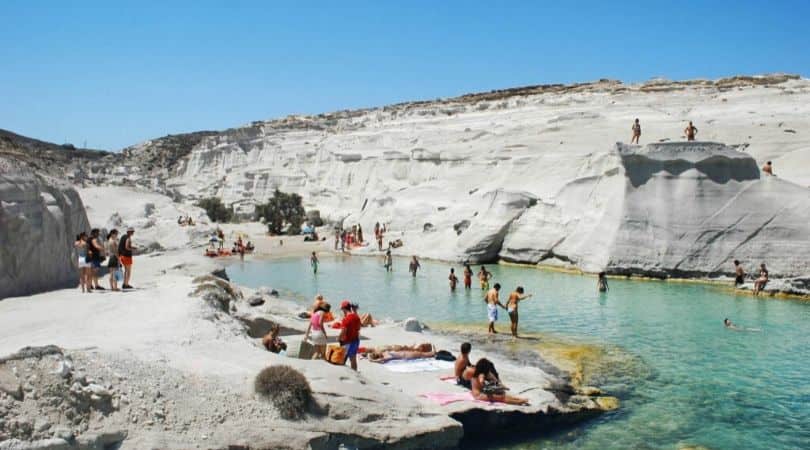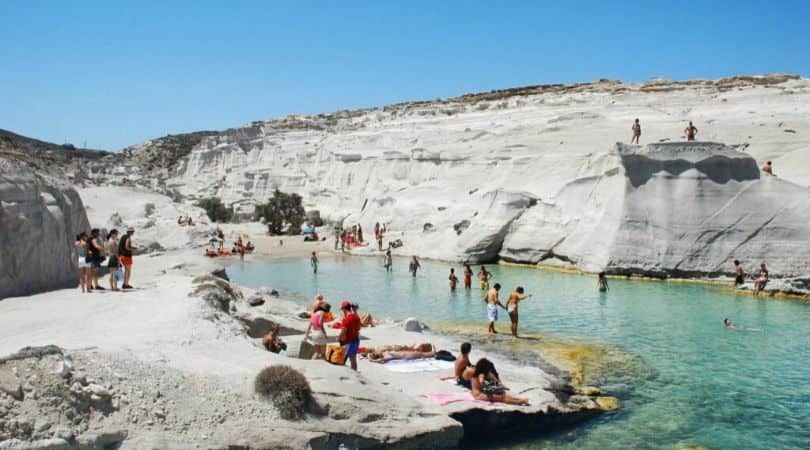 Not just sunsets, some beaches have an amazing sunrise too. With the dawn breaking, the sun that you see would be like a golden ball of fire. Only seeing is believing how nature takes its course each day and brings to us this very stunning sunrise.
You are also likely to find coves under which you can swim and enjoy the rest of the day at the beach. The coves here are pristine and white without any greens over them, making them appear very beautiful.
Check out – Top 9 Beaches in Bali
Location: Sarakiniko beach is located on the northern coast of Milos.
Famous For: The Venus de Milo (now in the Louvre) and the Asclepius of Milos (now in the British Museum) were both found on the island, as were a Poseidon and an archaic Apollo now in Athens.
Best time to visit: Summer months ranging between April to September are wonderful for a stroll and sun at this beach. Visit this beach early morning and immerse yourself into the peace it offers.
How to Reach: The best way to reach Sarakiniko Beach and other attractions on Milos island is to rent a scooter, ATV or a car for the day and make your way over to Sarakiniko. Alternatively, since the beach is located halfway between Athens and Crete, it can be reached by air and also by ferry.
Things to Do: Explore the caves and enjoy some swimming at this amazing beach other than taking photos for your social media.
Where to Stay: Villa Notos, Mandrakia Beach, Milos Bay suite, Psaravolada Resort are some lovely places to choose your stay from.
Vai, Crete: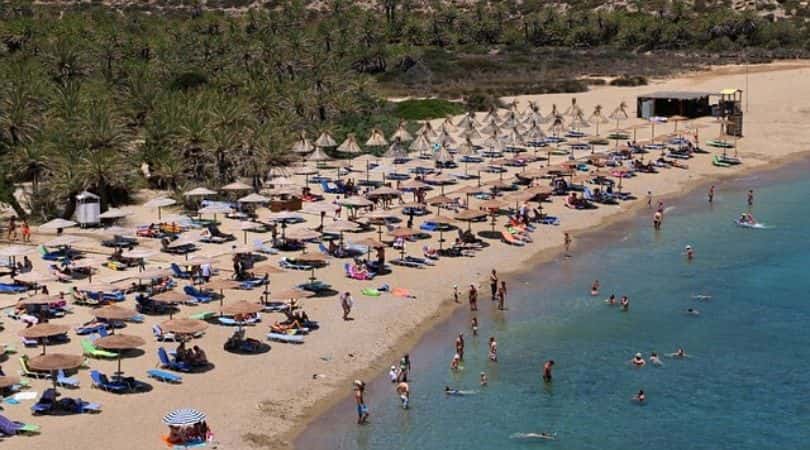 Sandy shores and white pebbles all around the beach are the hallmarks here. The beach is wondrous with the natural forest of Cretan date palms, you can spend your time at leisure under the shade of these trees. If you visit in summers, you will also spot some vegetation and flowers that bring in positivity.
Also Read – Top 25 Honeymoon Destinations in the World
Location: Epar.Od. Monis Toplous – Vai, Toplou.
Famous For: The beach is famous for being home to the largest date palms of Europe called Cretan Date palms.
Best time to visit: Best time to be here is Mid May to June and them September and October are wonderful months to be here.  
How to Reach: If you are coming from Rethymno, it will take you 4 hours to get to Vai, while it is 4.5-5 hours' drive from Chania. You can drive also once you are in Chania as the beach offers a car park as well.
Things to Do: With a lot of activities in store for you, this beach would not leave with you any time. Gear yourself with snorkeling gears and watch the coral and sea creatures that are in abundance here. You can swim and float on the waters while you retreat amidst nature.
Where to Stay: Grandes Sea  Front Apartment, Villa Amalia, Hotel Kastri Village, Cavo Plako Villas.
Voidokilia, Peloponnese: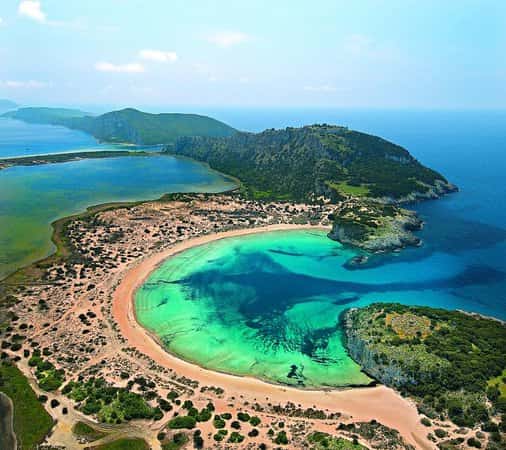 Omega shaped beach where the sand forms a semicircular strip, it is often visited by numerous travelers who wish to get an insight into it. The beach has been named "A Place of Particular Natural Beauty", for the fact that it has many natural attributes that are any traveler's delight. You will find golden sand here and often many travelers for water sports.
Also Read – Top 25 Hill Stations in the World
Location: It is located in Messinia in the Mediterranean area.
Famous For: The very location of this beach is what makes it famous. The beach  lies beneath the Old Frankish castle (Paliokastro) and the cave of King Nestor, the ancient King of Pylos, who according to legend, used this cave as a haven for his cattle
Best time to visit: Undoubtedly the summer months are perfect. Between April to July, you will enjoy it thoroughly.
How to Reach: Rent a car from Athens airport and drive straight to this lovely beach. Alternatively, take public transport from Athens airport and reach your destination in about three and a half-hour.
Things to Do: Watch the Gialova Lagoon, an important bird habitat along with exploring the natural beauty that you are likely to find in abundance at the beach.
Where to Stay: 12 Gods Resort, Nirides Villas Hotel, Romanos Beach Villas, Blue Fort Villas are some lovely places from where you can enjoy the view of the beach as well.
Apella, Karpathos: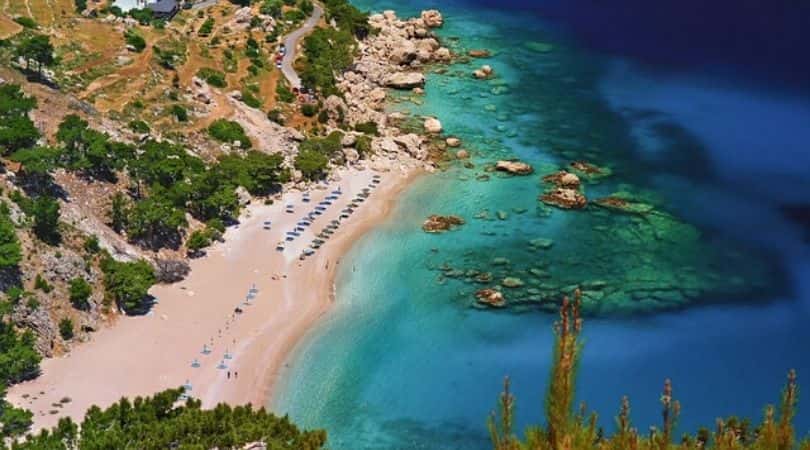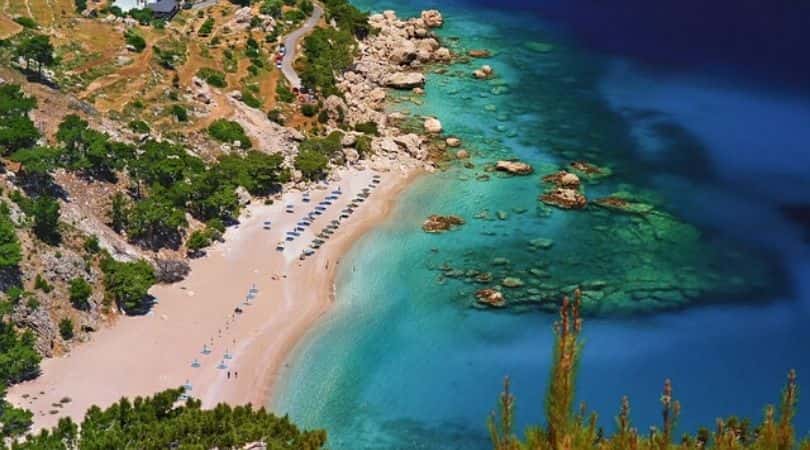 An equipped beach, it is visited by thousands of people each year. The beach has Pine trees that are blended with the rocks. These settings are picturesque and amazing for capturing.
Not just pictures, you can get into action by diving and snorkeling at the beach and make the most of your holiday at this clear blue water beach that is often not much crowded.
Check out – 7 Amazing Beaches in Philippines
Location: It is located about 20 km  North of Pigadia.
Famous For: Pine and Tamaris trees provide an unmatched shade for which this beach is famous for
Best time to visit: The middle-year months have very comfortable weather with high temperatures that are comfortable. These months see the least precipitation with about 0 days of precipitation per month. June – August is the busiest season for tourism in Karpathos.
How to Reach: The best way to access the beach is by boats that depart regularly from the harbor of Pigadia.
Things to Do: Visit the Olympos, the Amoopi Bay and the Achata Beach can be visited while you are at the Apella Beach
Where to Stay: Lux View Villa, Villa Stamatina, Sofia's Room, and Taverna, Antikri Villas are great and budgeted places to enjoy your stay.
Kavourotripes, Halkidiki: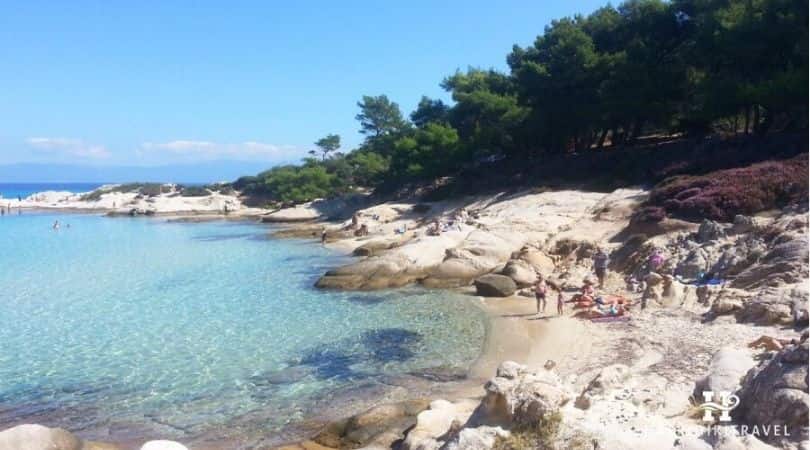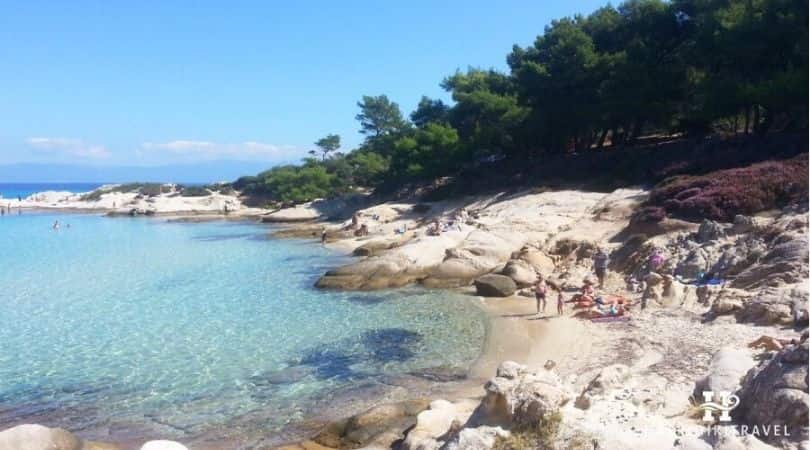 Also known as the Orange beach or the Portokali beach, this beach is a paradise for beach lovers and those who like water sports. It has white sand coves, that are wonderful to explore.
You will find sunbeds and umbrellas here that you will enjoy using at the beach to get into the spirits. Sunbathe and get a tan to enjoy the shade for the rest of the year.
Check out – Top 7 Beaches in California
Location: Located in Central Macedonia; Halkidiki Region; Sithonia; Sarti.
Famous For: Famous for clear blue-greenish waters and numerous beaches with adjoining shoreline
Best time to visit: April to July are the best months to visit the beach. Make sure you reach early morning to avoid crowds.
How to Reach: Drive north from Sarti about 10 minutes and you will see the signs on the right for Portokali. You can either park there just off the road or drive into the beach
Things to Do: Indulge in Snorkeling, scuba diving, Canoeing, and Kayaking at the beach. You may get a chair and umbrella and relax at the shore while you enjoy something to eat and drink that is available at the beach.
Where to Stay: Aristea Studios, Studios Alexandros, House Niki, and Afisia Villas are wonderful places to stay near the beach.
Navagio Beach, Zakynthos: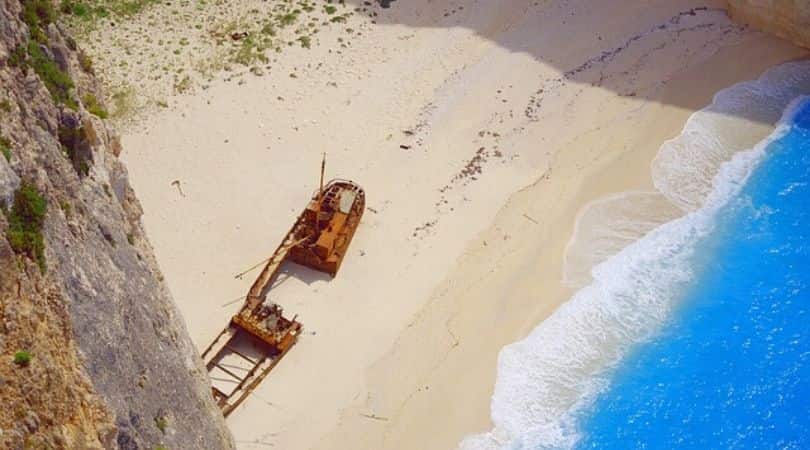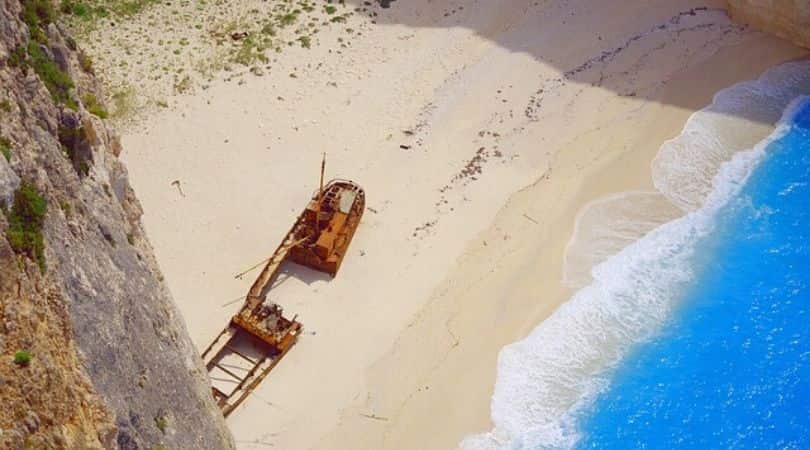 Known as the Shipwreck beach, it is arresting in every sense of the word. The most photographed beach which has transformed the shipwrecks as if they were natural. The ships that were wrecked here some 30 years now appear as though they are emerging from the sand itself.
It is a paradise for photographers as it some a blend of history, features of nature that are prepossessing.
Check out – 7 Most Beautiful Beaches in Australia
Location: North-West coast of Zakynthos island.
Famous For: A passionate photographer's treasure can be found in the pictures taken at this gorgeous beach in Greece.
Best time to visit: Early mornings and late evenings i.e. after 4:00 p.m. is the ideal time to visit this very lovely beach where the shade would be your company.
How to Reach: Reach Zakynthos and from there take a quad bike, or a cruise or even ferry which can be taken from Proto Vromi Beach which is about 30 minutes ride.
Things to Do: Take private tours here to explore this wonderful beach, and while you do that visit Anafonitria Monastery and Proto Vromi Beach
Where to Stay: Villa Amara, Blue Cave Studios, Emerald Suites, and Villa Melite can be checked out for your pleasurable stay
Diamandis Beach, Skiathos: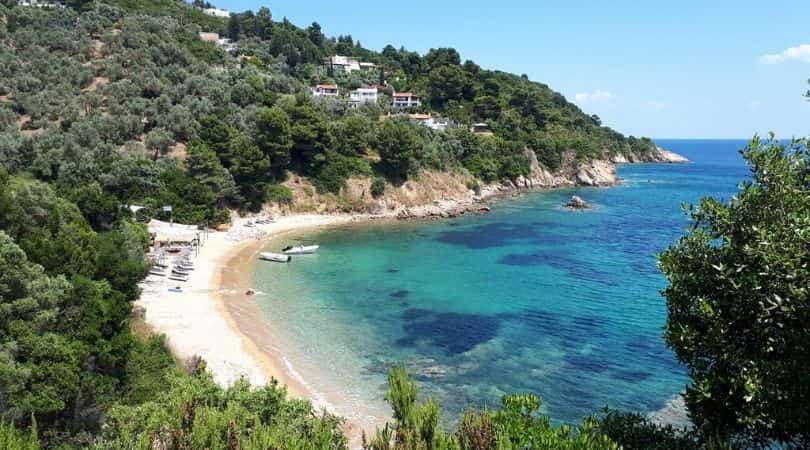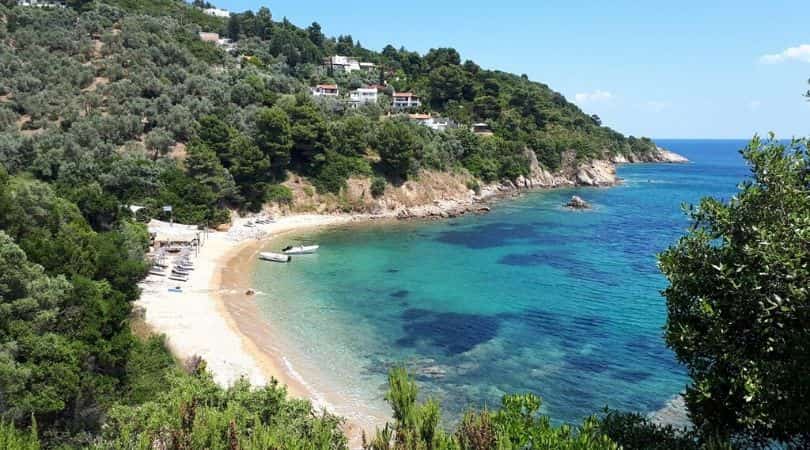 You will find this beach customized just for you if you prefer tranquility and less crowded places and beaches. This beach is nature's galore and looks as if God has bestowed upon his best creativity here. With greenery around and the blue waters, it looks simply mesmerizing and stunning.
Also Read – Top 7 Beaches of Spain
Location: It is situated on the southernmost tip of Skiathos Island.
Famous For: Its seclusion is something that it is famous for along with bars that will enthuse holiday spirit into you.
Best time to visit: July and August are the best months to visit this beach.
How to Reach: After you reach Sklithri which is the nearest town, you can walk to reach this amazing beach. Some hiking would be required to reach the shores. The walk is about 8 to 10 minutes.
Things to Do: Hike to the beach and enjoy the seclusion the beach is in
Where to Stay: Sunset View Hotel Paros, Sea View Apartments & Studios, Paradise View Hotel, Blue Mare Villas are some of the places you can stay and enjoy
Lindos Beach, Rhodes: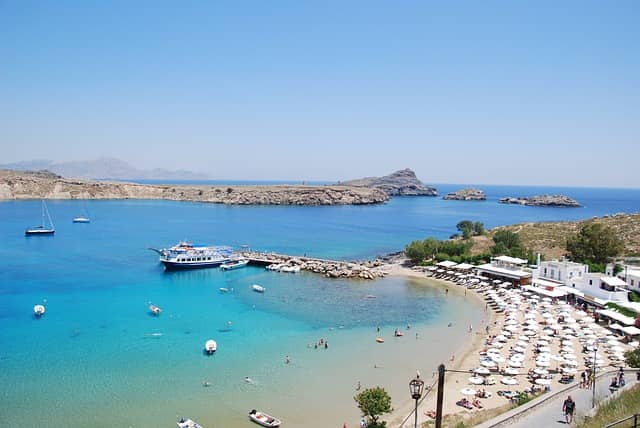 The cluster of bars and eating joints and some up-market places where you can enjoy shopping in Greece can be found at this beach. Surrounded by massive and beautiful structures, you will be loss of words once you are here. The beguiling beach is pretty and this is the reason why it is full of people.
Clench on to the sands and enjoy the relaxation time at this beach while your children enjoy the water sports.
Location: Located in Greece in Rhodes.
Famous For: It is famous for water sports and particularly children enjoy coming here a lot.
Best time to visit: To enjoy the sun you must visit the beach between June to September. Although even after that the temperatures are not high, but you may miss the sun.
How to Reach: You can either take a taxi or drive to the beach from Rhodes. Bus is rather cheap and takes about 6€. It takes more than an hour to reach here. You can opt for taxi too which is faster.
Things to Do: Visit the church, buy some souvenirs, and walk your way to this beach to enjoy the white structure around it.  
Where to Stay: Lindos View Hotel, Lindos Athena, Lindos Shore Boutique Shore, Lindos Panorama are some lovely places to enjoy the holiday near this beach 
Mylopotamus Beach, Pelion: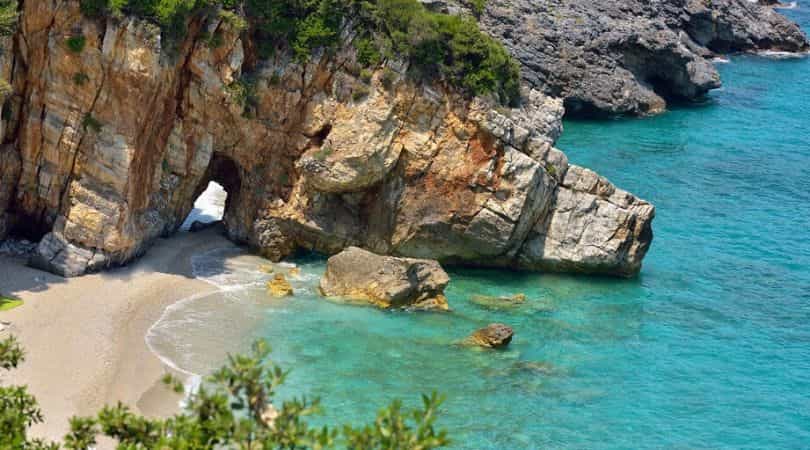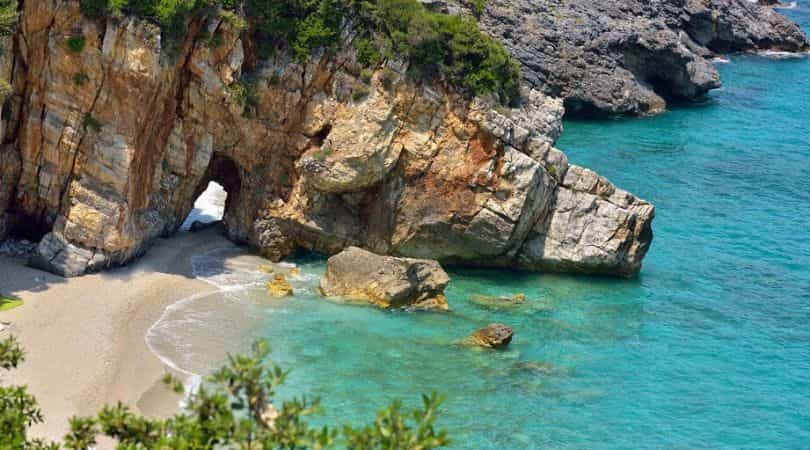 A variety of beaches on Greece, with this one having its own place as it is circumference by mount Pelion and is rather remote. But it is worthwhile to reach this amazing beach as it is ideal for scuba diving and indulging in some local food served at the restaurants that are on the beach. You will feel close to knowing the culture of Greece, once you are here.
Location: It is located on the eastern coast of the Pelion peninsula on the shores of the Aegean Sea in Mouresi.
Famous For: Natural pavement is drawn on the beach dividing it into two halves and is covered with Pine trees
Best time to visit: April to June are the best months and f you miss these, you can plan your travel between August and November too until these months the water temperatures are fairly favorable.
How to Reach: Traveling by bus is the best way to reach this beach. You need to reach the nearest village of Tsagarada from either Mouresi or Volos. From the village, change the bus to reach Mylopotamos Beach.
Things to Do: Visit the village of Tsagarda that is the oldest of Pelion. Observe the mount Pelion and indulge in some shopping. You can also visit the Wineries, and enjoy the scuba diving too.
Where to Stay: Creta Star Hotel, Sea Vessel,  Lili Sea Front House, Nostos Beach Boutique Hotel are some beautiful and luxury places to stay near this beach
Xi Beach, Kefalonia: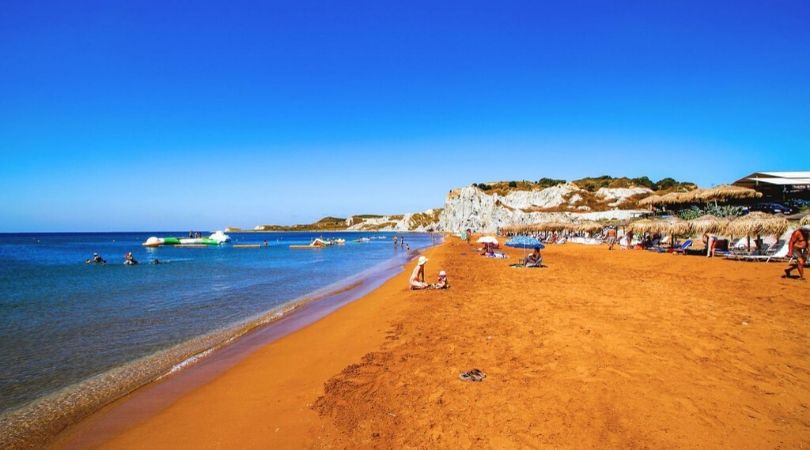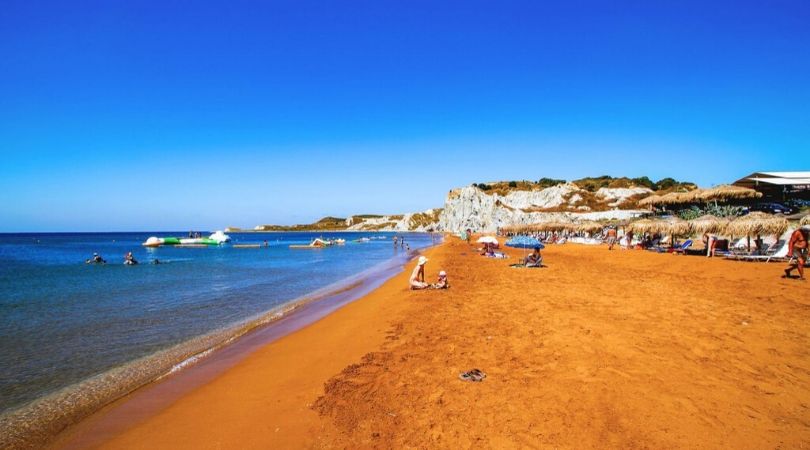 Tailor-made for children, the beach naturally does not have too many waves. The waters are shallow too making it perfect for children to swim. The reddish-brown sand of this beach is the attribute that can be rarely seen at other beaches. With kids around, you will often want to use the restaurants that are fully equipped bars too. Enjoy this much-coveted place in Greece.
Location: The beach is situated in the south of the Paliki Peninsula of Kefalonia, Greece, and part of the district Mantzavinata near the town Lixouri
Famous For: The beach is famous for Clay cliffs, beautiful colors, and shallow crystal clear waters.
Best time to visit: Summer months, from April to June are great to be here. Enjoy the warm waters during these months
How to Reach: After you reach Lixouri, you can travel by taxi or by bus. Taxi costs 7€ – 9€ and takes 8 min and the direct bus departs from Lixouri for Xi.
Things to Do: Numerous water sports can be enjoyed here. Kayaking is another popular sport. For a rich experience try cruising as well on the island of Kefalonia
Where to Stay: [email protected] Xi Beach, Cephalonia palace, OSKARS Studios & Apartments, and XI Village are some places in the vicinity where you can stay.
Having read about all these beaches, it is difficult to rule out any while you are in Greece. Each beach meant for something specific,  it just adds to the fun when you know the agenda of visiting the beach. No traveler would be at peace until these destinations are traversed. A good time shall hail, so you can enjoy the beaches and look like fine beauty with the Greek yogurt and salad always on your palette.