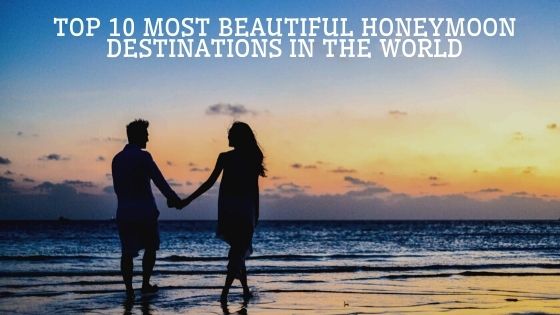 10 Most Beautiful Honeymoon Destinations in the World
After the wedding has taken place and you are free from the rituals, the only way you wish to relax is by going to your honeymoon. Before reality hits back, it's time you make some great memories while you are with your beloved, away from the family, amidst non-judgemental strangers; good for you!
Below mentioned is the list of some very beautiful places that are delineated just for honeymoon travels. These are not just beautiful, but offer various attributes to make your honeymoon exciting. 
Also Read: Top 25 Best Honeymoon Destinations in the World
Amalfi Coast, Italy
What Makes "Amalfi Coast" Best?
With a background setting of a few Shakespeare's plays Italy indeed is one of the romantic places in the wide world. Amalfi Coast is an Italian gem that is on the bucket list of most honeymooners as the place is tailor-made for romance. The perfect dark beaches with shades are a part of the plan!
You are likely to drown yourself into the misty romance the Coast brings with it. The super-duper bright lights, the breeze of the sea and luxurious places to stay at, you will never have one dull moment at the Amalfi Coast.  
Also Read: Top 25 Honeymoon Destinations of India
Best Time To Visit: Although one can visit here any time of the year as the temperatures are mostly favorable throughout the year. However, you are most likely to see tourists visiting here during July and August to enjoy the beaches.
How To Reach: Upon reaching Naples there are trains that you can take to Sorrento, Salerno or Vietri Sul Mare, as these towns are closer to Amalfi Town. Post this, you can take a Sita bus to the nearest Amalfi town. To reach the coast, you can walk and enjoy the serenity of the town too.
Things to do: Visit the beautiful towns of Positano, Amalfi and Ravella for their stunning beaches and ubiquitous charm. You may choose to hike with your partner,
Ideal Duration & Estimated Cost in USD: Although, 3 days are enough to enjoy the beaches and the luxury stays offered at the villas, but if you wish to explore every island and town here, you may extend the stay to 5 days as well.
The approximate cost for a couple for staying at the Amalfi Coast is about $144, which includes breakfast and luxury stay. If you plan an average stay, you need to spend $85 approximately at the Amalfi Coast which is one of the most expensive places in Italy.
Local Currency: Euro
Where to Stay Eva Rooms, Hotel Croce Di Amalfi, Hotel Amalfi, and Hotel Marina Riviera are places that will help you ignite the romance with its beautiful decor and regalia settings.
What's Special There for Honeymoon Couples: The special Honeymoon villas that have terraces with an engaging view of the coast are something to look forward too at this place. Also, bars and amazing places to eat are the highlights of this place.
Also Read: 50 Best Places to Visit in the World
Bora Bora
What Makes "Bora Bora Island " Best?
An Ideal honeymoon location would be somewhere isolated with no human disturbance and lots of natural beauty surrounding you.  This supreme consummation of perfection can be seen at the Bora Bora Island where nature meets you.
Yes, the overwhelming clouds with flawless mountain ranges, turquoise lagoons, and the exuberant greens make this the most sought after destination. Some couples collect financial virtues to extend it to a worthwhile place such as Bora Bora as everything good comes with a huge cost.   
Best Time To Visit: April to November are the best months to visit. The High season where the number of tourists embarks a journey to this nature's nest is between May to October.
How To Reach: After you have reached the capital city of Papeete in Tahiti, via Air Tahiti Nui, Hawaiian Airlines or Air France, you may take an 8-hour flight to reach the north of the Bora Bora Island.
Things to do: A variety of couple activities that you will cherish for the rest of your lives can be done here. From Scuba Diving to Dolphin Watching, or hiking the Mt. Otemanu, all these activities will bring you closer as a couple as you begin to marvel one's strength.
Ideal Duration & Estimated Cost in USD: Three day trip to this nature's delight which is synergized with luxury are enough. An average of about $11000 for a week needs to shell out at this island.
Local Currency: Being a part of French Polynesia, the currency used is French pacific Franc (CFP).  
Where to Stay: Intercontinental Le Moana Bora Bora, Intercontinental Bora Bora Resort Thalasso, Oa Oa Lodge, and Four Seasons Resorts Bora Bora is a worthy option to try amongst numerous others.
What's Special There for Honeymoon Couples: Staying in an Overwater Bungalow would be a unique experience. The room service is delivered to you by a canoe which is the best sight. A massage at the beach and dipping in the lagoon together would be a paragon of honeymoon activities.
Observing the clear blue skies and star gazing at night will enable you to witness the shooting stars together. Make that wish to be with each other till eternity! 
Also Read: The Perfect Honeymoon Packing List for Couples
Greece
What Makes Greece Best?
Thinking of Greece, the imagery of white walls and blue waters crop. Rightly envisioned, Greece is all about the whites and blues of the sky and Santorini is the highlight. Moving away from Santorini, move to Adronis and spend some time at the private caves there. 
This undeniably beautiful place with caves would move your soul into being a nature's admirer. These caves are an ambush for the love-filled honeymooners who wish to not move ahead and stay in these divine caves forever.
Visiting the village of Karavastasi, and island Folegandros, you will realize that Greece must also be famous for its quaintness apart from the Greek salad and the Greek good looking Men. 
Best Time To Visit: The Best time to visit Greece is the spring season until early summer. This would entail months from April to mid-June and then autumn months from September to mid-October.
How To Reach: Take a flight from Anywhere to Athens and initiate your honeymoon travel.
Things to do:  Visit Athens to see Parthenon, and you may take Horse Carriage Ride in Corfu Town and can together explore the Greek culture at the Benakis Museum.
Ideal Duration & Estimated Cost in USD: A seven-day trip would be enough to explore Greece. In a week you will have seen popular places in Athens, Mykonos, Santorini and Crete. An Average cost for two in Greece for a week costs approximately $1,735. This includes your meals, transportation, and average stay.
Local Currency: Euro
Where to Stay: Stella Island Luxury Resort & Spa, Limneon Resort & Spa, Vliho Bay Boutique Hotel, and Aelos Resort can be chosen for luxury stay in Greece
What's Special There for Honeymoon Couples: Enjoy the coolness of Santorini Island while you enjoy the couple massage and spa at one of the beaches in Greece. At this land of sand and sun, numerous beach activities can be explored when on honeymoon.
Explore Fisherman's town and enjoy navigating the island. For more privacy and luxury experience take a private yacht trip while you enjoy the sunset while you sip your drink. 
Also Read: Top 15 Beaches in Greece
The Maldives
What Makes Maldives Best?
Think of honeymoon, you are automatically taken to beaches and valleys. Imagining yourself in the swimwear, by the beach, with your most loved one, this can't be anywhere but the Maldives.
Offering miles of coastline and lots of couple based activities, Maldives is the go-to place soon after you have tied the knot. You will be welcomed by white sands, blue waters, and a variety of seafood. The Maldives is one of the most picturesque places in the South of Sri Lanka offers the most dramatic view.
The perfect sunset by the beach, valleys, white sands, and lavishly laid dinner is an ideal date when you are on the honeymoon which can be fulfilled during your trip to the Maldives.  
Also Read: 16 Amazing Things to do in Maldives
Best Time To Visit: the Maldives offers wonderful weather between November to April. Amidst these months, December to March observes most tourists owing to its tropical climate whereas the rest of the world has winters.
How To Reach: The best way to reach the Maldives is by Air. Male International Airport is well connected to the rest of the Asian Countries.  
Things to do: Visiting Maldives on a honeymoon can be the harbinger of numerous activities together that test your camaraderie. From kayaking to Canoeing, Snorkeling and Diving, Cruising and visiting the Manta Point are some activities that the Maldives offer.
Other than these, visiting the National Museum, Swimming in the Indian Ocean and witnessing the underwater life are also popular activities in the Maldives.
Ideal Duration & Estimated Cost in USD: If you are on your honeymoon and need to take the break then 4 to 5 days are enough to be here and explore the popular activities and places. However, if you plan to learn a new activity such as diving, or other water sports thoroughly, then 7 to 9 Days should be at your disposal.
Choose an expensive resort and you may need to shell out $3000 to $10,000 for a week. This will be all-inclusive for a couple. Traveling in the budget, you will need to spend $500 to $750 a week.
Local Currency: Maldivian Rufiyaa or Rupee          
Where to Stay: Paradise Island Resort, Furaveri Maldives, LUX South Ari Atoll Resort & Villas, and Hard Rock Hotel Maldives are some amazing places offering wonderful amenities
What's Special There for Honeymoon Couples: Couple's massage at specialized centers, Exploring the islands together, Underwater dining, Private boats where it's just you two! Have lots of fun and frolic while you get to know each other far, far better. 
Bali, Indonesia
What Makes Bali Best?
The 'Island of God's' awaits you for your honeymoon. A honeymoon in Bali is not just heavenly in terms of its ambiance, but also because of the quaintness of some parts of Bali. Explore the place together to find some mesmerizing and serene corners in the province.
Located in the center of Indonesia, Bali is not just well placed but also encompasses some beautiful temples, sandy beaches, and amazing aquatic life. If you like clicking pictures, you will thoroughly enjoy the scenic views that the province has to offer.
You will unfold numerous destinations such as Sidemen, Ubud, Jimbaran, and Denspar which will stimulate your romantic buds and you will not want to leave this heritage place in Indonesia.  
First Time in Bali Check out:
Best Time To Visit: Island's Dry season is the best time to visit Bali. This falls between April to October. The other season that Bali experiences are the rainy season which is not recommended as the precipitation levels are high
How To Reach: You can travel to Bali either by Ship, Road, and Flight. The best way is Flight. Reach Ngurah Rai International Airport or Denpasar International Airport. These are located in the South Kuta district are just 13 km from the capital city of Denpasar, Bali
Things to do: Visit Kuta for Surfing after visiting the Ulun Danu Temple which has an iconic structure and is surrounded by waters on all sides; another temple Tanah Lot Temple which is a structure straight from the fairy tales with forts and you will enjoy clocking pictures here.
You can strap on a Jetpack in Tanjung  Benoa and check your fear factor.
Ideal Duration & Estimated Cost in USD: Although five days are enough to be in Bali; however, if you have more time in hand, do spend that here among nature's bliss. A week for two will cost you about $1765.
Local Currency: Indonesian Rupiah (IDR)
Where to Stay: Nandini Jungle Resort and Spa, Odika Lovina House and Villa, Daun Lebar Villas, Senetan Villas, and Spa Resort are some of the lovely places that will enhance your honeymoon experience.
What's Special There for Honeymoon Couples: Visit the yoga barn and as a couple, you will know how flexible your partner is. Bali has a treetop adventure park where you can visit as a couple. Seek some seclusion at Sidemen, prettier than anything else with very few crowds so you can make the most of your romantic voyage.   
Paris, France
What Makes Paris Best?
Ignite the spark of your love for either your first or second honeymoon in this city of love. Originally called the City of Lights, Paris is most certainly a very graceful city in France. Walk with your spouse hand in hand and feel the waft of love as you pass the streets.
The mesmerizing bridges and splendid Sun from the bridge become the most dazzling view and observing it together while you take some pictures you are unknowingly making the most captivating memories. With amazing architecture, art, and culture, Paris indeed is enchanting for travelers and honeymooners.
When you are here, it is plausible that when you leave, you would have already prepared for yet another vacation here. This is the aura of Paris!
Also Read: Top 25 Places to Visit in France
Best Time To Visit: April to June is the most enticing time as the weather is great. Other than this you can also visit in October and early November.
How To Reach: With good connectivity from all the international destinations, you can reach here on either of the three airports namely, Charles de Gaulle International Airport, Orly International Airport and Beauv. Out of these three, Charles de Gaulle has connections to the most number of international destinations.
Things to do: Cruising at river Seine and making your dining experience worth it is something to look forward to. Visit the symbol of love, the Eiffel Tower, and The Louvre where you can take some of the best pictures and flaunt them later.
Make sure as a couple you do some baking together after the Locking your love at the bridge. Enjoy the baked delicacies after the exploration of the streets of Paris. 
Ideal Duration & Estimated Cost in USD: 4 to 5 days are enough to enjoy the various cultural and art-related things. In this duration, you can also enjoy a day's trip to various neighboring cities too, and enjoy the local stuff.
It cost approximately $ 2150 for one person for 5 days with an average stay. If you wish to splurge, the options are endless.
Local Currency: Euro is used in this part of France and no other currency is accepted here
Where to Stay Four Seasons Hotel, The Pavilion De La Reine, Hotel Fabric, and Hotel Design Secret de Paris are specially designed for honeymoon couples. So make your way to these and enjoy the blissful stay.
What's Special There for Honeymoon Couples: Visit the temple of Love-The Parc and opt for a boat ride amongst the blooming flowers and the bright hues. When at this Temple you may follow the tradition of kissing your partner as it is believed that this strengthens the love.
When with your partner get drunk while you take the wine tasting tour in the city and effectively find out the best wine. Together with your spouse enjoy the very famous Moulin Rouge that takes place in none other than Paris with such vigor and stimulating spirits. 
Cape Town, South Africa
What Makes Cape Town Best?
Located in the Constantia Winelands, there could not be a better place for a honeymoon couple. Permeate your mind into the wine for you in Cape Town where the air is all-embracing romance. A natural set up for honeymooners, the weather in Cape Town is enough to stimulate your romantic edges.
With two oceans drifting into beaches, you will be surprised with water amidst mountains that create a very scenic sunset as the day passes. If you bond over food, you will not be disappointed in Cape Town as it is options galore. Retreat your mind and body while you enjoy nature and nightlife simultaneously.  
Best Time To Visit: The place has a temperate climate between October to April so you can visit during these months. Other months or the best months for beach holidays are observed between December and March.  
How To Reach Superb connectivity to the rest of the world, Cape Town can be best reached by flight. You may take a flight to Johannesburg, Port Elizabeth, Bloemfontein, Durban, and other major airports of South Africa to reach Cape Town.
Things to do: Get familiar with South African contemporary art at Zeitz Museum and Norval Foundation. Post learning there unwind yourself at the Boulders Beach and Robben Island. Another way to unwind in Cape Town is by visiting Publik, a chic bar with unusual wines. Visit the Cape point the southernmost tip of Africa
Ideal Duration & Estimated Cost in USD: Your honeymoon in Cape Town can last about 5 to 7 days in Cape Town. This may cost you approximately $1170 for a week, excluding travel.  
Local Currency: South African Rand is the local currency of Cape Town
Where to Stay: Radisson Blu Hotel Waterfront, Atlantic View  Cape Town, Boutique Hotel, President Hotel and the Bay Hotel are luxury places and apt for honeymoon couples.
What's Special There for Honeymoon Couples: Get cruising at Victoria & Alfred Waterfront which is the most popular cruising destination of the world. Also, do visit the Table Mountain National Park as the views from there are breathtaking.\
Coming downhill from the slope, enjoy the botanical gardens of Kirstenbosch as well. As a couple, it will be fun to visit the neighborhood market and do the shopping to understand each other's food interests. Above all, Cape Town is a place for romance as the weather is ideal for a romantic date and honeymoon.
Also Read: Top 25 Beaches in the World
Cartagena, Colombia
What Makes Cartagena Best?
Adore your pictures if they are clicked with bright hues of the old city of Cartagena. Energizing colors with some pastels balance the energy of the travelers. You must consider yourself lucky for you have chosen this bright place as your honeymoon destination.
Friendly citizens of Colombia, its rich cultural and historical heritage is worthy of not just pictures but also some real-time as a couple. The colonial buildings, cobblestone street, and sunset amidst the various old town settings should be a part of your honeymoon pictures. Enjoy the Caribbean cuisine by the Caribbean Coast!
Also Read: Top 7 Beaches in Europe
Best Time To Visit: December to April is the best time as the weather is tropical and good for a holiday.
How To Reach: Cartagena is about 2.5 hours from Miami. A taxi would be the best way to reach this beautiful place from Miami.  Alternatively, if you are in Bogota, you can take a flight from there which is about 1 hour and the distance is 1000 km.
Things to do: Explore the beaches and street art in Getsemani. You may try riding the Chiva Party bus and feel the city night vibes. Visit a church especially Santuario de San Pedro Claver and shop clothing, artwork, and trinkets as souvenirs and gifts for your dear ones.
Ideal Duration & Estimated Cost in USD: 5 days are good enough to reconnoiter the city and enjoy all the sights including the Rosario and plcolous island. A budgeted stay in Cartagena would be around USD 294.
Local Currency: Colombian Peso is the local currency. Cents are not used in Cartagena
Where to Stay Bastion Luxury Hotel, El Marques Hotel Boutique, Casa Claver Loft Boutique Hotel and Ananda Boutique Hotel are some special honeymoon hotels. These are equipped with great amenities that will make your stay wonderful.
What's Special There for Honeymoon Couples: As couples, you can splurge into some relaxing activities such as mud baths. Just outside Cartagena, you may explore the mud volcano together where you float on the muddy surface and are then massaged by the ladies to stimulate blood vessels.
Enjoy the sunset drinks at Cafe Del Mar, and hit the salsa bars to perceive the youth, Cartagena. The most dreamy thing you can do as a couple is walking the streets or take the horse carriage to enjoy the togetherness. 
Iceland
What Makes Iceland Best?
Striking landscapes with not just graphical divergence, but actual ones, Iceland is a unique place to go for a honeymoon. Unique as it may be, it is worthy of all the time and money that you will be spending at this place with natural elements everywhere.
The intermittent weather changes are surprising just like your honeymoon! Be prepared for some wildlife, flaccid glaciers, massive landscapes, and breathtaking sights.
Best Time To Visit: Summer Months are the best months to be here at Iceland. July and August are the summer months so visit here to observe the beauty of the coldest place. Always be ready for rains as even in the summers, the weather is unpredictable.  
How To Reach: Flight is the best way to reach the capital of Iceland. With about 25 airlines having flights to Iceland, the fastest route is to reach Keflavík International Airport. This is about 31 minutes (50 km) from Iceland's capital city, Reykjavik.
Things to do: Visit the miniature of Iceland called the Snaefellsnes Peninsula. The striking feature of this place is that glaciers here sit over volcanoes. Some adventure will come to you at Husavik when you do some whale watching. For more nature walks in Iceland, Hornstandir Nature Reserve and escape into the wilderness.
Ideal Duration & Estimated Cost in USD: 7 to 8 days will be ideal for exploring Iceland, especially when you are there for a honeymoon. You will need to spend about 67,703 USD to enjoy this swank place.  
Local Currency: Icelandic króna
Where to Stay Mar Guesthouse, Frost and Fire Boutique Hotel, The Retreat at Blue  Lagoon Iceland, Hilton Reykjavik Nordica is an excellent place to stay when in Iceland.
What's Special There for Honeymoon Couples: Together as a couple explore the beaches of the South. You will not want to miss the Blue Lagoon which is the country's geothermal spa. Enjoy the hot pool together with your beloved and make amazing memories.
Also Read: Top 17 Family Holiday Destinations in the World
North Island, New Zealand
What Makes North Island Best?
Honeymoon is far more vital than the wedding celebrations. It is during this time you need some peace wherein you are with your partner and there is no one else around to judge you. For this, a place in nature's lap such as the North Island is apt.
The landscape here is spectacular, with glaciers and volcanoes giving a stark divergence in the landscape. The farmlands will enthuse you into romantic disposition and you will be more effervescent than you naturally are! This transition in you is a result of the perfect environment and the company of your beloved.
Best Time To Visit: December to February are the best months as the weather is summery and the sun shines bright for that beach visit.
How To Reach: If you are traveling from South to North, you may take a flight to Christchurch, Dunedin, or Queenstown, and then reach North Island. Alternatively, land at Auckland International Airport located on the North Island.
Things to do: Visit the Limestone caves called the Waitomo Caves, Enjoy your drinks at Wellington, Hike at the Pouakai Crossing, and enjoy the weather where the rest of the world is experiencing the cold waves.
Ideal Duration & Estimated Cost in USD: A week is enough if you are traveling only the North Island; however, if you are tempted to visit the South Island, then double this time frame and enjoy New Zealand. The cost for one week would be approximately $1643 in USD
Local Currency: New Zealand Dollar
Where to Stay: Tatahi Lodge Beach, Hilton lake Taupo, Hot water Beach, Rotorua Thermal Holiday Park are lavish places for that extra special touch that is a requisite when on a honeymoon.
What's Special There for Honeymoon Couples: Enjoy your visit to Hobbiton where the Lord of Rings was shot. This lush green meadow will charm you to be here every day of your stay at the North Island.
Also Read: Top 10 Most Beautiful Places in the World
Together with your partner, you may plunge into the waters and snorkel your way to spotting Orca, Bryde's whale, and even some dolphins. If you wish to have a more relaxing honeymoon, take a day out to visit Waiheke Island and enjoy the pool with wine over your chit chat session.
These days of honeymoon that you take out for yourself are there to cherish. Each time when you will feel out of love, these memories will be there to bring you back to your spouse. The correct choice of destination plays a massive role in creating this kind of positivity in your head.
Looking at the honeymoon pictures should enable you to relive the past when you look at them. Stay in love forever with the destination and the one you visited it with.