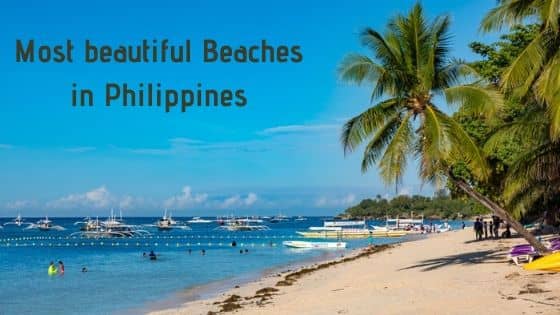 The 7 most beautiful beaches in the Philippines
Laconic as much as you want to be, you can't! Exploring the beaches in the Philippines draws your attention to the benefits of a beach holiday where you create imagery. This will stimulate you to opt for a beach holiday in the Philippines.
Even if you can explore the wealth of one Island here in the Philippines, you will get the sense of what is in store for you at all others. Having mentioned that,  every beach has its own distinct character and as a traveler, only exploring them would be virtuous to find out why they are worthy of attention.
Check out: Top 25 beaches in the world
El Nido: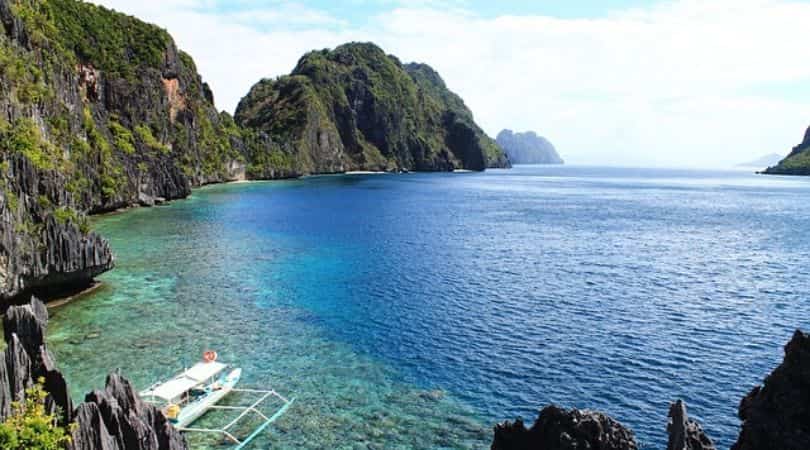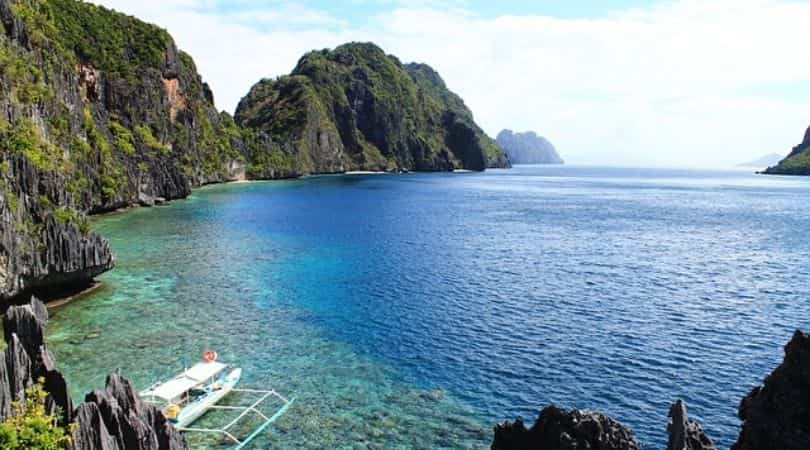 Conjunction of many natural factors in the most ideal way can be seen here. The beaches here in El Nido are strikingly breathtaking. Full of marine life, forests, white sand beaches, sea life, and limestone cliffs, El Nido is one of the most treasured beaches for the tourists as well as the locals.
Many people from all over the Philippines visit this lovely place to enjoy their weekend. If you like reconnoitering,  don't stop yourself and enjoy the caves, corals, and coves that you are bound to find and enjoy pictures at.
You may also give yourself up to the water sports for that adrenaline gush that stimulates your holidays and make it worth it.
Check out: 9 best beaches in Bali, Indonesia
Location: The beach is located in Palawan, Philippines. (Google Map)
Famous For: The stunning white beach is famous for limestone cliffs, coves, and corals. If you are adventurous enough when it comes to eating bizarre food, you may also try the Bird's Nest Soup that is famous here in El Nido.
Entry Fee: There is a 50 PHP which is about $1 USD entrance fee to this phenomenal beach.
Best Time To Visit: November to May are the best months to visit this place. Amongst these, months of March, April and May are reported to be hottest when the temperatures rise up to 41-degree centigrade. February has reported wonderful weather which is apt for a beach holiday in Palawan.
How To Reach: A combination of Airlines and van will enable you to reach this place. You need to first take the air route from Manila to Puerto Princesa.
From here, you can take a van to reach El Nido. This is a day's plan but it is the cheapest way to reach El Nido. Alternatively, if you wish to splurge, you may opt for a direct flight from Manila to El Nido.
Where To Stay: El Nido Bay View Resort, El Nido Four Season's Beach Resort, Ursula Beach Club, Ipil Suites. These accommodations are less than 4 km from the periphery of El Nido and therefore the beaches are rather easily accessible.
Suggested Tour: El Nido Island Hopping Tour C: Hidden Beaches & Shrine
Paradise Beach: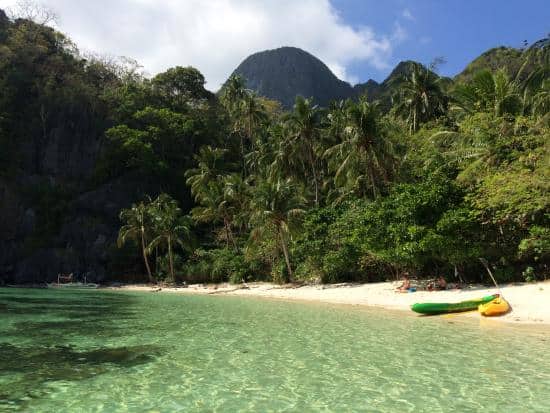 This beach is metaphorical of absolute peace. No townie or town like structure is available or visible. If you are looking for lots of 'me' time, or sometimes with your partner in seclusion, this is an ideal place to spend your days.
Usher in the golden orange sunset while you depart from the beach to welcome the moonlight. True to its name, it is a paradise for honeymooners and loners. So spend some self-reflective time and enjoy the wonderful white sand of the beach.
Location: This awesome beach is located in Bantayan Island in Cebu, Philippines.
Famous For: Desolation and tranquility.  The campsite is also quite famous wherein you have to adhere to the camping rules and regulations.
Entry Fee: The entry fee is 50 pesos for adults and 25 pesos for children. The beach is open from 9 am to 5 pm daily. There are no restaurants and bars at the beach, carry some extra refreshments.
Best Time To Visit:  Best time to visit the beach in February to Mid-May. This is the summer season and is the best time to visit. Wet seasons are not recommended, so June to September can be avoided.
How To Reach: There are two ways to reach this stunner desolate beach. You can take the pump boat or travel by motorbike. You can hire these from your hotel desk and both are rather cheap allowing you to spend more on other activities.
Where To Stay: Kota Beach Resort, La Playa Estrella Beach Resort, The Coral Blue Oriental Villas & Suites and the Coucou Bar Hotel & Restaurant Bantayan are places where you can mollycoddle yourself after a long day at the beach
Also Read: Top 50 Travel Destinations in the world
White Beach, Boracay: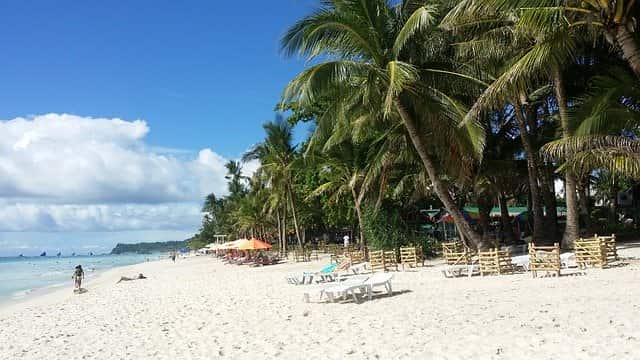 White Beach is one of the most renowned beaches in Boracay. Stretched to a length of 4 km, each is rather massive allowing everyone to have the gala beach holiday. The reason why this beach is popular is the way it treats its visitors.
The beach allows you to snorkel, climb up the banana boat for that splurge in blue waters, or plain swimming to test your muscles. All the water activities can be enjoyed here along with ravishing nightlife, so you don't miss the contemporary lifestyle that you maybe use to.
Check out: Top 7 Beaches in Spain
Location: This beach is located on the western side of Boracay island in the Alkan Province in the Philippines.
Famous For: White sands are the hallmark of this beach, along with helmet diving.
Entry Fee: The entry fee to this beach is charged and is divided into various fees. In toto, one has to shell out approximately P3800 roundtrip (P1900 one-way, or P180 per person per way).
Once you reach the jetty you must find a way to the booths near the entrance to the building and settle the Terminal Fee (P100), Environmental Fee (P75), and Ferry Fare (P25).
Best Time To Visit: 'Amihan Season' is the best time to visit this beach. This is the dry season, which begins in November and lasts through April.  This is a good time to visit as the weather allows swimming and other water sports.
How To Reach: With no direct flights to Boracay, you need to fly to Caticlan which is the closest airport. Get your way to Caticlan Jetty and drive ( hire a vehicle, or take a cab) to the jetty.
A 20-minute boat ride to Boracay awaits you at the jetty. if you are looking for cheaper flights, do check Kalibo airport also. This is farther than Caticlan, but the flights from here are cheaper.
Where To Stay: Boracay SandCastles The Apartments, Shore Time Hotel Boracay, Boracay Backpackers, Astoria Boracay, are placed with charm and are within the range of 5 km. to the beach.
Cagayan Valley, Palaui Island: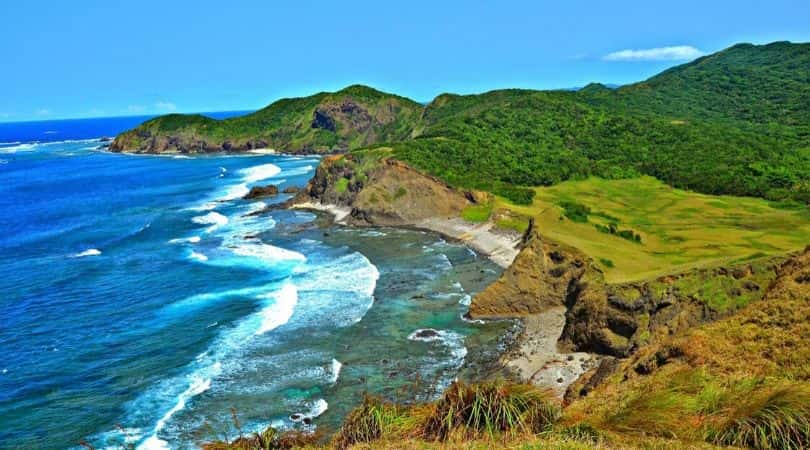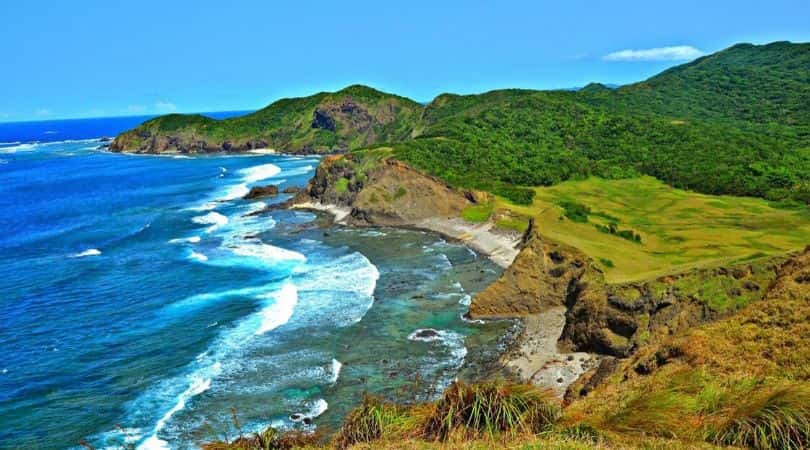 What makes this beach alluring is the hindsight of the people of the Philippines who have not touched the land for their personal benefits. There is practically no development and the beach is unconditionally relaxed. The same vibes are transmitted to the visitors who assiduously enjoy the tranquility at the beach.
It is, for this reason, it becomes a mandate to be visited so you can garner positive waves by simply being in its periphery. The mountains and the hills which you observe on the precinct of the beach speak of its reservation towards Mother Earth.
To further explore, you can climb the lighthouse that includes 229 steps and to explore yet further, live there at the overnight camp, and hear the waves all night long.
Check out: Top 6 Highest Waterfalls in the world
Location: Located in Palaui Island in Santa Ana, Philippines.
Famous For: Colonial Lighthouse and some serene and unadulterated beach shoreline is what makes this beach famous.
Entry Fee: Register your entry to the beach by mentioning the details in a logbook and then signing it. This is available at the Tourism Visitor's Office. Then you must shell out Php 50 fee to enter the island.
Best Time To Visit: End of December to Early April marks as the perfect season to visit this lovely beach offering warm weather for swimming. This time is warm and partly cloudy, making it ideal for a beach visit.
How To Reach: Make your way to Sta. Ana, Cagayan, either by bus or car, from Manila. Once in Sta. Ana, reach San Vicente. From here,  hire a boat to Palaui and begin the exploration. If you prefer the air route, fly to Tuguegarao or take a bus to reach the island.
Where To Stay: Blue Coast Beach Hotel, party Beach Resort, RAI Atrium, Eden's Lodging House are places you may choose from to stay at the island. Each of these is well-reviewed and has a star rating by the visitors.
Alona Beach: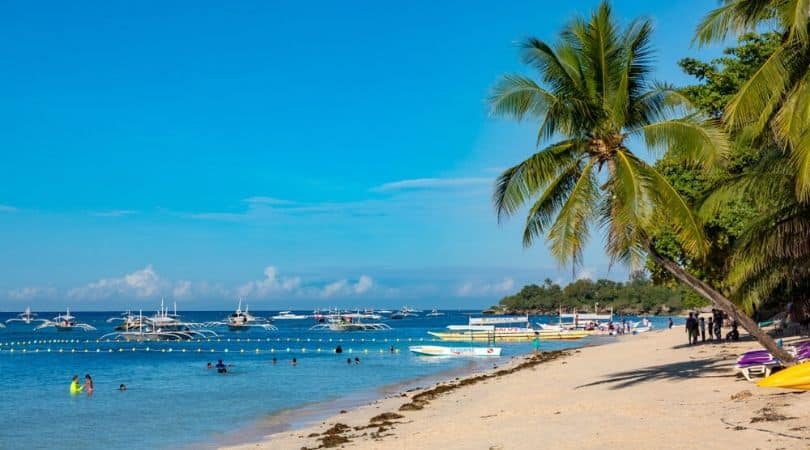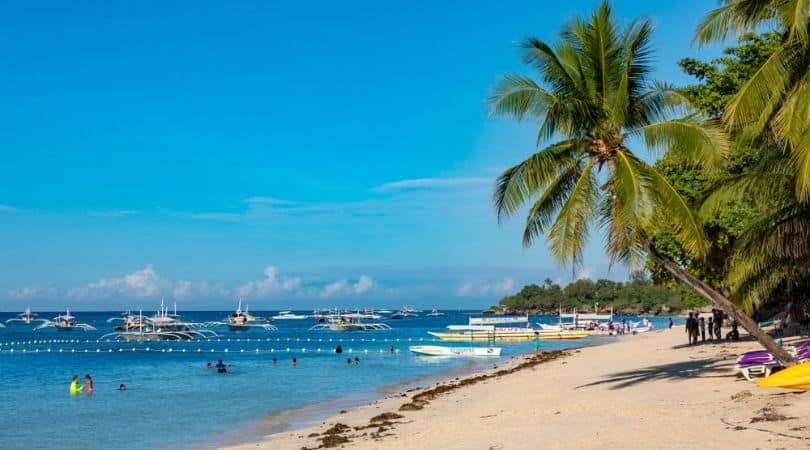 If you are looking for urban facilities along with some vivacious natural elements, this beach is tailor-made for you. Some chic bars, restaurants, and the pristine white sand with lovely waters of the sea would down rightly absorb your attention.
You are in for a treat from the nature of this beach as soon as you step into the silken soft white sand. The beach is also referred to as 'Tropical Paradise', as it is ideal in terms of weather for swimming and boating.
You are likely to see likes of yours, especially if you are a beach bum. Get started to be fascinated with the awesomeness that this beach is about to bestow upon you.
Check out: Best Beaches in California
Location: This beach is located on a tiny island called Panglao.
Famous For: The beach and the island is famous for Chocolate Hills in Carmen, and the underground lagoon at Hinagdanan Cave.
Entry Fee: The entry to this beach is free.
Best Time To Visit: Dry but cool weather can be observed between the months of December up to March. These are the ideal months to enjoy this beach in the Philippines.
How To Reach: The beach is about 20 km from Tagbilaran. Look for the ferry terminal or from Tagbilaran airport you can also travel by car (600 pesos), by tricycle (300 pesos), or by public transport (about 50 pesos).
Jeepneys to Alona Beach go from bus terminal bear Island City Mall and from Tagbilaran Panglao Bus Terminal.
Where To Stay: Alona Vida Beach Resort, Hayahay Resort, Panglao Regents Park Resort, Lost Horizon Beach Dive Resort is retreating places within walking distance from the beach. Some of these offer free parking and wi-fi as well.
Caramoan: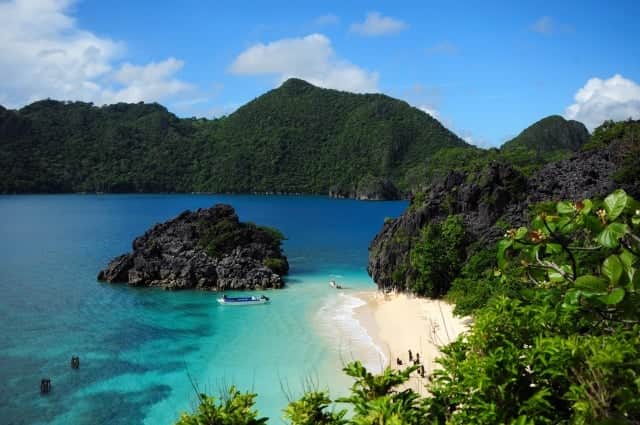 Wild to a great extent, Caramoan is a perfect destination for those who are self-sufficient. Carry the beers, some cooked food, and lots of time to this very infamous beach in the Camarines Sur.
We call this a wild beach as it is unexplored and yet is accessible with ease. A blessing by nature, the cliffs, and the turquoise waters when blended with sunshine, the island appears enchanting.
The radiance of the setting sun amidst the cliffs is a worthy watch that can make you wait the entire day at this surreal beach.
Location: The Caramoan Islands are located on the North-Eastern portion of Camarines Sur in the Bicol Region of the Philippines
Famous For: This is famous for being one of the locations for TV series called Survivor. besides, that it is pristine and has huge and upright rock formations which are the hallmark of this beach.
Entry Fee: If you are opting to travel from Guijalo, you need to pay a P30/person environmental fee. This, plus you also need to pay the entrance fee which is P50. If you are opting to rent a hut, you need to pay P100.
Best Time To Visit: Dry season lasting between December to May is recommended for a visit to this island.
How To Reach: Philippines Airlines and Cebu Pacific Air fly between Manila and Naga City in Camarines Sur. At Naga City, head to Naga Van Terminal and catch a van bound for Sabang Port. Fare is PHP 150 / USD 3, travel time is 1.5 to 2 hours.
Alternatively, arrive at Sabang, get on a boat bound for Guijalo Port in Caramoan. This ride costs around P120 and may take up to two hours. Hire a tricycle to take you to the town the center or directly to your accommodation, the ride costs around P300
Where To Stay: Tugave Cove Resort, West Peninsula Villas, Paniman Bay Lodge, and the Gota Village Resort are the popular places near the island.
Samal Island: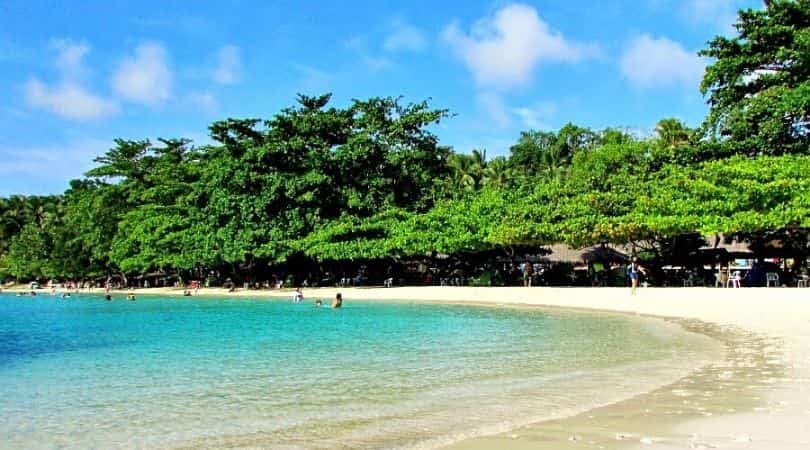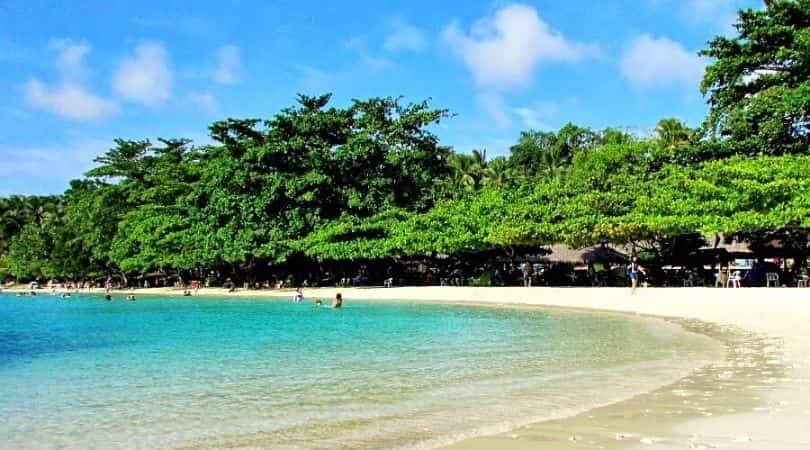 Island Garden City, Samal, you are certainly in for a treat at this island full of beaches and tropical produce. If here, do visit the Canibad Beach Cove to admire the beauty of this elusive beach. Not just this beach, any other beach on the Samal island would blow your mind.
On this island, you will feel at home as it is one of the most developed beaches in the Philippines. You will have access to all the facilities of the city life and yet will enjoy the periphrastic features of this mesmerizing Filipino Island.
Also Read: Best Things to do in Kaula Lampur
Location: Samal islands are located in the Davao del Norte in the Philippines.
Famous For: It is famous for numerous things, such as Montfort Bat Sanctuary, The vanishing island,  Giant Clam Sanctuary, and the Hagimit Falls.
Entry Fee: Php200/person, from 5:30 AM until 5:00 PM. If you are staying here overnight then you need to pay Php350/person. The timings range between 1:00 PM until 12:00 noon, the next day.
The entrance fee includes tables and chairs by the beach. The area is on a "first-come, first-serve" basis. infants are allowed for free.
Best Time To Visit: This beach always crowded, with fiestas and festivals happening here. The crowd is more during the sunny season  (March to May) and in August too.  The weather is cool from December through February, so during these months, the crowds diminish.
How To Reach: From Davao City, the easiest way is to take 2 jeepneys from the city to Sta. Ana Wharf and from there, ride the Palboros boat to reach Kaputian in Samal. This is the cheapest option and it will cost around 20 PHP for the jeepneys and 60 PHP for a one-way boat.
Where To Stay: Punta Del Sol Beach resort,  Lorelei Beach Resort, Club Samal Resort,  The Executive Villa Inn & Suites are some places with breakfast and pool available for you.  
Being a place that has about 7000 beaches, the above mentioned are the most famous ones. visiting these islands and the beaches would give you a gist of how beaches are in the rest of the world.
However, upon comparison, you will find the beaches in the Philippines far prettier and worthwhile to spend your beach holidays. This is primarily because of the weather and the warmth of the waters. Splendid Sunset and blue waters together proffer a picturesque view with an abundance of other features to feel delighted about.
Go ahead and plan this beach holiday in the Philippines to get an outlook of what you can be showered with at a beach holiday.