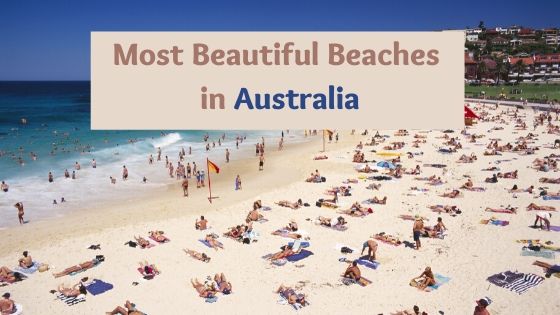 7 Most Beautiful Beaches in Australia For Beach Bum
Water plays a very important role in making you feel empowered about yourself. It has a massive effect on your vibes, your mind, and the way you feel. This is perhaps one of the reasons why people often venture out on holidays on beaches.
They feel relaxed and rejuvenated after spending a few days around the beaches. So if the weather in your country is cold, head out to Australia where the weather conditions are usually opposite from the rest of the world.
In December when everyone is freezing with cold waves, you take that dip into the warm beach in Australia and usher the New Year in. Australia is one continent that is surrounded by water bodies.
Consequently, Australia takes pride in having more than 10,000 beaches! So get your bucket list ready for the beach holiday that will be a hiatus from the everyday drill that you perform each day.
Checkout – 25 Best Beaches in The World
1. Bondi Beach – Visit For A Free-Spirited Outing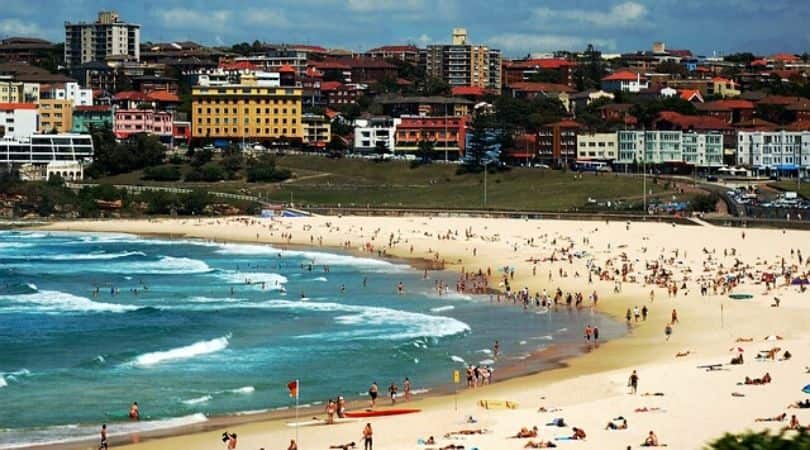 Bondi Beach is synonymous with trendy! Everything here, from the crowd, that visits, the cafes, the plush restaurants in the precincts are all always in vogue. So when you are here you ought to join the bikini bandwagon and flaunt your body.
Stay assured that no matter what you wear here, you will not be looked at in an unpleasant way. Numerous people and lots of crowds are here for merrymaking and soaking up the summer sun. So if you are traversing here from a cold place, you better concentrate on enjoying the warmth of the Sun like ever before.
Suggested Tour: Sydney & Bondi: Big Bus Open-Top Hop-on, Hop-off Tour
Location: It is located in Campbell Parade, Sydney, New South Wales.
Famous For: In 1907, the Bondi Bathing suit protests took place here making bikinis to be worn at the hats beaches as a common attire. It is also the birthplace of the Surf Life Saving Club, which was the world's first such club and was established in 1907.
Entry Fee: Pleasant in all terms, there is no fee that you have to pay to be here. Enjoy all the azure waters absolutely at no monetary cost.
Best Time To Visit: This beach is perennially crowded' however, months between December to February are ideal for a dip here.
How To Reach: Take the train from the central station to Bondi Junction. From here take the bus from A1 or A3 to reach Bondi Beach. All these commuting time will take about 45 minutes.
Where To Stay: The Baxley Bondi, Hotel Bondi, Wake up! Bondi Beach and QT Bondi are some places offering a great stay near the vicinity of the beach so you can enjoy the waters each day of your vacation
Checkout – Best Beaches in Bali, Indonesia
2. Lizard Island Beach- Luxury Aplenty: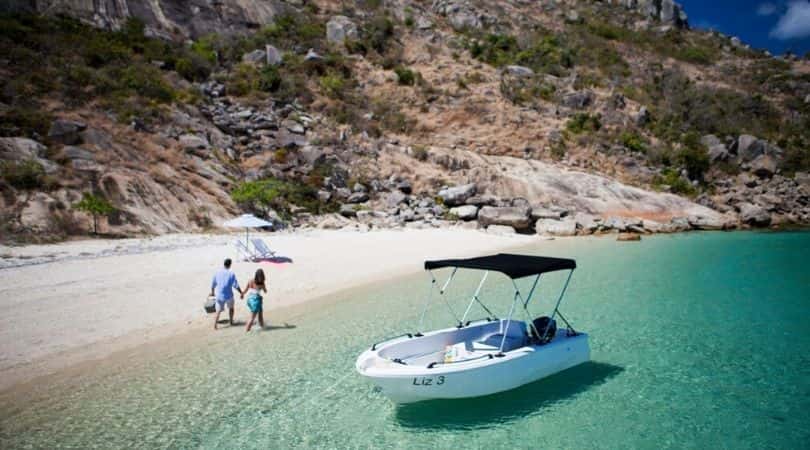 Everything that glitters here in this region is the sun surfacing over water, especially when you are in Australia. The wonderful shiny water with the beaming sun is the most pleasant experience you can have on this island consisting of numerous beaches.
The beaches are referred to as 'White Beaches', because of the white sand at the Great Barrier reef, where this massive and lavish island is located. Here you get the pioneering taste of luxury making you feel on top of the world. With each room, you can have the beach to yourself and thoroughly enjoy the privacy.
Location: It is located near Cairns, in Queensland (QLD).
Famous For: Together this island has about 23 white sand beaches and each one is famous for some kind of adventure sports.
Entry Fee: Entry to the Great barrier Reef is free; however, if you wish to particularly be at the Lizard Island which is located within this reef and stay at a suite with a private beach, you ought to pay $770 (current charges) plus the credit card fee.
Best Time To Visit: The best time to visit is from May to November. That is when this place has blue skies, low humidity levels, and absolutely beautiful breeze and wonderful temperatures to enjoy the dip on the beach.
How To Reach: You need to reach cairns from a flight that is available from any Australian city. You may hire a car from the Cairns airport to this amazing Island with beaches galore.
If you wish to spend grand money, you may also opt to travel from Cairns Airport in a quick chartered airplane giving you a splendid aerial view of this cluster of beaches. This would need a 30-minute prior booking though!
Where To Stay: Lizard Island Resort, Orpheus Island Lodge, Shangri-La Hotel, The Marina Cairns, and Intercontinental Hayman Island Resort are some very beautiful and luxurious places that are rather expensive but worthy of the expense.
Checkout – 25 Best Honeymoon Destinations in 2020
3. Wineglass Bay Beach- Stay A Night at The Beach and Test Your Courage To Dip Into The Cold Waters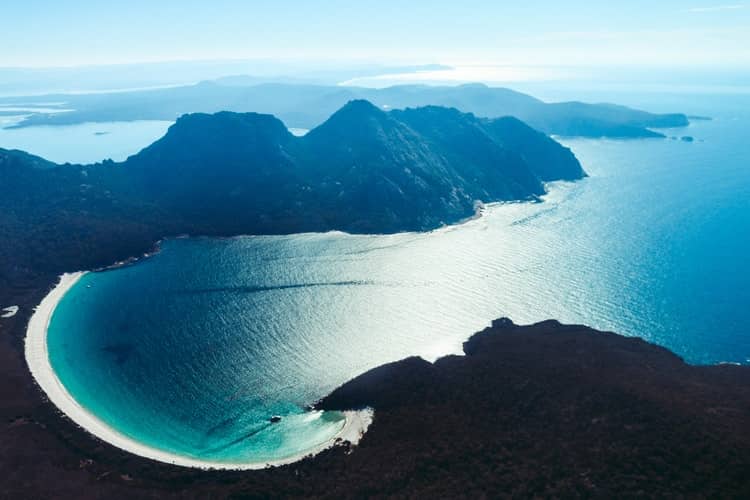 Enliven your spirits at a mere look of this clamp-shell shaped beach. Although reaching here isn't plain sailing, but worthy of all the efforts you will take to be here. The water here is rather cold, so you have to garner the courage to take an electrifying dip into it. The beach has granite mountains around its periphery and lots of wildlife too.
You can plunge to camp here; however, you have to take your own food and water to survive the night. You may opt for various water sports in the azure waters here such as Snorkeling, Kayaking, and Hiking. If you come here through a flight, make sure you click a picture as the aerial view is incredible.
Location: It is located on Coles bay Road, Coles Bay,Tasmania, Australia.
Famous For: The Wineglass Bay is famous for the dominant type of rock called Devonian Granite and other pink and red formations of granite around the sapphire water.
Entry Fee: The walk from the Freycinet park is free; however, you need to pay the entry fee to the park as you would parking your vehicle in its parking lot. This fee is $24.00 for a day.
Cruising charges are $145.00 per person and only two passengers at a time can fly, and for Water Taxi you need to shell out $40.
Best Time To Visit: December to February are the best months to visit. During the day, midday and sunset are bestowing to temperatures and the views
How To Reach: There are various options to reach this beach and all are adventurous. You may opt for walking to this invigorating beach. This walk begins from the car parking of the Freycinet National Park and takes about 1.5 to 2 hours to and fro from the beach.
Alternatively, cruising that can be taken from Coles Bay. Flying is yet another option and is a 30-minute flight to the Freycinet Peninsula and Wineglass Bay. The fastest way to reach this beach is from the Water Taxi which runs from Coles Bay and the ride is called Freycinet Aqua Taxi.
Where To Stay: Freycinet Lodge, Swansea Ocean Villas, Piermont Retreat, and Edge of the bay resort are some of the places which are a blend of comfort, luxury, and budget.

4. 75 Mile Beach: Walk Relentlessly Amidst Nature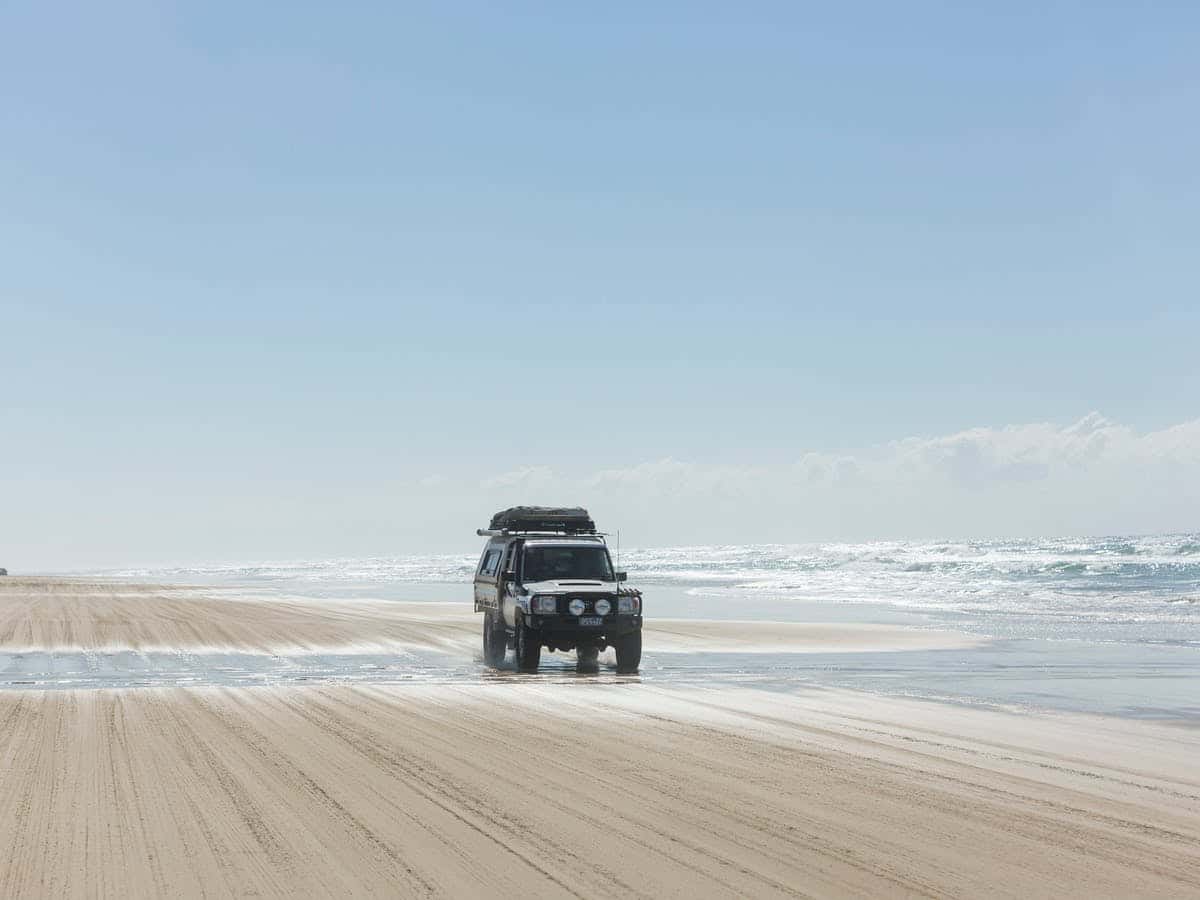 The expansive stretch of the beach has been the reason behind its name. This beach is deemed dangerous owing to the presence of Tiger Sharks and heavy currents. The beach is more popular for 4WD and motorways in Australia.
So if you are cruising on your four-wheeler in the sand, watch out for the landing aircraft. And if you want to satiate your desire to swim around this beach, head to many inland lakes around the beach with a popular one known as Champagne Pool. This would satiate your urge to swim and don your favorite swimsuit and get that much wanted Tan.
Location: The beach is located at Fraser Island in Queensland.
Famous For: The beach is the only place in the world where the tall rainforests grow from the sand. It is also famous for tiger sharks and hence, not fit for swimming or sunbathing.
Other than this, the ancient dunes of the beach that change color from white, orange, and ochre, so don't be astounded with various colors on the shore.
Entry Fee: There is no entry fee charged to enter and spend time at the beach.
Best Time To Visit: Since fishing is not allowed in the months of August and September, you may visit here during other months of the year. The best time to visit the beach is between 7:00 a.m. to 7:00 p.m.
Also, if you do not like crowds and are looking for a quaint beach, then avoid weekends. Weekdays will allow the leverage of exploring the beach by walking and admiring nature.
How To Reach: If you are part of a tour or wish to travel with a group, you may opt for tour buses that come to the beach and can be booked online in Queensland only.
Alternatively, you can hire a car (for which the hotel where you are staying will assist you) and drive down on your own, which is also the way 75% of the people travel here.
Where To Stay: Sea World Resort, The Village Melbourne, Pacific Hotel Yamba, and Sails Port Macquarie by Rydges are some wonderful places with umpteen facilities to make the stay glorious.
Checkout – 17 Best Family Holiday Destinations In 2020
5. Burleigh Beach – Water Sports Await You Here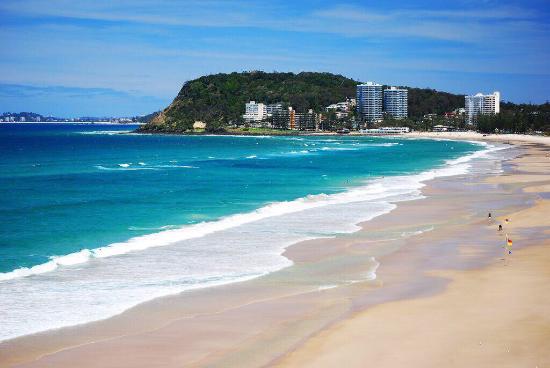 Burleigh Beach, termed as one of the most popular beaches in the Gold Coast is indeed the BEST. It is so not for many reasons but for the fact that it is favorable for adventurous water sports and swimmers of all levels. If you are traveling to Australia and to Queensland, Gold Coast is absolutely not to miss for the Burleigh Beach.
Go ahead and do some Kayaking, Swimming, and Stand up Paddleboarding. This ain't all if you wish to have a cozy picnic with your family, the 57-kilometer stretch of this beach would definitely have a calm and quiet corner for some barbeques and small picnics. Apt in all ways, this staggering beach will end your search for a better one.
Location: Located in Queensland in Gold Coast (the 6th Largest city in Australia) in Burleigh Heads.
Famous For: Brunch Staples, Craft markets, Fragrant Pines, and some very aromatic artisan coffee are some of the things that this beach is famous for. Other than that, the waves and temperature here are perfect for all kinds of water sports.
Entry Fee: There is no entry fee to be at the beach. You need to pay only for the water sports you indulge in.
Best Time To Visit: The best time to visit in summers that begin in December and last until February. These months are favorable owing to the temperatures that remain between 27.3-degree Centigrade (minimum) and 29.2-degree Centigrade (maximum).
How To Reach: You can travel to this popular beach by bus or a tram. If you are taking a tram from Cavill Avenue station, then get down to Broadbeach South Station Gilks.
From there take the line bus number 700 and stop at Burleigh Heads. Take an uber and reach this stunning beach which will take less than 15 minutes.
Where To Stay: Le Beach Apartments, Ambience on Burleigh Beach, Boardwalk Burleigh Beach, and Burleigh Beach tower are some places around the beach.
These are close by so you can come to the beach each day and are averagely priced along with requisite amenities.
6. Whitehaven Beach – Bring Your Instagram Live With Pictures Taken Here: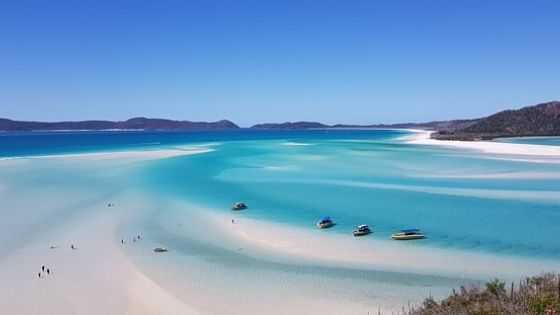 Hiking at a beach?? Doesn't that surprise you? With the unique feature of every beach in Australia, this is not unforeseen. Yes, Whitehaven Beach is famous for hiking and also has a hillbilly sort of campsite, a pleasant one though.
So spend the day hiking, venturing into water sports like snorkeling into this incredible twofold beach. Sip your favorite Champagne under the shade of the casuarina trees and end your day with a dip before you head to your lodging.
There are many inlets, lagoons and other panoramic spots on this beach which credits the beach as the most photographed one in Australia. With a coastline of 7 kilometers, the beach has endless spots for a quiet and serene time for self-reflection.
Location: This awesome beach is located on Whitsunday Island in Queensland.
Famous For: The beach is famous for having cool and favorable water temperatures in spite of the intense sun. It is also famous for Powder-soft -Sand called Silica which is an extremely pure form of sand and soft to touch.
Entry Fee: The entry to this alluring beach is absolutely free.
Best Time To Visit: The best time to visit the beach is between November to March. Even September is said to be ideal for visits.
How To Reach: You can get to the island by boat or helicopter as it is located along the southeastern coast of Whitsunday Island.
All the ferries and boat cruises leave from the Port of Airlie at Airlie Beach and take around 1.5 hours to reach Whitehaven Beach with a stop in between at Hamilton Island.
Where To Stay: Whitsunday Apartments, Hamilton Island, Qualia, Reef View Hotel, Palm Bungalows are all top-notch places to enjoy your stay here in Queensland. You can experience aristocratic service at these places in Australia.
Check out: Top 7 Beaches in Europe
7. Cable Beach – Fairy Tale Sunset and Camel Rides are The High Points of This Mesmerizing Beach: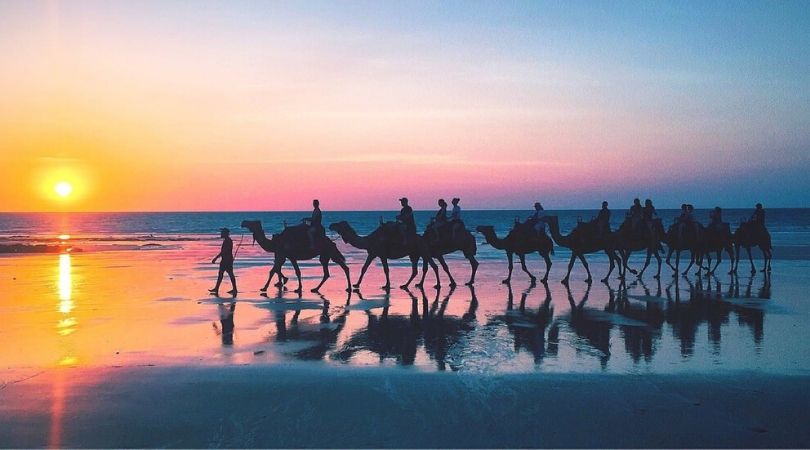 Flawlessly picturesque, this beach is an absolute favorite for thinkers and self lovers. The beach sets an amazing panorama for everyone who visits here, especially during the time of dusk.
The vibrant hues when gradually transform into faded colors of grey, pink. blue and white, the beach metamorphosis itself into an indistinctly calm place. The beach is a part of the Indian Ocean unlike the others in Australia which stream into the pacific ocean. The coastline is stretched to 22 kilometers.
Location: This famous beach is located in Western Australia in the city of Broome.
Famous For: The beach is famous for camel rides, its marvelous sunset, and Sunset Bar that oozes out some good 'Spirits'. it is equally famous for a natural phenomenon wherein a staircase to the moon is observed (only between March to October).
This staircase is like a mirage that is caused due to the bright light of the moon falling on the beach and highlighting the ripples that appear natural radiance and staircase-like structure. If you heard of pearls, then your desire to see them will be manifested here as it is famous for South Sea pearls.
Not just that, it also marks the presence of a 130-million old dinosaur footprint at the Gantheaume point.
Entry Fee: There is no charge to enter the beach, and you only need to pay for the activities you indulge in.
Best Time To Visit: March to October ( if you wish to see the staircase to Moon), else between April to November are the best months to visit this beach. June and July have marked the highest tourists owing to low temperatures.
How To Reach: After you have reached Broome, You can either hail a taxi costing about $14 to $17. Alternatively, you can also take a bus that departs from Willie Creek Pearls and arrive at the Broome Aquatic Center.
Where To Stay: Serendipity-Cable beach Escape, Minyirr Retreat, Breezes Apartments, Bali Hai Resort & Spa are perfect locations with good amenities. Choose your pick according to your budget.
With these popular beaches that are superlative degrees of beautiful, Australia also swanks about some more extensive and far-flung beaches. These are not anywhere less alluring and beguiling. However, those listed above are unmatched in terms of activities and distinctness.
Your respite is going to be successful during your visit to the amazing and splendid beaches in Australia which has coastlines of about 50,000 kilometers (including all the shorelines of all the beaches). With a full-tilt, plan, and implement your most awaited beach holiday!