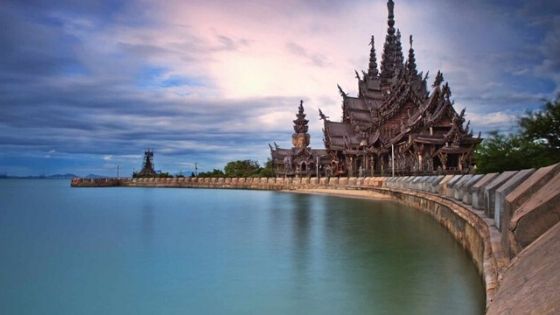 16 Things to do in Pattaya, Thailand – Locations and Timings
Considered patronage of nightlife and glittering ladyboys, Pattaya in Thailand is fathomless. Unperceived coherently, Pattaya has plenty of everything else. This 'everything else' includes a lot more than nightlife, it has places for family and kids, temples, shopping sprees and just that every other city would have; however with more exquisiteness. This is because of the way they are maintained for the tourists. Hosting a lot of adventure activities too, let us find out the names that will make your trip noteworthy.
1. Big Buddha – Be here for an ethereal experience:
Climb the hill and come close to the elevated 18 meters tall Buddha statue. Wat Phra Khao Yai brings forth the spiritual inclination of the people of Pattaya. Unlike the reputation of the city, it is important to know that the people here are rather spiritual and followers of Buddha. The large golden statue of Big Buddha is where you can find serenity. Seek the lord blessings and admire the divine statue.
Check out: Top 25 Things to do in Phuket, Thailand
Best Time to visit:
Any time of the year is good; for the time of the day, it is open between 7:00 a.m. to 10:00 p.m.
How to reach:
The Wat Phra Yai is located a few kilometers south of Pattaya, so to reach the place  Minibus (songthaew) or taxi can be taken. 
Top Attraction:
Wang Sam Sien is a park that you will find on your way to the Big Buddha. This park has numerous Chinese figures displaying the Chinese folklore of China.
Interesting Facts:
The entryway to this spiritual place has dragons on either side of the staircase and was built in 1940
Where To Stay:
Golden Sea Pattaya, A-one Star Hotel Pattaya and Bella Express
Things to do:
Enjoy Ziplining at this hill, besides, if you like Thai food, venture towards a culinary class at Sheraton Pattaya located nearby. If you are weary from the travel, Spa and beer is also available in the vicinity of the Big Buddha Temple.
Suggested Tour: Nemo Island & Big Buddha Day Trip in Pattaya
2. Nong Nooch Tropical Botanical Garden – Soothing and award-winning gardens:  
Who does not like greenery, but this tamed green garden is nothing like any other place seen before. The plants are so beautiful and precisely shaped giving a wonderful dreamy look from the aerial view. The symmetry in which the plants are shaped is outstanding and has received numerous awards for the most wonderfully conducted and maintained gardens.
Best Time to visit:
It is open each day between 8:00 a.m. to 5:0 p.m.
How to reach:
Take the train from Pattaya to Yanasangvararam 283 Hua Lamphong – Phlu Ta Luang – Class III Fan. From Yanasangvararam take a taxi to reach Nong Nooch Tropical Botanical Garden.
Use any means of transport such as bus, taxi or private land transportation
Top Attraction:
Cycad Collection that features ornamental plants is a must watch
Interesting Facts:
There are about 500 species of Orchids maintained at this landscaped botanical garden
Where To Stay:
Swiss Sheep Farm Resort, Nongnooch Garden Resort and Nong Nooch Village Ltd.
Things to do:
Take a swim in the pools in the area, eat some great delicacies offered at the restaurants and satiate your stomach.
3. Frost Magical Ice of Siam – Feel the cold waves amidst the tropical climate of Pattaya:
Snow clad trees and animals and everything else in tropical weather are attainable only here. Visit the place with your kids and show them igloo and how it feels to be in -10 degrees. To have a significant mark of Thailand, the place also has its famous tuk-tuk inside the dome and the variable lights to reflect the nightlife of Pattaya.
Check out: Top 50 Tourist Attractions around the world
Best Time to visit:
The place is open from 9:00 a.m. to 9:00 p.m. every day.
How to reach:
Drive on your own via route number 331 and Route 3 from the airport.
Top Attraction:
The ice sculptures, dragons and a perfect blend of International and Thai Culture.
Interesting Facts:
This is the largest ice sculpture of ASEAN and the first ice dome of Pattaya.
Where To Stay:
Benwadee Resort, Baan Kian Nam Pattaya.
Things to do:
Get to know about Thai Literature, and get involved in various activities that are planned for tourists where you get to meet the characters of Thai literature and interact with snowmen. 
4. Ramayana Water Park Pattaya – Adventure water sports for family:
Water Parks are the best way to enjoy the tropical climate of Pattaya. This becomes a ritual if you are traveling with a family with kids. Wait no more and adorn you swimsuits to beat the heat with nothing but water. The place is divided into various sections depending upon the age of the child, which makes it a relaxing place for the parents who can relax and watch their kids play safely
Also Read: Top Family Holiday Destinations in 2020
Best Time to visit:
10:00 am. to 6:00 p.m. every day.
How to Reach:
Since it is located 15 km from the South of Pattaya you may travel by shuttle busses that can pick you up from anywhere in Pattaya.
Top Attraction:
Sprawled in 184,000 square meters and features more than 50 slides.
Interesting Facts:
Largest water park in Pattaya.
Where To Stay:
Golden Tulip Pattaya Beach Resort, Tamara Resort, and Costa Village Bangsaray.
Things to do:
While your kids play and immerse into the water activities, you may get yourself a wonderful cocktail at the full-fledged bar at this American certified place.
Suggested Tour: Ramayana Water Park Ticket & Hotel Transfer Option
5. Pattaya Floating Market – Shopping with a difference:
Pattaya is surrounded by water at many places and numerous markets thrive on the banks of these water bodies. The most popular floating market is called 'Four Regions Floating Market'.
The name of this is derived from the fact that the market is developed into four regions of Thailand, called, 'The North', 'Northeast', 'South' and 'Central'. Passing by the wooden houses on the banks of the water body is one of the most beautiful and serene experiences.
Check out: 22 Amazing Things to do in Bangkok
Best Time to visit:
The market is open from 10:00 a.m. to 11:00 p.m.  
How to reach:
Either you can hire your own vehicle, else, white baht bus (songthaew) from the southbound side of Sukhumvit highway is close to the floating market.
Top Attraction:
Shopping in the boat is what will thrill you, colorful market reflecting perfect Thai culture is astounding.
Interesting Facts:
Not all stalls here are floating, some are stilted and some move on a boat.
Where To Stay:
Arden Hotel and Residence, Centara Nova Hotel &Spa Pattaya, and Villa Oranje.
Things to do:
Cultural Shows that happen daily and of course lots of shopping.
6. Sanctuary of Truth – Gain celestial feeling along with viewing the distinct sculpture:
As the name defines, this mesmerizing place made of teak in a wonderfully sculpted way is an amazing place for reflection of self. It shares the positive vibes that would enable you to take righteous and pertinent decisions.
Here you will come across teachings that explain the efficacy of good philosophy and at the same time explains the consequences of immoral acts if you indulge in any.
Also Read: Top 25 Honeymoon Destinations in the World
Best Time to visit:
8:00 a.m. to 5:00 p.m. is the best time to visit.
How to reach:
Hire a songthaew available easily from anywhere for Naklua Road which is where this place is located. 
Top Attraction:
The wood used to carve this amazing place is neither chemically treated or protected from any weather condition; however, is still maintained perfectly. The construction of this place began in 1981 and is a never-ending task as each time some part of the wood requires replacement.
Interesting Facts:
The place explains the Thai culture with elephant carvings, people and scenes that showcase Thailand's culture.
Where To Stay:
The Radiance Pattaya, Pullman Pattaya Hotel G and Golden Tulip Pattaya Beach Resort.
Things to do:
Observe the cultural carvings and the way teak is carved and used at this place.
7. Ripley's Believe it or not – Truth unraveled: 
Truth is a virtue, but some are unusual truths that cannot be swallowed. Be prepared to come face to face with the frontiers here. The place houses a large number of truths keeping you perpetually in a state of shock! Not just truths but some creative items like the Titanic ship made from matchsticks is to die for! Stay here and get to know what else this place has to unravel for you.
Check out: Top 16 Cheapest Places to Travel in 2020
Best Time to visit:
It is open between 11:00 a.m. to 11:00 p.m.
How to reach:
The bus is the most convenient and easily available transport to reach the beach road, which is where Ripley's Believe it not is located.
Top Attraction:
Infinity Maze, Mask made from human skin, a shrunken human head and a 4D moving theatre and a lot more.
Interesting Facts:
It exhibits over 300 strange facts.
Where To Stay:
Welcome Plaza Hotel, Baywalk Residence Pattaya, Avani Pattaya Resort.
Things to do:
Enjoy the uncanny truths and stay in shock with each passing moment of truth! Other than that you may enjoy the 4D movie theatre, a stroll and some pictures at the Tussauds Wax Museum.
8. Art in Paradise – Let your creativity show and don't forget to click:
Located in the North Pattaya, your kids can have the best time here! Absolutely a place to get clicked with animals, waterfalls and a series of things in 4D. The pictures look magically real and the place is breathtaking owing to the lovely hues that are present within the premises. Get a firsthand experience to what optical illusion is when you interact and get yourself clicked at this not so conventional art museum.
Best Time to visit:
The place is open between 9:00 am to 9:00 p.m. every day.
How to reach:
Taxi or bikes from anywhere in Pattaya will take you to this place.
Top Attraction:
Everything here is lovely and looks like you are the Alice, who is lost in this wonderland as everything appears scary once and eventually the most fun place.
Interesting Facts:
This was established in 2012 and is now a delight for everyone.
Where To Stay:
A-one Star Hotel, Ibis Pattaya, One Patio Hotel Pattaya and a host of others that are wonderfully priced and comfortable.
Things to do:
Take umpteen pictures with every 3D object that fascinates you.
10. Coral Island-Pristine place, breaking from hiatus:
Everything in excess urges you to break from the routines and takes you towards hills and beaches. If you have reached the apex, then tramp our feet and sway your body towards reaching this pristine island called the Koh-Larn. With not a very established place, there is practically no civilization around this quaint island with azure blue sky and crystal clear waters.
Check out: Top 25 Beaches in the World
Best Time to visit:
Mornings are best to soak up the sun and be with yourself. You can engage in some running by the endless shore in the morning
How to reach:
Take a speed boat from Bali Hier (near Pattaya Beach) and reach there in 15 minutes.
Top Attraction:
The quietness is a worthy capture of the mind.
Interesting Facts:
It is about 45 minutes from the Pattaya city
Where To Stay:
Lareena resort by the sea, Koh Larn Riviera, Sukkeebeach Koh larn and many other wonderful beach hotels
Things to do:
Bathe in the sun, and absolutely clear water away from any cultivation of human or another kind.
11. Walking Street – Let the spirits lose and all you do here is groove:
Don't think that fun ends with Pattaya's Beach road, it only becomes more gratifying as you move towards the end of Pattaya Beach road. This part is a treasure when it comes to colorful vibes, loud music, street food, and go-go bars.
You will come across some dilettantes who would excel in dancing and would stimulate you as well. These live performances and nightclubs are the way after 6:00 p.m. when party animals surface.  
Best Time to visit:
For parties and clubs, after 6:00 p.m. until the wee hours of the morning.
How to reach:
Either drive this approximately 40 minutes away place from the airport, or travel by train to be here.
Top Attraction:
Bars, street food and some wonderful neon lights that create the party vibes.
Interesting Facts:
While the nights are young here, it is a surprise that during the day this part is entirely deserted.
Where To Stay:
Galaxy Suites, P.N. Inn Hotel, and P72 Hotel Walking Street.
Things to do:
Fun and frolic in whichever way it pleases you.
12. Underwater World – Make new friends with the aquatic creature:  
Being with kids, this would be an ideal place for a visit. You develop a familiarity with the underwater sea creatures and learn a lot about them. You would be awe-struck to see how aquatic animals live in their natural environment and the way they are fed. Observing the azure waters with these creatures in it is simply indescribable
Best Time to visit: 
The place is open from 9:00 a.m. to 6:00 p.m.
How to reach:
Taking a taxi would be the best way to travel, Alternatively, Bus is also there; however, taxi is the best ride.
Top Attraction:
Sea Otters, Sting Rays, Sea Cucumbers, Catfish and Sharks.
Interesting Facts:
The underwater world features about 2500 marine species.
Where To Stay:
Blue Garden Resort Pattaya, The Train Resort and Sauna Pattaya and Royal Tai Residence.
Things to do:
Observe the feeding patterns and if you are lucky to find a stable water creature, get yourself clicked too.
13. Buddha Mountain at Khao Chi Chan – Mountain with a dainty embossing:
Embossed in golden color, this engraved Buddha portrait is something surreal, and definitely praiseworthy as it is done on a limestone mountain. Surrounded by lush greens and places to relax, you will have time of your life being at this mountain and enjoying every bit of your time in this tropical weather place.
Best Time to visit:
\Anytime of the day as there are no restrictions on timings, preferably you can travel between 6:00 a.m. to 6:00 p.m.
How to reach:
Without direct transport, you will need to change the bus thrice to reach this hill. Take the line 138 bus from Pattaya to Sattahip 138. Then take a taxi from Sattahip to Ban Khao Chi Chan.
Top Attraction:
The Silverlake Winery by just up the road. 
Interesting Facts:
This is the largest Buddha engraving in the world
Where To Stay:
Pattaya Hill, Pattaya Discover Beach Hotel, and Holiday Inn Pattaya are some wonderful places
Things to do:
Visit the temple outside this mountain and see the way monks live, relax in the gardens surrounding this mountain
14. Muay Thai Boxing -Witness the power:
Sports like soccer and cricket require a ground and many players. But a Thai Boxing requires grit and determination and lots of practice and to perceive this come and visit the Muay Thai Boxing that will win your heart. This is a cultural sport and takes place in well-curated stadiums with a seating arrangement for about 600 people.
Best Time to visit:
10:00 a.m. to 9:00 p.m.
How to reach:
A self-driven car or a taxi is best to take you around this place. You may book the same from anywhere in Pattaya.
Top Attraction:
Live fights when the audience cheers, you feel very enthusiastic.
Interesting Facts:
This has been the fastest-growing martial arts in the world.
Where To Stay:
Golden Sea Pattaya, A-One Star Hotel, and Bella Express.
Things to do:
Enjoy the cultural show each week conducted to educate people about this sport of Thailand along with watching and cheering during the live boxing that happens twice a week.
15. Pattaya View Point – A treat for your views and smoothness for your mind:
Lights and perfectly structured road, along with a water body is what makes any place scenic. Pattaya has got all these three elements and hence a 'viewpoint' to adore and praise the elements when they are naturally placed in symmetry. Lights play a major role in making the city absolutely breathtaking. For the best viewpoint, Khao Pattaya View Point on Pratumnak Hill is great as you get to see the crescent bay.
Best Time to visit:
is the best time to be here as the day fades away, beautiful colors evolve from nature making the view astoundingly precious.
How to reach:
Drive down to this place towards the south from the Central Pattaya region, going past the Bali Hai Pier and under the Easy Karts Race Track Bridge. From there, drive straight towards the Pratumnak Hill. Alternatively, you may take the Songthaew (Baht Bus), which will cost THB 100 per person for one side. 
Top Attraction:
The sunset and the crescent bay together are beautiful.
Interesting Facts:
The viewpoint is open day and night.
Where To Stay:
Wave Hotel, Siam Bayshore, and Nova Platinum Hotel can be resorted to if you wish to stay in this region.
Things to do:
Satiate your hunger while you enjoy the viewpoint and buy some souvenirs like trinkets for your loved ones.
16. Horizon Bar – Time for some merry-making:
Visiting a Bar would not excite you as much! In a city like Pattaya that has awesome nightlife, bars are common but once you are here, you will know how this bar is different from others in the city. The bar is located in Hilton and is the best place to mingle and test your youthful skills. Indulge!!
Best Time to visit:
The bar opens at 5:00 p.m. until 1:00 a.m. every day.
How to reach: 
Hail a cab or book yourself a self-driven car from anywhere in Pattaya.
Top Attraction:
The swanky bar, with a distant skyline and awesome view from this rooftop bar.
Interesting Facts:
The bar opens each day and has no weekday off.
Where To Stay:
Hilton -which is where the Bar is located, other than that, View Talay 6, and The Bayview Hotel in Pattaya are perfect.
Things to do:
Dig into some exotic Thai food while you are in a Tete-e-Tete with someone.
17. Jomtien Beach – Solace is guaranteed here and much needed too:
Sometimes unexplored lands are better, and unexplored beaches are a dream come true! This is one of the marvels amidst large and tall buildings but is still not crowded. Enjoy your own company and the sounds of gushing water by the golden sands. This would give you some time to dip and gain a unique rendition of perhaps yourself.
Also Read: Top 7 Beaches of Australia
Best Time to visit:
Anytime as you please to visit.
How to reach:
Take a bus to Pattaya Beach and then walk for a while to be here at this serene beach.
Top Attraction:
The serenity of this beach with golden sandy shores is perfect for acclimatizing yourself to 'your own self'.
Interesting Facts:
The beach has a long stretch ranging about 6 km.
Where To Stay:
Pattaya Park Beach Resort, The Now Hotel Jomtein and Jomtien Garden Hotel & Resort.
Things to do:
Take a dip, sunbathe and soak up the energy to be a part of the hustle-bustle of the nightlife of Pattaya.
Where to stay? Top 10 Best Hotles in Pattaya

(Cancelation Available)
Pattaya has always been successful in drawing a number of people towards itself. This success is not overrated since the city truly deserves to be explored. The wide-ranging activities for everyone, from Bachelor's to kids to women and married couples, Pattaya is the perfect platform for a holiday. After you have been here, you will not capitulate further and would surrender to call Pattaya a perfect holiday destination for friends and family alike!