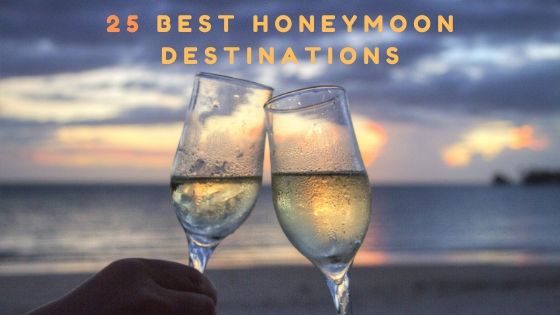 The 25 Best Honeymoon Destinations in 2020
Romance is a feeling of excitement and mystery! With each passing day, you unravel new truths about your partner. Although when this can be done in the ambiance of your own home; traveling is said to bring the best forward and sooner than any other ambiance. Let us identify the best honeymoon destinations that can make the introduction memorable and a time to cherish forever!
1.Maldives
This has become a star-studded place, where every now and then the stars are seen spending their holidays as this is a beautiful romantic getaway! If you like crystal clear waters and want to enjoy the seclusion with your partner, Maldives is one of the honeymoon destinations that you may have been dreaming about. Comprising of almost 12 islands, each one with the beauty of its own, This Sun-Kissed island has kept up with the cleanliness.
Recommended Tour: Discover Maldives – Clear Crystal Beaches, Island and Local Lives
Best Time to visit:
Proffering weather that is suitable all the year-round, the best time to visit the Maldives for a romantic getaway in between November to April. Although, one can visit between December to March too; however, you may experience a lot of tourists between this which makes the activities and stay rather expensive.
How To Reach:
The Maldives being a popular place to visit, there are many flights from the metro cities. You may take a flight from New Delhi or Mumbai to reach this wondrous destination.
Top Attractions:
Book yourself a catamaran cruise and enjoy the beauty of the islands. Other than this you can enjoy various water sports and make the most of the visit.
Things To Do:
Surfing, Kayaking, jet Skiing, Snorkeling in the clear waters and perceiving the aquatic life, Fishing and sunset go hand in hand at this lovely island.
Interesting Facts:
The island has 1190 Coral Islands making it the lowest and most flat nation in the world. The lesser but very interesting fact is that it was formed by an exiled Indian Prince.
Where To Stay:
Numerous places to visit and stay some of the popular Hotels include Baros Maldives, Soneva Fushi and a few more. For a relatively cheaper place to stay, you may choose to stay in an inn and spend judiciously on other activities in the Maldives.
2. Mauritius
Looking for a luxurious and romantic getaway, Mauritius is the perfect place to enjoy with your partner. One of the most popular Honeymoon Destinations in the world, a lot of people not just opt for a romantic vacation, but also with family and friends. Being a small island, it's mostly full of tourists who love to explore nature and its creation.
Best Time to visit:
The best time to visit Mauritius is between November and May. If you are booking ahead in time, then you may avail the best prices for flights and hotels in the month of April and May.
How To Reach:
If the time in hand is large and you are looking for an expedition, then taking a cruise is the best option. Else, flights from India is available to Sir Seewoosagur Ramgoolam International Airport. This is about 50 km from the capital city of Port Louis.
Top Attractions:
Visit various nature reserves, and be on a guided tour of this lovely island to see some of the exotic places reflecting nature's beauty such as waterfalls, volcanoes, and wilderness of the forests that are spread over a large region.
Things To Do:
Begin with a catamaran cruise and indulge in an adventure with your loved one. Sail towards the Tamarin bay and undertake an off-road ATV. Also, do not miss the Dolphin Coast Cruise and enjoy the intelligence of this lovely aquatic creature. Hiking trails and wildlife enthusiasts have lots to explore in this amazing island.
Interesting Facts:
It an Indian Ocean Island Nation, it is a tropical paradise. The island was discovered by Arab and Malay Sailors and was the habitat of the long-extinct bird dodo.
Where To Stay:
This breathtaking island offers countless options to stay, from apartments for large groups to romantic and luxurious rooms for honeymooners. Some of the popular hotels are Le Palmiste Resort & Spa, Hilton Mauritius Resort & Spa and many others.
Looking For Honeymoon in Mauritius here are 19 Amazing things to do in Mauritius
3. Paris, France
It is every couple's dream to visit Paris for their honeymoon. So consider yourself lucky if you have chosen this as your honeymoon destination. It is rightly called the 'City of Love', with numerous Bollywood romantics shot in Paris. From offering a picturesque view, the ambiance of the place is full of love and romance. There are lots to do in Paris with your partner where you can enjoy the charm of the lights and waft of love everywhere in Paris.
Recommended Tour: Skip the Line: Eiffel Tower Tour and Summit Access by elevator
Best Time to visit:
Plan your visit to this city of love between April to June and then October to Early November. The weather between these months is mild and you may observe fewer tourists during this season.
How To Reach:
Home to three international Airports, you may reach Paris from any place as it is very well connected.
Top Attractions:
Have dinner by the river Seine and make every minute a memory to cherish forever. Disney land and the museums are something to watch and admire.
Things To Do:
Tour the city for 1 day using Hop on and Hop-off bus. Bateaux Parisiens River Cruise and a picture with the Eiffel Tower is a must when you are in Paris.
Interesting Facts:
Originally a Roman city, it is today established as the global center for art, love, gastronomy, and boulevards.
Where To Stay:
From apartments ranging from small to big groups, to individuals, there is a host of hotels that offer a luxurious stay. Choose according to your budget and enjoy the lovely food Paris has to offer.
Also Read: 25 Best Places to Visit in France
4. SriLanka
All you need for a Romantic getaway or a Honeymoon Destination is the beaches and a dreamy sunset. Sri Lanka is exactly that! Without much ado plan a lovely romantic and adventurous holiday in this beautiful city with a history.
Best Time to visit:
The best time to visit is between January to March as the temperature during this time is cooler for you to enjoy the Sun and bask in it.
How To Reach:
Use the flights to reach to this beautiful Island country.
Top Attractions:
Whale watching is one of the topmost attractions along with stunning beaches of the city.
Things To Do:
Pamper yourself by basking in the Sun, and enjoying water sports at the same time. However, for this, you must travel between April to September.
Interesting Facts:
Pearl of the Ocean, this island country is home to cinnamon. Another common sight is that of Elephants moving in groups, that this country boasts of.
Where To Stay:
The country has great budgeted and luxurious hotels that one can enjoy to the fullest. With basic to luxurious amenities, you will be in no dearth of restoration when in this country.
5. Raratonga, The Cook Island
This place is tailor-made for the honeymooners, brimming with natural creations including the island itself. The white sand and the clear waters are the highlights which makes it one of the topmost perfect honeymoon destinations of the world.
Suggested Read: 25 Best Hill Stations in the World
Best Time to visit:
Visit this mesmerizing island in winters or early spring owing to its romantic weather. The Winter months are between May to October.
How To Reach:
Use the only Airline that flies to Raratonga International Airport called Air New Zealand. Besides, weekly airlines that fly is Air Tahiti, and Virgin Australia flies twice a week.
Top Attractions:
One among 15 islands of the Cook Islands is the largest island. You may enjoy the Glass Bottom Lagoon and water night show.
Things To Do:
A wonderful hiking trail, you may test the strength of your partner and then see her lean on your shoulder after a hectic day.
Interesting Facts:
The islands originated from Tahiti, and have not been found by Captain Cook as is mentioned in some places.
Where To Stay:
Hotels, Lodges and Inns, all kind of places to stay are available at this popular tourist destination.
Back To Top
6. Lucerne and Monteux, Switzerland
Nothing beats the landscapes of this beautiful European place, making it the best Honeymoon Destination. This place brings an epiphany of being close to your partner not just physically but from the heart. The love is in the air when you visit these towns that are circumference by lakes and the Alps. When the mountains and water come together, they make this place divine and hence, a getaway for the romantic couples.
Best Time to visit:
June to September is the best time to visit. The weather at this time is perfect and you may witness many tourists during this time.
How To Reach:
Reach Paris or Milan and then take the Swiss airports to reach the towns. The towns are thoroughly connected with all parts of Europe.
Top Attractions:
Enjoy the promenades in this city as it has many cafes and restaurants along with enjoying the rivers. Most romantic couples enjoy a walk in the night that refreshes them.
Things To Do:
A walk around the cafes and restaurants is worth a million rupees. You cannot get this experience even after spending a fortune. Take a day trip to the snow-capped Alps and enjoy the medieval architecture of these towns with your partner.
Interesting Facts:
Lucerne is the most populous city in Central Switzerland. Monteux is surrounded by steep hills and is nature's galore where you can witness the jazz festival with some great musicians.
Where To Stay:
Enjoy the stay at some wonderful budget places. The towns also have swanky places too where you can stay and enjoy. If you are an Indian, you may choose to stay near an Indian restaurant as the place has many.
Also Read: 10 Most Beautiful Places in the World
7. Puerto Vallarta, Mexico
Alongside Mexico's Pacific coast, you can enjoy the most wonderful weather in this incredible town. The picturesque image of the cobblestone street that you often say in fairy tales can be realized here. You have attained serendipity, you may safely say that! The best part of this place is the varied budget for stay and food, so you may enjoy it according to your pockets.
Best Time to visit:
During the months between April and June, when the weather is pleasant and the bookings are relatively cheaper, you may visit this lovely town. If you are fond of Whale Watching, you may choose to visit between December to March.
How To Reach:
Use Air flights to reach Gustavo Diaz Ordaz, an International Airport. From there you may travel to Puerto Vallarta as it about five miles from the International Airport.
Top Attractions:
Lots of beach activities can be done in this lovely town. Numerous Marine activities when done in unison with your partner make the fun manifold.
Things To Do:
Enjoy the surfing, underwater rides, snorkeling, whale watching and nature's galore at this lovely place that is a combination of romance and adventure.
Interesting Facts:
Fond of Tequila? You must be thrilled to know it originated at Jalisco and Puerto Vallarta is a state in Jalisco. The town called 'Tequila' can also be visited which is about 4 hours from Puerto Vallarta.
Where To Stay:
Use the hotels, or Air BnB rooms to enjoy the stay among the locals. The hotels are in all budgets and are rather posh in their amenities.
Back To Top
8. Hamilton Island
Custom Made as some romantic couples may think, Hamilton Island has a natural heart-shaped reef called Heart Reef. This can be viewed from the Helicopter from Whitsunday's Australia. When you fly above this heart reef, you will land on the Whitehaven beach to enjoy the calmness of the waters and feel your lover's heartbeat.
Suggested Read: 25 Best Beaches in the World
Best Time to visit:
The only thing you must be careful about is the rainfall. So although the place is great for a visit throughout the year, it is best to visit from April to September as these months experience minimum rainfall.
How To Reach:
Daily flights from Sydney, Melbourne, and other important cities of Australia can help you reach Hamilton Island.
Top Attractions:
Cruise and helicopter flight over the heart reef along with some beautiful resorts are the highlights of this island.
Things To Do:
Coral reefs are something to watch at along with Kookaburras, Kangaroos, Wallabies and Koalas. Other than the Australian animals, you may take a hiking trail that is surrounded by most mesmerizing islands.
Interesting Facts:
This island is the only Great Barrier Reef with its commercial airport. It is also one of the largest islands that is inhabited.
Where To Stay:
Apartments, Villas, Resorts and Hostels and other numerous options are available at this place where you can have a luxurious stay.
Recommended Tour: Whitehaven Beach and Hamilton Island Cruise
9. Dalat, Vietnam
Nestled in the South of Vietnam, Dalat is an exquisite place for romantic couples especially owing to the alluring weather. Great food and cozy cafes are significant to Vietnam and Dalat tops the list. Being the best Honeymoon Destination in Vietnam welcomes you with an 'Eternal Spring' as every lane is full of blooming flowers and lush green hills.
Best Time to visit:
The best time to visit Dalat is from December to March. The weather at this time is ideal for tourists.
How To Reach:
Upon reaching Vietnam you may take a bus or train from various destinations to Dalat. You may opt for a flight from Danang to Dalat, or else take a bus from Phang Rang to Dalat.
Top Attractions:
Various natural buildings, like temples, waterfalls, monasteries are all worth a visit owing to their architecture.
Things To Do:
A short drive to the Lang Biang Mountain can be done. Many outdoor activities like hiking, or visiting the Elephant Waterfalls are some of the important activities one can get involved into.
Interesting Facts:
It is the education hub and houses a nuclear reactor too.
Where To Stay:
Villas, Apartments, Entire houses, Hotels are all available for one to stay and enjoy the flowers and mesmeric weather. These are not just swanky but also budgeted.
Back To Top
10. Vinales, Cuba
Taking out two days for this honeymoon destination will be worth the visit to Cuba. This countryside is perfect to visit with your loved one so you may enjoy the weather and various activities lined up for you in this inviting place.
Best Time to visit:
December to May is ideal for the visit as other months experience heavy rainfall which will deprive you of the outdoor promenades.
How To Reach:
After reaching Cuba, you may use a bus to reach this lovely place.
Top Attractions:
Limestone Karst Formations and a lively ambiance are the must lookouts for this place.
Things To Do:
Enjoy Salsa dance lessons, and cigar rolling up sessions when in Vinales. Do some hiking along with resting after learning how cocktail mixing is done.
Interesting Facts:
A rich fertile soil, this Valley evidence of the earliest human settlement has been found.
Where To Stay:
Hotel La Emrita, Villa Tery, Casa Ony Y Luis are some of the popular places where you can opt to stay.
11. Hoi An, Vietnam
Walking hand in hand by the riverside with your partner would be an ideal romantic walk. And you can do this in Hoi An, Vietnam where the differently hued lights create ripples in the water allowing you to praise the natural beauty.
Best Time to visit:
With low humidity, months between February to April are the best.
How To Reach:
Opting for flights? then you can come to Hoi An via Da Nang City. If you are already in Vietnam, Bus and Motorbike routes are available.
Top Attractions:
Market, Food, and some wonderful cooking to enhance the love between the partners.
Things To Do:
Enjoy the beaches, the museum, and lovely lights by the river illuminating it alluringly.
Interesting Facts:
Was once an important port for trading services. Chinese migrated to Vietnam in the 3rd Century B.C.
Where To Stay:
Budgeted travel is what you can look forward to when in Vietnam. SO choose according to the amenities and your needs.
Back To Top
12. Madrid, Spain
Serendipity is attained when you are around some great street music and colorful buildings. Here you can feel the old world charm and can recall the best moments spent with your loved one before you tied the knot. This place is marked as a popular honeymoon destination where couples can enjoy and spend worthy time with each other.
Best Time to visit:
Fall and spring are the best times to visit this lovely place. So plan your trip between September to November and then from March to May to enjoy the weather and the touristy charm that the place has.
How To Reach:
Flights are the best way to reach Barcelona first and then through the flight to Madrid.
Top Attractions:
The discipline of the city can be observed through its parks that are well kept.
Things To Do:
Boulevards, and beautifully kept gardens can be visited along with European arts at various museums.
Interesting Facts:
Madrid stands at number 3 for the population in the European Union.
Where To Stay:
Cheap hotels and accommodations are available during the winters, however, all the year-round, the city offers numerous options to stay, from budget to luxurious.
Back To Top
13. New York City
Lakes, parks and ice in winters make this place an ideal honeymoon destination. Although there is a lot to do in the city, the most favorite time past for the couples is to stroll through the parks and simply invest in communication. You can indulge in technical detox and get yourself involved in different activities with your partner at this lovely action-packed place.
Suggested Read: Top 50 Travel Destinations in the World
Best Time to visit:
April to June and then from September to early November. During these months the weather is pleasant.
How To Reach:
Take flights as the airport is well connected with New York City. Also, there are flights from every important city of the US that can take you to New York City
Top Attractions:
It's the ambiance and the fact that it is an action-packed city.
Things To Do:
Enjoy the food, the streets, and Pubs
Interesting Facts:
There are 5 Borough sittings where the Hudson River meets the Atlantic Ocean.
Where To Stay:
Great deals on the hotels in New York City are available. All the hotels are mostly swanky and posh.
Recommended Tours: Top 10 Best New York City Tours
14. The Bellarine Peninsula, Australia
Spending time together is the crux of any relation. So if that is on your mind then The Bellarine Peninsula is the place for the two of you to spend some cozy time together.
Best Time to visit:
November to April
How To Reach:
Reach Melbourne and then one hour ride to Geelong which is close to The Bellarine Peninsula. Ferries from various nearby ports are also available.
Top Attractions:
Vineyards, Lighthouses are the hallmark of this place.
Things To Do:
Engage yourself in rides at adventure parks, other than enjoying the landscape and the heights of the lighthouses.
Interesting Facts:
Golf Courses and bays are something to look forward to.
Where To Stay:
Hotels and lodges are available, make the booking prior and enjoy your stay.
Back To Top
15. Banff, National Park, Canada
This is where nature reflects its diversity with uniquely colored lakes and the mountains in the backdrop. With every picture you take, you are certain to see lush green plants and grass all around and everywhere in the picture. It is indeed one of the finest honeymoon destinations for nature lover couples.
Best Time to visit:
June to August and then from December to March.
How To Reach:
About one and a half-hour drive from Calgary, you can enjoy the view.
Top Attractions:
Glacier fed lake, beautiful landscape, and adventure activities
Things To Do:
Hiking, Biking, Picnicking, recreation by being by the side of the lake and enjoying the hues amalgamating into the dusk.
Interesting Facts:
It is the second largest of Canada's Mountain Peaks and is 45 to 120 million years old.
Where To Stay:
More than 100 hotels in the area, you can choose according to your budget.
Back To Top
16. Zermatt, Switzerland
With no car terrain, you can take a train to this lovely place and enjoy adventure sports to the fullest. It is a luxury mountain resort that has a supremely divine view. To move from one place to the other, you can use horse-drawn carriages and enjoy the old world charm of the ancient Indian history and feel Royal. The walking and the carriage makes it one of the most sought after Honeymoon destinations in the world.
Best Time to visit:
Visit between June to September to enjoy outdoor activities
How To Reach:
The place is car-free and can be reached by train, taxi, or even helicopter
Top Attractions:
Long Ski Runs, Cyclist terrain, Luxury Spas and Horse-drawn carriages
Things To Do:
Snowboarding, Glacier Ride, Rothorn, Eating and drinking, Hiking, Climbing
Interesting Facts:
The highest and largest all-around ski area in the world.
Where To Stay:
The abundance of places to stay and hotels to check-in, you may choose according to your budget.
Back To Top
17. The South Coast of Iceland
It is an unexplored land that calls for couples who prefer to be in the lap of nature and enjoy the silence and nature sounds. The South Coast of Iceland is absolutely divine and you can feel small around nature and how overwhelming its power is. owing to this trait, it is indeed a great honeymoon destination
Best Time to visit:
July and August are the best times to visit; however, if you wish to visit Iceland, visit February, March, September, and October
How To Reach:
Four hours and 25 min. drive from Iceland's capital, you can drive when the roads are clear
Top Attractions:
Beaches, Glaciers and lagoon and the Northern Lights
Things To Do:
Skiing and enjoying the snow are the best things to do.
Interesting Facts:
Landscapes are breathtaking, tailor-made and wonderful cliffs, volcanoes and other natural creations.
Where To Stay:
Numerous Hotels, do go with prior bookings
Back To Top
18. Jujuy, Argentina
Explore Silence! Yes, something eerie about silence at this province all-encompassing deserts and mountains within the 1200 and 5000 above the sea. You will probably hear nothing at the night and can retreat and hear your own breathing sound. This feature is true to look forward too; and as a honeymoon destination, definitely unique in its own way.
Best Time to visit:
April, June, September, or December
How To Reach:
From Salta to San Salvador de Jujuy is a two-hour bus journey.
Top Attractions:
Wonderful Architecture, Churches, and breathtaking landscape
Things To Do:
Outdoor adventure, History and cultural knowledge
Interesting Facts:
It is at the borders of Chile and Bolivia
Where To Stay:
Air BnB, Hotels and lodges of all budgets are available in the city.
Back To Top
19. Empress in Victoria, Canada
Peculiar and enigmatic 'Hotel within a hotel' can be seen nowhere but at this alluring place in island of Vancouver. Enjoy the space if you are on a honeymoon by getting personal one on one attention and an also observing a Gold Lounge and the retreating therapy. A honeymoon destination with a difference and luxuries galore.
Best Time to visit:
March to May and if you miss during the summers, make sure you plan between September to November to enjoy the mild weather.
How To Reach:
Take a car ride from Vancouver or enjoy the calmness of the water by enjoying the ferry ride. You may also opt for a flight from Vancouver which is about 35 minutes.
Top Attractions:
History exuded through the Parliament and other historical monuments.
Things To Do:
Visit History sites, enjoy the nightlife by visiting the swanky pubs. Enjoy the lush green Parks and amazing shopping of cosmetics and bags.
Interesting Facts:
It is called the City of Gardens and holds an annual flower count from the 1970s.
Where To Stay:
Apartments, Resorts, and hotels are all waiting for you to be book them. Choose the amenities, and the budget and enjoy your stay at this lovely colorful place.
Back To Top
20. Quebec City, Canada
Paris and Quebec are synonyms to each other when it comes to beauty and weather. The lovely colors of Old Quebec are something to look forward by the couples. Being a popular honeymoon destination, Quebec is one of the most romantic places in the world.
Love Quebec City Here is Quebec City Sightseeing Tour
Best Time to visit:
June through September and December through February
How To Reach:
With great connectivity from New York City, you can take an interstate 91 to the Canadian border.
Top Attractions:
Visit the Old Quebec for the colorful roofs which are unlike what we see in other parts of the world. Falls, museum and Castel hotel are something to witness and go gaga about the beauty.
Things To Do:
Stroll to North America's street and simply be awed by the beauty. Also, Montmorency Falls, Jacques-Cartier National Park and enjoy this environment that place has.
Interesting Facts:
Quebec has the most French population in the entire Canada.
Where To Stay:
A range of options, from Air Bnb, Apartments, Villas, Hotels, all you have to do is to search for what suits your needs.
Back To Top
21. Cesky Krumlov, Czech Republic
The perfect setting just you like you read the tales where fairies appeared. The alley with cobblestone and flowers all around is what becomes the benchmark of the place which is a popular honeymoon destination
Best Time to visit:
If you like dry and cold, visit during December, January and February. If you like wet and warm temperatures, visit this lovely place from May to August.
How To Reach:
Use the rail route after changing some trains that are easily available.
Top Attractions:
Churches and Castles are some very pretty buildings to look at. Besides, if the creative urge in you wakes up, you may visit the Art Centrum too.
Things To Do:
Regional museums, churches and many more places will take the most f the time of the day.
Interesting Facts:
It has the UNESCO World Heritage Site since 1992
Where To Stay:
Air BnB is the most common place to stay here.
Back To Top
22. Zakopane, Poland
Pubs, Restaurants and crowd street is your way of fun with your partner look for no more options and settle for Zakopane. A stroll at Krupowki Street will make you want to come again and enjoy the bliss of loud music. Between all the crown steal a kiss or a private moment as you are at your perfect honeymoon destination.
Best Time to visit:
March to May in the summers and if you are planning during the Autumn, then visit during June to August
How To Reach:
Travel on the train from Warsaw to Cracow
Top Attractions:
National Parks, Mountains, and beautiful scenic views.
Things To Do:
Skiing, Hiking, Awesome views to spend time with your loved one.
Interesting Facts:
It is the highest town in Poland.
Where To Stay:
Since tourists visit this place for a longer duration than usual, hence, long term and monthly housing available, other than Air BnB, Boutique Hotels that have relevant great service.
Back To Top
23. Lake Bled, Slovenia
If Fairy tales tantalized you, this destination is your go-to place for your honeymoon. This is believed to be created by fairies and hence you may miraculously fall in love with your soul mate each morning you wake up in this pure environment. The boundaryless vision will fill you with an urge to live here forever.
Best Time to visit:
If you prefer solace, visit during Winters, ranging from November to March. In summers you may visit from May to Summer.
How To Reach:
Lesce Bled International Station is along the train line between Villach-Jesenice – Ljubljana – Belgrade – Istanbul – Athens. Use the rail which is about 4 km from the Bled
Top Attractions:
Churches having historical and regional importance, Leverage the Lake and row your own boat and cable car too.
Things To Do:
Golfers, this is a treat for you, enjoy golfing, and sight-seeing from the Lake.
Interesting Facts:
It was created by fairies. The boat that the tourists row is called Pletna and enjoy the lovely hues the sky here reflects upon dusk.
Where To Stay:
Air BnB allows you to enjoy the lowest prices. Besides, hotels ranging from various prices can be availed to make the stay merrier.
Back To Top
24. Oludeniz, Turkey
Although a beach resort, you can make it a quintessential honeymoon destination by indulging in spas and lovely luxurious stay with your partner.
Best Time to visit:
This place experiences maximum tourists from May to October. If seclusion is the only reason you are traveling to this beautiful place, then spring is the best time to visit.
How To Reach:
Reach Dalaman International Airport and then take a ride by car to this amazing location.
Top Attractions:
Paragliding, beaches, and reserves allowing your vision to extend to the stretched greens.
Things To Do:
Paragliding is one vital activity for adventure enthusiasts, diving deep into the waters and gaining an insight into underwaters.
Interesting Facts:
The Name Oludeniz means 'The Dead Sea' or Blue Lagoon
Where To Stay:
Boutique Hotels, Villas, Apartments, Luxury places are all available to make your stay safer and incredibly relaxing
Back To Top
25. The Lake District, UK
When the reviews and surveys claim this as the topmost honeymoon destination, we are not in any denial. The place has the magnet attraction for the couples looking for some private moments of their lives. The landscapes will mesmerize your senses and you will be beguiled by the Lakes and scenic beauty of this wondrous land in England.
Best Time to visit:
Peak Season for tourists begins in April and lasts till October. For a lower price and reasonable stay visit the place in March.
How To Reach:
Take a train from London Euston to the Lake District.
Top Attractions:
National Park, Derwentwater, Ullswater and many other beautiful places can be visited during your stay at this incredibly beautiful place in England
Things To Do:
Sit by the side of the English Lakes that are alluring, and charming making your loved and your time worthy.
Interesting Facts:
It is England's Largest National Park, and there is only one Natural Lake in this place.
Where To Stay:
Rent out hotels, and apartments for your stay and make it more memorable by reaching out to the right properties tailor-made for your convenience
Which one is your favorite honeymoon destination from the list? Did we miss any of your favorite one?
Please share your favorite honeymoon destinations and memories/experiences via comment section. Until next Post Te Amo 🙂
Other Romantic Place you should visit
Travel Guide you Need to Follow