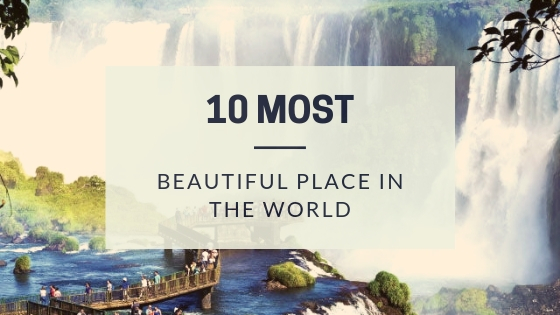 10 Most Beautiful Places in the World
According to studies traveling makes you smarter and healthier. So ladies and gentleman grab a pen & paper and list these 10 most beautiful place in the world that you must visit before you die:
The Dark Hedges, Northern Ireland
The Dark Hedges is just short road surrounded by the fields located in the town of Ballymoney in country Antrim, Northern Ireland.
Most of the people surprised when they think about the popularity of Dark Hedges because it is just a road surrounded by beech trees.
When you first time drives up to Dark Hedges you were not sure it is the right place because in the first instance it looks like a scene of a horror movie or like a painting. But when you look around then you realize why it is so popular. It is the best place for the photographer, painter, and curious tourist.
Now a day Dark Hedges is very popular, its popularity increases day by day because it included in some scene of popular TV series Game of Thrones.
Dark Hedges is that place which includes in Tv series #gameofthrones
Click To Tweet
History:
The Dark Hedges germinated in 18th century by Stuart Family. They just started planted the line of beech tree to attract the visitor when they approach the entrance to their mansion.
I think when Stuart Family started planted these trees they did not know their driveways would be as much popular after 2 century later.
From 18th century the trees remain produce a beautiful sight for everyone who visits it and has become a most popular tourist place in Northern Ireland.
The Giant Causeways, Northern Ireland
The Giant Causeways is another beautiful place that located in Northern Ireland. It is an area of about 40,000 interlocking basalt columns.
According to science, The Giant Causeways is a result of an ancient volcanic eruption or formed by a lava flow of volcanic eruption millions of years ago.
In 2005, the Giant Causeways was named as the 4th biggest natural amazement in the United Kingdom accords to Wikipedia.
When you visit it the first time you may not believe because it's too perfect and look like an interlocking brick walk.
According to local people, the causeways were built by giants due to its structure is so perfect.
History:
As Wikipedia says 50 to 60 years ago the volcanic eruption has happened and after lava cooled contraction occurred which create horizontally fractured. And the extensive fractured network produced these beautiful giant steps.
But some people believe that Giant causeways built by the giant.
Story of Legend
According to a popular story, the giant causeway is originated due to the fight between giant Fionn mac Cumhaill and Benandonner. Fionn accepts the challenge and built a Giant causeway near to North Channel so that both giants could meet.
There are the number of stories about the Giant causeway like in one Fionn defeated Benandonner and other also.
Tianzi Mountains in China
Tianzi Mountains is located in the northern part of the Wulingyuan Scenic area in Hunan Province. It is the most beautiful mountain in the world and best gift of nature given to us.
It provides stunning views of the vertex which rise one after another. Its covers the area of 67 squares kilometers with highest peaks is 1262 meters.
It creates a golden triangle along with Zhangjiajie Forest Park and Suoxiyu Valley.
Facts
First name of it Xiang Dakun which is also called Tianzi that means "Son of Haven".
The maximum peak of the mountain is at 4140 feet from sea level.
If you want to enjoy the beautiful scenery and ride to peak then you need to take 2084 meter cable.
Fly Geyser in Nevada, USA
Fly Geyser is a man-made small geothermal geyser located in near to the north of Gerlach in Washoe country, Nevada. When you visit it first time then it looks like a natural phenomenon but actually, it is human-made phenomena.
When you visit it first time then Fly geyser looks like a natural phenomenon but actually, it is human-made phenomena.
Click To Tweet
History
The Fly Geyser was accidentally originated in 1964 while exploring to sources of geothermal energy. As Wikipedia say the well might not cap correctly so that from both ways dissolved minerals started rising.
The geyser contains many terraces those discharge the water over 30 to 50 pools in 74 acres. The geyser is made up by different types of material and its attracting color is due to the thermopile algae.
Painted Dunes, Lassen Volcanic National Park in California, USA
The Painted Dunes are multicolored holystone formed due to oxidation of volcanic ash. When you visit it the first time you may surprise by seeing it multicolored ash.
The elevation change about 846 feet and the elevation is between 6061 feet to 6907 feet.
The ash on painted because it pulls down on lava flows when they were still hot. People believed that the volcano last erupted in the 1650s.
The cinder cone is made up by loose scoria (material) which is began due to lava is thrown into the sky during the volcanic eruption but drop down as a hardened volcanic rock containing cavities originated by trapped gas bubbles.
If you want to climb the cone then you may face the problem due to sliding rocks that keep you down.
Blue Ridge Mountains, USA
This natural wonder part of the massive Appalachians and located in the eastern United States. It stretches from south in Georgia to all the way northward to Pennsylvania.
This mountain is called as Blue Ridge Mountain because when you look it from distance then it looks blue because the trees releases a gas named isoprene are responsible for this blue phenomenon.
Two national parks The Shenandoah and The Great Smoky Mountain is also there within Blue Ridge Mountain. Go there and enjoy 469 mile Blue Ridge Parkway. It is a long scenic highway which allows you to take full view of Blue Ridge and also connect with two parks.
Iguazu Falls, Brazil/Argentina Border
Iguazu fall is located between the border of Argentina and Brazil. The name of this fall originates from the Guarani language and it means big water.
It is one of the most beautiful natural wonders I've ever seen. Every year 100 of millions of people come and witness one of the beautiful miracles of nature. And the best part about it that there is a special walkway built around the fall which allows you to get close up to this and see an amazing combination of natural beauty and power.
Algar de Benagil, Portugal
Benagil is a small village on the Atlantic coast in the municipality of Lagoa in Portugal. And here is located this natural wonder on the Algarve coast. It is one of the most beautiful sea caves in Europe which only accessible via sea. The best part of this cave is every time you visit it, sun illuminates the water which creates amazing effects.
Cliffs of Moher, Ireland
Cliffs of Moher is one of the most famous tourist attractions of Ireland which is located at the southwestern gate of the Burren region. This natural wonder is home of more than 30,000 birds from 20 different species.
Salar De Uyuni, Bolivia
Salar De Uyuni is the biggest salt mine in the world and one of the most beautiful gift of nature to us. It looks like a fantasy landscape and one of the most beautiful places in South America.
The sheer magnificence of this huge desert is something incredible and the unusual islands that structure in an ocean of salt present an extraordinary scene that is certain to stay carved in your mind forever.