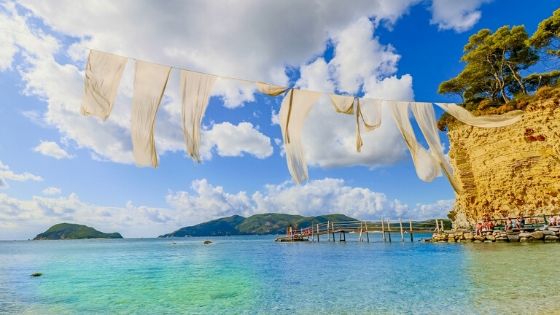 7 Most Beautiful Beaches in Europe [Location + Stay]
Europe is one of the most envious places for vacation. With a lot of beautiful places, it tops the list for all kinds of people. From Families to bachelors, to friends, everyone enjoys being in Europe.
The cities and urban dwellings are equally interesting as nature. With all the jingbang reaching Europe for some chic pubs, restaurants, and shopping sprees, here we introduce you to the surreptitious quiet and beachy Europe where you can indulge in various activities. 
Check out: 25 best beaches in the world
Cala Goloritze, Sardinia – An adventurous beach
: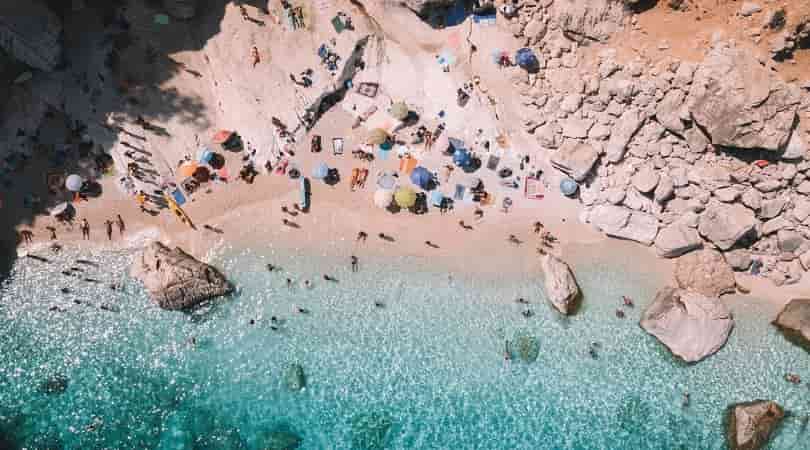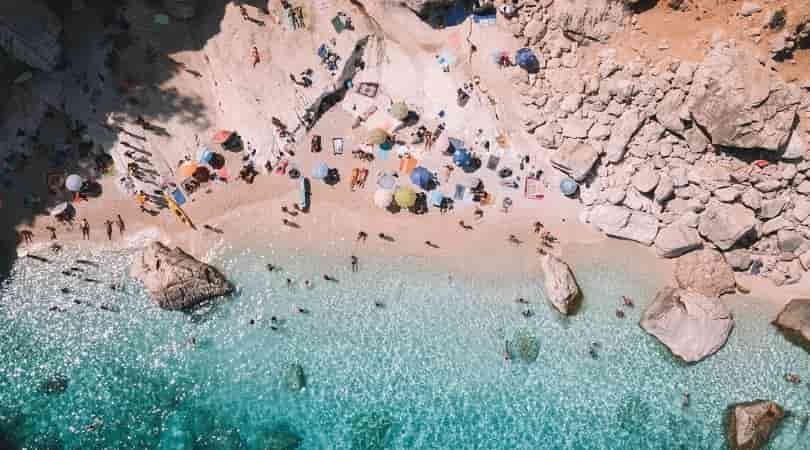 When you come here you anyway feel the worth as you enjoy a few other beaches in the vicinity. There are several small beaches called Pedra Longa, Cala Mariolu and Cala Gabbiani. Mentioning about Cala Goloritze, this beach was formed because of a natural phenomenon.
Some 55 years ago when a landslide happened, a natural cove was formed, underneath which was this beautiful beach. Here you can swim, snorkel and get familiar with marine life.
Check out: Top 50 Travel Destinations in the World
Location: This amazing and natural beach is located in the town of Baunei, in the southern part of the Gulf of Orosei, in Ogliastra, Sardinia.
Famous For: Some beaches are famous for distinct features and this is one of them. The beach is located at the foot of the cliff which makes it 143 meters above the cove. Also, there is no sand on this beach and is covered with white pebbles all over.
Suggested Tour:- Cala Goloritze Boat Tour
Entry Fee: A fee of 6 Euro per person is charged to make a way to it.
Best Time To Visit: April to June is the best time to visit the beach as during this time the temperatures are warm and the sea waters are favorable for sports and swimming.
How To Reach: Pursuing this beach isn't an easy task. Its location is not meant for those who are looking for an easy ride, as it involves hiking. However, if that is what excites you, you need to take a card ride up to the starting of the hiking point called the Golgo Plateau. From there you need to begin the hike, which is just behind the car park.
The hike down and up would take about 4 hours altogether. If you wish to travel by boat which is the easy way out, you need to shell out approximately 4995 INR per person. The Boat ride is for a full-day tour, wherein you get to see three beaches and can spend a good 8 hours during this ride at the beaches.
Where To Stay: Cala Biriala, II Rifugio, Bed and Breakfast In Cinque Mori, and Seraenna Bedroom are some places near the beach that are really close and you can save a lot of travel time to be here if you opt for any of these accommodations. 
Zlantni Rat Beach, Croatia – Swim and enjoy the warm weather: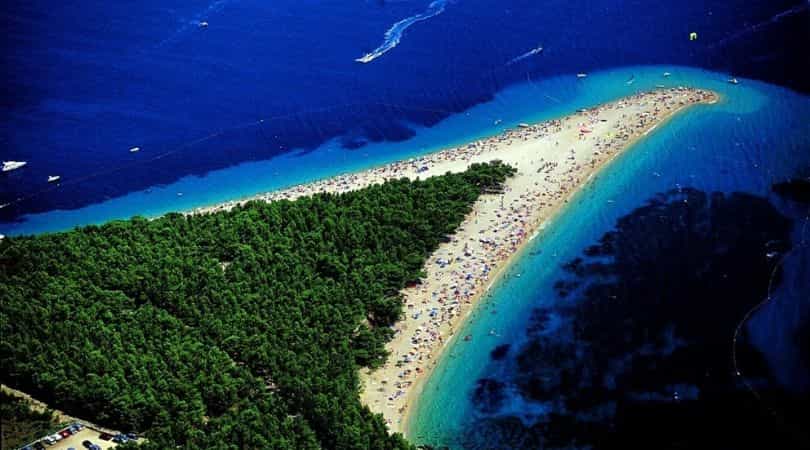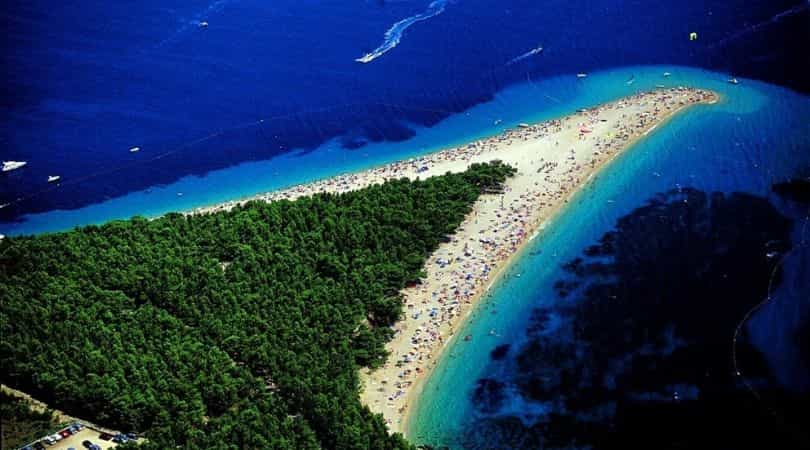 The unique shape of this beach with royal blue color of the water is something to look out for at Zlatni rat beach. This will be a delight for anyone who visits the beach as you will be transported to an absolutely contemporary world of aqua.
You may swim here, or surf the waters, you will get the best of everything here at this amazing beach. One more feature that you would find here would be the changing shape of the beach. This is because of the winds, and waves that influence the shape.
Also Read: 7 Best Beaches in California
Location: Zlatni rat bb, 21420, Bol, Croatia.
Famous For: It is the most famous symbol of the Adriatic Coast and its name means Golden Horn Beach that truly reflects the meaning.
Entry Fee: The entry to this beach absolutely free.
Best Time To Visit: The beach is usually crowded throughout the summer season; however, the best time is to visit when the crowds have subsided and tourists have reduced. September is such a time when you are bound to observe the beauty of the beach and find it the best one in Europe.
How To Reach: Zlatni rat beach is 2 km from Bol city. You can reach the beach either by car or by a 20-minute walk along the sea. During the summer months, every half an hour there is a small tourist train going to the beach, as well as tourist boats that take off from the port of Bol. You can also take a ferry ride to this beach.
Where To Stay: Hotel Villa Daniela, Bluesun Hotel Elaphusa, The Beach house in Bol, Villa Juraj and many more luxurious retreats around the beach are there. 
Cala Macarella Beach, Spain – Long walks amidst two beaches: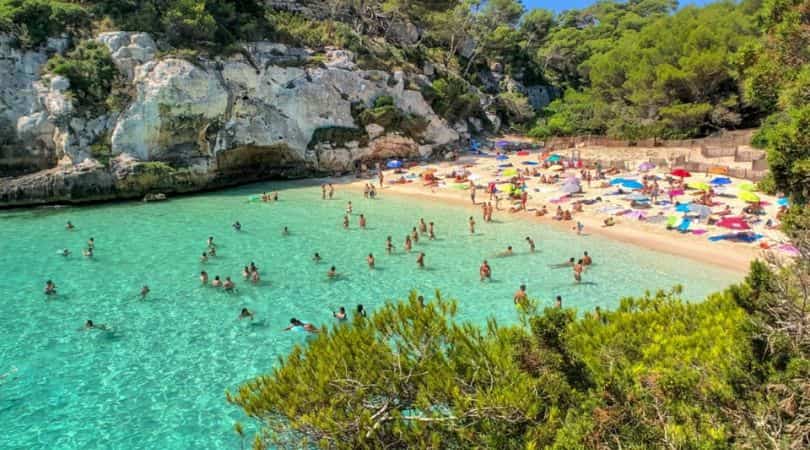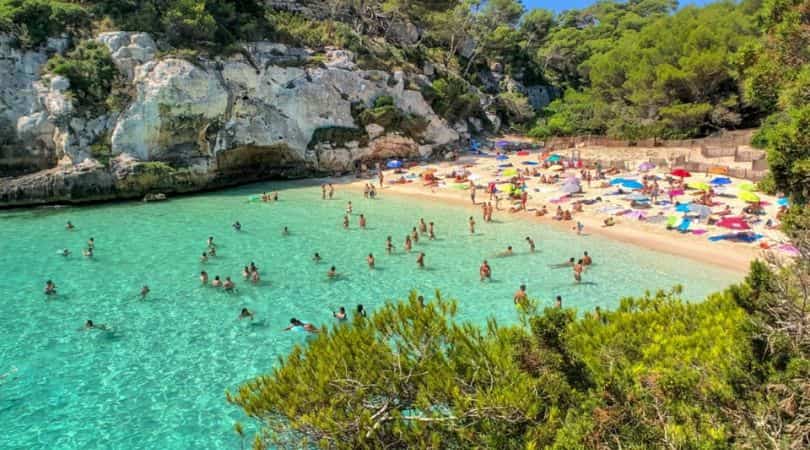 On this beach you can witness the clearest waters which will stimulate your senses. This beach herein Spain is one of the most famous beaches and has an influx of people coming here invariably.
The cliffs and the view of the beach from the cliffs are breathtaking with various greens and blues blending spectacularly. You can indulge in activities such as swimming, and snorkeling. If you are already done with these, a long walk between Cala Macarella and Macaralleta would rejuvenate you and strengthen your legs.
Check out – Top 7 Beaches in Spain
Location: The beach is located in the South of Menorca, about 14 km south of Ciutadella next to Cala Macaralleta.
Famous For: The low cliffs that surround this beach and combine with the blue waters in a very dramatic way.
Entry Fee: The entry to the beach is free; however, there is a car parking charge. This also can be avoided if you arrive a little early and are ready to walk for 20 minutes, as there is one free parking too, from where you need to walk about 20 minutes to reach this alluring beach.
Best Time To Visit: Summers are the best months to visit the beach. Summer months in Menorca are July and August. The temperatures during this time ranges between 19 degree to 29 degree.
How To Reach: Arrive on the Sant Joan de Missa road from Ciutadella, and all you have to do is follow the signs to this amazing beach. You may cover this journey by car which will take about 25 minutes or by bike that takes about 1 hour.
From the parking lot, you will need to walk for about 15 minutes to reach the beach. If you are adventurous, go for a hike from the car parking. yet another way is to take a boat ride from the town of Ciutadella that would take you to the beach. 
Where To Stay: Villa Cala Galdana-Calla La Ladera, Villa Azucena in Cala Galdana, Villa Violeta, Floramar Aparthotel and Hotel Ilunion Menorca are some great stays near the beach.
Praia de Marinha, Portugal – perfect for families who like a panoramic view :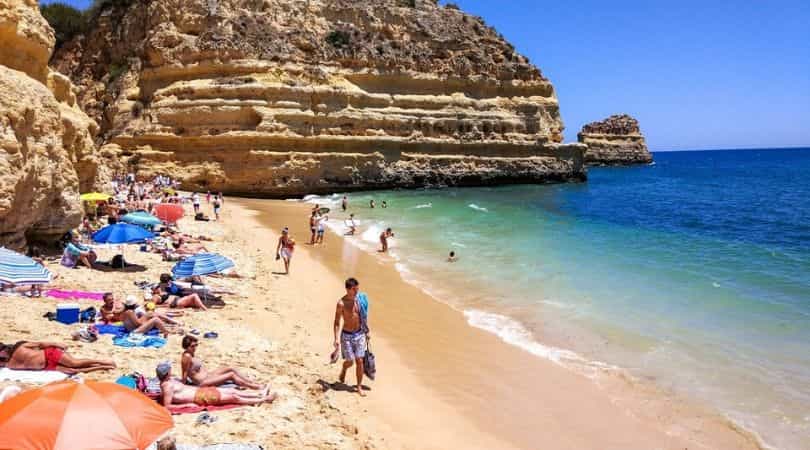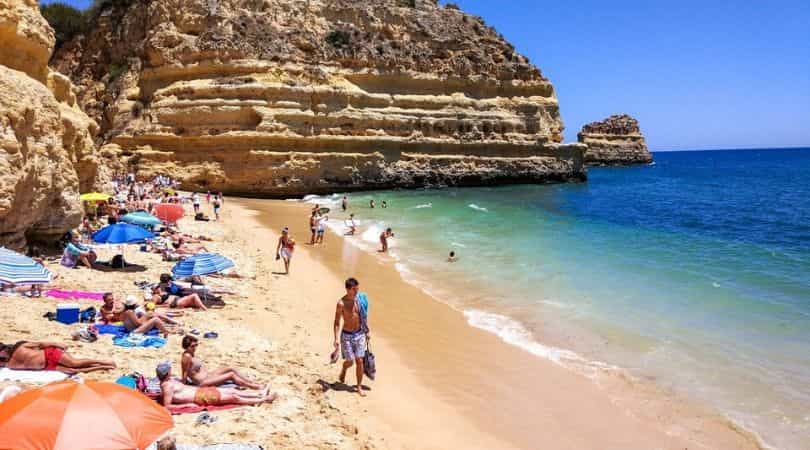 This is a very famous beach in the entire Europe. and the vastness of the blue color of this beach is electrifying. With a strong sun and mostly favorable temperatures, the beach is a hit among the tourists, especially children who are big enough to snorkel.
They will get an exquisite look at the marine life under the sea which will be exhilarating. make sure you carry your own snorkeling equipment, as the beach is devoid of any shops to help you.
Also Read – 7 Most Beautiful Beaches in the Philippines
Location: This lovely beach is located on the Atlantic coast in Caramujeira, in Lagoa Municipality, Algarve, Portugal 
Famous For: The rock formations here are quite unique and mostly look barbed. You are most likely to find a rock that is' shaped and is a natural formation. This beach is famous for snorkeling as well. This awesome beach has been classified as the top 10 beaches by the Michelin Guide.
Entry Fee: There is no entry fee to this beach, and you can enjoy being here for free. Even the car parking here is free of cost.
Best Time To Visit: July and August often notice an influx of people and the price of everything is skyrocketing during this time. June and September are also good seasons; however, the crowd is much less and prices are also decent. The tides are rather low during this time and hence it is ideal for visit.
How To Reach: To reach Praia de Marinha is to take a bus from Lagoa to Praia do Carvalho and walk the half-mile or so along the cliff top track. Climb the stairs down from there and you will be at the beach.
Other than that, boat tours are a great way to get a mesmerizing look from the cliff. You may also book a taxi from where you are staying to the clifftop.
Where To Stay: Villa Vita Parc Resort & Spa, Tivoli Carvoeiro Algarve Resort, Suites Alba Resort & Spa and Pestana Palm Gardens are some of the places to stay near this beach.
Check out: Top 17 Family Holiday Destinations
Vik Beach Iceland – Check out the northern lights which are extremely famous: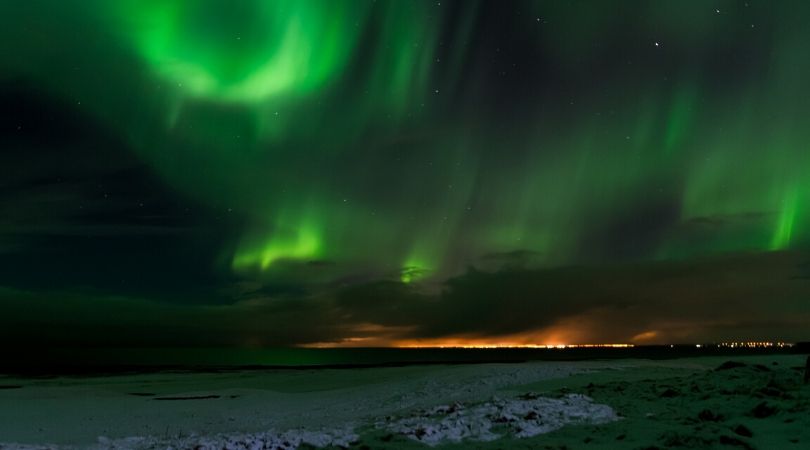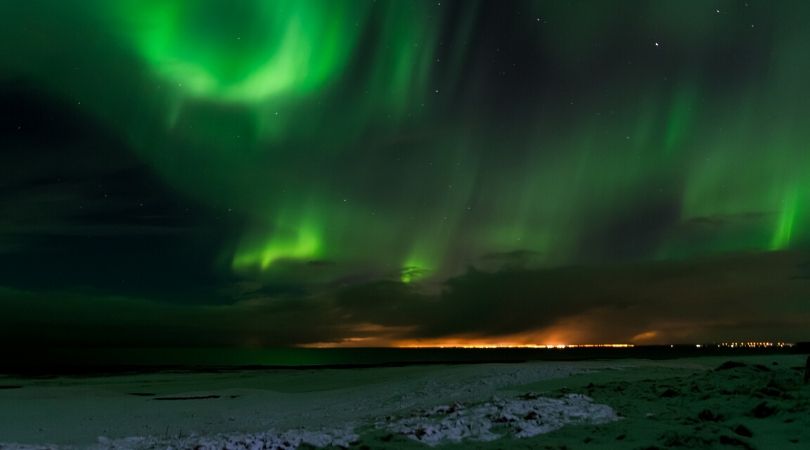 Wait till the night approaches, and you will get to see the Northern lights. You may not typically wait at the beach as it tends to get very cold there. At the Vik Beach you can notice from wildlife and few birds that are rare and cannot be seen elsewhere.
Take some amazing pictures of this glorious trip to Vik Beach and acknowledge the journey. The water is not ideal for swimming, however, cherish the memories and observe the natural black sand that you will find here.
Location: Vik Beach is located near a town in Iceland, called Vik
Famous For:  Popular for the rare color of sand, which is black in color, the beach is not famous for swimming. You may also encounter some strange geological features like the basalt formations at this beautiful beach. Entry Fee: There are no charges to be on the beach
Best Time To Visit:  Summers are the best time to visit the beach, however during this time you may not be able to see the northern lights. Summer months begin in May and lasts through August.
How To Reach: The way from the ring road will help you reach here. You need to drive on your own, or rent a car to reach Vik Beach and enjoy the waters.
Where To Stay: Puffin Hotel Vik, Black Beach Suites, Hotel Kria, and Vik Apartments and many more places are close to this amazing beach that offers a great and luxurious stay.
Ölüdeniz Beach, Turkey – Calm waters throughout is what you get here: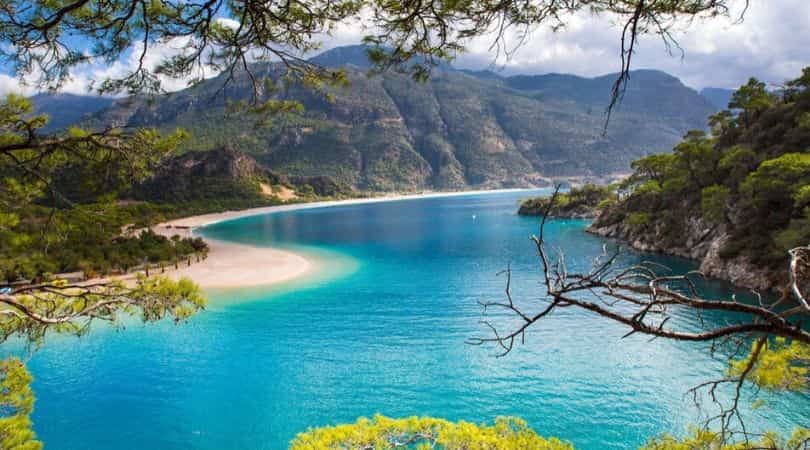 A surreptitious place with not much of urban interference, this beach forms the flawless place for pictures. The blend of colors is entirely bedazzling. From the greens of the forest to the blues of the water, and then the sandy color of the shore amalgamates divinely to form this beach in Turkey.
The beach has perfect amenities to make you feel equipped at the beach. There are cafes, restrooms, and some restaurants to satiate your hunger after a day at the beach.
Check out – Top 9 Beaches in Bali
Location: It is located in the Fethiye district of Muğla Province, on the Turquoise Coast of southwestern Turkey.
 Famous For: The presence of lagoon makes this a favorite place for scuba diving and snorkeling. You can also paraglide here and will remember this experience forever, as you pass through Mount Badadag. 
It also has a market, allowing you to plan your instant picnic at the beach. In the market, you can get fresh fish for your meal.
Entry Fee: Hotels around the beach have an arrangement wherein you buy beers from them, you may not have to pay the entry fee. However, if you do not wish to acknowledge this arrangement, you need to pay 6 lire or 1 pound as the west coast of the beach is a national park.
Best Time To Visit: Spring season is best to visit this Mediterranean beach. The Spring months are May, June, September, and October. You will experience more space for yourself as the crowds subside during the spring.
How To Reach: If you wish to reach here within hours, then fly to Dalaman airport and then take the Havaş airport bus to Fethiye. From there board a local bus to Ölü Deniz Beach. If you do not wish to take a bus, you may rent or hire a car after reaching the Dalaman Airport. However, if you wish to reach here without spending much, and have time at and, you can take an overnight bus from Istanbul to Fethiye. The journey takes 13 hours.
Where To Stay: Symbola Oludeniz Beach Hotel, Liberty Hotel Oludeniz, Perdikia Beach Hotel, and Belcehan Deluxe Hotel are some of the famous places where you can retreat while in Turkey and near the beach 
Myrtos beach, Greece – Sunbathing here is priceless!: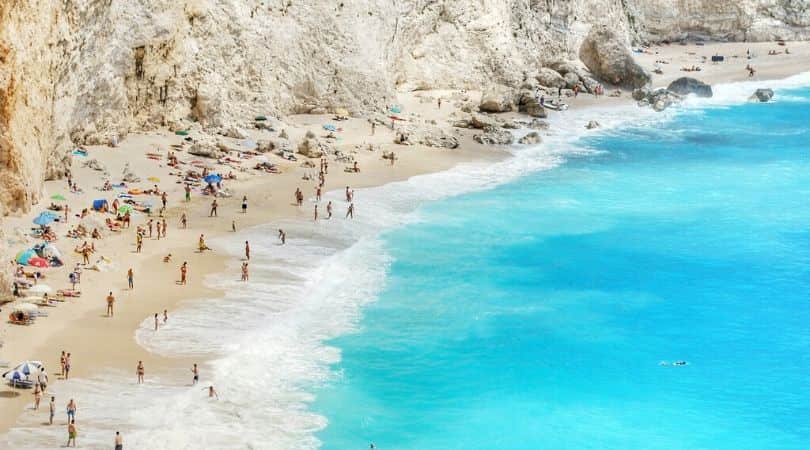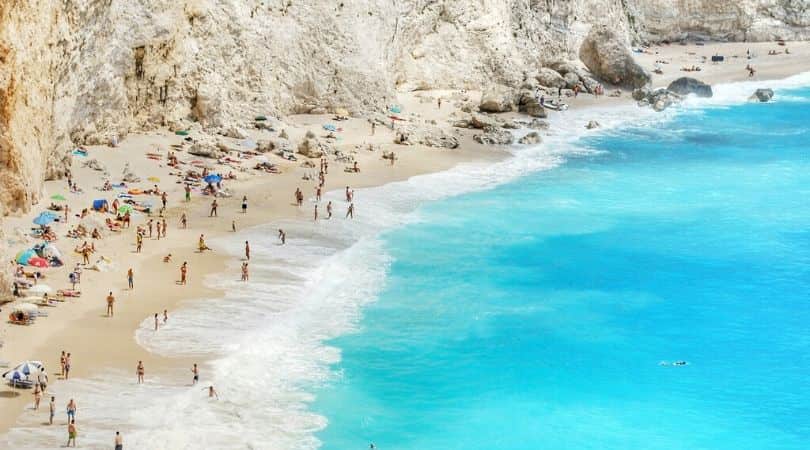 Reigning as the most beautiful beach in Greece, the beach is crescent-shaped and has electric blue waters. Praise the sunset at this beguiling beach and you would be stimulated to visit this perpetually.
The invaluable sunset renders the beach prettiest as the colors are simply spellbinding. Indulge in swimming and enjoy the calmness of the blue waters. Cruising is yet another way to enjoy the beach far more safely if you are with children.
Location: Myrtos beach lies between the feet of two mountains, Agia Dynati and Kalon Oros on Kefalonia Island.
Famous For: Swimming and picturesque views are what makes the beach a famous one in Greece.
Entry Fee: There are no charges to enter the beach. Best Time To Visit: June to August are the best months to visit as the weather is hot and perfect for being on the beach.
How To Reach: Access to the beach is down a 1.25-mile (2-km) rough track from the village of Dibarata via a series of very sharp bends. Drive cautiously down to the car park or walk down. From your place of accommodation, you can get a bus, or hire a car to reach the village of Dibrata and then walk here. Private boats are also available if you wish to use that option.
Where To Stay: Myrtos View Apartments, Forest Villas Kefalonia, Panorama Apartments, Amarianos Villas are some lavish and grand properties that you can plan to stay at. 
From eyeing Europe as the place for hen and bachelor parties, perhaps, you have a view now to be here with family especially to explore the famous beaches it has. The beaches here are very calm and perfect for swimming.
With luxury at every beach, and a perfect way to reach it you will always find yourself safe and sound in Europe. Certainly, from raging about its Alps, you would now go gaga about the beaches too! Tick the bucket list once you traverse all these one by one!