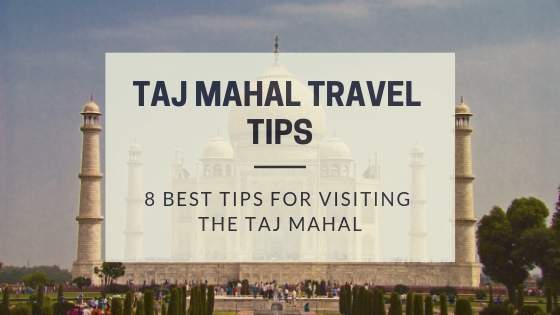 8 Best Tips for Visiting the Taj Mahal
If you heard about India then Taj Mahal will be the first thing comes into your mind and why not? Taj Mahal is one of the most recognized monuments of India and one of the seven wonders of the world.
Situated on the banks of the Yamuna River, Agra one of the best tourist attraction in the world. If you're traveling to India and thinking about skipping it because you have seen millions of photos then I recommend you to reconsider your decision because pictures cannot do the Justice with the beauty of Taj Mahal.
If you're planning to visit Taj Mahal then you should read this post here I shared everything you need to know before visiting Taj Mahal along with Tips and tricks of Taj Mahal so that you can enjoy every bit of it.
Tips You Should Know Before Visiting Taj Mahal:
Where is Taj Mahal?
Located on the banks of Yamuna Rive, in the city of Agra, in one of the crowded state of India Utter Pradesh which has 1.7 million people nowadays.  In this city, Taj Mahal situated in the east, which is one of the richest part from the time of construction.
Here is the complete address show by Google: Dharmapuri, Forest Colony, Tajganj, Agra, Uttar Pradesh 282001.
Suggested Tour: Agra: Skip-the-Line Taj Mahal Admission with Optional Trips
Best Time to Visit Taj Mahal
The best time to visit Taj Mahal from October to March or you can avoid too cold days like Jan and Fab because there is fog during these days. So you can't see Taj Mahal even you're 500 meters away from it.
If you love summer then you can visit at the end of March or September because it will be warm enough but not too much heat. Summer is the peak tourism session for both domestically and internationally. So try to come early in the morning there will be little crowd nice weather and you'll avoid the heat.
The Taj Mahal appears to slowly alter its shading in the changing light of the day. It's amazing to spend time early in the morning and get the best sunrise shot in the world.
IF you're not a morning person then sunset visit is also a good choice because the temperature becomes cool and the monument is surrounded by soft silver light. But you'll find more crowds at sunset than sunrise. Patience is the key to capture some beautiful shot.
Taj Mahal is open every day from sunrise to sunset apart from Friday. And the night view of this beautiful wonders is only available 5 days of the month – during the full night and 2 day before and after that day.
October to March – Its winter time so you'll get the most comfortable temperature but more crowd and fog as well
April to June – Its summertime, temperature becomes hot, peaking around 40 to 45 Celsius
July to September – Its rainy season so try to avoid this time if you hate rainy season
When does Taj Mahal open and close
Opening Hour in day time: 6:00 am to 6:30 pm except Friday
Night Time: 8:30 pm to 12:20 am.
Which the best gate to enter in Taj Mahal?
There are three entrance gates to the Taj Mahal. Make sure you know each gate very well so you can choose the best one for you:
The west Gate: This is the most crowded gate during the day but it less crowded during sunrise as compare to other gate. So it can be a good option for you if you walk early in the morning.
The East Gate: This gate faces toward Fatehabad. There is a domed tomb raised on a elevated stage close to this entryway. This Tomb was built in the memory of another spouse of Shah Jahan called Sirhindi begum. Because of this, the door is known as 'Sirhi Darwaza'.
The South Gate: The gate faces towards the old Mumtazabad. But if you love to take sunrise click here than you can avoid this gate because this gate doesn't open until 8 am.
What to wear at the Taj Mahal?
There is no dress code enforced at the Taj Mahal but it's important to dress modestly. You see some women wear shorts and tank tops as well.
India is a deeply religious country, Hindu, Muslim and Sikh. I recommend you to dress modestly because the general of dressing in India for women is to cover the shoulder and everything below your knees. You can check my guide Do's and Don'ts in India.
What You can't take inside the Taj Mahal?
There is a long list of what you can't bring inside the Taj Mahal and some of them are so arbitrary like food, tripod, selfie stick, headphone and many others as well.
You can only bring a water bottle with you that is given to you when you purchase a ticket. You can read up the complete list of banned items by click here.
Taj Mahal Photography Tips
Visiting Taj Mahal is a dream of every photographer whether you're a professional or not. But be prepared with the correct equipment to take some of the most magical shot.
Sunrise, Sunset, and Full Moon Shot: Sunrise is the best time for amazing photographs of the Taj Mahal because of that time it is less crowded and looks like a blooming flower. Sunrise beats the crowd and you have a better chance to take the great shot without people.
Sunset is cool and beautiful but it is also crowded so you have a few angles in mind from which you'd like to take an amazing shot. Because once you're in you may be overwhelmed by the crowd, so it's good to make few angles before visiting.
Be ready to click the picture with locals as well. You may ask to click photo by local people as well. Everyone seems to stop and takes picture. So try to beat the crowd to take good pictures.
Taj Mahal was constructed with white marble so when you inside you can actually witness the moonlight glow through the marble. It looks spectacular so if you want to take full moonlight shot than Taj Mahal is open for night tours as well but be sure to book your ticket ahead because there is a limit of certain amount of people in Night.  The night view of this beautiful wonders is only available 5 days of the month – during the full night and 2 days before and after that day.
HANDPICKED RELATED CONTENT:
Take a perfect snap from the River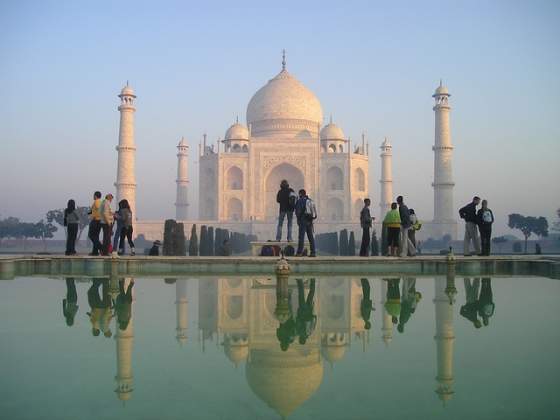 After taking all shots of sunset, sunrise and full moon night then head to the river and take an amazing look of Taj Mahal from the Yamuna. It is less crowded and depending on which spot you choose you can prefect angle to take an amazing shot.
For details about the ticket, you can visit the official website of Taj Mahal
Looking for stay? Here are 10 Best Hotels near Taj Mahal, Agra

(Guaranteed Discounts)
Here is the list of tips for visiting Taj Mahal. If you wants to add more tips then let us know in the below comment section and share your favorite moment while visiting Taj Mahal with us. Cheers until next post!!!