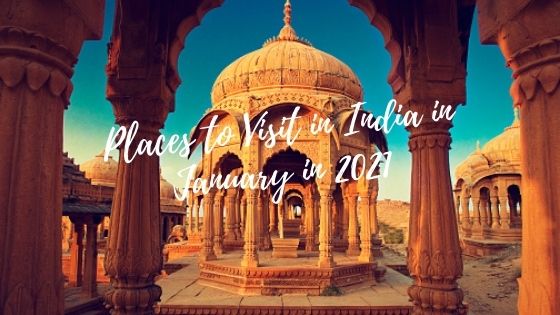 13 Best Places to Visit in India in January 2021
New Year is arriving and we all wondering about what new we can bring to our life, all the do's and don't and resolution but traveling is something that should be features at the top of the list especially after the lockdown. And here we can help you to make the list of best places to visit in January 2021.
From the most adventurous places to smoothest sand beaches, from snow-capped mountains in Auli to beautiful beaches of Gokarna; from culturally rich sights in Jaipur to biodiversity of National Park. So if you're planning a holiday in January here you can choose options like mountains, beaches, religious, cultural and desserts.
Check out: 50 Best Places to Visit in the World in 2021
Andaman and Nicobar Manali Kutch Gulmarg Munnar Jaisalmer Jaipur Hampi Kumarakom Goa Gokarna Puri Auli
1. Andaman and Nicobar Island
Located in the Bay of Bengal, Andaman and Nicobar is a group of 300 Islands (approximate). It is one of the most romantic places in India and famous between couples. A glance at these beautiful rain forest and Island leaves you absolutely mesmerized.
Tropical Rain forests, waters of Bay of Bengal, caves, churches, lush greenery, adventurous activities, National Parks, historic monuments and sandy beaches attract travelers from all around. Port Blair, the capital of Andaman and Nicobar island is the gateway to the reach here.
Top Tourist Attractions:
Havelock Island
Jolly Buoy Island
Swaraj Dweep
Neill Island
Barren Island
Ross Island
North Bay Island
Baratang Island
Port Blair
Long Island
Cinque Island
Indira Point
Merk Bay Beach
---
2. Manali
Whether you are looking for inner peace from a busy lifestyle or want to spend some time with your friends Manali will be a perfect gateway to you. Manali is one of the best places in India for those who love hill stations. The mountains of Manali always fascinate the tourist. And a wonderful place for the nature lovers.
---
3. Kutch, Gujarat
Kutch, India's wild west is one of the best places to visit in January with a wide range of white salt deserts. Its name derives from Katchua or Kachbo meaning a tortoise. Rugged forts, iconic palaces, ancient temples, Wild Ass sanctuary; you have it all in kutch.
Kutch lies on the Indo-Pak border where you can see some parts of Pakistan as well. It is one of the largest districts of India with a very low population density. Most of its covered by Rann of Kutch, the Salt Marsh Of India that looks like an endless mass of snow. The Rann of Kutch is divided into the Great Rann of Kutch and Little Rann of Kutch.
Every year Kutch celebrates 3 months-long festival called Rann Utsav (12th Nov 2020 to 28th Feb 2021) which attracts people from all over the world to the beautiful white desert. Many times PM Modi too has attended this festival.
Kutch Tourist Attraction:
Rann of Kutch and Salt Desert
Rann Utsav
Mandvi Beach
Wide Range of Flora and Fauna in Great Rann of Kutch
Indian Wild Ass Sanctuary
Kutch Desert Wildlife Sanctuary
Shopping in Kutch especially Handicrafts
The beauty of Bhuj – Capital of Kutch Region
Camel Safari
---
4. Gulmarg, Jammu and Kashmir – Heart of Winter Sports in India
Gulmarg is a popular skiing destination in India situated in Pir Panjal Range of Union territory of Jammu and Kashmir at an altitude of 2730M above sea level. It is one of the best honeymoon destinations in India.
Check out: 25 Romantic Honeymoon Destinations in the World
Gulmarg rank on the list of best hill station in the world with mighty snow-covered Himalayan's ranges, lush green forested valley and meadows of flowers. In Gulmarg, one can enjoy trekking, mountaineering, skiing and snowboarding. There is number of private tour operator here which provides courses of these activities. You can also visit India's Highest Golf Course, 18 Hole Golf Course.
Top Tourist Attractions in Gulmarg:
Nagin Valley
St Mary's Church
Skiing
Gulmarg Gondola
Alpather Lake
Strawberry Valley
Maharani Temple
Tangmarg
---
5. Munnar, Kerala
Munnar, heaven in God's Own Country and the best treasure for the visitors. Situated at 5200 ft above sea level, Munnar is one of the most beautiful and enchanting hill station located in the western ghats mountain range in India's Kerala State. Once Munnar was the summer resort of the erstwhile British Government in South India.
Munnar is a very popular Honeymoon destination in India. Also, it is an ideal place for nature lovers, adventure seekers and wildlife lovers. Munnar is famous for its blanket of mist, craggy peaks, beautiful tea gardens, lush greenery and wildlife. Sometimes this town is known as Kashmir of South India.
Be it is a family holiday, romantic honeymoon, outing with friends, backpacking or any type of vacation Munnar is a perfect destination for all.
Check out: Top 17 Family Holiday Destinations in the World
Top Tourist attractions in Munnar:
Kundala Lake
Echo Point
Tea Museum
Eravikulam National Park
Attukad Waterfall
Lakkom Waterfall
Anamudi
Mattupetty Dam
Kolukkumalai Tea Estate
---
6. Jaisalmer – The Golden City
If you love Geology then Jaisalmer is a place which you must visit. Here you can discover and trace biological tragedies that happened in the Thar Desert Millions of Years Ago. Jaisalmer, The Golden City of India located close to the Indo-Pak border and 88 KM away from Thar Desert.
The Golden color of this city will amaze you, thanks to the color it gets from the yellow sandstone which used for the construction of the buildings.
Jaisalmer Fort is the most prominent attraction of this city which is also known as Golden Fort. Like other forts of India, it is not just a tourist attraction rather than shops, hotels and ancient havelis where the generations continue to live for thousands of years. In 2013, Jaisalmer fort included in the list of UNESCO World Heritage Sites.
Check out – Top 10 Summer Holiday Destinations in India
Tourist Attractions in Jaisalmer:
Jaisalmer Fort
Jaisalmer Government Museum
Nathmal Ji Ki Haveli
Salim singh ki Haveli
Mandir Palace
Gadisar Lake
Jain Temples
Desert National Park
Kuldhara
Jaisalmer War Museum
Bada Bagh
Camel Rides
---
7. Jaipur – Pink City of India
The Pink City of India, Jaipur is the land of King and their Kingdom. Jaipur is a perfect place to visit during winters. From Amber fort to Nahargarh fort, everything is royal. So book your ticket to take a dip inside the royal madness and live the excellence. Apart from its royalty, Jaipur amazes you with its culture, food, history and Literature. In 2021, the Jaipur Literature festival takes place in the month of January from 28th Jan to 1st Feb.
---
8. Hampi, Karnataka – The City of Ruins
Hampi is a UNESCO World Heritage Sites, located on the banks of river Tungabhadra in Karnataka. The name Hampi is derived from the name of River Tungabhadra, Pampa, daughter of Lord Brahma. Locally this city is known as the town of Pampa.
Once, Hampi was the capital of the Vijayanagar Empire and used to be the world's second-largest city. There are many boulders around the city that are easy to climb and gives you a stunning view of the city. Surrounded by the 500+ ruins of the temples, monuments and other structures of Vijayanagar are the main attractions of this place.
Most of the ruins and prominent structures lie in two parts of the city one is Royal Centre and the other is the Sacred Centre. In the Royal Center, you can see palaces, baths, pavilions and temples for ceremonial use. And around the sacred center, you can see Virupaksha temple and the Hampi Bazaar.
Check out – Top 10 Temples in India
Major Tourist Attraction:
Hampi Bazaar Area
Royal Center
Virupaksha Temple
Vijaya Vittala Temple
Archaeological Museum in Hampi
Achyutaraya Temple
Yantrodharaka Hanuman Temple
Stone Chariot, Hampi
Lotus Mahal
Royal Enclosure, Hampi
---
9. Kumarakom, Kerala
Kumarakom is a small village in the backwaters of Kerala on the banks of Vembanad Lake. It is one of the reasons that make Kerala one of the sought tourist attractions in the country. This city has everything for travelers from Vembanad lake which is known for its backwater charm to Kumarakom bird sanctuary which is home of the best flora and fauna available in Kerala.
---
10. Goa – Land of Beaches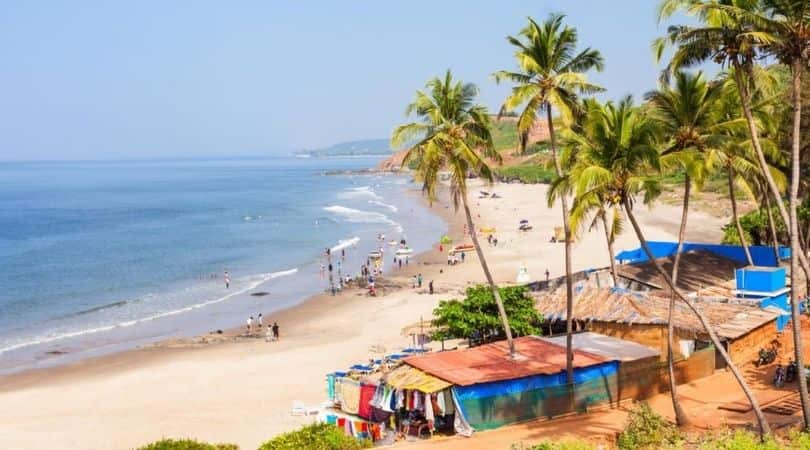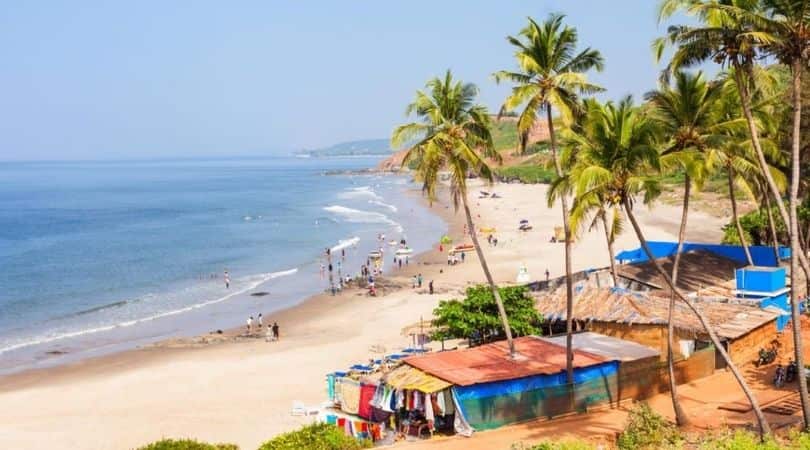 Located at the west coast of India, Goa is one of the best places to visit in India in January. Once a Portuguese colony now developed as a tourist attraction with beaches, amazing heritage sites, beautiful churches, temples, forts, golden sands and other more. Even Goa is the smallest state of India but tops the list of the best places to visit in India.
Goa is a heaven for those who love music, dance, party, art and culture. Due to its tropical weather, Goa is a destination of all seasons. Goa is divided into two parts North Goa and South Goa. The beaches in North Goa are perfect for the beach holidays while those in south goa are known for the scenic splendor. Apart from the beaches, Goa is also famous for the beautiful churches of Old Goa.
Check out: 25 Best Beaches in the World
Goa Tourist Attractions:
Butterfly Beach
Anjuna Beach
Baga Beach
Calangute Beach
Fort Aguada
Tito's Street
Dudhsagar Waterfall
Club Cubana
Chapora Fort
Grand Island
Basilica of Bom Jesus
Vagator Beach
Divar Island
---
11. Gokarna – Karnataka
A small holy town with pristine beaches and spectacular views, located in the Uttara Kannada district of Karnataka. Every year tourist comes here for a relaxing and peaceful vacation. Gokarna is one of the kindest and affordable places full of palm trees, blue sears and golden sands. The beaches are here not too fancy and crowded, it's meant to be slow and relaxing vacation.
---
12. Puri Odisha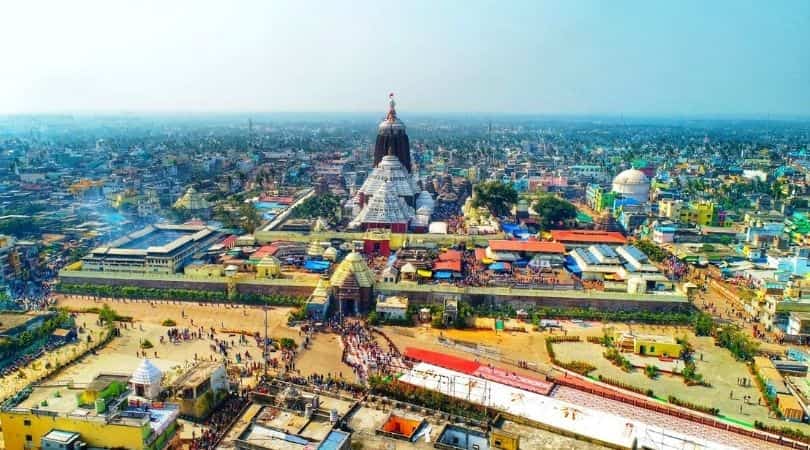 A prestigious pilgrimage destination, one of four Dham of Hindus; the city is sprawled along the coastline of the Bay of Bengal in the state of Odisha. Puri is famous for the Shri Jagannath temple which is believed to be the final resting place for the Lord Vishnu.
Puri along with Konark and Bhubaneshwar makes the Golden Triangle of Odisha. Puri is known for its larger than life festival of Jagannath temple that sees millions of footfalls. Along with Jagannath Temple, Puri is famous for its beaches, lakes, food, arts and crafts.