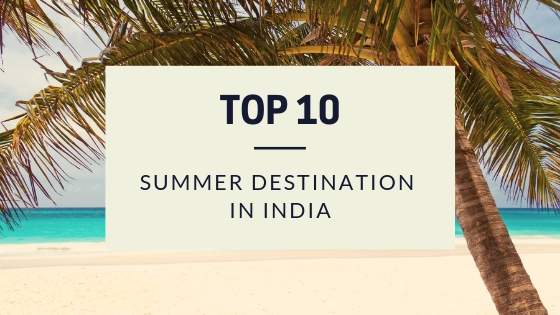 10 Best Summer Destinations In India
Summer has arrived, now its time to prepare list for summer destination in India. Before you start making list of best summer holidays destination in India, take a look on this list of top 10 summer destinations in India, here we cover some of the best summer destinations which help you beat up the heat of summer.
Ladakh, Jammu & Kashmir
Ladakh is one of the most famous tourist attraction in India, especially in summer. That's why it comes in first place in the list of 10 summer travel destination in India.
Ladakh the land of high passes is located in the region of Jammu & Kashmir where the temperature is not only cold sometimes coldest in the world. If loves to have some adventure time this summer then Ladakh is the best summer travel destination for you.
This place offers you some of the best adventure, rugged landscape, weather that totally makes you forget summer, high altitude mountain, lakes, villages etc. means everything which you ask for the best summer trip.
This region is home of Khardunga La Pass which is a mountain pass and one of the highest motorable roads in the world.
Shimla – The Queen to Hill Station
Shimla which is also known The Queen of Hill Station is a perfect summer travel destination in India.
The capital of Northern Indian state Himachal Pradesh, Shimla is a perfect place to capture Indian beauty in British elegance. The cool temperature makes it a perfect place for summer holidays. Here you will find breathtaking mountain views, cool temperature, beautiful roads and captivating pine landscapes.
Shimla is a quite famous place so it is easily accessible. This city is also famous for the handicraft shops, a pedestrian avenue and the Lakkar bazaar which is known for wooden craft and toys. And also, once this city was the summer capital of British India.
Manali, Himachal Pradesh
The list of top 10 summer travel destination in India is incomplete without the ancient valley of Manali.
Located at an elevation of 2050 M, Manali is one of the favorite tourist attractions in Kullu district of Northern Indian state Himachal Pradesh. The temperature of this beautiful ancient valley varies from 4 degree Celsius to 15 degree Celsius in summer and in winter in goes down to -15 degree.
Here you can enjoy river rafting, hiking, mountaineering, trekking and many more. Hadimba Devi temple is one the best thing to see in Manali which is dedicated to Hadimba Devi the wife of Bhima. This place is well connected via bus, train and flight.
Don't leave Manali without visiting Rohtang Pass which connects Kullu valley with Lahaul and Spiti valley. It covered by snow throughout the year and famous for its unforeseen snowstorms and buzzards.
Munnar, Kerala
A place with green landscape spotted with a rambling tea garden, spice plantation and endless treat of wonderful lakes and waterfalls. This type of fantasy land exists on this earth as Munnar.
Munnar is a hill station located in the Idukki district of Kerala.  This place is famous for its beautiful green sights, tea plantation, beautiful weather, unique flora and fauna and many more. Here you can explore many things likes Tata tea Museum, tree house, Elephant Park, Kundala lake, echo point, mountain biking and others as well.
Rishikesh, Uttarakhand
Rishikesh world capital of yoga and hub of adventure is one the best place for summer holidays in India.
It is located near the foothills of the Himalayas, one of the best destinations for summer holidays where you can spend time on the banks of Ganga River. This city has a rich source of Indian religion and patrimony.  Here you can see lots of people on the streets and fewer cars and that makes this city pollution free.
Here you'll find lots of yoga center, ashrams, ancient temple, river banks and find people enjoy camping on the river banks, river rafting, fox flying, bungee jump and many more.
Andaman and Nicobar Island, Bay of Bengal
Beautiful landscape, sunny skies, pleasant weather, golden beaches and turquoise water makes Andaman & Nicobar a perfect destination for summer holidays.
Andaman and Nicobar Island famous for holding the number of islands, these 572 islands divided into 5 major categories – Great Andaman, little Andaman, Ritchie Archipelago, east volcano island and sentinel island. Each island is different from another and has an interesting story associated with.
This place is known for Port Blair, the capital of Andaman and Nicobar Islands. Come here and enjoy the beauty of beaches, tropical rainforest, historical sites, and adventures sports.
Darjeeling, West Bengal
Darjeeling is always on top when we are talking about the best summer travel destination in India. It is one of the best hill stations in India which is surrounded by a magical green tree garden. Darjeeling is best for family travel, nature lover, honeymoon couple and adventure enthusiasts.
Come and explore this beautiful sight of nature, ride toys train, watch magic sunrise & sunset from Tiger hill, explore their wildlife, Gorkha war memorial and many more.
Shillong, Meghalaya
The capital of Meghalaya is well-known hill station of North India which is famous for its beautiful landscape, pleasant environment, lakes and magical waterfalls.
This city is also known as Scotland of the east because of its landscape and pleasant weather. Come here and enjoy the boating in Uniam Lake, explore elephant falls, Shillong peak, horse riding and many more.
Kashmir
Who can forget about Switzerland of India, Kashmir, one of the most beautiful places of India? When we talk about summer vacation in India than Kashmir always on top of the list because of its nature, famous Dal Lake, tulip garden etc. Kashmir valley has everything which you will ask as a tourist.
Kashmir will give you everything which you think like lakes, garden, pleasant nature, hills, greenery and many more. You can take a gondola ride in Gulmarg and explore many destinations like Pahalgam, snow-capped mountain, tulip fields and valleys.
Alibag, Maharashtra
Alibag is a coastal town of western India which is located in the south of Mumbai, Maharashtra. This place is famous for its beach, sea forts and temple-like Alibag beach, Varsoli beach and others. Alibag beach is one the most visited beach in Maharashtra and it's known for its black sand.
Alibag is a perfect place for the beach lover, here you will witness one of the best sunrise and sunset view in India and that makes this place best for summer holidays. The best thing about this place is that there are number of beaches and all are a few minutes away from each other. Here you can spend some quality time beach, enjoy water sports, visit Kolaba fort, Vrindavan farm and many more.
So here is the list of top 10 best summer destination in India. I hope you enjoyed it. If I missed your favorite summer destination than let me know in the comment box and share your best summer experience with us. Cheers until next post!!!