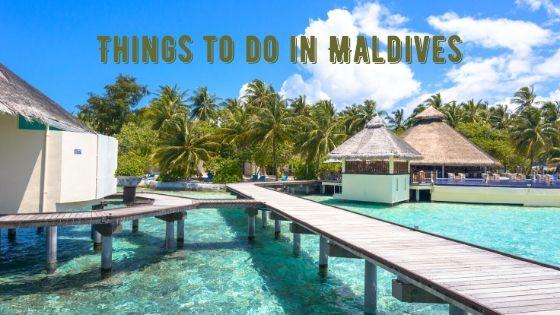 16 Amazing Things to do in Maldives
A place where nature is at its best, Maldives is a ray of hope for the tourists who enjoy waters around them. The Maldives offers indefinite places of attractions and activities alike which makes it a traveler's haven. Nonetheless, if island hopping doesn't excite you much, choose to stay in the resort and continue perceiving the true spirit of Maldives. With water and practically only water circumference you, you will feel delighted with nature's presence at this place. Let us understand how the people in the Maldives have made the best use of water and other resources to keep their tourists and travel history on the top.
Snorkeling:
Taking a halt and listening to the gushing sound of the water is possible only when you are alone in the blue aqua and snorkeling your way to more deep waters.  Various Snorkeling safari's and short training would make you dexterous in no time. You will swim like a pro and get a good look at the waters and corals and other creatures. So live your dream and enjoy snorkeling in the Maldives.
Best Time to visit:
January to April, as the waters are clear.
Top Attraction:
Travel to the snorkeling spot on a speedboat.
Interesting Facts:
Make sure you use good sun protection as the sun effects are very severe during Snorkeling
Where To Stay:
Robinson Club, Lily Beach Resort and Spa, Safari world are some of the best places you may opt to stay at.
Things to do:
Explore the underwater aquatic life.
Suggested Read: Top 50 Travel Destinations in the World
Back To Top
Water Flying:
A sport that is rare and fun. When you love waters you must also try to bear the water pressure thrown at you. This sport would allow you to assess your tenacity, your strength, and your patience to bear the water.  When you are aquatic disposition, you don't think twice to indulge in the testing water sport. So enjoy and make the most of your experience while you also get to know how much more exercise would be required to make you strong!
Best Time to visit:
Since this sport does not require you to get into waters, you may enjoy it whenever you want.
Top Attraction:
The water pressure is thrown at you.
Interesting Facts:
Avoid if you are not sure of your strength as this is indeed a lot of pressure
Where To Stay:
Adaaran Hudhuranfushi is one resort that encourages this water sport.
Things to do:
Sit and wait for the water Thrusting on you, alternatively, enjoy the resort that encourages the sport.
Back To Top
Fun Tubing:
Sailing over the waves has been a dream? But if you could never gather enough courage in the past to be on the sea to enjoy this, Maldives proffer this in the safest and not so deep waters. This sport is wonderful and gives an adrenaline rush when you are in water that is not so deep, as the water parks have these rides for you to enjoy.
Best Time to visit:
Between June to October and then December to March.
Top Attraction:
The tube takes you over the water surface in high speed.
Interesting Facts:
The water ain't deep, but you feel like you are in the sea.
Where To Stay:
Sancia Lodge, Holiday Inn Resort, Hideaway Beach Resort are some of the places where you can stay. Choose according to your budget. 
Things to do:
Enjoy other water sports within safety limits available in the water park.
Back To Top
Parasailing:
Observing sea from above and getting an incredible experience is only possible when you engage in the exquisite sport of parasailing in Maldives. The speed boat takes you to a safe point and then there is no looking back, literally, as your heart may come to your mouth! Look above and ahead and enjoy various shades of Maldives which will be a treat to your eyes.
Best Time to visit:
November to April are the best times, as the weather is relatively clear and storms are less likely to appear
Top Attraction:
The view of the Maldives from above is breathtaking.
Interesting Facts:
Perfect adventure comes with practically no risk.
Where To Stay:
Places near Reethi Beach, Cocoon beach, and Finolhu Beach can be chosen if parasailing has been on your bucket list for long!
Things to do:
Apart from Parasailing, you may enjoy Jet Skiing and other water sports when at the beach.
Back To Top
Diving:
Dive is to plunge into something new and Diving in waters will live up to this contemporary feel. You will feel like its a different place altogether with only aquamarine creatures around you. Begin your adventure and seek the beguiling sea life experience up to 12 meters. If you wish to dive more, seek permission and dive deeper to your heart's content!
Best Time to visit:
December to March is the best, although April is fine too, but it has relatively less visibility in April.
Top Attraction:
The underwater life and the dive in itself gives an adrenaline rush.
Interesting Facts:
Calmness is a vital strategy while Diving and you need a license to dive below 12 meters.
Where To Stay:
Diving resorts are aplenty in the Maldives, choose among the best, Noku Maldives, Banyan Tree Vabbinfaru, Vista Beach Retreat and numerous others.
Things to do:
Take part in other water sports, including jet-skiing, parasailing, and many more that the island has to offer.
Back To Top
Surfing:
Standing on the water surface is something that will thoroughly make you feel like  a king, mastering the waves. What you don't know that the Maldives waves are unruly and can catch you as soon as the belief that you are the ocean master sets in!  Don't surf if the speed and waves aren't your way of having fun, just stand on the top of the surfer board and enjoy the balancing act!!
Best Time to visit:
February to Mid November is ideal. You may stop in September and then again from October to November
Top Attraction:
The waves are quintessential!
Interesting Facts:
You need to master the waves
Where To Stay:
Holiday Inn Resort, or join the Mulay Surf camp for a great surfing and staying experience.
Things to do:
Other water sports like parasailing and jet skiing are available, so enjoy them too.
Back To Top
Eating:
Being a coastal place, Maldives has treasure for those who love seafood. If you are fed on fish even for the breakfast, you should not be surprised. Maldives food has a lot of coconut which is a benchmark for many Asian coastal regions. Among other foods, you get great Cassava, Breadfruit, Chapati, and lot of fish curry with rice being the staple food.  Enjoy every bit of the Maldives Coconut and nourish your skin and system.
Best Time to visit:
Any time of the year.
Top Attraction:
Fish Curry and Rice.
Interesting Facts:
Numerous Tuna fishes of various varieties will be served in different names.
Where To Stay:
Holiday Inn Resorts, Adaaran Prestige Vadoo, Bandos The Maldives and many more luxury places and inns are there that serve mouthwatering dishes.
Things to do:
Eat and drink and make merry!
Back To Top
Explore the Beautiful Island:
Each day is an exploration in Maldives as it has islands galore. You will be surprised with the number of islands you can visit in one day. The fringed islands, and the azure blue sky are limitless for you to spend the best time alone or in a company. The island hopping is one of the most favorite touristy pastime as each one has clear water, but a different feel to it. And why not explore when that is what you have come to Maldives for!
Best Time to visit:
Any time, as the place is endowed with powerful waters and islands.
Top Attraction:
The clear waters and corals.
Interesting Facts:
Each day can be a new exploration of the island with some local people meeting.
Where To Stay:
Medhufushi Island Resort, Kaani Beach Hotel, ocean Beach Inn, Holiday Inn Resort are some alluring places to make your stay worthwhile.
Things to do:
Explore the local islands and enjoy the local community bonding.
Back To Top
Whale Submarine Maldives:
Submarine as the name says is absolutely submerged in the water. The dive on a submarine to see the underwater life is worthy as you face the frontiers of the sea. Observe the fish and feel the adventure to get that rush. Kids enjoy this a lot as it is safe and away , yet close to the real sea creatures.
Best Time to visit:
You may do this any time of the year between Sunday to Thursday from 9:00 a.m. to 8:00 p.m.
Top Attraction:
Colorful Corals, Snappers, Reef fish, Lion-Fish, and Turtles
Interesting Facts:
Its different from snorkeling where you are safe in the waters and can enjoy if diving and swimming scare you out.
Where To Stay:
You may choose to stay somewhere in Male if this safe and secure adventure is on your list.
Things to do:
Enjoy the underwater ride and take pictures.
Back To Top
Ithaa Undersea Dining:
You won't need to nose dive to reach 5 meters below the sea to get to this lovely place for an, even more, lovelier meal. Situated in Conrad Maldives, an all-glass under the sea restaurant is a perfect place for you when you are on your honeymoon. Being under the sea and not getting wet is possible here so dress your best and enjoy the scrumptious meal the place has to offer.
Best Time to visit:
Any time of the year, between 11AM–2:30PM – 6:30–10:30 PM
Top Attraction:
The night observations during dinner time are stupendous.
Interesting Facts: 
You eat undersea and don't get wet. It is the first undersea restaurant.
Where To Stay:
Choose to stay at Rangali Island.
Things to do:
Enjoy the food and the sharks and snappers around you when you eat. Click pictures and create memories. You may also enjoy Sunbathing and snorkeling here.
Back To Top
Bioluminescent Plankton:
Warm coastal waters have much more in store for you than just diving and snorkeling. Yes, in the waters you may observe the dazzling glow that will mesmerize you. At this juncture, you will feel that nature is supreme and it has more to offer than can be thought. The glow is said to be created due to the bioluminescent plankton that glows in the night. Make sure your kids watch and click pictures relentlessly to enjoy this fairytale ambiance forever.
Best Time to visit:
In the night when the waves are not so heavy. Preferably between December to March.
Top Attraction:
The glow is just inexplicable and beautiful.
Interesting Facts:
For a long time, people thought it's an alien invasion.
Where To Stay:
Choose to stay on Vadhoo island if this activity in your bucket list. You may choose Faarufushi Maldives, You & Me Maldives and a few more.
Things to do:
Take pictures and get aware of the fact
Back To Top
National Museum Maldives:
Museum represents the history of the place and the National Museum at Maldives is no different. The artifacts kept in the museum speak about the rulers, the Buddhist era and the Islam Monarchs who were once the king there. This will give you a close insight into the how the place came into being and how it was before the urbanization.
Also Read: 17 Best Family Holiday Destinations in 2020
Best Time to visit:
Visit this between 10:00 a.m. to 5:00 p.m. Monday To Thursday when you are in Male
Top Attraction:
The Historical and massive artifacts in the museum.
Interesting Facts:
It was established by the Prime Minister of the Maldives on National Day of Maldives.
Where To Stay:
Chose to stay in Male.
Things to do:
Take pictures of the age-old cannons and ceremonial Robes.
Back To Top
Maldives yachts Charter:
Yachts are luxurious affairs and when it is a chartered one, you can only imagine the heightened luxury. Quintessential for honeymooners so they can get to know their partners well and privacy plays an important part in that. Enjoy every bit of your time on this chartered yacht to feel regal and beyond the common crowds.
Best Time to visit:
No Specific timings for this, as the honeymooners are taken from the airport to the luxury Yachts.
Top Attraction:
The privacy and the numerous fishes near you.
Interesting Facts:
Yachts are super fun and you can sail till you want the life among people back.
Where To Stay:
Yacht Maldives, Maldives Boat Club are some places that you can get in touch to enjoy the stay. 
Things to do:
Make the most of the time at the yachts with a variety of romantic activities.
Back To Top
Luxurious Resorts of Maldives: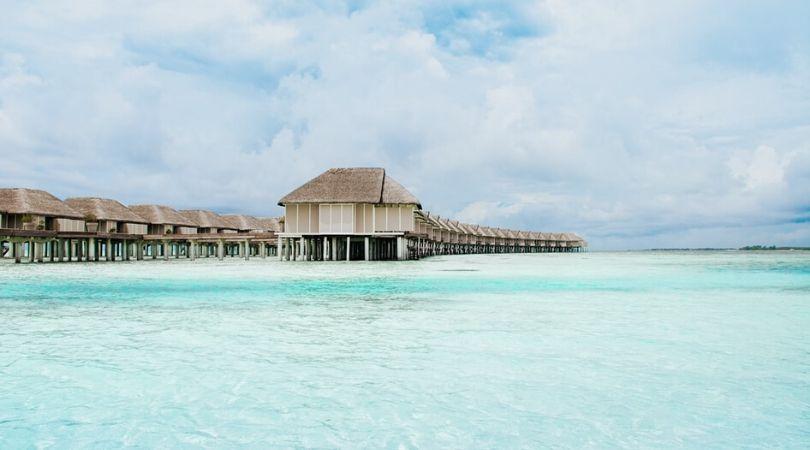 Sun Worshippers and luxury admirers often route their vacation to the Maldives as you get this a lot more. Acclaim your life when you visit the beautiful resorts that are equipped with numerous activities for you to enjoy at the resort itself.  You won't be able to resist the urge when you just look at the pictures of some of the resorts with azure waters and perfect blended settings of swimming pools, ultra-luxurious rooms, and amenities that will last until your stay.
Best Time to visit:
Anytime of the year
Top Attraction:
The ease of everything from sea to seafood. 
Interesting Facts:
You won't need to go out as everything will be available at the resort.
Where To Stay:
Park Hyatt, four seasons Landaa Iraavaru, Jumeirah Dhevanafushi will take your heart away
Things to do:
Enjoy the snorkeling, beach, sun-basking and a lot more water and relaxation activities such as spa.
Back To Top
Windsurfing In Maldives:
Sailboard would help you sail and enjoy the gushing waters and winds altogether. When you feel the winds and water together on your bare body, you will feel supremely wonderful as this sends a chill too your spine and make the moments cherishable. Windsurfing makes you more earless as you test the real waters. Master over the fears and leverage the wonderful time surfing in the sea.
Also Read: 25 Best Beaches in the World
Best Time to visit:
From December to October.
Top Attraction:
The amalgamation of the wind and water is breathtaking.
Interesting Facts:
You need to be a dexterous surfer to enjoy the sportfully.
Where To Stay:
Anywhere near the beach or an island would be ideal.
Things to do:
Snorkeling, Wakeboarding, and Diving and fishing.
Back To Top
Dolphin Watching:
Watch over 20 different species of Dolphins in The Maldives and feel your part as a parent complete. You will educate your children as you indulge in the Dolphin watching with them. Dolphins are said to be intelligent and emotional sea creatures; however, do not mistake these traits as being peril free. Be careful and plunge silently into the boat for some amazing dolphins on your way.  
Best Time to visit:
Between January and April is the best time.
Top Attraction:
Dolphin Watching, such as spinner Dolphin, Acrobatic Dolphin and numerous others.
Interesting Facts:
The Maldives is one of the top five places for Dolphin Watching.
Where To Stay:
Mudhufushi island resort and Hakura Hura are the resorts located near the Muli Channel in the Meemu Atoll which are the best places for dolphin watching.
Things to do:
Observe carefully and see other species of the fishes too. 
Nothing is lost when a vacation at the Maldives is planned! You leave behind everything and move to this aquatic place to induce lots of natural elements into your life. These elements come to life at the Maldives when you try numerous water sports and thrilling activities. These activities, its resorts, and its delectable food make this a go-to place for every traveler.  Be careful of the striking sun and carry loads of sunscreen to come back hale as hearty you will be!
Back To Top