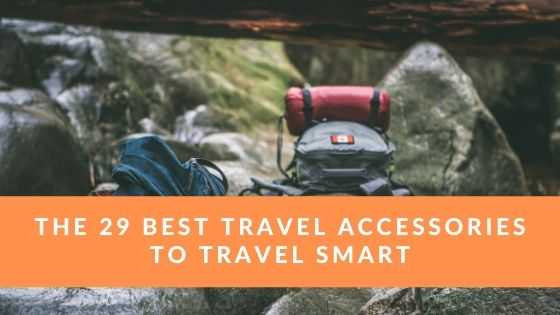 The 29 Best Travel Accessories to Travel Smart
Packing or a travel bag is the key to any trip. If your bag has all the travel accessories which you need while traveling or exploring your favorite destination then life becomes easier. But in case you forget the key item then the best trip of your life can be the worst trip of your life.
It's always good to make a list of all travel accessories which should have in your bag. So before going anywhere, you should bookmark all travel accessories but one thing you should keep in mind that with bringing all essentials on your trip you have to focus on packing light as well. But you don't have to worry about all these things because we did this for you. We make the list of all the items which should you have in your travel bag. We categorize all travel accessories on the basis of your need like Travel gadgets, for security, for packing, for your comfort and for your skin. So here we go:
29 Best Travel Accessories:
Travel Gadgets:
1. Electronic Cord Organizer
It helps to keep your all electronic gadgets at one place so you don't have to find all items separately.
2. Universal Travel Adapter
All countries don't have the same outlet so it good to carry an adapter which compatible with all types of plug in the world to charge your mobile, camera, laptop and all other electronic gadgets.
3. A Good Power Bank
In today's era where everything is digital, a good power bank is must-have travel essentials if you're traveling long distances. You'll not always find a plug point to charge your electronic gadgets like in the woods, on the beach or any open spaces. If you have a power bank than its good for you.
4. Selfie Stick
When you are having great time with nature or family while traveling then you don't want to miss a tiny moment. If you have a good camera phone then with a selfie stick you can capture those moments with ease. What else I need to tell you about this travel accessory.
5. Good Camera
If you forget this then you'll regret it forever. Without a good high definition camera, any trip can't be complete. The camera is something that helps you to memorize your trip forever.
6. Camera Essentials
And make sure that you bring all camera essentials like charger, extra memory card and others as well.
7. Phone charger
Obviously, without any doubt phone charger should on top of the list because it's very frustrating when our phone runs out of the battery on the road. So try to bring a portable phone charger.
8. Good Quality Headphone
A good quality headphone will help you to survive in a long flight or at a place where sound volume is so high.
For your Comfort and Entertainment:
9. Eye Mask
Sleep is very important for us especially when you're traveling. A night of good sleep keeps you more energetic and healthy. So its good to care about your sleep. An eye mask can help to get out of the situations where you find it very difficult to sleep. It is essential to relax before heading off your next travel destination. Whether you're traveling by bus, train or flight it's always to good to have an eye mask in your bag.
10. Ear Plugs
A set of earplugs is very important when you want yourself to escape from the world for some time at a crowded spot like an airport, on-road, etc. My favorite use of it in flight to get some sleep because its very hard to get sleep when people is talking.
11. Travel Pillow
Always try to bring U-shaped or another type of neck pillow while traveling because it helps you in better sleep. And sleep is very important to enjoy the trip.
12. Sunglasses
Sunglasses are the best way to look fashionable after a long journey or a long road trip because it hides your tired eyes
13. Favorite Collection of Movie and Songs
It always good to download your favorite movie and songs before any trip and store on a laptop or tablet. It helps you a lot to have quality time on long flights, buses or trains.
Security and Medical accessories:
14. Safety Locks
A good safety lock is something on top in the list of best travel accessories because it keeps your luggage safe no matter where you're traveling but most of the people doesn't consider it important. So don't be fool take it wherever you traveling.
15. Swiss Army knife
No, we're not saying to keep it as a weapon but simply as a tool that helps you to get out from many tricky situations where you have to cut a rope, wood or any other item. A Swiss knife is a multitasking item which is sure to be very useful for you.
16. Torch/Lantern
If you love camping or hiking then it is the must-have travel accessory for you. It helps you to in finding path, explore places at night. You can also carry the hiking lantern which is easy to you and allows you to do your stuff in area where light is off.
17. First-aid box
The first-aid box will play a handy role in emergencies like in a headache, body pain, small injuries and many more. So try to go with a first-aid box.
For Packing:
18. Passport Cover
No one wants to lose their passport at a foreign land. In a foreign country, you have to keep your passport more dearly as your life. A passport cover helps you to keep your passport safe and protect from damage, also helps to find easily in case of mix up.
19. Travel Toiletry Bag
A travel Toiletry bag is a super important travel accessory because it helps you to keep all things at one place like shaving kit, brush, nail cutter and other as well. So you'll not face problems while getting ready.
20. Packing Cubes
Packing cubes help you put each and everything you pack at a separate place. So so luggage does not look like chaotic piles of clothing when you open it. Packing cubes make you packing and unpacking very easy and also helps you to pack light.
21. Backpack
Whether you're going for a long trip or short trip, on a mountain or on a beach, a backpack is very essentials things for the most useful stuff throughout a day. So that you don't need to open your main bag every time in case you need your adapter or cable. A good backpack makes your life easy.
22. A good Travel Luggage
What I need to say about luggage. It is the first and most important travel accessory. Good travel luggage can solve lots of problems whether its a normal or adventurous trip. It keeps your clothes, toiletry bags, water bottles and many more.
23. Document Organizer
The most important part of your journey is your travel documentation like passport, id proof, cards and other as well. Keep your document safe and organize is a must.
24. Two Pair of Shoes
It doesn't matter where you're going? What will be weather there? You always need min 2 pairs of shoes.
One pair for normal activities like hiking, hanging out with friends, happy hours etc… and one for the dressy occasion like party, fashionable events etc… Sneaker may be perfect for normal activities and loafers will be best for dressy events.
25. Metal Water Bottle
You can take normal water bottle anywhere in the world but we recommend to take the metal water bottle with you because it is more hygienic and long-lasting.
For Beauty and Skin:
26. Sunscreen
Who wants to have rashes and pimple at face while exploring their dreamy destinations? Here suncream helps you to avoid this problem. It helps to avoid dark spots and protect your skin from the sun and helping to maintain smoother and whiter skin tone.
27. Skin Care
No compromise with skin so always takes these skin care product while traveling:
Lip balm
Make up wipes
Cleanser
Moisturizer
28. Hand Sanitizer
Long train or flight can be quite dirty and easy place to spread germs so it's always good to use hand sanitizer or wet wipes.
29. Deodorant
Always keep deodorant in your travel bag because after a long flight or train it need so badly. So its always good to have one.
Bonus Tips
Apart from going to travel agents to search for a hotel, place for rent or cheap flights, use travel app which saves your time or money both and provides you the efficient result.
Buy a travel insurance
Always inform your bank or credit card company about your travel plan before traveling
Pack some of your personal items separate from your main bag in case your luggage is lost.
Here is the list of all necessary travel accessories which you need for a trip, I know, there could be the number of items in this list like different outfits, foods, passport and many more but I just list only important one. If I forget something important then please let me know in the comment section below.