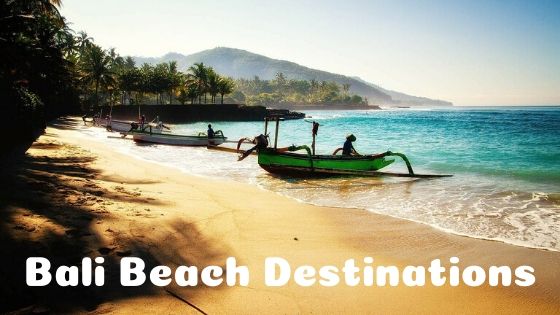 9 Best Beaches in Bali (Indonesia)
Bali trip can't be complete without spending time at salty clear crystal water, tropical sunshine or you can say beach destination in Bali. Bali beaches are something famous all over the world and have resulted in the growth of huge tourist economy that's why the infrastructure of Bali has developed according to the easiness of traveler. Bali is considered the Paradise of Surfing so here you'll get some adventurous water sports, beach activity, for stay some good hotels and restaurants for famous Balinese food. Whenever you visit Bali for a beach holiday it is best to have a combination of hidden gems and dreamy diving destinations. So here are the best beaches in Bali.
Seminyak Beach, South Bali
Located between Kuta and Legian, Seminyak Beach is a perfect family destination in Bali. It is a perfect spot for learning surfing because of its relatively gentle waves. Apart from surfing Seminyak beach is also known as Spa and Boutique shopping capital of Bali.
The 5 KM stretch of Golden sand, bright blue water and green plum tree make this beach more stylish and picturesque. Seminyak beach is also filled with world-class hotels, bars and restaurants that make it more diverse and friendly destination.
Suggested Tour: Bali Scooter or Motorbike Rental with Delivery
Quick Info:
Where: Located on the southern region of Bali, Immediate neighbors Kuta and Legian. Seminyak, Badung, Bal
How to reach: Located near to Kuta and Legian due to that number of cabs and scooters are easily available for rent. 4.3 KM from Kuta and 2.9 KM from Legian.
Things to do: Swimming in gentle waves, Horseback riding, surfing, scuba diving, sunbathing and other water sports…
Padang Padang Beach, best for Surfing
Padang Padang or Pantai Labuan Sait beach is a famous spot for surfers which get fame after Julia Roberts film Eat, Pray, Love. This small white sand beach sits in a lovely bay that attracts sunbather and surfer from all over the world. Padang Padang regularly hosts international surfing events and the Rip Curl Cup Padang Padang.
It is a small beach so you will found it a bit crowded so it's up to you whether you want to enjoy the crowd or relax somewhere in alone.
Also Read: 25 Best Beaches in the World
Quick Info:
Where: It is located in Pecatu village on the south-west coastline of the Bukit Peninsula and 10 minutes (4KM) away from Uluwatu and 20 KM away from Bali International Airport.
How to reach: You can rent a scooter around 50,000 IDR ($3) for a day or if you're not comfortable with scooter then a rental car is also available. You can use local transport and taxi as well.
Entry Fee: 10,000 IDR per person.
Best time to visit: There is no offseason on Padang Padang beach. Try to go early in the morning.
Things to do: Surfing, swimming, sunbathing and other water sports…
Join 2.5-hour surfing lesson in Bali or you can join Beginner's surf lesson in Kuta 
Looking for Stay? 10 Best Hotels in Bali

(Guaranteed Discount)
Lovina Beach – Black Volcanic Sand
Lovina beach is a combination of small beaches that are famous for dolphins, coral reefs, black sand and rocking nightlife. Two things that makes different this beach from another, its black sand and dolphin. Usually, in the early morning, you'll spot some dolphins.
The turquoise blue waves and lack of crowds make it perfect for swimming and wading.
You'll find here lots of world-class resorts, shops, seafood restaurants, and cafes. Apart from this water sport and surfing activities are also available here.
Suggested Tour: North Bali Sunrise Tour with Dolphins, Waterfalls & Temples
Quick Info:
Where: Located 10KM from Singaraja, capital city of the Buleleng Regency. Lovina Beach, Buleleng Regency, Bali
Best time to visit: From April to September, after high season when the weather is pleasant and you will save more on hotel deals. Try to come early in the morning (during sunrise).
How to reach: Either you can use public transport from Kuta or Ubud and you can also rent a car and scooter as well.
Things to do: Dolphin watching, surfing, cooking classes, diving into the water, sunset and sunrise.
Back To Top
Nusa Dua Beach – Best Family and Couple
A well-shaped beach by nature with perfect white sand, actually look like the art of an artist. Nusa Dua beach is a resort area in Bali where you will get some of the best hotels in the world. It is one of the best family holiday destinations in Bali with family-friendly restaurants, water sports and good shopping.
Spread over 350 hectares of land Nusa Dua is home of more than 20 resorts.
Also Read: 25 Best Honeymoon Destinations in 2020
Quick Info:
Where: Located in the southern part of Bali, 22 KM from Denpasar, the provincial capital of Bali and administered under Kuta South District.
Best time to visit: During the month of April, May, June and September, just after and before of high seasons when the crowd is less, hotel prices are at lowest and the weather is pleasant.
How to Reach: 40 Minutes away from Denpasar International Airport, 16 KM away from Kuta.
Things to do: Shopping in Nusa Dua, play golf, water sports, visit world-class spa, admire water blow, take camel ride and have lunch at Nusa Dua Beach Grill.
Sanur Beach
Sanur is a 7 KM stretch white sand beach in the southeast of the Island of Bali, in Indonesia. The waves are gentle so no surf here but best for a relaxing beach holiday in Bali and for snorkelers & divers.
Its 7KM promenade allows you to take walk on white sand along cafes, resorts, wooden fishing boats under repair and elegant old villas.
Quick Info:
How to reach: Away 20 to 30 minutes drive from Ngurah Rai International Airport, being a popular tourist destination in Bali you will get local transport easily.
Best time to visit: May to August is the best time to visit due to pleasant weather conditions.
Things to do: Take a romantic walk along the beach, best for snorkeling, best sunrise spot, do some shopping at Jalan Danau Tamblingan, kite surfing, go for diving.
Suggested Tour: Watersports Fun Package
Balangan Beach – Best for Surfers
Balangan is one of the best white sand beach in Bali. It is the best place for those who love to do some adventure especially surfing. Beach lovers can enjoy the high tide waves and sunbather just laid down on white sand under the umbrellas.
Most of the crowds will be young backpacker who wants to enjoy without being worry about time and day.
Quick Info:
How to reach: Being an international tourist attraction you can easily get there. Located in the southern part of Bali and 20 KM away from Bali International Airport. You can take a taxi or rent a car from Kuta which is 20 KM away from it and 21 Minutes drive away from the Uluwatu temple.
Best time to visit: Just after winter from Dec to March is the best time to visit. For them who love to go during off-season September to October is best.
Things to do: Surfing, sunbathing, stunning sunset view, swimming and relaxing.
Back To Top
Canggu Beach – Near Tanah Lot temple
Rank 39 in "World 100 Best Beaches" by CNNs. In 2004 Canggu beach hosted the Indonesian Surfing Championship because of its waves and beautiful shores.
The main attraction of Canggu is the Echo beach where you can enjoy surfing, sunbathing, epic sunset and plenty of family-friendly activities.
On the other side of blue surf, you can see flying flock of birds over lush green rice fields. This unique phenomenon is rarely found at any other beach.
Canggu beach allows you to witness the simple life of Balinese people.
Quick Info:
How to reach: 18 KM away from Denpasar, 20 KM from Ngurah Rai international airport and 30 minutes away from Seminyak.
Best time to visit: April to October during the dry season.
Things to do: Visit Tanah Lot temple, Echo beach, Splash water park. Famous for surfing, sunbathing, horse riding and Balinese food.
Back To Top
Echo beach – Black Sand Beach
Echo beach is one of the most famous surf spots in Bali. Located around 35 KM northwest of Kuta and Seminyak and sharing with Canggu rice fields and other wave riding spots like Seseh and Berawa.
Echo beach is famous for its black sand, delicious seafood, advanced reef breaks and 180 deg seascape and sunsets.
During day time you'll see tourists enjoying the sun and at night people doing parties. After all these things you'll able to see the centuries-old temple sit on the small cliffs overlooking the surfs.
Quick Info:
How to get there: 14 KM drive west from the Denpasar, walking distance from Canggu rice fields, 35 KM northwest of Kuta and 20 KM from Ngurah Rai International Airport, Tuban.
Best time to visit: April to October during the dry season, during this time the weather becomes more pleasant.
Things to do: Take lesson to learn surfing, a perfect spot for surf lover, landscape photographer & party during the night and don't forget to watch epic sunset.
Back To Top
Jimbaran Beach
Jimbaran Bay has a long 4 KM beach with calm water special for swimming enthusiast. It is a great place for swim and relax. Jimbaran is fishing village. Here you'll get some of the best fish restaurants of Bali.
This place has no shortage of snacks, drink, seafood and local cafes called warungs. Here you can hire a sun lounger and spend the day sunbathing. This beach is protected by coral reef and that makes it good spot to surfer especially for intermediate surfer.
Suggested Tour: Uluwatu, Tanah Lot and Jimbaran Private Tour
Quick Info:
How to reach: Jimbaran is a popular fishing village in Bali so its easy to get there. The main road run parallels to the beach. It is located 15-20 minutes away from Ngurah Rai International Airport.
Best time to visit: You can visit Jimbaran any time of the year but May to August is considered as the best time to visit.
Famous for: Clean and crystal water & beach, delicious fish and Indonesian food.
Things to do and nearby tourist attractions: Try to eat in Warung Bamboo (local cafes), visit Uluwatu temple. Surfing, windsurfing, Kiting and diving are the must to do activities at Jimbaran beach.
I hope you enjoy this list. Have you visit any of the beaches then share your experience with us and if we forget to mention the let us know in the below comment section.
Looking for Stay? 10 Best Bali Hotels

(Guaranteed Discount)