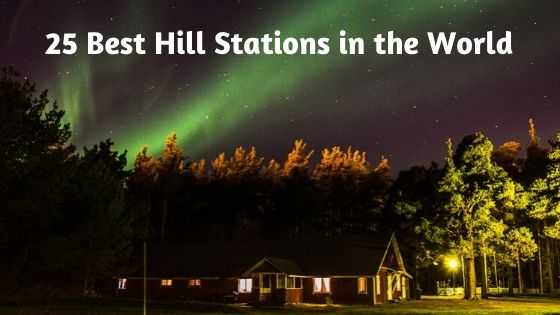 25 Best Hill Stations in the World [Things To Do]
Undulating delight as you move towards the hills can be experienced perpetually.  A pure retreat, great air quality, ambiance and much more that is unsaid makes the visit worthwhile. With the world coming closer, let us take a look at the 25 best Hill Stations in the World and plan a cozy holiday.
1. Wengen, Switzerland:
Requiring no introduction, Switzerland is the place for romance. Envisioning a time of mirth and joy will become manifold when the destination is Wengen. Amidst Alps and greens, there is no looking back when you visit this superbly divine hill station. The chimera of this place is unlikely to be seen anywhere else in the world as you go hiking and trekking with your partner.
What makes Wengen the best hill station?
Wengen is a car-free area, no roads are leading there. So you have to leave your car in the parking and explore this beautiful place by train, cableway and walk. And that makes this place more relaxing with all facilities.
Suggested Tour: Mount Titlis Day Tour from Zurich
Best Time To Visit:
The best time to visit this mesmerizing hill station is between May to October when the greens are at their best.
How To Reach:
Take a 15 minutes ride on the cogwheel train up to Wengen after you have seen Lauterbrunnen.
Things to do:
Enjoy the Skiing in the Alpine Mountains. Enjoy the days hiking and nights enjoying the warmth of your snugly hotel.
Where To Stay:
With a number of stay-at-home and Booking(dot)com options for your comfort, you may also choose to stay at luxury hotels such as Beausite Park Hotel & Hotel Maya Caprice
Safety and Precautions:
Avoid any activity in night.
Back To Top
Suggested Read: The 25 Best Honeymoon Destinations in the World
2. Innsbruck, Austria:
If adventure thrills you, Innsbruck would sweep of your two feet literally. Enjoy sports like skiing among this beautifully structured city where the contemporary and the conventional structures amalgamate to give you the rudimentary and urban feel at the same time. The lovely hues of the various storeyed houses, clad with white snow is a treat to the eyes. Ruling over the majestic alpine with your skiing equipment will fill you with a sense of victory.
What makes Innsbruck special?
Apart from the winter sports, mountains seeing and adventurous activities the Christmas Market under dark blue sky make it special from other hill stations. During the colder months, you'll get an amazing festive atmosphere in a snowy landscape. And the other one is a 20-minute ride of Cable Car at Austria Largest Natural Park allows you to witness the beauty of Innsbruck and the surrounding mountain.
When To Visit:
A popular winter destination, choose any time between December to April to see the weather Gods bless you with lots of snow.
How to Reach:
With Kranebitten airport about 4 kms from  Innsbruck, it is connected with most European countries.
Things to do:
Skiing, Snowballs in winter. Mountaineering in the summers.
Interesting Facts:
A mix of kingly and urban strucutre.
Where to Stay:
Booking(dot)com hotels are easily available, take a pick according to your budget and recline when not skiing.
Safety and Precautions:
Do not miss the signboards while skiing on the Alps to avoid missing the way.
Back To Top
Recommended Tour: Top of Innsbruck: Roundtrip Cable Car Ticket
3. Bled, Slovenia:
A nature's galore, this is the place to be if greens and meadows are your idea of holidaying at a hill station. It is here that you can replenish your energies and probe your inner self to metamorphose into a new being, more energized one! The lovely Bled castle is a must-visit that reflects the history and is overlooking the lake. The infinite horizon of the lake during the sunset would make you lose your heart and even when you come back from Bled, Bled would still remain a cardinal part of you.
Looking for Stay? Book your hotel Now with Guaranteed Discount on Booking.com

(Limited Offers)
Weather & Packing Tips
Visit the meadows and this lovely place in Slovenia between May and September. Pack sweatshirts, and light sweaters.
How to Reach:
You may take a train from Lesce, and then a bus to the lake as the station is distanced at 4.5 km.
Things to do:
Spend a night at the Lake Bled, Visit Bled Castle and enjoy the view. For food indulgence, try the cream cake! Besides the castle, enjoy the trekking trails including Pokljuka Plateau trek and Triglav National Park trek that is amidst the lush green mountains that would credit your eyes with more scenic views of the city.
Interesting Facts:
Lake Bled was created by fairies and is the only island in Slovenia.
Where to Stay:
Vila Rajska ptica, Apartmaji Agenzia
Safety and Precautions:
Do not leave any belongings in the car to avoid any care theft. Be wary of petty thefts
Back To Top
4. Val di Funes, Italy:
The various hues of greens in the valley would immerse you in the admiration that you have for nature. The waving landscape that is full of lovely greens would allow you to enjoy trekking trails such as Gardena Pass, Plose and Puez Guisler Nature Park. The Ski Slopes like the Dolomite Super Ski and Seceda are some of the lovely trails that would enhance your trekking experience. With some churches at a stone's throw, places like Bruggerhof, Kabishof, and Hotel Fines are some of the best hotels to stat when you are Val di Funes.
Best Time To Visit:
Tramping between May and October when you reach Val di Funes, you find yourself in one of the best hill stations in the world.
How to Reach:
Located in South Tyrol, use a car from either South or North to reach.
Things to do:
Explore Trekking trails, Visit Chiesetta di San Giovanni
Interesting Facts:
Home to Dolomites and natural woods.
Where to Stay:
Hotel Tyrol, Gasthof Stern and few more luxury and budget hotels can be chosen from Bookinh(dot)com.
Safety and Precautions:
It is a safe place.
Back To Top
5. Ushuaia, Argentina:
Mountains, Water and Cold Waves can be thoroughly enjoyed when you visit the southern hemisphere of South America. A quaint town where you can enjoy solace in a budgeted way also paves your way to Antarctica that you can ferry down. Here, you can enjoy endless trekking on the Andes mountains especially on the Tierra del Fuego National Park and satiate your love for adventure.
When To Visit:
Visit Ushuai between December and March to leverage upon the great weather
How to Reach:
Daily Flights from Buenos Aries and other countries of Argentina
Things to do:
Enjoy skiing on Cerro Castor Ski Resort. Other than that Isla Martillo Island is great if you enjoy penguins.
Interesting Facts:
The awesome blue hues of the water surrounded by the Andes mountains, you will be beguiled by the Beagle Channel that has historical evidence where Charles Darwin looked for seal and penguins. Being on the southernmost tip, the tagline of Ushuaia says, 'welcome to the end of the world'.
Where to Stay:
Stay at Arakar Ushuaia Resort & Spa or B & B Nahuel en Ushuaia, besides the many budget hotels.
Safety and Precautions:
Rarely any reports of crime and the place is rather safe.
Back To Top
6. Berchtesgaden, Germany:
Berchtesgaden National Park boasts of this lovely place with historical evidence of world war II. This place offers wonderful places to eat with one offering Alpine views is the most scrumptious place to satiate your hunger. Enjoy skiing during the winters and have an enthralling experience while you ditch the city experience and enjoy this over the edge experience. This place is a perfect blend of the village with modernity and hence lots of comforts.
Recommended Tour: Salzburg: Berchtesgaden Salt Mines and Underground Boat Ride
Best Time To Visit:
This place offers sunny views between April and October and lovely snow-peaked mountains between November and March.
How to Reach:
Take a bus from Salzburg to reach Berchtesgaden.
Things to do:
Mountain top views, delicious food can be tried with amazing views.
Interesting Facts:
Rightly known as the Eagle's Nest, this place was home to Hitler. Salt mines and scintillating lakes to UNESCO Biosphere Reserve of Berchtesgaden National Park, this place offers a unique perspective as a traveler.
Where to Stay:
Hotel Edelweiss, Kempinski Hotel Berchtesgaden are some of the places you can opt for.
Safety and Precautions:
A place very safe for travel.
Back To Top
7. Leh-Ladakh and Kashmir, India:
Encompassed between the mountains, this valley is a mesmeric place that magnifies the thoughts and enhances the magnitude of the brain. With an absolute purity of the air, Kashmir is a wonderful place offering views such as Gulmarg and Sonmarg that are valleys with lush green plants of various species. Kashmir, famous for Dal Lake where you can be exposed to living on the lake. It offers houseboats that reside on the lake and is a veritable paradise. Be on cloud nine when you reach Pangong Lake and enjoy the trip to the fullest. When you visit Leh, you pass through Khardung- La-Pass weaving for you the most hypnotizing experience, mentally and visually.
Best Time To Visit:
Visit the place between May and September and enjoy the road trip to Leh
How to Reach:
Reach the Srinagar Airport to reach Kashmir
Things to do:
Monasteries are there which can help you reflect on your inner self and open your horizons.
Interesting Facts:
The State is Asia's 'Heaven on Earth'
Where to Stay:
Numerous budgeted and luxury hotels are available that you can explore and enjoy the warmth offered by the culturally strong people of this lovely place in India.
Safety and Precautions:
Be safe from the protests and stone-pelting.
Also Read: 17 Things Not to Do In India
8. Levi, Finland:
Views of the Northern Lights and the substantial winter ski slopes are the highlight of this resort in Finnish Lapland. This is the biggest ski resort in Finland. The Northern lights showcase the most enchanting natural view that is predominantly seen through Levi resort in Finland.
When To Visit:
Although winters are super cold, winter months are best to use.
How to Reach:
Fly via Helsinki to reach Levi
Things to do:
Enjoy the Nordic Culture of Finland. Moreover, this place offers 43 slopes for ski and had been a host to Alpine Ski World Cup Slalom Race in 2004. Yet another highlight is the Reindeer Safari along with an igloo stay that is certainly unique.
Suggested Tour: Northern Lights Hunting With Lappish BBQ in Rovaniemi
Interesting Facts:
Natural Northern Lights emerging from the North
Where to Stay:
Northern Lights Village, Vijamaan Kartono are some of the luxury and popular places to stay.
Safety and Precautions:
Keep the headlights at all times while driving. Be careful when you see the moose crossing the road.
Back To Top
9. Gurez Valley, India:
The most volatile Indo-Pak border offers this beautiful serene village that is a traveler's delight and a classic destination for those who prefer tranquility. Although, low on activity parameters, this place is high if you need inner reflection and intend to enjoy the peace amidst nature.
Best Time To Visit:
Observing heavy snowfall in the Months of December to March, these are the best months to be exposed to the perpetual beauty this awesome village has to offer.
How to Reach:
Take the road from Srinagar
Things to do:
The only activity you can enjoy here is reading amidst nature and some reflection
Interesting Facts:
This wonderland was closed for tourists until 2007 and is apt for travelers without kids.
Where to Stay:
With not many places to stay, a few hotels and guest houses, the tourists must make a prior arrangement before moving for a stay at this picturesque and a tranquil valley.
Safety and Precautions:
Prior bookings and well-packed winter clothes must be taken.
Back To Top
10. Bukovel, Ukraine:
Quintessential winter destination, the silent snowfall is the hallmark of this city in Ukraine. The alluring vistas of this lovely colorful place will urge you to stay longer and ski on the slopes.
Best Time To Visit:
Make your New Year's and Christmas worthwhile when you visit is a breathtaking hill station that would calm your soul. A visit between November to March can maximize the fun as you can ski during these months.
How to Reach:
You can travel by Bus or Train from various towns in Ukraine.
Things to do:
For an eccentric experience, a trek in the Carpathians would be enriching. Activities like Rafting and Mountain Biking can keep you engaged along with Ice fishing, sledding tour, and snowmobile riding.
Interesting Facts:
It is an expensive place, with the per day cost about 500-600 Hryvnia (currency)
Where to Stay:
Enjoy your stay at numerous luxury hotels that offer various activities and can keep you positively occupied.
Safety and Precautions:
It is a safe place to visit ad enjoy.
Back To Top
11. Chitkul, Himachal Pradesh, India:
A perfect way to detox from technology, air and city life is a visit to Chitkul in Himachal Pradesh. This place offers tranquility and lush green trees. Chitkul being the last inhabited village at the Indo-Tibetan border the effort to reach there is meaningful. Chitkul is a nature's galore to just sit with your favorite book in the warmth of the resort.
When To Visit:
You may visit it throughout the year, but after it snows, it is an arduous task to reach this place. Therefore, it is best to travel in Summers and enjoy the mountains and the Sun surfacing from them.
How to Reach:
Located in the Kinnaur district, you can take a bus route or drive to Chitkul to enjoy the scenic view.
Things to do:
Kamru Fort and Solang Valley along with the Bering Nag Temple are some places that you can visit.
Interesting Facts:
The last city at Indo-Tibetan border
Where to Stay:
Not on Map, Adobe the Cloud and Zostel Chitkul are some luxury places to stay.
Safety and Precautions:
The narrow roads require expertise in driving
Also Read: 13 Best Places to Visit in Jaipur
12. Zakopane, Poland:
Nothing can beat the Polish culture including its food. It is here at Zakopane that you can experience an indomitable culture of the polish people other than the delicacies it has to offer.
Best Time To Visit:
Visit between March to May in the spring
How to Reach:
With numerous airports in Poland, you need to take a flight to Warsaw and then a connecting train to Zakopane from Cracow.
Things to do:
The Gubałówka Hill Funicular is one of the best places in Zakopane that allows a view of the entire valley and is a treat for the eyes. Also, do visit the Tatra Mountains and Tatra National Park to enjoy the local places along with scenic beauty.
Interesting Facts:
Access numerous places from the cable car.
Where to Stay:
Stay at Dworek Zakopane, Amartamenty Maciejka are some places to stay
Safety and Precautions:
The weather is unpredictable and you must be prepared for winters.
Back To Top
13. Krasnaya Polyana, Sochi, Russia:
The destination chosen for the winter Olympics in 2014 has evinced the fact that it is one of the best winter destinations for holidays with family. This place also offers an aerial view of the Alpine mountains through the Wengen–Männlichen cable car.
When to Visit:
Winter months, from November to February are ideal for a visit. And if you happen to visit this place in January, you will witness skiing competitions that will develop a competitive spirit in you.
How to Reach:
Trains from Sochi can be taken.
Things to do:
Numerous trekking trails and ski slopes are the driving forces to this place.
Interesting Facts:
It is here that the Caucasus mountains can be seen from along with three world-class Ski resorts.
Where to Stay:
Belarus and few other Airbnb are the places that you can stay at.
Safety and Precautions:
It is a safe place to visit.
Back To Top
14. Wanaka, New Zealand:
A list of activities awaits you at this Maori culture-oriented place. The activities will take you back as you begin to perceive them.
When to Visit:
This part of the world enjoys summers between December to March and also is the ideal time for a visit. For those, who like skiing, winter months are best.
How to Reach:
To reach here, you need to reach Queenstown and can drive to Wanaka.
Things to do:
Begin with jumping from a plane to cycling downhill, experience the adrenaline rush and wait for more. For those who like to put their shoes on and trek in the countryside, Mt Aspiring National Park awaits you! If your adrenaline rush doesn't get enough fuel from these, you may even dive into the Deep Canyon and unveil your strength.
Interesting Facts:
The street parks and shops are named after the old settlement.
Where to Stay:
Multiple hotel options and homestay are available.
Safety and Precautions:
Take enough supplies and be wary of the unpredictable weather.
Back To Top
15. Queenstown, New Zealand:
Serendipity, here I come! A perfect amalgamation of adventure and serenity, this town in New Zealand is a getaway for not just foreigners, but also its own citizens.
Best time to Visit:
December to February.
How to Reach:
With an airport of its own, you can reach Queenstown from anywhere in the world.
Things to do:
From the mountains to the bungee jumping arena, the town offers a massive range of sports, hospitality, and culture that supplements the exuberance. Activities like hiking, rafting, jet boat thrill are some of them, other than the not so complex ones, like the view of the city from the helicopter and cycling.
Interesting Facts:
Maori is pronounced as Tahuna. It is home to Shotover River that is one of the world's richest gold-bearing rivers.
Where to Stay:
The place offers a low budget to luxury places to stay. It also has Airbnb and other stay at home options for those who prefer to cook their own food and be by themselves.
Safety and Precautions:
Be aware of your limits and the unpredictable weather
Back To Top
16. Fussen, Germany:
Testimony to peace this Barvarian town in Germany is the go-to place for so many visitors who are creative. Your creativity can come to the fore when you are at this colorful place that is graceful. Visit the monuments that will kindle your interest in history.
When To Visit:
Visit this place during the winters and experience the warmth at the luxury places you can opt for and make the most of your stay.
How to Reach:
Catch a train or a bus to Fussen from Neuschwanstein.
Things to do:
Neuschwanstein and Hohenschwangau are two of the most famous spots in the town and reaching these castles would make you feel victorious.
Interesting Facts:
The town is famous for Violin making beside the picturesque view that is absolutely breathtaking.
Where to Stay:
Gastehaus Sankt Ulrich.
Safety and Precautions:
It is remarkably safe
Back To Top
17. Dalhousie, Himachal Pradesh:
Living in a place like this is being in a paradise. The perfect postcard beauty, this wonderful weather is the highlight of this amazing town in Himachal Pradesh in India. Amidst the captivating views of the oak and pine trees, this lovely place is located.
Also Read: Taj Mahal Travel Tips
When To Visit:
It becomes vital to be here in the summers and enjoy the weather.
How to Reach:
Railhead of a distance of 80km is Pathankot. Take a bus to Dalhousie from there.
Things to do:
Places to visit near Dalhousie, are Khajjiar, which has extensive green fields and is divine during sunny days. Circumference the city, there are Chamba Hills that are covered in snow during the winters and make this hill station very attractive. Trekking can also opt for adventure enthusiasts.
Interesting Facts:
Dalhousie also has historical importance and is named after Lord Dalhousie, hence, the presence of colonial town is prevalent.
Where to Stay:
Numerous clean and neat homestays and luxury hotels are available for your stay
Safety and Precautions:
Although safe but keep a safe distance from strangers
Back To Top
18. Munsiyari Uttarakhand, India:
Getting wind of this charming and alluring snow-clad mountainous region located in India was one of the best discoveries. Umpteen options to explore, the trek is the culmination of the visit you make to this heavenly place. Encountering this glorious place is a wonder in itself and visiting is a marvel.
When To Visit:
This place offers a wonderful time to visit during the winters as well as summers.
How to Reach:
You may enjoy the scenic beauty while you travel by train, or can even take the cab or bus to this amazing place.
Things to do:
Famous for its trek off late.
Interesting Facts:
The place is great during all seasons for trek and shopping in night.
Where to Stay:
With luxury resorts and guest houses, accommodation is easily available.
Safety and Precautions:
The drive is rather narrow, get an expert driver,
Back To Top
19. Manali, India: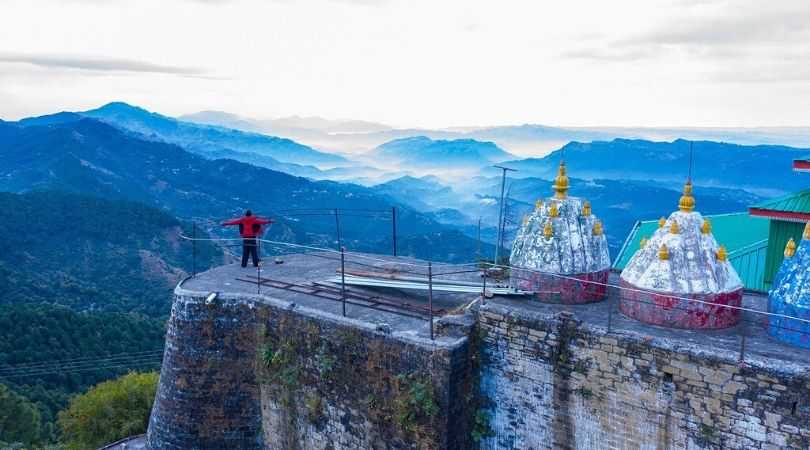 With the purity of culture, food and the whole ambiance, nothing is more mesmerizing than being with your loved ones in Manali. Located in India, you will be away from the hustle and bustle of the city life, yet can enjoy all the amenities that a city offers.
When To Visit:
Nothing can be more overwhelming than visiting this enchanting place that is full of snow during the winters and offers skiing to its customers. Traveling in the summer or winter, you will find yourself rejuvenated
Suggested Read: Top 10 Summer Destinations in India
How to Reach:
By road, or by bus, you may reach Manali as it is well connected.
Things to do:
Visit the Bhrigu Lake, Hampta Pass trek and Beas Kund Trek is the best
Interesting Facts:
It proffers a perfect urban and cultural outlook for the visitors.
Where to Stay:
Homestays, luxury stays and budget hotels, all are easily available and are comfortable.
Safety and Precautions:
Do not travel in the rainy season as landslides may appear. Do not trek alone.
Back To Top
20. Bavaria, Germany:
Home to one of the best Ski resorts in Germany, called Garmisch-Partenkirchen, Bavaria is the most sought after hill station in the world. The country has high plateaus and medium-sized mountains making this place a great getaway for adventures. Partnach Gorge is the best place to find yourself back amidst the urban turmoil.
Best Time to Visit:
June to September.
How to Reach:
Links from rail and bus from Munich can be chosen.
Things to do:
Zugspitze is the mountain range that you must visit for paragliding. You may also undertake Gondola rides that are a benchmark of this country.
Interesting Facts:
Its conical structures of the building, the towers and the unique colors take you back into the fancy world of fairy tales.
Where to Stay:
Farm Salajna, Ferienhof Riegerare some places to stay in Bavaria
Safety and Precautions:
Be wary when walking alone in lonely or crowded areas.
Back To Top
21. Grindelwald, Switzerland:
Owing to the beauty of Switzerland, this place has inherited most of the features. Green Meadows and the valley is not only picturesque but a flawless beauty. It certainly is admonished to be here when you wish to rejuvenate your spirits and mind.
Best Time to Visit:
January-April.
How to Reach:
Nearest airport is Zurich. Take a car journey of about 2.5 hours from Zurich
Things to do:
With the green slopes to offer, the place is perfect for trekking. Some of the wonderful and most sought after treks include Eiger Trail and Grosse Scheidegg Trail. The famous Gondola Cable car rides are available too. Mountain cycling
Interesting Facts:
Jungfraujoch Train ride is yet another attraction of this superlative place through which you can ascertain and explore the charming beauty.
Where to Stay:
Many comfortable stays, homestays are available.
Safety and Precautions:
Safe place to visit.
Back To Top
22. Lucerne, Switzerland:
Lucerne is an appealing hill station that embodies its values along with modern amenities. The attractive colors of the town are natural with trees and water and the structure fusing with each other significantly well.  When you visit this place, you feel the consummation of holidays as it comprises of lakes and mountains alike in their most natural color. So either a family getaway or a romantic one, the pictures taken here would do justice to your social media.
Best Time To Visit:
Pleasant throughout the year.
How to Reach:
Rail links from Zurich will take you to Lucerne.
Things to do:
You can also enjoy the Swiss Museum of Transport to gain an insight into the history. Other Attractions include the Chapel Bridge, built-in 14th Century, Glacier Garden, Musegg Wall, and the Lion Monument.
Interesting Facts:
Being on the banks of river Reuss, you have the lake view to enjoy.
Safety and Precautions:
Be cautious of pickpockets.
Back To Top
23. Tyrol, Austria:
When in Austria, visiting the hill stations here will give the much-needed break from the hassle of the city life. A mountain destination which is a therapy for the mind and soul and has all kind of water bodies epitomizing prosperity.
Best Time To Visit:
Visit any time of the year
How to Reach:
Well linked to the Rail system.
Things to do:
Trekking, rafting, at Imster Schlucht canyon. Winter sports include Cross-Country Skiing, Winter Walking, Skiing and Snowboarding, Snowshoeing and Sledding makes the visit lucrative.
Interesting Facts:
The state is split into two parts, North and South.
Where to Stay:
Many hotels are available for a comfortable stay.
Safety and Precautions:
Be careful while skiing
Back To Top
24. Lecco, Italy:
The embodiment of nature, encompassing it to the fullest, Lecco is divine to visit throughout the year. The splendid beauty of this nature's home comes through the trees and idiosyncratic color of the water that is perennial throughout the year. The peaceful aura of this place is to die for.
Best Time To Visit:
March to November remains warm.
How to Reach:
Take a bus from Orio al Serio Airport to Bergamo train station, then a train to Lecco.
Things to do:
The architecture is grand and substantial alpine in the backdrop proffers sublime view. If you like to visit churches, Basilica of St. Nicholas is there for that tranquil feel.
Interesting Facts:
Lecco has many natural lakes, with skiing slopes and home to ballet and other kind of music that mesmerizes the tourists.
Where to Stay:
Casa Amata, and many similar luxury and budget hotels
Safety and Precautions:
Safe to travel.
Back To Top
Looking for Stay? Book your hotel Now with Guaranteed Discount on Booking.com

(Limited Offers)
25. Faroe Island, Denmark:
The weather is pleasant with moderate winds throughout the year with a beautiful view.
Best Time To Visit:
Visit this place between May to September if you want to experience pleasant weather.
How to Reach:
Fly from Edinburgh and other cities nearby
Things to do:
Being a Viking destination you can visit meadows, mountains, waterfalls, and lakeside and enjoy every characteristic that nature has bestowed upon us.Enjoy the hiking trails at Trælanípa & Bøsdalafossur Waterfall Hike and Enniberg Hike. Sea Kayaking too can be enjoyed at this Viking destination.
Interesting Facts:
This island where you would witness sheep, perhaps much more than you would see humans!
Where to Stay:
Hotel Vagar and similar are available.
Safety and Precautions:
Relatively safe.
I hope you love our collection, if we miss your favorite hill station then let us know in the below comment section and if you visit any of one from the above list then share your experience with us. Cheers!!! 🙂