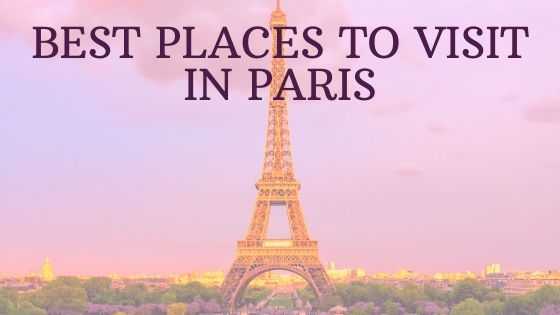 14 Best Places to Visit in Paris
A bad day in Paris is still a better than a good day anywhere else.
"Just add three latter to Paris and You have Paradise" by Jules Renard
It's good to make a bucket list before visiting a new destination like what are the best places to visit in Paris? Best Time to visit Paris and Where to stay in Paris. And here we come up with the best places to visit in Paris.
Paris is one of the most popular tourist attractions in the world with more than 40 million visits per year. The City of Light is also known as the City of Love and like that there are many other reasons that make this city one the best travel destination in the world. But to take out most of this beautiful city, you have to know what makes this city crowd favorite? And here we come up with the list of must-visit places in pairs. So take a pen and paper and list down your favorite place to visit in Paris.
Best Time to Visit Paris: June to August and September to October is the best time to visit Paris. The temperature from June to August is just perfect so it is the most crowded and most expensive as well.
Best time for Honeymoon: Paris is one of the most romantic cities in the world and also known as the City of Love. You're lucky if you have a honeymoon ticket to Paris. May, June, September and October are the best months for couples.
Also Read: Best Places to Stay in Paris
14 Best places to visit in Paris:
1.Eiffel Tower
The Eiffel tower is the Epitome of Paris or you can say France. This Iconic monument of Paris was designed by Alexandre-Gustave Eiffel in 1889 for the Paris Exhibition. It marked the centenary of the French Revolution and to demonstrate France's industrial power to the world. Every year more than 7 million people witness the beauty of this Iconic monument according to the official website of Eiffel tower. And since its created this iconic tower host more than 250 million people worldwide.
According to Amsterdam-based art Historian Tea Gudek Snajdar "Although at the beginning it was seen as the ugliest buildings in Paris, soon it becomes a symbol of Paris".
Eiffel tower consists of 18000 iron sections held together by 2.5 million volts and each of them weighing more than 10,000 tons. To reach at first level (57 meters) you can take an elevator or walk 360 steps and 344 more steps to reach the second level (115 meters). The view from the first and second levels is spectacular. To reach the top level (276 meters) requires an elevator from the second level.
The tower is open to the visitor for 365 days but the visiting time varying according to seasons. To ensure the best experience you can sign up for Skip the Line Guided tour of the Eiffel Tower, it will give you express access to the second level of the Eiffel tower. And for the English guided tour to the second level, you can check this: Second level Eiffel Tower Climb – English Guided Tour
Timing:
From mid-June to early September 9 AM to 12 midnight and for rest of the year 9:30 AM to 11:30 PM.
Interesting Facts:
You know the lifts of the Eiffel Tower travel a combined distance of 103,000 km in a year which is two and half times the perimeter of the Earth.
How to Reach:
The address of Eiffel Tower is Champ De Mars, 5 Avenue Anatole France, 75007 Paris, France, by entering this address to GPS you'll easily get to the Eiffel Tower.
Where to Stay:
There are numbers of good hotels are available near to Eiffel tower but to get the best one you can check this: Book Here>>
Things to do:
Climb the tower and learns its history. At the first floor, you can take a look at its history through different paintings of its evolution, drawings, films, photographs, engravings, and interactive activities. Enjoy the beautiful view from the second floor. From the left to right of the bank you can take view of the most picturesque view of the City of Light. The more you go up the more you get to know about its history.
Don't miss to take a stunning look of Eiffel Tower at night. After sunset, it sparkles with thousands of light.
Make your evening special at the very top of Eiffel Tower, Champagne bar. This bar offers you the stunning view of Paris along with a glass of your choice (Rose or white Champagne) and served as chilled as you like. The bar opens till 10 PM.
For lunches and dinner, there is a restaurant called Restaurant 58 on the first floor. The cost of meals starts from 15 Euros to 39 Euros.
You can enjoy your day at the foot of the Eiffel tower with Wine and Snacks. Most of the Parisian love to sit around the Eiffel tower during summer days. It is one of the best places to have a French Picnic.
2. The Louvre
The Louvre museum is the world's largest and most visited art museum. It is located in the Louvre Palace on the banks of the seine with an area of 210,000 square meters. It has its entrance characterized by a sleek glass pyramid.
The Louvre is one of the most crowded places in Paris that is a collection of thousands of great artwork from Ancient Egypt to the Romantic period, you can say that it is the symbol of France History.
It is not possible to see all artwork in one visit so just focus on a particular gallery-like painting of Mona Lisa which is painted by Leonardo Da Vinci in 1503 to 1505, ancient Venus da milo sculpture and the immense wedding feast at Cana painting by Veronese in 1563.
Suggested Tour: Ultimate Louvre: Fast-Track Guided Tour With Ticket

(The lowest prices, guaranteed)
The collection of Louvre is divided into 8 parts:
Egyptian antiquities
Greek, Etruscan and Roman
Oriental antiquities
Islamic Art
Sculptures of the Middle Ages, Renaissance and Modern Times
Paintings
Objects of art
Graphic arts.
Timing:
9 AM to 6 PM except for Wednesday and Friday. 9 AM to 10:30 PM on Wednesday and Friday, Tuesday is closed.
Interesting Fact:
The Louvre is the biggest museum in the world with 380,000 pieces in total. It is so big that it takes 100 days to squeeze in every piece of art but you could only spend 10 seconds on each piece.
How to reach:
The address of the Louvre is Rue De Rivoli, 75001 Paris, France. The nearest metro station to the Louvre Museum is Louvre Rivoli and Palais Royal Musee de Louvre.
Things to do:
Walkthrough the corridors of the museum and witness the masterpiece of the art of different periods like Mona Lisa.
Don't forget to discover the Louvre Pyramid and Shops on the entrance gate. This is going to be the first interaction with the piece of art you will going to discover.
Discover Victoire de Samothrace (Room 703).
Don't forget to discover the Louis XIV by Hyacinthe Rigaud (Room 916).
3. Arc de Triomphe and Champs Elysees
The Arc de Triomphe is the tomb of Unknown Soldier of France which was ordered by Napoleon Bonaparte to celebrate the victory of the Battle of Austerlitz in 1886. It is dedicated to the soldiers who fought in the French armies of the Revolution and Napoleonic war.
Built-in 19th century, it is the biggest landmark of its sort in the world. Amazing sculptures decorate its columns. Moreover, the names of 558 commanders and the extraordinary triumphs are engraved on the top of the arc.
Also Read: 25 Best Places to Visit in France
50 meters high, 45 meters deep and 22 meters deep the Arc de Triomphe leads to the Champs Elysee which is also known as the most beautiful avenue in the world. The Champs Elysees is mainly famous for shopping.
Timing:
It opens every day from 10 AM to 10:30 PM.
Suggested Tour: Paris Hop-on Hop-off Bus Tour: Classic, Premium or Deluxe
4. Notre Dame Cathedral
Notre Dame Cathedral is also known as Notre-Dame de Paris/Notre Dame is a Roman Catholic located in the heart of Paris on the Ile de la Cité. In France it is rated as of the best example of French Gothic Architecture with combing rose windows, amazing sculptures, and gargoyles. This beautiful sight has begun in 1163 and completed in 1345.
The entrance is free but we suggest you walk around the cathedral before entering inside and climb to the top of it which gives you a stunning view of the region and see the famous gargoyles.
Timing:
It is closed on Monday. April to September 10 AM to 11 PM and from October to March 10 AM to 10:30 PM.
Interesting Fact:
Do you know that Notre Dame Cathedral is the most visited monument in Paris, not Eiffel Tower. According to one report every year more than 13 million visitor pass-through this legendary gate, means 35 thousand visits per day. In France, most towns have a smaller population than this.
How to Reach:
The address of Notre Dame Cathedral is 6 Parvis Notre-Dame – Pl. Jean-Paul II, 75004 Paris, France and the nearest metro stations is St-Michel Notre Dame – RER B Train Line blue, St-Michel Notre Dame – RER C Train line Yellow.
Things to do:
Climb at top of Notre Dame to get the panoramic view of Paris. Take 387 steps and view all the upper parts of the western facade dating from the 13th century.
Don't forget to go inside the Notre Dame, it is completely free. The first thing to see is three rose windows, rated as the greatest masterpiece of Christianity.
5. Seine River Cruises
Seine River Cruise – The best way to enjoy the beauty of this City. Whenever you're in Paris take a boat cruise along with Seine river that allows you to see the sights from different angles like the Seine river bridge, Eiffel tower. Notre-Dame de Paris and Louvre Museum.
During the afternoon cruise allow you to enjoy the beauty of monuments and after sunset cruise gives you the romantic experience when the city monuments are illuminated that creates magical effects and the city seems to be more magical. You can also enjoy dinner on the cruise.
Suggested Tour: Paris: 3-Course Lunch Cruise on the River Seine
6. Montmartre – The Wall of Love
Montmarte is a 130-meter high hill in the northwest of Paris. It is best known for its artistic environment or you can say this place is the inspiration of many artists like Monet, Picasso, Vincent van Gogh, and Renoir. And it is also known for white-domed Basilica and bustling Square of Tertre. If you're an art lover then Montmarte is the best for you, come here and witness some of the best artwork and inspired by it.
Don't forget to take a break at The wall of love (Le Mur des Je t'aimes) where I Love You is written by 311 times in 250 languages.
Timing:
From May to September 8:30 AM to 8 PM and from October to April 9 AM to 5:30 PM.
Interesting Fact:
Originally Montmartre was named Mons Martis which means Mount of mars later it was changed to Montmartre also known as Mount of the Martyr.
How to reach:
The address of Wall of love is Square Jehan Rictus, Places des Abbesses, 75018 Paris, France. It is located near to the Abbesses metro station.
Things to do:
When you're next time here then don't forget to go shopping in almost all budgets near Montmartre.
For the historical lovers, Montmarte village could be the best destination. Here you will get boutiques, local street artists and french food.
Suggested Read: 16 Cheapest Places to Travel in the World
7. Palace of Versailles
The Palace of Versailles was built in the 17th century and it was the official residence for the French Kings from 1682 to 1789. It is one of the most popular world heritage (listed in the world heritage site for 30 years).
It is rated as one of the biggest achievements of 17th-century French art. It is a collection of 2300 rooms and each room is designed in a unique way. Its beautiful feature: Hall of mirror, the ostentatious bedrooms, the royal chapel, the queen bedroom, great french garden and the musical fountain.
Recommended Tour: Versailles Palace & Gardens Full Access Ticket & Audio Guide
Timing:
Every day from 9 AM to 6:30 PM
Interesting Fact:
The Palace of Versailles has 400 sculptures, 1400 fountains, 5000+ furniture, 6000+ paintings.
How to reach:
The complete address of it is Place d'Armes, 78000 Versailles, France. To get there you can use public transport like metro, bus, etc. or from Paris, you can travel by train.
Things to do:
The Hall of Mirror is one of the most attractive parts of this Palace with more than 350 mirrors.
The Garden of Versailles is another thing you have to see. It covers more than 800 hectares of land with sculptures, flowers and greenery.
Don't forget to see Versailles Cathedral which is rated as the French National monuments. Other things you have to see here: Royal Chapel, Notre-Dame de Versailles, Petit Trianon, Versailles market, Marie Antoinette bedroom, the art collection and many more.
8.Luxembourg Park – Quartier Latin
The Luxembourg park is located on the bank of Seine river is the best place to visit in Paris which is known for its student's life. The Latin Quarter of Paris is housed of many higher educational institute like Ecole des Mines de Paris, Schola Cantorum, Ecole Polytechnique and Ecole Normale Superieure.
This beautiful green surrounding allows you to take a break from the city hustle. It is a local favorite place for picnicking and relaxing. Here you'll get multiple varieties of apple, an apiary, 106 statues, fountains and bronze reduction of the Statue of Liberty. It is also famous for hosting sports championship especially France Tennis Championship.
Timing:
For summer 7 AM to 1-hour prior sunset and for winter 8 AM to 1 hour before sunset.
How to reach:
Located near south of the Seine River in the center of Paris. The nearest station is Luxembourg where you can reach through RER B. Or you can easily walk through the Notre Dame Cathedral with 20 minutes only.
Things to do:
Simply take a walk in the Luxembourg Garden and admire its beauty. It can be described as the French Style Garden with shapes, geometric lines, flowers, grass and pond.
Take a look at the statue of women who created this garden, Marie de Medici. Here you can find more than 100 sculptures with different shapes and sizes.
Visit Luxembourg Museum which is located inside the Luxembourg Palace.
You can spend here quality time with your children with lots for child-oriented activity. Many Parisian love to come here for a picnic with wine. I recommend you to sit on iconic Green Park chairs.
9.Disneyland
Originally known as the Euro Disney Resort is one of the best places to visit in Paris. It is one of the colorful, vibrant and Cheerful park in Paris that is known for its fun rides, animation movies & shows, rallies and many more. Come here and meet with your favorite Disney character in two theme – Disneyland and Walt Disney Studio. If you wants to spend a day with super fun and adventure than this place will best for you. Disneyland has lots to offer you like Crush Coaster, Autopia, Disney Parade, fireworks, Buzz lightyear laser blast and selfies with your favorite character.
Interested in Disneyland Here is Disneyland Paris 1-Day Ticket
Timing:
Every day from 10 AM to 11 PM.
How to reach:
The address of Disneyland is Boulevard de Parc, 777000 Coupvray, France. You can easily get here by Train, Metro station and RER. The Marne-la-Vallee/Chessy is the nearest train station. For more, you can check this: How to get Disneyland Paris
Things to do:
Come here and meet your favorite Disney characters.
Watch Parade of Disney stars. You will see some familiar faces from The Lion King, The Jungle Book and many more.
Take a tour of Tram Studio, you will enjoy lot and also you will get to know some secrets of the movie.
Try some thrilling rides like Twilight Zone Tower of Terror, Rock Roller Coaster Starring Aerosmith etc. For star war fan there is Star War tour the Adventure Continue which takes you an action-packed journey.
Enjoy Disneyland's amazing live shows, golf Disneyland and Disney Village.
10.Tuileries Garden
Located next to Louvre, this beautiful place is worth to visit. It is designed by famous royal Gardner Andre Le Notre to back the Palais des Tuileries which was burnt down in 1871.
The Tuileries garden is a favorite place of Parisian for walking. It offers you lots of things like a game of Boules, Orangerie Museum, photography exhibition, landmark walking tour, sculptor like Rodin & Maillol and many more. It has small amusement park which is best spot for kids. If you're looking for a family destination in Paris then you must visit this wonderful place.
Timing:
Everyday 7 AM to 9 PM
Interesting fact:
Do you know once Tuileries Garden was own by a 9-year-old child Louis XIII and after that, he turns the garden into the personal playground and used it for hunting.
How to reach:
The address of Tuileries Garden is Place de la Concorde, 75001 Paris, France. You can reach there by train, metro, RER and by bus.
Things to do:
Take a free walking tour of this amazing landmark of the City of Light and enjoy each and every bit of it.
Take a part in the famous french game the Boule Game.
Don't forget to visit the Orangerie Museum which is arranged by Claude Monet. Come here and discover some amazing paintings from the great masters who lived in Parissuch.
11. Moulin Rouge
The spiritual birthplace of the Famous French Cancan, Moulin Rouge is build in 1889 by Joseph Oller and Charles Zidler. It is located at the base of Montmartre highland. The romantic decoration, sizzling music and illuminated building make this one the most fascinating place to visit in Paris.
This vintage and classic cabaret venue has lot to offer you like glamorous evening shows, romantic dinner, cabaret performance and many more. In 2001, a scene of movie Baz Luhrmann, starring Nicole Kidman and Ewan McGregor shot here which helps to improve the reputation of the cabaret.
Timing:
Everyday 9 PM to 1 AM.
Interesting Fact:
Each show features 80 different dancers called Doriss's with 20 male and 60 female dancers.
How to get there:
The address of Moulin Rouge is 82 Boulevard de Clichy, 75018 Paris, France. The Blanche metro station on Line 2 is the nearest station to the Moulin Rouge. Also You can reach here by train and bus as well.
Things to do:
Enjoy Night show and famous Can-Can dance.
Suggested Tour: Paris: Moulin Rouge Show with Champagne

(100% Moneyback Guarantee)
12. Place de la Concorde
The largest square of Paris, Place de la Concorde is located at the bottom of Champs Elysees. It was built in 1772 in the honor of King Louis XIV recovery. It is one of the most attractive squares in Paris because of its octagonal shape and pink granite obelisk.
It offers beautiful views of Champs Elysees, Tuileries Garden, the Louvre Museum and the Christmas illuminations.
How to reach:
It is a busy place with heavy traffic so make sure you get out of the way. To reach there, walk from the Louvre through the Tuileries or follow the Quai along with the Seine river. Or you can take the metro, bus, train or RER.
Best time to visit:
During the summer from April to June and Sept to Nov is the best time to visit this place.
What to see:
Don't miss to see two monumental fountains, the Fountain of the seas and the Fountain of the River and Hotel de Crillon, Egyptian obelisk is must.
Back To Top
13. Sainte Chapelle
Sainte Chapelle or Royal Chapel in English was built in the 13th century by King Louis IX to store his collection of religious relics which included the Crown of Thorns. It is the best example of Gothic style architecture.
It one of the most charming places in Paris filled with beautiful glass windows, stunning painted ceilings, etc. Mostly, this place is visited by photographer and history lover.
How to reach:
To reach there you need to enter inside the iron gate of the Palais de Justice and walk through the inner courtyard. Metro, Train, bus and RER is also available. Keep in mind you have to take ticket which you can take individually or in Group.
Best time to visit:
Sunset is the best time to see the glory of Sainte Chapelle but it is also the most crowded time as well.
Tourist attractions:
Watch the most expensive collection of 13th century stained glass windows in the world, visit the Island in the Seine, Ancient relic shrine, musical concert, lower and upper chapel and oldest wall fresco in Paris.
Back To Top
14. Pantheon Temple
Pantheon was built during the 18th century by King Louis XV to pay tribute to them who sacrificed their lives for their country and other French Citizens like Simone Veil, Vitor Hugo, Jean Moulin and many more.
Nowadays it is an active church and favorite among couples for holding their marriage. If you want to see the best architecture and design in Paris then you need to head to Pantheon.
How to reach:
Located in Piazza Della Rotonda in the heart of Rome. There are many ways you can reach to Pantheon temple including public transportation like buses and Train. But there is no nearby metro station.
Best time to visit:
From 4 PM to the closing time and avoid during the rainy season. Please keep in mind that the building does close on every Sunday.
What to see:
Foucault's pendulum, visit crypt to see the graves of the greatest french citizens, take a view of Paris from the top of the building.
Back To Top
Where to stay in Paris:
Latin Quarter: If you stay in Latin Quarter then you can easily get a chance to visit some of the best tourist attraction of Paris like 12 Min away from Champs Elysees, 4.9KM away from Eiffel tower, 9 Min away from Louvre museum, 6.7 KM away from Montmartre and also you easily use the metro to reach your favorite destinations.
Book your stay now: 10 Best Hotels in Latin Quarter, Paris
Best places to stay to view Eiffel Tower: Imagine you waking up in the morning, opening the window and get a wonderful view of Eiffel Tower, means wow. So let's check out those hotels: Hotel Eiffel Trocadero
Best Budgeted Hotels in Paris: If you have a low budget or want to manage your budget then no problem here are the 10 best budget hotels in Paris
Some Frequently Asked Questions about Paris?
So here is the list of 14 must-visit places in Paris. I hope you love them. If we miss your favorite place then let us know in the below comment section and share your experience in Paris with us.
Cheers, until next post 🙂