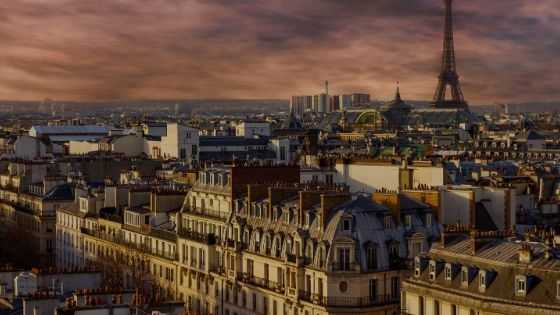 25 Best Places to Visit in France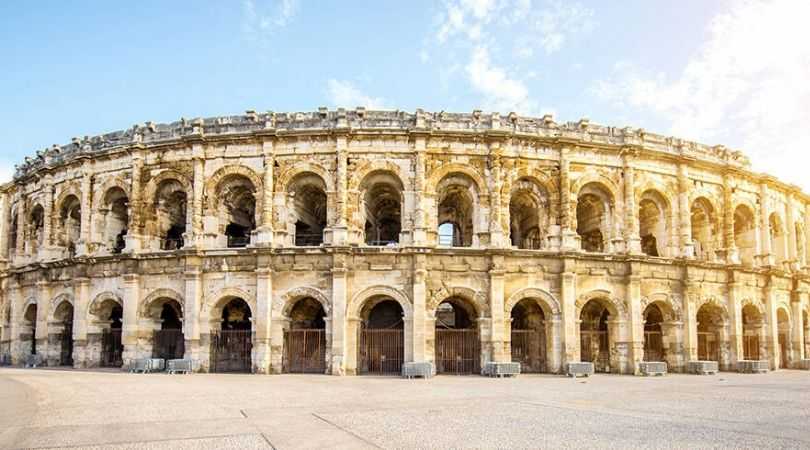 France is full of history, art and literature. The ancient country that will entice any art lover with its architecture and poetry stands brilliantly, with modern touches here and there. There is really a good reason why France was so adored by poets. Read on to know more about this captivating beauty before traveling.
Let us have a brief introduction to the Land of the Franks. France is known for its architecture, luscious appetizing cuisine, fashion, cheese, wine, and the list is never-ending. Believe me, we just got started.
If you believe in love at first sight, then France is calling you. Well, we know that France is a country with Paris as its capital and also the largest city in France. Interestingly, there is no concept of different states in France.
Unlike other countries like the United States of America, they divide this country of love into 18 administrative regions. As per the recent 2020 United Nations statistics, the population of France is 65.209,214 or close to 6.7 cores. So, if you are looking for a quiet voyage, you need to come during the offseason. Like the United States of America and Canada, tourists rush during the summer months here.
The best gift you can give yourself is to travel and explore this vast world. Believe me, France tops the chart! With its immaculate architecture and history, France is the favorite holiday destination for couples. Over the decades, the trip to Europe has become popular all across the globe.
France shares 10% of the total tourism market in the world. Statistics show that around 90 million people travel to France every single year to explore many tourists' parts. Road trips are the ultimate way to travel around France, Eurorail, Eurotunnel, and intercity trains are also a great way to explore France. This article will be the ultimate guide to your French odyssey.
So, my dear readers visit this beautiful country during springtime from April to June or during the fall from September to November giving you a trip of a lifetime!
Scroll down to know the best 25 places to visit in France:
Paris: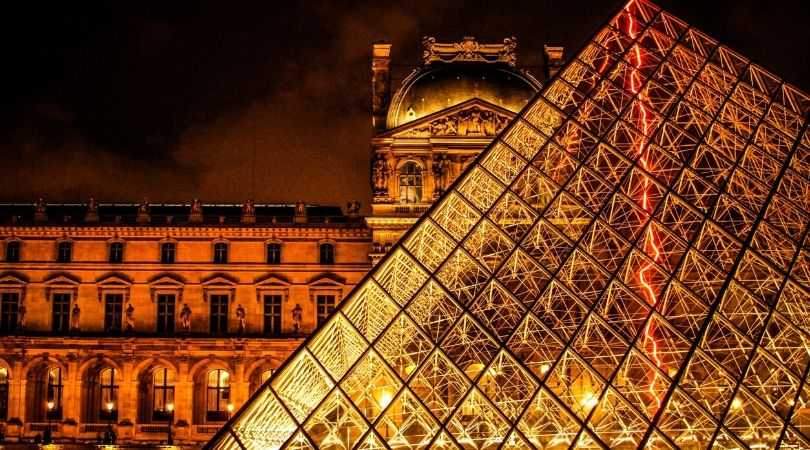 Your first destination should be Paris when you plan a trip to France. There are two major airports in Paris known as Aéroports de Paris-Charles-de-Gaulle; Roissy airport to the north and Orly to the south. Roissy Airport is the busiest international airport in France.
If you arrive in France by air, you can take the local transport to reach your hotel on time. The easiest way to reach your hotel would be by Paris Shuttle transfer running from 4 am to 11 pm that will cost you 25 Euros for a round trip. Taxi service will cost you close to 50 Euros will an additional 10 Euros at night.
Where to Stay:
There are many great places to stay in Paris. With big names like Sheraton, Novotel, Pullman, Hilton, you can book any hotel of your choice. Booking a hotel is just a click away. Homestays and bed-and-breakfast and average hotels will cost you not less than 100 euros in Paris. You must do a bit of research online before you get your reservations done. You can travel by train, boat, on foot, cycle or even rent a car.
Things to do/Tourist Attractions:
Start your morning with a hot cup of coffee and baguettes like true French countrymen. Paris is a paradise for food lovers, in Paris you ought to try Pain Au Chocolat and Kouglof. For all, you cheese lovers out there, gorge on some beyond amazing cheese from Laurent Dubois in Paris.
There are several must-sees in this beautiful city. Savoring the texture of the flavorful cheese, your first stop should be at none other than the Eiffel Tower. The ticket prices vary for different age groups. If you wish to take the elevator, it would cost 11 Euros above the age of 25 years and 8.50 Euros for people between 12-24 years and children within the bracket of 4-11 years have to pay 4 euros.
If you wish, you can take the stairs that will cost you 7 euros, 5euros and 3 euros, respectively. You should enjoy this architectural beauty both during the daytime and in the evening as it opens from 9 am to 12:45 am.
Notre Dame Cathedral is another amazing cathedral to look out for. The amazing gothic style architecture is every traveler's dream. It opens up at early morning hours from 8:00 a.m. till 6:45 p.m. One of the most fascinating tourist destinations in Paris is Moulin Rouge which opens from 9 pm till 1 a.m. Do not miss a chance to visit this vintage cabaret venue.
Toulouse:
This spectacular southwestern city of France is famous for the headquarters of the European Space Study. Capitole de Toulouse is the municipal head of Toulouse. During the 1562 Toulouse riots it was the focus of contention and was held by the Huguenot forces with captured cannon.
The houses around the massive Capitole Square were rebuilt in the 20th century but the present 135 m long façade of the Neoclassical-style traditional pink brick dated 1750, designed by Guillaume Cammas.
Church of the Jacobins is one of the places you would not like to miss out on your trip to Toulouse. It houses several 14th-century mural paintings. The monastery is host to classical concerts and special late-night opens for several evenings during June when the monastery is until midnight open for the public to enjoy the mystical and ceremonial sacred atmosphere of the night. Every September, the convent holds a classical piano festival with concerts in both the cloister and other areas of the convent properties.
How to Reach:
Every 20 minutes, there is a shuttle service from the airport to the city center. It is the easiest way to reach the city center. The city center is 8 km from the airport. From the city center, you can book a tourist taxi that will show you around the city in 2 hours.
Things to do/Tourist Attractions:
Enjoy an evening at the famous River Garonne. The pinkish hue over the rooftop gives the name "pink city". Basilica of Saint-Sernin is the Abbey of Saint-Sernin or St Saturnin, a thousand-year-old church that is built Romanesque and the largest remaining until today.
The Basilique offers unique revolving displays of contemporary religious art, to remain relevant to modern pilgrims and tourists. The crypt holds other precious relics in the Treasury.
Where to Stay:
There are many hotels within a 5 km radius of the airport. Campanile and hotel Ours Blanc are two hotels with breakfast options within a few kilometers from the airport. You have many luxury and budget hotels in Toulouse for you to spend the night.
The family-run Hotel Heliot also offers spacious well-designed rooms close to the airport bus stop, and a short walk from Place du Capitole. Croix-Baragnon is located near the cathedral and the Museu des Augustins in the Carmes district, full of restaurants and cafés. Ibis Toulouse Center is a basic, reliable brand on the edge of the pedestrian zone, a few blocks from Basilica Saint-Sernin, and 10 minutes ' walk from Plaça du Capitole.
Aix-en-Provence: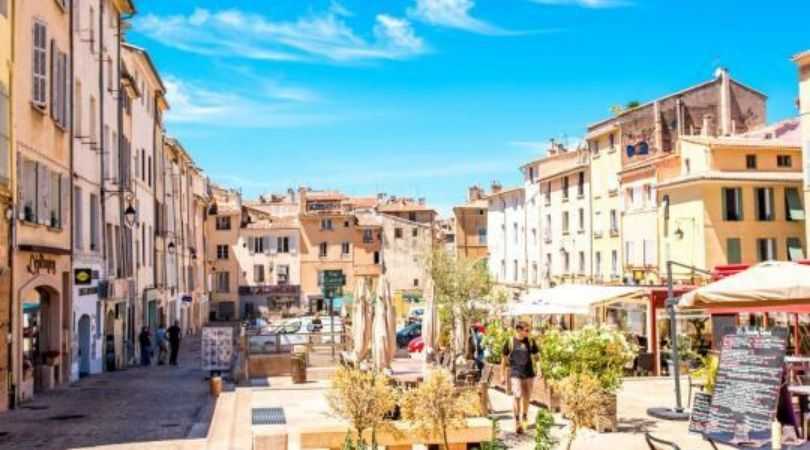 This city in Provence is famous for its lush green gardens and prestigious art galleries. If you love coffee and art both then you must get a cuppa coffee at Archevêché Brasserie before heading to the Atelier de Cézanne, the last studio where you can find his hat and other belongings well quite in place. This picturesque province is an artist's dream and a must place to visit when in France.
Best time to Visit:
Prices soar up during summer, so the best time to visit is from March to May and from September to November.
Tourist Attractions/Things to do:
The Granet Museum is one of the finest art museums of its kind in French and is housed in the former palace of Malta just off Rue d'Italie near the Cours Mirabeau. There is a large collection of works by the great master Géricault, Ingres, and Rubens from the 14th to the 20th century. The museum has an impressive collection of artistic accomplishments, especially Cézanne's drawings, and Degas, Monet, and van Gogh's works.
Where to Stay:
The best place to stay is Villa Gallici, the class apart standards with the eighteenth-century ambiance will mesmerize you with all its glory. You can also book villas like Le Domaines aux Agasses for 3,000 euros for a week.
Lyon: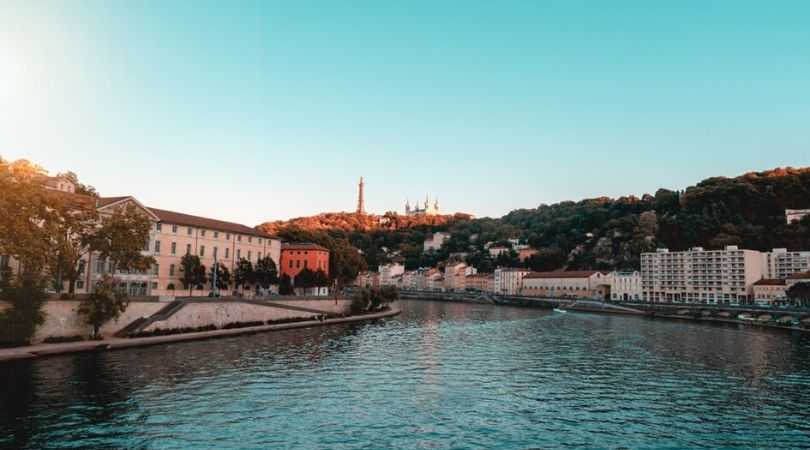 It is a UNESCO World Heritage Site and popular with tourists. This 2000-year-old city is best known for its antique markets, food and music festival. If you are a theatre lover, Lyon is your calling. The spectacular breath-taking amphitheaters are home to many theatre festivals. Explore the city by enjoying the history imprinted on cobblestones taking you to a century-old era The silk weaving at the Maison Des Canuts is a must in this city.
How to Reach:
The best way to travel in France is by train. You can get cars on rent starting from $70 and enjoy the freedom of exploring the splendid architecture all around Lyon. you can get cycles on rent for as low as 1 euro per day.
Things to do/Tourist Attraction:
Visitors with different interests may take advantage of several choices in and around Lyon. A Hop-On Hop-Off Bus Tour stops at 13 different sites, including libraries, parks and historical monuments is a perfect way to get to know more.
For more design experience, take a private guided tour (up to six participants) of Lyon, which takes you one or two hours to the key attractions of Lyon, including Place Bellecour, the Old Town and the Cathedral. Taking the Lyon City Tram to explore the beautiful neighborhood of Croix-Rousse is one such adventure.
Where to Stay:
Here are some of the places to stay in Lyon Hotel des Celestins is located in a quaint neighborhood with restaurants and shops near the lively maritime cafes of Quai Saint-Antoine. The Hotel des Artistes also faces the Théâtre des Célestins across the street from the Cathedral and Vieux Lyon. Hotel Bayard Bellecour is located in a historic house on Place Bellecour, with a courtyard and a nice retro decor.
Le Havre: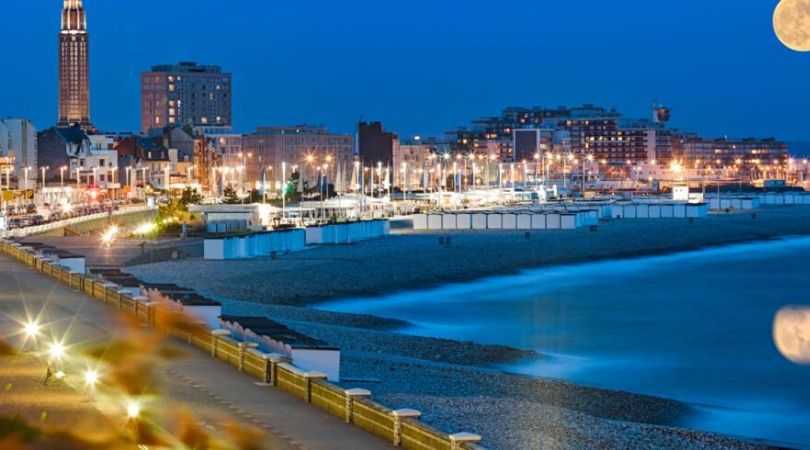 This beautiful city and a seaport are on the English Channel coast. La Plagne Du Havre has a beautiful coastline where you can take long walks on the beach, absorbing the serene view while enjoying the delectables on the way. You must not miss out on this seaport that wears its history as a medal.
Where to Stay:
You can stay in good hotels for 60-70 euros per night, including a scrumptious breakfast in the morning. You can try Perret Model Apartment and Eglise St-Joseph for staying as they have good ratings from the tourists.
Strasbourg: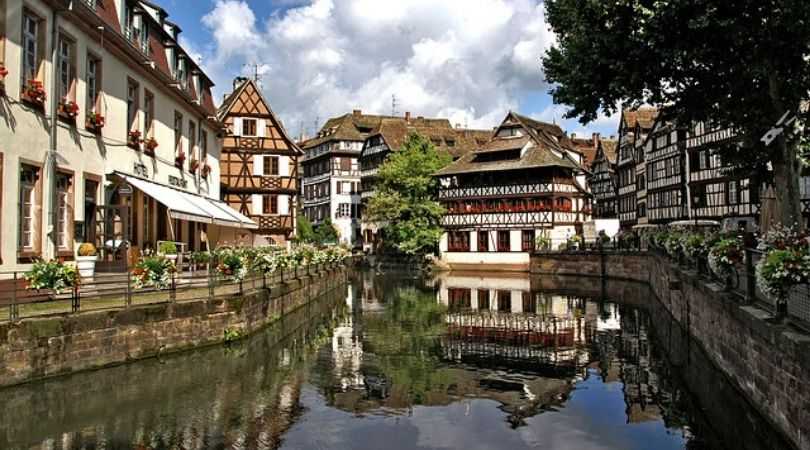 Interestingly, Strasbourg influences both German and French architecture. This is such a treat to the eyes. The sprawling city will not cease to amaze you. This city is significant in terms of important French institutions like the European Institute of Human Rights, European Parliament and the Council of Europe to top the list.
How to Reach:
You can reach Strasbourg from Paris by Train in close to 3 hours that would cost you $25.The first thing you do is get a Tasty Trips Pass for just 12 Euros.
Things to do/Tourist Attractions:
You must take this booklet and enjoy the food walk. Then next on your itinerary should be the Strasbourg Cathedral. After engaging in the historical masterpiece, you ought to take the Batorama Boat Tour. Late evening, you can enjoy with a glass of wine and the finest cheese this city has to offer.
Rouen: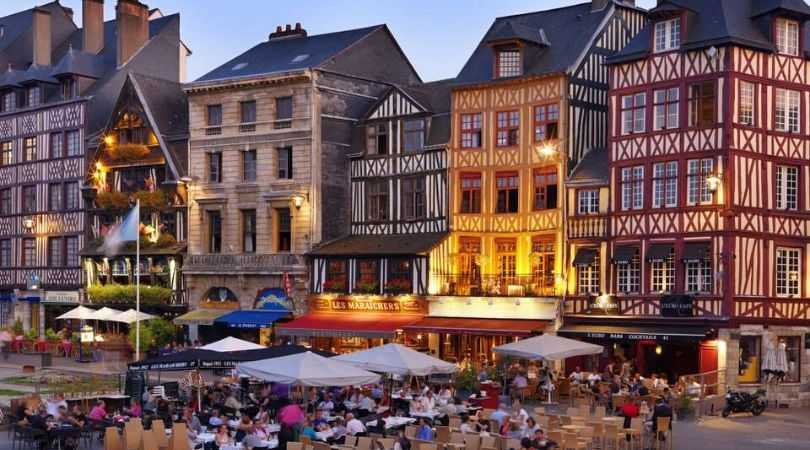 The city with a hundred bells chiming in the air, yes that is what this phenomenal city is all about! You can drive down from Paris to enjoy a laid back weekend in this enchanting city. You can have a day trip to Rouen. The train fairs are less than $10 each way. Euro rail offers great transportation in just 2 hours.
Where to Stay:
The perfect place to stay will be at Campanile Rouen Mermoz, which has an amazing view where you can book a stay for $60 per night. Hôtel Céline – Hôtel de la Gare is just 5 minutes' walk from the train station.
Saint-Maclou and Saint-Ouen are the two cathedrals with gothic style architecture. The old city charm overwhelms you with the phenomenal cobblestoned pedestrian.
Château Du Haut-Kœnigsbourg: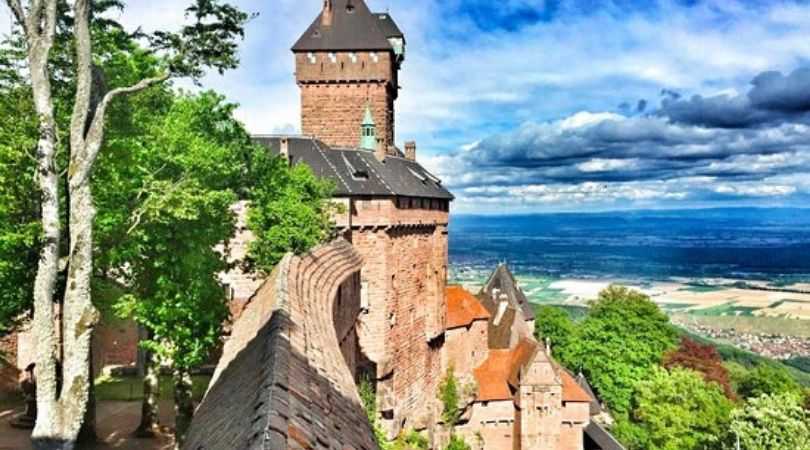 The Vosges Mountains is the home to this angelic castle. Yes, Château Du Haut-Kœnigsbourg is a castle and is most popular with tourists for its appealing architectonic. The castle opens around 9:30 am hours with a slight change in timing during the peak winter months. The best way to reach Château Du Haut-Kœnigsbourg is by a shuttle bus service that runs from the railway station of Sélestat.
Dijon: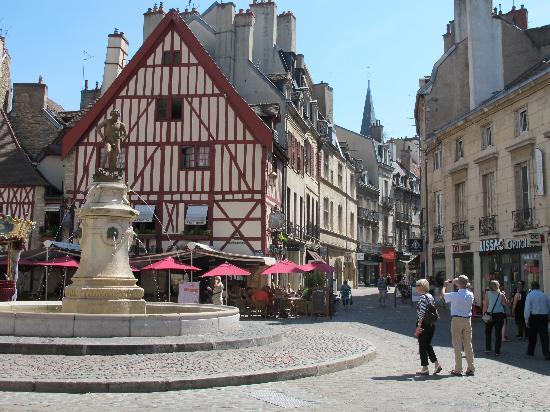 When we hear the name Dijon, mustard comes to our minds, isn't it? Well, to your surprise, this eastern city of France is best known for its winemaking. To entice the wine lover in you, Dijon can do wonders.
How To Reach:
Home to France's best wines, this glorious city can be reached by bus, car and train. You can take a train ride from Paris and reach this city in a few hours.
Things to do/Tourist Attractions:
Start your day with a tour of the Palace of the Dukes of Burgundy. For the artist in you, the Museum of Fine arts has lots to offer. Your trip is not quite done if you do not visit Jardin Botanique de l'Arquebuse and the Cathedral of Saint Benignus of Dijon. Another masterpiece of the 13th-century, The Church of Notre-Dame of Dijon is chiseled in fine Gothic architecture.
Eguisheim:
This place reminds you of the song sung by John Denver, "Country roads take me home". This medieval village gives you the scent of crushed and fermented grapes. I know what you are thinking …yes, it smells of wine! You can plan a trip to a vineyard and enjoy your day taking a tour of the winery.
The central Château Saint-Léon is a castle and hiking trips are available for tourists. Plan your trip from August to October to get the best of this city. The mushroom festival is to look out for and is one of its kind.
Nice: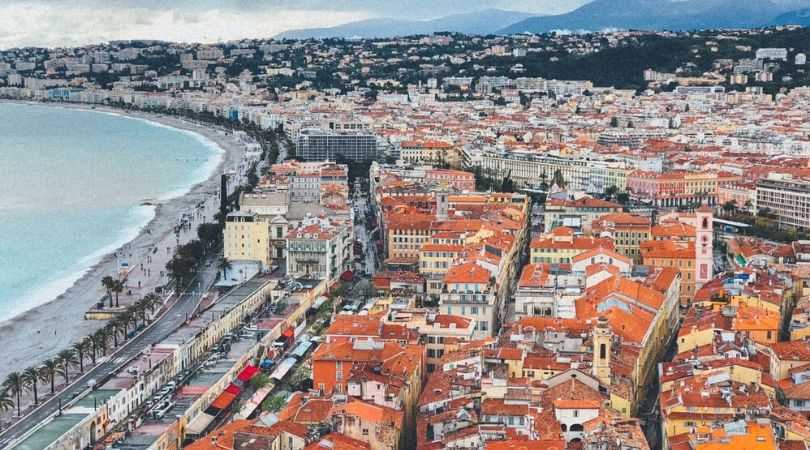 Nice is situated on the beautiful shores of the Baie des Anges. This is a must place to visit on your trip to France. Côte d'Azur is the name of the Nice airport.
How to Reach:
You can fly to this beautiful city or take a train ride from Paris and other neighboring places. With Eurostar and SNCF, you can travel from Paris to Nice in less than 8 hours. If you book through TGV, you must book in advance.
The prices vary from $20 to $120. A tip for the dear reader always books the train tickets weeks in advance to get a striking deal. It is always advisable to take a train ride or drive if possible.
Things to do/Tourist Attractions:
The engaging landscapes are beyond amazing. The picturesque scenery will leave you to spellbound. Vieille Ville, the Promenade Des Anglais, Colline Du Château should not be a miss when you visit Nice. For art lovers, Musée Matisse is enlightening.
The artist's family gifted it to the city of Nice. Jardin Albert, I proudly host the statue Fontaine Du Soleil and an amazing amphitheater popular with the tourists. Cathédrale Orthodoxe Russe Saint-Nicolas is home for the iconostasis of carved metals, ornamental murals, and carved woodwork. This is one of the oldest orthodox churches in France.
Gorges Du Verdon: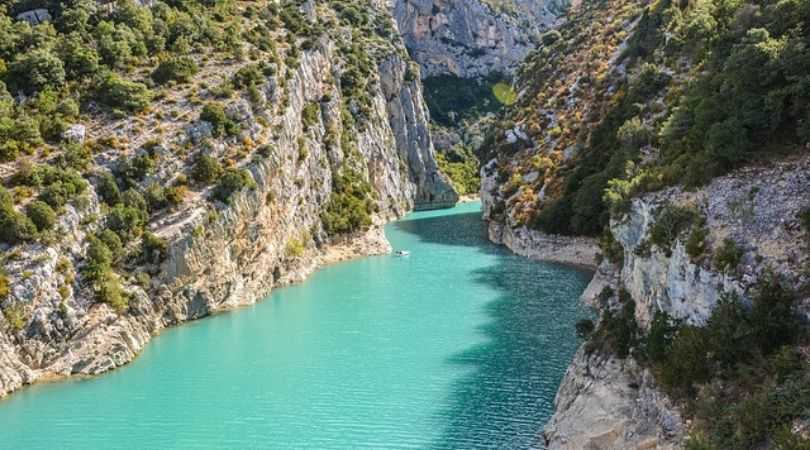 Gorges Du Verdon is approximately 73 kilometers from Nice and the drive is breath-taking and the most enjoyable one. You can travel by train that would cost you from 150 euros to 200 euros.
However, driving would cost you much less. It is a day trip from Nice. You can stay in Nice and drive up to Gorges du Verdon. The 25 km long river canyon is undoubtedly the most beautiful place to visit in France. From swimming in the canyon to kayaking and camping, this place is an adventurer's delight.
Brittany: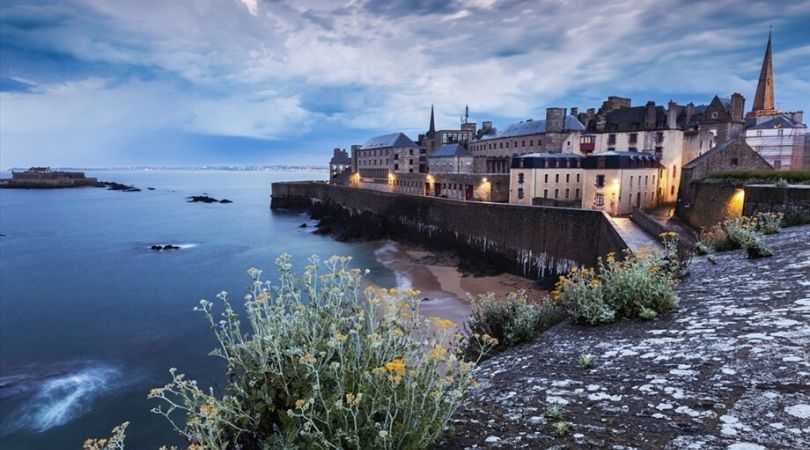 Everything about this place is spectacular, the food, nature walks, beaches, culture, heritage just about everything. This is quite a quiet place for a weekend getaway.
How to Reach:
It takes about 4 hours from Paris by train and tickets will cost you close to $20 and believe me the train ride is phenomenal. You sure do not want to miss out on that one. You can take a ferry from Portsmouth and reach in 10 – 12 hours.
Where to Stay:
Hotel Le Mouton Blanc and Hotel de France et Chateaubriand offer a great stay with a great view. The rooms are available from $50 onwards if you book in advance. You must try the famous Breton local cuisine when in Brittany. It is famous for beaches, good food, and green countryside.
Avenue Du Champagne: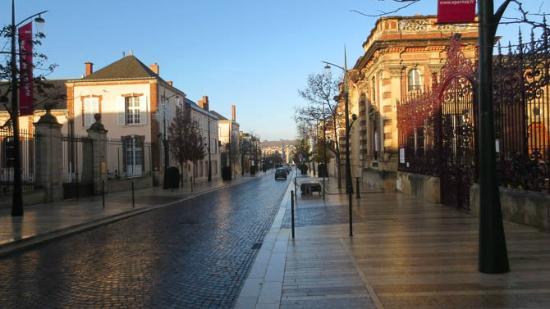 This is a well-known street in Épernay, the capital of Champagne. This is one of the costliest streets in the world. Get ready to spend some of your hard-earned money here. An average hotel here will cost you $150 per night.
How to Reach:
You can reach Epernay from Paris by Train in 1 hour 11 minutes. The tickets start from $21 each way. You can rent a car to reach Avenue Du Champagne from the train station or travel by foot.
Things to do/Tourist Attractions:
This street is in every tourist's checklist, visit this iconic street to get the flavor of Moët et Chandon, De Castellane and Mercier Let us raise a toast with a bottle of champagne and thank Avenue Du Champagne for giving this world every reason to celebrate.
Cannes International Film Festival: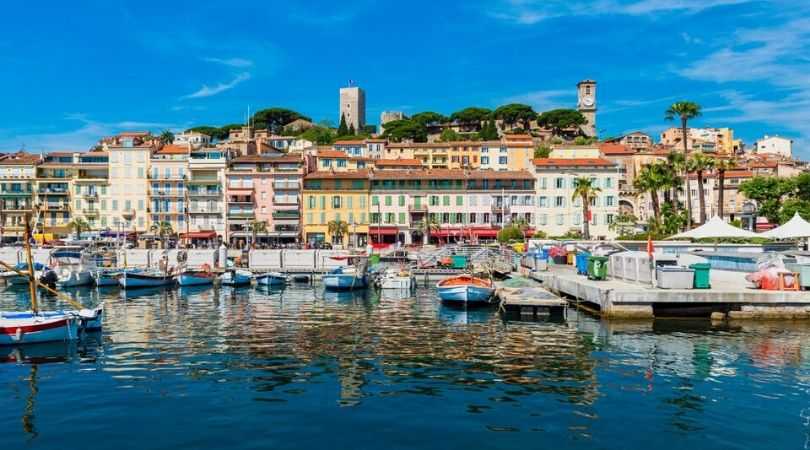 You can glimpse your favorite stars at the Cannes International Film Festival. The who's who of the film industry and the elite filmmakers walk the red carpet like the star-studded sky. You can take a 7-hour train ride from Paris or fly down to Cannes, either way, the journey is mesmerizing. While in Cannes, you must take a walk down the La Croisette and enjoy the evening breeze. If you plan a trip in September, you can witness the spectacular Cannes Yachting Festival.
Val d'Isère: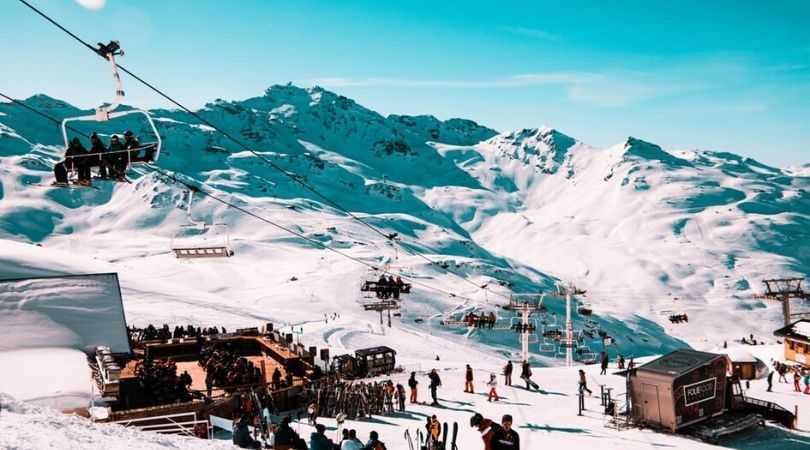 This small village is a skiing paradise. If snow enthralls you, then you must visit Val d'Isère and enjoy skiing in the snow-covered hills. This place has a history of hosting the world cup races and winter Olympics. Val d'Isère is close to the Italian border. You can drive down from Italy and enjoy skiing with your friends and family.
Nimes: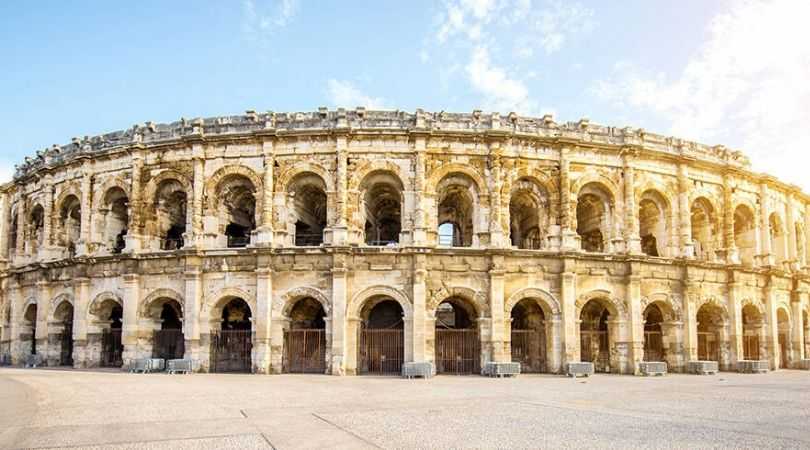 This southern city of France has a touch of spectacular Roman architecture. The amphitheater and Roman temple is an amazing sight.
Les Arènes is a Roman amphitheater that now hosts concerts. You are lucky to visit this place during a concert. Another spectacular grand garden in Nimes is Jardins de la Fontaine. The grandeur is breathtaking with Roman architecture, marble vases and statues carved with perfection.
How to Reach:
You can get to Nimes by all routes. You can drive from nearby French cities or board a train from Paris and reach Nimes in 3-4 hours. Flying down to Nimes is also advisable for intercontinental travelers.
Where to Stay:
There are many places in Nimes to stay at affordable prices like Nimotel, C Suits, Empire Hotel and Best Western, to name a few.
Millau Bridge: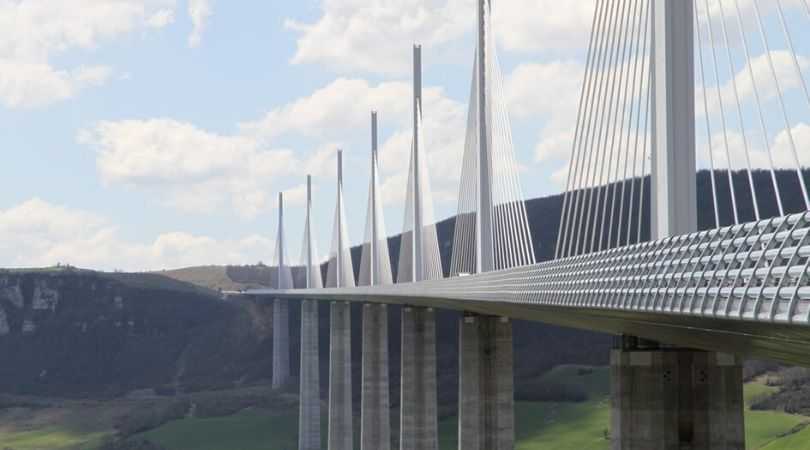 The tallest cable-stayed bridge in the world that is a must for every person traveling to France. This spectacular bridge in Millau is located at the southern end of France.
You can reach Millau in 7 hours from Paris by car. Overnight bus rides are also a good option else you can board a train to see this mystical bridge. Once you visit this place, staying close to the bridge is advisable. The nearest hotels Chateau de Creissels, Millau Hotel Club are popular with the tourists. You can check online for a prior reservation.
Bordeaux: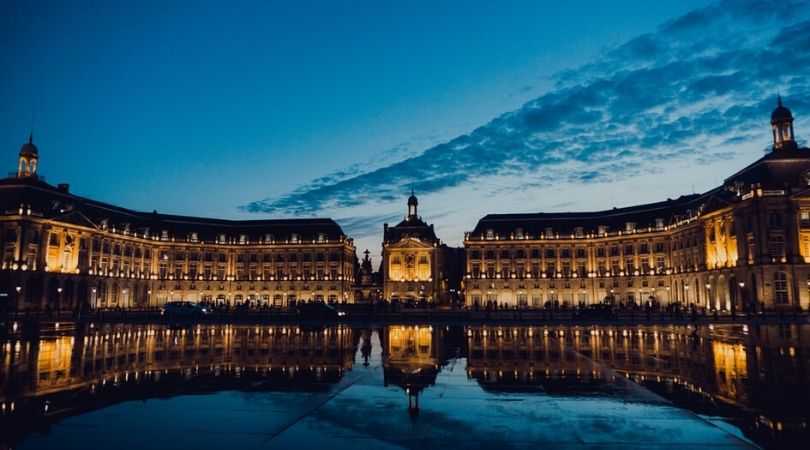 Another breath-taking Vineyard for the wine lovers is none other than Bordeaux wine regions. Getting a reservation in the Bordeaux region is like a piece of cake. This quiet area is home to wineries and vineyards and wine lover's haven.
There are close to 450 hotels in this region, and you need not break a leg getting a great deal. Place Des Quincoces is a favorite spot for photography. So for your Instagram story, you now know where to take a selfie. 2-3 days are sufficient for Bordeaux.
Dune of Pyla:
In the Arcachon Bay area, this is the tallest dune in Europe and a must place to visit. You can extend one day at Bordeaux and make a trip to the Dune of Pyla.
From Bordeaux train station, you can board 32 Bordeaux-Arcachon lines and get to this place in less than an hour. There is a shuttle bus service from the airport to the railway station, making it as easy as pie for the tourists to reach this spectacular sight.
Mont Saint Michel: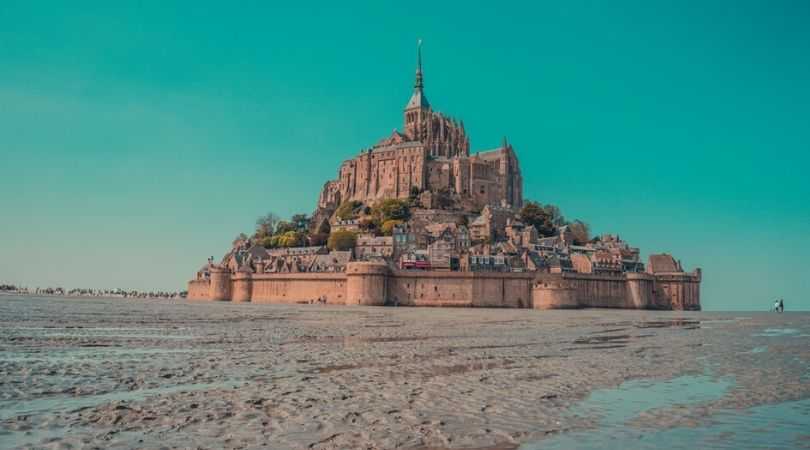 This island has an area of 7 hectares and is best known for its gravity-defying architecture. The best way to reach here is by train from Paris. You can reach Rennes railway station and then take a shuttle to reach Mont Saint Michel.
If you are driving from Paris, then you can park your car at the designated parking area that would cost you close to 12 euros for 24 hours and then board the shuttle that will take you to the mount. The Passeur run from 7:30 in the morning until midnight. If you plan to book a car, it might take you longer to reach this island. It is a day tour so you need not stay go for hotel hunting there. 14-hour day trips from Paris are conducted by private companies.
If you wish to stay overnight, there are many hotels and homestays available like e Château de La Ballue where it would cost you from 230 euros to 450 euros for one night.
St Tropez: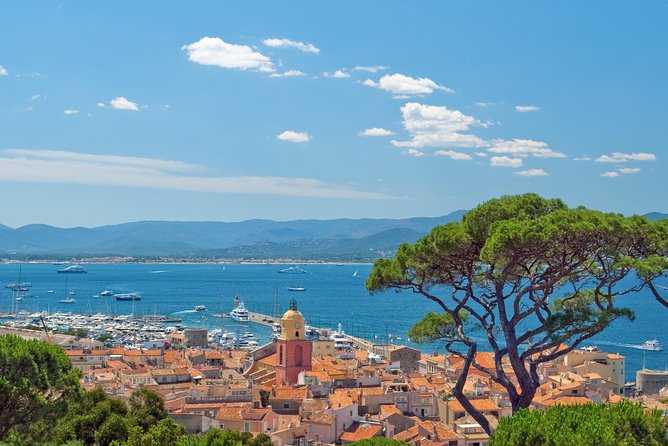 This place in France is home to fashion icons and millionaires. If you adore leisure time, you must visit St. Tropez. With the gaily fleet of yachts and surfing galore, this place is very popular among travelers. Water sports activities are a must-try when you are visiting this place. The quickest way to reach this place is by air. The boat ride from Nice is a two-and-a-half hour's beauty. However, you must book the boat rides in advance.
Palace of Versailles: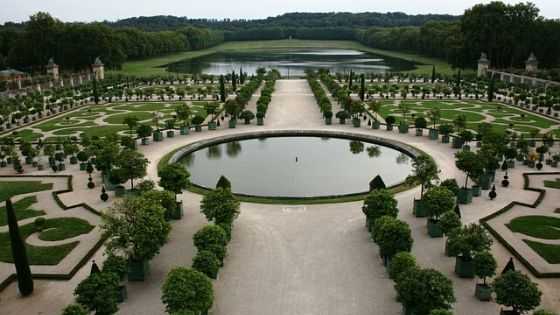 You can reach the Palace of Versailles from Paris by RER C-line. You can get the tickets from the train station for Versailles Château-Rive Gauche and reach this spectacular place in just thirty minutes that would cost you just 7-8 euros.
This is a day trip so you need not stay overnight here. You can spend a day admiring the beautiful sprawling gardens and the hall of mirrors. The basic fare for the ticket is 20 euros. The conducted tour from Paris is a great option for just 59 euros per person, which includes transportation and a guided tour.
Amiens: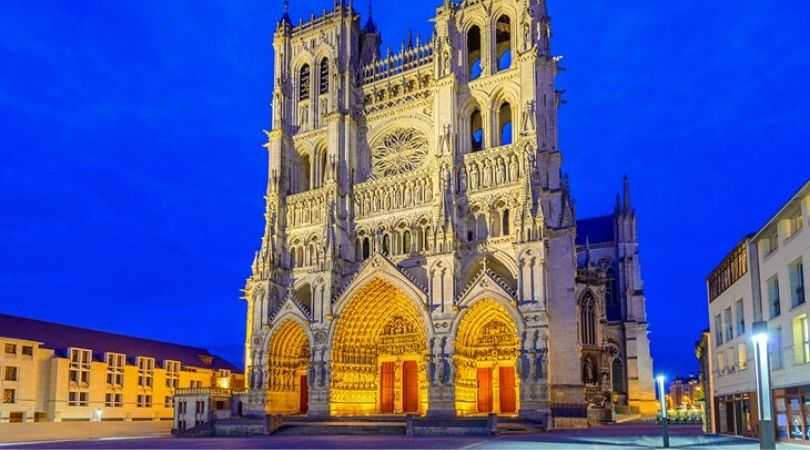 This historical place lies in the northern part of France. We also knew it as the "Venice of the North". The floating gardens are a visual spectacle that takes you back to the prehistoric era. The Amiens cathedral should top your list as we consider this a UNESCO site. Hotels like Neoresid and Comfort Hotels are of good value for money. You must compare the prices to get the best deal on reservations.
Cassis: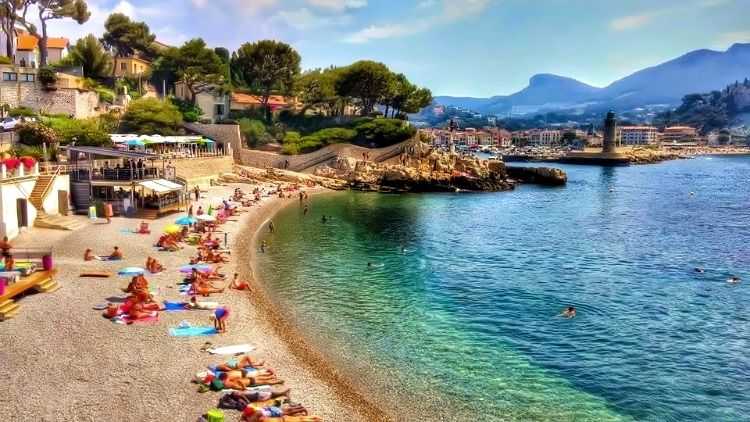 Cassis is situated in the southern part of France. You can travel by train, plane, bus and car, pretty much, by all means, the airport is 55 km away from the main city though. This spectacular fishing port in France is very popular with tourists.
The limestone cliffs, cafes, restaurants, pebbly beaches, sunset with Cassis white wine is all you can think of on a holiday. Cycling around this beautiful city is the best way to adore the charm of this affable little city.
For traveling within France, train rides cover pretty much everywhere. The public transport system in France is admirable and always right on time. You can check the bus and train schedules online or from the bus and train stations. Within the cities, you can also rent a car or cycle around the cities and bathe in the charm of the historically significant provinces.
There are many low budget bed-and-breakfast options for your perfect holiday. Dear readers, it is always advisable to do a bit of research online and compare the rent and the facilities before your reservation. Make sure you get your reservations done before reaching the place because French cities are mostly bustling with tourists.
The best time to travel is during the springtime and fall. This is the time to give you an aesthetically enriching experience of a lifetime.
Here come a few trips to travel around France without the hustle:
Traveling France, as well as traveling across Italy, is a very pricey thing. It is difficult to see everything that France has to offer to anyone who has a super tight budget (but not hard thanks to three euro bottles of wine).
Prices in Airbnb begin for a shared room of around € 15 (US$ 17) and for a whole apartment of € 45 (US$ 50). This will be the best value in a crowded city such as Paris.
You should expect to spend about € 45-65 (USD 50-75) on the value of food for one week that is the same as much as buying all of your week's groceries, but you're going to pay a lot less when you encounter a discount in foodstuffs like Aldi or Lidl.
Travel in Europe is inexpensive and quick to get around France, especially in train. The train trip to Europe is really easy. TGV may be costly, but you can save money if your train is late or if you have a Eurail ticket.
While not drinking water, drink wine and save big on other forms of alcohol. A lovely bottle will cost € 3 ($3.50 USD)!
For people who have an ISIC card, France has EXTENSIVE discounts for the under 26 years old.
It is a set menu which offers an offer for about € 20 (US$ 23) for a 2-3 course meal. In order to save even more money, consider lunch rather than dinner (that is typically two courses still held in France), and that is around half the cost.
Do what the locals do and go to the markets outside. Take the cheese boy, the fishman, the bread man and anyone else to make yourself a great French meal with the best local ingredients. As an alternative to dining out, you will save a lot of money.
Clubs in France cost up to € 23 ($26 USD) and charge a booking price. Drinks cost € 12 or more (US$ 14). If in a single night you don't want to spend € 90 ($102) in clubs, skip it.
Drinking in bars, particularly in Paris, is incredibly overpriced. Before going out, drink cheap wine and save in the bars on drinks.
You're going to Lyon, the gastronomical center, by a quick two-hour train ride from Paris. You will travel a 90-minute drive in Champagne, where you can sip bubblingly in the city of Dom Perignon.
The Mediterranean sun is swallowed by a trip to Marseilles, visiting iconic Provencal towns such as Aix, St. Remy, Arles, and Nimes. Or you could just get on a Velib bike and like a regular cruise down Paris ' streets!
Most Frequently Asked Questions About France:
Yes. We consider France a safe place to travel with family. It is most advisable to carry a map and to have a beforehand knowledge of the places you wish to visit.
That is a good question, dear. English is the standard language of tourism, so it is a myth that people do not converse in English there. However, if you expect fluent English, then you might get disappointed. I would also say that you would find nothing difficult to comprehend there.
Start your day with the very humble Baguette and a hot cup of coffee. You cannot miss the flaky croissants and 'Pain Au Chocolat'. Treat yourself with the savoury, flavourful cheese from the very famous Laurent Dubois. Do not miss out on the eclairs, lemon tart and chocolates to name a few. Paris is the ultimate haven for food lovers.