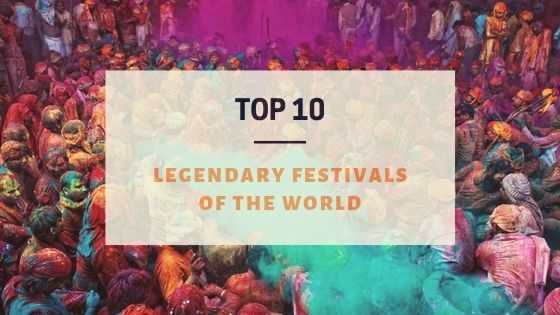 Top 10 Legendary Festival of the World
There is no better time to be in a foreign country than during the festival because festivals are a great way to explore new places and delight yourself in a culture which needs not close to your own.
Each country has its own culture and every culture has its own celebration and festivals. Some of these festivals find their origin in history of mythology, some are new but all are amazing & legendry that's why everyone wants to be part of them.
So today we bring to you 10 most amazing festival around the world which we believe are worth visiting. I'm sure no matter what type of entertainment you preferred, you will fall in love with them. So here we go:
Snow & Ice festival, Harbin China
Date: 5 Jan to 5 Feb
Harbin Snow & Ice festival is the world bigger ice festival. Tourists are assured to have great fun with ice statuary which can be as tall as around 20 feet or more than it.
You will be amazed by the amazing work of an artist who has sculpted an entire castle with ice block. Here you'll get plenty of events and exhibition which show you the spectacular artwork.
If you will gets an opportunity to visit this festival than I strongly recommend you to go and explore those amazing ice statuary and explore the beautiful winter scenery with large ice figures and snowy castle.
Holi, Festival of Colors, India
Holi is the festival of colors which is celebrated in India, Nepal and other countries where large Indian subcontinent Diaspora.
Holi is also known as the festival of colors or festival of love, it signifies the victory of good over evil, end of winter, the arrival of spring. This festival also celebrated as a thanksgiving for a good harvest.
There is one famous tag line about holi is "Bura ma mano Holi hai" which means "Don't mind anything, its holi".
Holi starts with a bonfire called Holika Dhahan on the Holi eve and the very next day celebrate with colors, balloons of water. The best part of holi celebration is that people are gathered on streets, in fronts of the temple and throw colors or water balloons at each other.
Holi is the festival of joy which held annually and it's a great way to celebrate the beginning of spring.
If you are planning to visit India around March than it's a great opportunity to you join this free celebration of joy.
Rio Carnival of Brazil
There is nothing like Rio carnival in this world. Carnival, as Rio de Janeiro presents it, is one of the most entertaining and popular carnivals in the world. It lives covered by world largest media outlets with The New York Times and The Guardians.
If you want to be part of something massive different celebration and fun then I recommended you to go to Brazil in the first week of March and take part in one of the biggest carnivals in the world.
Here you will get nonstop party and a special addition of Brazilian flair with samba music, colorful costumes, and giant parades.
Officially, this carnival starts in first week of March and I assured you in this short span of time you'll learn lot of things about the Brazilian culture.
Rio de Janeiro has earned the title of Carnival Capital of the world with samba dancing, colorful eye-catching costumes, giant parades, pulsating music and electrifying energy.
Running of the bulls, Pamplona, Spain
Running of the bull was began in the early of 14th-century and now it is a world-famous festival and also this tradition observed in other countries as well i.e. Mexico, Portugal and Southern France. Officially, this event starts on 6th July and end on 14th July.
Running of the bulls is such a festival which rise your adrenaline levels, whether you're running or watching. In this event a man clad in white with red scarf and waistband running in front of a small group the giant Toro Bravo breed of cattle. Usually, this runs last from 3 to 4 minutes.
Lantern Festival, Pingxi, Taiwan
There is nothing like the Lantern Festival of Taiwan with an astounding 10lac + lantern floating and covering the dark skyline. It is one of the most recognized festivals of the Asia and world with more than 80,000 participants.
This festival is hosted by the Tourism Bureau of the Ministry of Transportation and communication in Taiwan between February and March.
Every year thousands of tourist comes to Taiwan and witness the celebration of life in the most amazing way. Lantern festival of Taiwan also featured in the American discovery channel program Fantastic festival of the world.
In this festival, all participant drag their desire onto a piece of paper or silk lantern and sending them into the dark night sky.
La Tomatina, Bunol, Spain
If you want pure joy and fun in life then you have to watch La Tomatina festival of Spain once in a life. It is one of the oldest festivals in our list.
It all started in 1945 when few locals started throwing fruits & vegetables during a parade and ever since then the tomato throwing festival is celebrated every year on Last Wednesday of August.
It seems like crazy, it something like pure fun, tomatoes are throwing everywhere on each other for hours, it's like a tomato fight purely for entertainment purpose.
The Carnival of Venice, Italy
The Carnival of Venice is one the best party in the world where people come from all over the world to participate in the masked celebration.
It held every year in Venice, Italy since the 13th century. It runs for 2 weeks where some of the events are free and some of them are paid in which people wear beautiful Venetian carnival costumes.
This carnival celebrates for almost 2 weeks means you can enjoy the beauty of Venice for 2 weeks in full costumes without getting arrested.
Mardi Gras, New Orleans, US
If you want to do party like there's no tomorrow then you must join Mardi Gras festival of New Orleans where you can spend your full day in dancing and parading with your favorite Krewes, cake parties, and masquerade balls and if you still have energy for next day then get up and enjoy because it celebrates for 2 weeks.
Day of the Dead, Mexico
The day of the dead is one of the most important Mexican holiday celebrated throughout Mexico On 1st November. This festival is celebrated to pray and remember all soul who has died.
This is one the most widely celebrated holiday, in fact it's important enough that it was inscribed in the   Representative List of the Intangible Cultural Heritage of Humanity in 2008 by UNESCO.
People celebrate the lives of the deceased with things they loved in the life. During those 3 days of celebration, people dress in striking costumes and show their love for dead friends and relatives by clean and decorate their graves with followers.
Burning Man, Black Rock City, Nevada
If you are bored with your ordinary lifestyle and can actually party 24/7 than you should go to the desert of Nevada from 26 August to 2 September. The Burning Man is an annual festival in the western in the Western United States at Black rock city, Nevada.
This festival has described an experiment in community and art, influenced by 10 major principles: radical inclusion, radical self-reliance, radical self-expression, communal effort, civic responsibility, gifting, deco modification, participation, immediacy and leave no trace. Anyone can be the part of this festival, no prerequisites required for participation in this community.
So here is the list of 10 legendary festivals of the world which you don't want to miss. There are numbers of others as well but it can't be possible of the list every festival. If you want to share any experience about these festivals then write in below comment section.