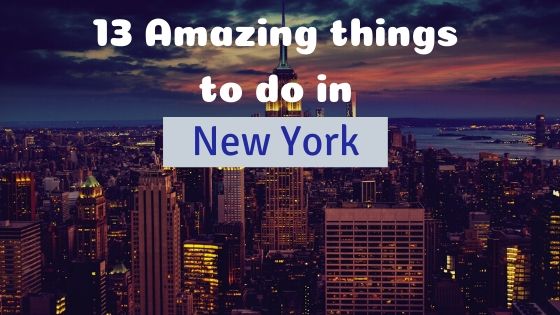 13 Best Things to do in New York (NYC)
New York is a dream destination not just for tourists but also for the ones residing in the United States. It is the charm of the fascinating places that allure each one into coming towards it. And why not? The place is full of vigor, fairy tale structure, adventure, nightlife and activities galore. These activities leave you with no option but to plan a perfect holiday so you end up visiting the best places in New York and learn about the things to do in New York that will satiate your travel appetite. Let us look at the 13 best places and things to do in this place full of marvel.
Statue of Liberty:
If you don't visit, your visit is unquestionably incomplete. With that said, this place is a delight to the eyes as you have to widen to gaze to look at the lovely lady with the torch amidst the waters. This lady has been in perhaps every background of the Indian movie that has been shot in New York. You are likely to find loads of tourists which is overwhelming, but still visiting this place is suggested, it is the hallmark of the things to do in New York.
Suggested Tour: Statue of Liberty Priority or Standard Ticket
Best Time To Visit:
If you like crowds, the best time to visit is the fall, allowing you to enjoy other things in New York. However, if you are traveling in summers, then June is the month with relatively fewer crowds and good weather.
How To Reach:
After reaching Liberty State Park, NJ, you may straight away head to the line for a security check that is required for Staten Island Ferry and reach this phenomenal statue of Liberty.
Things To Do:
Enjoy the Exhibition (the Torch and the Statue of Liberty Exhibition), You may also opt to for an audio tour or the observatory tour.
Expected Travel Cost:
If you take a cruise, you need to shell approximately $14, else, the ferry to Staten Island is for free.
Other Nearby Attractions:
Visit the Chelsea Market, Ellis Island Immigration museum that is one of the best sights to visit in New York.
Crazy about travel? Here are Top 50 travel destinations in the world
Get Bird's eye view of New York City:
Roaming in the city as a tourist and viewing the city from the top is altogether different. The city of skyscrapers brings to you an option to climb at the top and see what other buildings look like. Each with its own unique structure would urge you to click numerous pictures.  For this view from the top, you may choose the tallest building called the 'The Top of The Rock'. Alternatively, you can have an overview from the Empire State Building too, which is slightly less tall than the Top of the Rock. So feel like you are in the air but with your feet steady and safe.
Suggested Tour: From Westchester, Shared Helicopter Tour over New York City
Best Time To Visit:
Reach a couple of hours before dusk to get the perfect view of the lights mingled with the passing day. Weather is good throughout the year.
How To Reach:
Located on 50th Street between 5th and 6th Avenue, you may take Train 1 or 6 that would drop nearest to the location.
Things To Do:
Climb the decks and feel the difference between your view and the those you are viewing. The topmost deck will take you as high as about 850 meters from the ground.
Expected Travel Cost:
Adults, $36-$38, children between  6 to 12: $32 and below 6 are free
Other Nearby Attractions:
Rockefeller skating rink
9/11 Memorial and Museum:
The United States has a history of handling good and bad with a lot is strength. This memorial is one such example of the no so good that happened in the city of New York. Carrying the same legacy, this beautiful museum has been built in the memory of those who lost their lives. The place has a divine feeling to it.
Best Time To Visit:
Any time of the year is perfect, however, visit this place as early as you can in the day as it gets rather crowded as the day passes.
How To Reach:
Located at 180 Greenwich Street, a number of public transport can be availed. If you are residing in Lower Manhattan, you may walk down to this lovely museum. Alternatively, you may take the following Subways: A/C, J/M/Z, 2/3, or 4/5 to Fulton Street; 2/3 to Park Place; E to World Trade Center; R or 1 to Rector Street
Things To Do:
Take an audio-guided tour of this memorial.
Expected Travel Cost:
$24 for adults ($20 for 13-17 year-old and $15 for 7-12-year-old)
Other Nearby Attractions:
Trinity Church, The Oculus, the very famous World Trade Center.
Recommended Tour: The 9/11 Tribute Museum & Memorial Walking Tour
Brooklyn Bridge:
The life of some Hollywood movies, this Brooklyn Bridge is a milestone signifying your visit to the beautiful city of New York. Walking down this bridge takes about 20 minutes to reach the other side along with racing and pacing vehicles on the side of the bridge which has routes for cars and other vehicles.
Best Time To Visit:
Visiting early mornings to avoid the crowd is the best, so you can also take solo pictures. Another popular hour is during the dusk when the Sun is about to set for that perfect Instagram shot.
How To Reach:
Take the A or C subway to the High Street-Brooklyn Bridge.  From the station, take a right on Pearl Street then take a left on Prospect Street to the underpass entrance on Washington Street.
Things To Do:
This is one of the most fantastic ways to know the culture of the city. You may relax at the waterside park and enjoy eating a pizza.
Expected Travel Cost:
If you take the subway from Manhattan, $40 is what you need to shell out.
Other Nearby Attractions:
Empire Fulton Ferry Park, Main Street Park
Looking For Stay? Here are 10 Best Hotels in New York

(Guaranteed Discount)
Central Park:
Sumptuous when comes to space, this massive garden in New York is the perfect getaway on a free day for a picnic with the family. This place is so big and popular that numerous shootings happen at this venue which is a lush green and neat place to sit and enjoy the winter Sun. It is important to take a map with you so you may not get lost in this lavish green grass.
Also Read: 17 Best Family Holiday Destinations in 2020
Best Time To Visit:
April To June, September to November the weather is perfect and warm to enjoy sitting in the park.
How To Reach:
Travel by Subway, A, B, C, D to reach the Central park.
Things To Do:
Picnic with Family, Boating, Visit the Central Park Zoo, Do some bird watching when you visit early morning, Sheep Meadows and a galore of more activities.
Expected Travel Cost:
Entry to the park is free.
Other Nearby Attractions: 
Belvedere Castle, Strawberry Fields, Don't forget to Check out the Alice in Wonderland Statue while you stroll at this amazing green property.
Suggested Tour: Explore Central Park and Manhattan by bike!
Greenwich Village:
The place that marks the famous cafe where Bob Dylan used to hang out is located in this lovely small village which is anything but a village. Tread your way to any cafe or a bar, or even under the tree and enjoy the place, the air, the ambiance of this amazing place in New York. It is you can make friends over a game of chess and enjoy their company too while you tramp on the shaded streets of the village.
Best Time To Visit:
April to June is the best time to visit. You may also visit between the end of January to February to enjoy this place.
How To Reach:
6 Train to Bleecker Street can take you to Greenwich and Subway A, B, C, D, E, F are also there.
Things To Do:
Enjoy the cookies, called the Insomnia cookies, lay a game of chess, enjoy the local cafes, bars and music. Get familiar with the American Bohemian Culture.
Expected Travel Cost:
From Times Square it takes $3through a train 
Other Nearby Attractions:
Washington Square Park, One World Observatory.
Back To Top
Wall Street:
That's where the bull is and the movement of your stock oscillates based on the NYSE, located at Wall Street. The Bull here is iconic and you are sure to see people moving here and there in some haste. It's the hub of stocks and the economy and observing suited men and women is not a rare sight at the wall street of New York.
Best Time To Visit:
Any time of the year is perfect to mingle with the crowd.
How To Reach:
Subway stops in the Financial District: Coming from Penn Station, you can take the E to the World Trade Center, or the A/C to Fulton Street. To get to Wall Street itself, just take the 2/3 to the Wall Street stop
Things To Do:
Enjoy the walk and do look at the Fearless Girl Statues.
Expected Travel Cost:
From Times Square it takes about $2 from the train.
Other Nearby Attractions:
Trinity Church, Federal Hall, and New York Stock Exchange
Back To Top
Times Square:
The most popular place in the heart of New York is Times Square. This pace is full of hustle and bustle with people ranging from all ages, ranging from young, old to children. The place is super crowded and you can engage in some strolling and eating when at Times Square. This place is the commercial and entertainment zone of Manhattan where you can enjoy the lights and buzz the city has to offer.
Best Time To Visit:
To enjoy the actual Times Square in serenity, you may visit this before 9: 00 a.m.
How To Reach: 
7 Av/W 44 St is 73 yards away, 1 min walk. or 7 Av/W 47 St is 164 yards away, 2 min walk.
Things To Do:
Take an iconic picture at Times Square with a lit background. 
Expected Travel Cost:
Roaming on the street is absolutely free. 
Other Nearby Attractions:
Empire State Building, Rockefeller Center, Bryant Park, and a lot more places are there to visit around this hub.
Suggested Tour: Central Park, Rockefeller & Times Square Horse Carriage Ride
Chelsea Market:
The indoor market, perfect for all-weather, you can enjoy the famous and scrumptious food at this market. if you are foodie, you will certainly come back for more as there are varied food joints serving the most delicious foods that cannot be covered in one visit. Other than that you can splurge into buying some handcrafts and artwork and enjoy your indoor market experience.  
Best Time To Visit:
All the day-long is perfect. The market opens at 7:00 a.m so any time after that until 8: 00 p.m. is perfect.
How To Reach:
Take the following Subways: 11 Av/W 15 St is 441 yards away, 6 min walk. 8 Av/W 12 St is 591 yards away, 8 min walk. W 23 St/9 Av is 645 yards away, 9 min walk. 11 Av/ W 18 St is 652 yards away, 9 min walk.
Things To Do:
Enjoy a variety of food, handicrafts, artwork and a lot more to buy as souvenirs.
Expected Travel Cost:
Cheapest travel by train is $2.
Other Nearby Attractions:
High line, Farmers Market are some of the places near this market.
Back To Top
Broadway Show:
Everyone who reads and writes would be aware of the popularity of the Broadway Shows in New York City. This is a part of the culture of New York and each one of you must visit when you come to New York City. This will be a perfect evening or the way to enjoy the day as Broadway lasts for a different number of hours depending upon the show you have chosen.
Suggested Tour: List of available show in Broadway
Best Time To Visit:
All year-round, you can enjoy the array of shows happening in the heart of the city.
How To Reach:
Depending upon when you opt to watch the Broadway show, you may take trains and subway to reach the location of your choice.   
Things To Do:
Enjoy the shows, romantic, and musical ways to dramatize emotions.
Also read: 25 Best Honeymoon Destinations in 2020
Expected Travel Cost:
Ranging between $20 to $200 depending on the time you buy. Make sure you check out discounts and then buy a deal.
Other Nearby Attractions:
High Line, Markets, and restaurants are most likely to be there.
Back To Top
Thousand Islands & Alexandria Bay:
An Absolute Castel likes structure that would certainly create imagery of how Hansel Gretel's house must have been when they were with the witch, except that this is surrounded by water. A small bridge-like structure called the Bay takes you to at the edge of this place. The castle-like structure is surely mesmerizing for the kids and adults alike. This is an island at the Lawrence River, making it very picturesque and absolutely out of the world for the first-timers.
Best Time To Visit:
August and until the winters begin, you can go here and enjoy the boat rides up to the island.
How To Reach:
Either take a cruise, or a boat ride and visit other nearby islands too.
Things To Do:
Enjoy the island and the journey to the island which is surrounded by green shrubs and lots of water from the Lawrence River.
Expected Travel Cost:
This place will cost you around $41 by train from New York. 
Other Nearby Attractions:
The Boldt Castle, Heart Island, Thousand Island and many other islands
Back To Top
Niagara Falls:
When nature roars, you are just a spectator! These mighty falls are that part of nature which are strenuous and massive. Divided into three waterfalls, namely, Bridal Veil Falls, America Falls, and the Horseshow Falls, they together create a thundering splash and which is why you see people wearing raincoats when around them.
Best Time To Visit:
June to August is the best time to visit these amazing falls.  
How To Reach:
You may either choose the walkway above the water or the trip via a boat on the Maid of the mist. Alternatively, if you wish to splurge, and not traveling in a budget, then opt for the helicopter ride and enjoy the luxurious way.
Things To Do:
Enjoy the Niagara park, the Old Fort Niagara and Niagara Skywheel which will make your trip very memorable. 
Expected Travel Cost:
From New York, it takes about $47 to reach Niagara Falls.
Other Nearby Attractions:
Botanical garden, Cave of the winds, White water park.
Looking For Stay? Here are 10 Best Hotels in New York

(Guaranteed Discount)
Saratoga Springs:
When nature comes to rescue of the humans, places like Saratoga Springs are formed. With natural 18 mineral springs in this area, this place is sought after for nature lovers primarily. An absolute picturesque and surreal feel when here will make you want to stay here forever.This has amazing Victorian houses that you may not have seen anywhere in any other part of the US. The colors and hues add more mirth to your trip and the pictures you take make everyone go 'Aww'
Best Time To Visit:
From May to September are the best times to visit this natural haven.
How To Reach:
Travel by bus that takes about 5 hours journey from Manhattan
Things To Do: 
Ride the horse and enjoy the area full of various and alluring hues. Visit the farmer's land and observe the organically grown produce.
Expected Travel Cost:
It takes about $24 from Manhattan on a bus to reach this place which is heaven's abode.
Other Nearby Attractions:
New York State Military Museum and the Racecourse are some of the other attractions.  
After having gone through the list, be watchful as New York has more places that you would love to visit. Planning a visit here is relatively expensive, but all are worthwhile as what experiences you gain here nurtures you for the rest of your life. From the hustle of the Times Square to the serenity of the Saratoga Springs, all are together encompassed in this lovely state of the New York reflective of various disposition of not just human nature but of the state too.
Back To Top