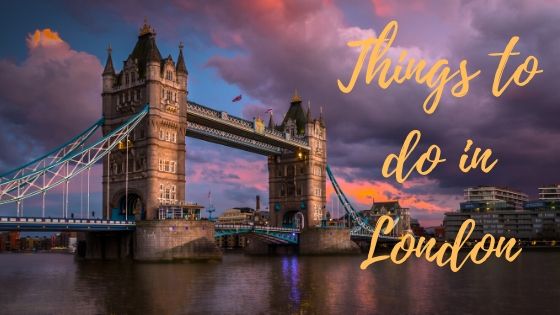 22 Amazing Things to Do in London
[vc_row][vc_column][vc_column_text]Founded by Romans, today London is the most sought after place to travel and gauge the world from a contemporary vision. London with its beautiful weather and most enticing places is chosen by 30 million of people for a vacation each year. The place offers numerous options for kids based holiday, to a romantic getaway. And if you are a shopaholic, you will be allured by the brands the city has. Luxury can be luring, and half the work is done after you reach London which is synonymous to luxury offering spas, and luxurious hotels to make your stay all the more charming. Let us find out some of the common places that can be visited during your stay in the largest city in England.
Westminster:
Home to Houses of Parliament, this is a common and at the top of the visitor's list when coming to London. This is close to many other attractions and when you are here, you cannot just get dirty with the political stories, but also when you visit Big Ben. The beautiful structure and fairy tale buildings will take you back to the old English era when you are here.
Best Time to Visit:
Each Wednesday afternoon the place is open until 6: 00 p.m. On other days you can visit depending upon the parliament sessions.
How to Reach:
Two major railway stations, two London Underground stations and regular red London buses will take you close to the Abbey doors. Nearest Underground St James's Park (District and Circle Lines) and Westminster (Jubilee, District & Circle Lines).
Things To Do:
Admire the architecture and walk down the common chambers and the Lords Chamber.
Expected Travel Cost:
Audio tour £18.50/16 for concessions, children 5-15 one free per fee-paying adult. Guided tour £25.50/21 concessions, children aged 5-15 £11. Under-fives are free on all tours.
Other nearby attractions:
Big Ben, Tower of London, Churchill war rooms.
Suggested Read: 16 Cheapest Places to Travel in 2020
Camden Town:
A blend of mysterious locals and visitors, this town is bustling with people. Crowded with people, so much so that one needs to be wary when on the streets. However, it is a must-visit if you like some street food, used books to read along and some clothes shopping. All these things are available here at a good price, including the infamous vegan bakery proffering satiating cookies and other yummy things to relish.
Looking For Stay in London here are Top 10 Hotels in London
Best time to Visit:
You can visit any day at any time. It is best to travel in the morning between 10: 00 to 11:00 a.m. when the markets are just opening and the streets are not too busy.
How to Reach:
Many stations are close to this place. Camden Town Station (Z1) is 111 meters away, 2 min walk, Bayham Street (U) is 262 meters away, 5 min walk, Camden Road is 394 meters away, 6 min walk and Hartland Road / Camden Market (CQ) is 440 meters away, 7 min walk.
Things to do:
Shopping and when you are tired, try the yummy food on the streets and then stroll down on to the Camden Lock where you will see the Regent's Canal. You may also walk along the water to the King's cross. This is an ideal way to spend quality time with your loved ones.
Expected Travel Cost:
From London to Camden town it takes £1.
Other Nearby Attractions:
The Regent's Park, Amy Wine house Statue.
London Eye:
Most popular and a benchmark that you are in London is the London Eye. It is a must to capture a picture with the London eye in the background, as this speaks of your first London tour being successful. The place is iconic for its glitz and lights. The annual light show takes place here on the new year's illuminating the entire city of London. The London Eye offers the most exotic view of the entire city and celebrates the millennium in a grand way.
Also Read: 10 Most Popular Festivals in the World
Best time to Visit:
Mid-June is the best time to plan your travel as the daylight remains until 9:00, extending your time to get on, on this giant wheel.
How to Reach:
Many underground stations such as Waterloo, embankment, Charring cross, and Westminster are close to the London Eye. 
Things to do:
Children can enjoy the Dream world's tour and can see Shrek's adventure. Walk by the river Thames.
Expected Travel Cost:
The ticket cost to the London Eye for a child is about 3.054 and for an adult is about 3506  
Other Nearby Attractions:
London Aquarium, Thames River
Recommended Tour: Skip the Line: London Eye Fast-Track Ticket
Hyde Park:
If nature and fresh air is one of the features of your vacation, then London has this for you. Visit the largest park, Hyde Park in London and enjoy the paddle boat amidst the urban city. You can come face to face with the swans and feel like you are in a place really close to nature. A simple stroll in the park would be enough to rejuvenate and you can be self-reflective. This amazing place is a must-visit when in London.
Also Read: Top 50 Travel Destinations in the World
Best time to Visit:
All the time in 365 days, you may visit this park from 5:00 am. until midnight. If boating is one of your agendas while you visit this park, then you must come between April and October between 10:00 a.m. to 4:00 p.m.
How to Reach:
Located in central London, you travel by London Underground. Alternatively, if you are coming from east, you may opt for one underground in the east and the Marble Arch if you are in central London.
Things to do:
Visit the Serpentine Gallery, Watch swans swim while you paddle the boat in the serpentine.
Expected Travel Cost:
Taking a stroll in the park is absolutely free. However, if you wish to boat in the Serpentine lake, you need to shell out £12 for 1 hour or £10 for 30 minutes for an adult. Child (under 15) – £5 for 1 hour or £4 for 30 minutes. If you are traveling with your family with 2 adults and 2 children, you need to spend £29 for 1 hour or £24 for 30 minutes.
Other Nearby Attractions:
Buckingham Palace, London Eye, Harrods, and a lot more in Central London.
The Shard:
Who doesn't like chic places and if such a place gives a view, think no more! Grab the opportunity to climb to the 68th and 69th floor of this royal hotel and get a view of the London city. Climbing to these floors shall give you a breathtaking view of the London City which will be imprinted on your mind forever.
Best time to Visit:
You cannot avoid crowd collected to get an exquisite view of the London City between 4:00 to 6: 00 p.m. This is because the sunset makes the view heightens the beauty.
How to Reach:
Located at a few minute walks from the London Bridge, underground station, you can get down at this station and look for the directions to Joiner's street or Shard.   
Things to do:
Enjoy the luxurious meal at this awesome place along with getting a panoramic view of London city.
Expected Travel Cost:
Tickets cost £2 – £3  
Other Nearby Attractions:
Hay's Galleria, Tower Bridge and Borough Market.
Thames Cruise:
Your visit is futile if you haven't cruised on the Thames when in London.  It is the longest river in the city and has been the focal point of life settlement in London. When you opt for a cruise you can see many places of sightseeing such as the Houses of Parliament, London Eye, and Tower Bridge. Besides, if you opt for a night cruise from any vital location, you can see the wonderful lights all over the city and the reflection of which when on the waters makes the view absolutely spectacular.
Book Online: London Thames River Dinner Cruise and other
Best time to Visit:
Each day of the year is perfect for this cruising on this river  
How to Reach:
All the four piers in London, Westminster, London Eye, Tower and Greenwich
Things to do:
Afternoon tea at the cruise, post the wonderful lunch is a perfect idea of a relaxing vacation.
Expected Travel Cost:
Cruise price begins from £10.75
Other Nearby Attractions:
National Theatre, The London Eye
British Film City:
If cinema is what you sleep, eat and drink, do visit the British Film City. This place is brimming with various movie shows and is located on the Southbank. The London culture inspires you, and you want to soak it in, this place is your 'go-to' place. No matter what you like, mainstream or classics, you can get your dosage here in heaps. Moreover, this place is charitable in order to encourage filmmaking.
Suggested Tour: Harry Potter Tour of Warner Bros. Studio in London
Best time to Visit:
Only from the traveling point of view, this place requires a lot of walking and hence, winters is the best time. However, movie shows are running each day, irrespective of the weather.
How to Reach:
BFI Southbank can be reached through the Riverfront and Theatre Avenue entrances.
Things to do:
A wonderful well-equipped bar and delicious food by the river can be enjoyed here.
Expected Travel Cost:
You need to buy movie tickets for what you want to watch, which varies.
Other Nearby Attractions:
Numerous Sightseeing, riverfront are there
Hampstead Heath:
A mosaic of flora and various vegetation, this wonderful park sprawling over 790 acres is a perfect place to visit when you are traveling with kids. With an amazing track to run and a zoo, this awesome place is divine and nature's galore. A montage of activities that will take away your heart and will leave your kids to spend another day here. This place is maintained by the London Government and is profoundly developed for a great weekend.
Suggested Read: 25 Best Honeymoon Destinations in 2020
Best time to Visit:
Boasting of activities for each season, the place is perfect for all the seasons, from swimming to running, to shopping for the local produce.
How to Reach:
Reach here from the London Overground Railway Stations.
Things to do:
Swimming, museums, restaurant, and a whole lot of activities can be enjoyed at this amazing park.
Expected Travel Cost:
Reach Hampstead Heath Station from Cambridge in £11
Other Nearby Attractions:
Kenwood House, Burgh House
Brixton Academy:
If music is in your veins and you prefer it on vacation to make it enthralling, please visit this academy. Here you can witness the most emotive rock and pop music. This place has seen many famous artists including some big names such as Sex Pistols, New Order and the Smiths. Get intrigued by the most wonderful live music that would make you sway and sing along.
Best time to Visit:
All the year-round some artist are playing throughout the year
How to Reach:
Take a taxi that takes 25 min from East London. Alternatively, Underground from Victoria can also opt.  
Things to do:
Other than watching shows, you may take a stroll at the Market that sells Electronics and indulges in eating and drinking.
Expected Travel Cost:
You can travel to Brixton in as low as £2 
Other Nearby Attractions:
Visit the Brixton Market and shop a few things, and you may also visit the Brixton Village to figure out the real English Culture.
Baker Street:
Read Sherlock Holmes? Well, then this street wouldn't be anything surprising for you. Yes, observing and visiting it will surely be one of a kind experience. This street reflects the culture of London very closely, making you want for more.  Who knows the fictional character Sherlock Holmes has left his uncanny mystery-solving powers there for you to imbibe! Do not miss when in London.
Best time to Visit:
Anytime is good time.
How to Reach:
Tube Lines stop near Baker Street underground station. Tube-Jubilee, Metropolitan and Hammersmith city are some of the tube lines that you can hop on.
Things to do:
You may visit this place and enjoy the Sherlock Homes Museum too.
Expected Travel Cost:
Between £4 – £9
Other Nearby Attractions:
Madame Tussauds, Paddington Street Gardens, The Sherlock homes Museums that you can visit.
Brick Lane:
Enjoy the wall art when you visit this lovely and colorful brick lane. The lane has road signs in Bengali and English owing to the Bangladeshi community that inhabits this area. It is because of this when you crave Indian food, you need to come here and relish the Indian Palette with numerous curry houses that will please your taste buds.
Best time to Visit:
It is a place of residence for the Bangladeshi's, hence you can visit anytime in the day to enjoy the walls
How to Reach:
Underground from central London will be best to take you to this place.
Things to do:
Visit the Market, eat, drink and make merry
Expected Travel Cost:
From London Victoria to Brick lane it takes  £2 – £3 on a subway.
Other Nearby Attractions:
Upmarket, Mosque, Christ Church Spitalfields
The O2:
Initially designed for kids as a celebration of the millennium, called Millennium Dome, the place is now buzzing with live music bands and bars and restaurants. If that's ain't enough, climb the O2 with a guide and enjoy the view of the city especially at the light when it glitters more than Gold.
Best time to Visit:
Night time is the best time to visit this place.
How to Reach:
Take the tube North Greenwich station on the Jubilee line that takes you
Things to do:
Bowling at Victorian Skittle Alley, Visit and walk the prime meridian line and a lot more in this buzzing place.
Expected Travel Cost:
From the west end of London it takes about £4 – £6.
Other Nearby Attractions:
Fly Across Thames
Electric Avenue:
It's all in a name, a proverb twisted but is true for this street on Brixton. This is the first street that was lit by electricity and hence the name. Other than the riots of 1981 and a few more historical evidence, this place is a must-visit for you perceive the business sense of the people of London. These are small businesses selling unique and wonderful handmade items that can be carried back home as souvenirs.
Also Read: 11 Tips to Save Money While Traveling
Best time to Visit:
If you like crows, visit in June and July, else, September and October are the best times to visit this place with just the locals.
How to Reach:
Lambeth Town Hall, Gresham Rd Brixton Police Stn and Brixton Academy are all walking distance from this avenue.
Things to do:
Take a walking tour and enjoy live music.
Expected Travel Cost:
Approximately £18.50/16
Other Nearby Attractions:
Tower of London, Westminster Abbey
Piccadilly Circus:
A popular meeting destination for the locals, and certainly a quintessential place to be at when in London. You will be awed with the kind of screens you will see here along with the most amazing hues coming from the lights all over the place. This place will allow you to understand a lot of new facts as this is what it is brimming.
Best time to Visit: 
Visit during the late evening so you can enjoy the hues emanating from all over.
How to Reach:
Underground stations, Bakerloo and Piccadilly lines are there to drop you at this place
Things to do:
Enjoy the games arcade with the kids at the Trocadero House.
Expected Travel Cost:
Tickets cost £5 – £6 by undergrounds and by bus it takes about £2
China Town:
Wait until you see this vibrant red-colored place that is difficult to be ignored and most certain to be visited by tourists when in London. It's colors make it so distinctive that you will be allured by them. Come to this place when the Chinese celebrate the New Year, which is variable each year.
Best time to Visit:
Visit this amazing place during the Chinese new year, and mingle among the crows to celebrate.
How to Reach:
Take a taxi from London Eye, it takes about 4 minutes
Things to do:
Indulge in Asian food and enjoy the colors around while you eat.
Expected Travel Cost:
From the Embankment Station to Chinatown you will need to shell out £12. From London eye, if you take a taxi it cost £7 – £9
Other Nearby Attractions:
London Eye, Tower of London
Leicester Square:
Entertainment flourishes and gets nurtured at this square. You will see the premiers of movies happening here and who knows you spot a star or better get spotted. This place also observes celebration on the Chinese New Year occasion. Spot the lovely built cinemas on the entire street and enter one, when the movie in it strikes your heart.
Best time to Visit:
During the winters and when a movie premiers. These events are variable and hence, plan before you come.
How to Reach:
Numerous London bus routes number 24, 29, and 176 is there, other than Underground.
Things to do:
Stand at the famous Trafalgar square and observe the street performers and artists, Gaze up at the Nelson's Column
Expected Travel Cost:
From Wimbledon to Leicester Square the tickets cost £2 – £4
Other Nearby Attractions:
World's smallest Police station, Trafalgar fountains and street.
Oxford Street:
When you are here, you must know you are the busiest shopping street in Europe. You will get tired but would only be able to visit few shops for your high-end luxury shopping. So make sure you plan well and hit the spot without much ado. There are about 300 shops with amazing designer clothes, perfumes and a lot more.
Best time to Visit:
Visit this street as early as 9:00 a.m. that is when the shops open.
How to Reach:
With five Underground near this popular street, you may take any one from Bond street, Oxford Circus, Piccadilly circus, Tottenham court or Marble Arch whichever is close to you.
Things to do:
You can splurge and shop exquisite stuff from one end to the other.
Expected Travel Cost:
Various underground, with tickets ranging between £2 – £4.
Other Nearby Attractions:
The British Museum, Churchill War Rooms.
Bond Street:
A connection to the Oxford street, this street is far more fascinating for shopaholics. So here you get the designer stuff, LV's, Diamonds that are no less than Tiffany, along with Ralph Lauren and numerous other high-end brands that are jaw-dropping in terms of looks and money too.
Best time to Visit:
March to May is the best time when spring begins and summer temperature ranges up to 20 degrees.
How to Reach:
Various Bus routes from 159, 23, 30 390 are there that will assist your travel.
Things to do:
Pose with the Allies statue of Winston Churchill, and Franklin Roosevelt, other than shopping
Expected Travel Cost:
It's about £2 – £4.
Other Nearby Attractions:
West One Shopping, Gray's antiques and a lot of shopping places.
Harrods:
Luxury galore at Harrods where you can shop superb clothes for children and yourself. This is a multistory place where each floor has numerous shops for you to enjoy and indulge in royal shopping. During the Christmas season enjoy more shopping and festivities at Harrods as the ambiance is full of celebration.
Best time to Visit:
Best Time is Christmas as the decorations are par excellence and you get a good deal.
How to Reach:
Take a tube Knightsbridge from Piccadilly line to reach Harrods  
Things to do:
Enjoy the bar, shopping and Museum at Harrods
Expected Travel Cost:  
As cheap as £1
Other Nearby Attractions:
Hyde Park, Tower of London
Covent Garden:
Located in West End London, this place is a cultural and fashion hub of London. Not just that it also has craft stalls and Royal Opera House making you aware of various colors of London City. At this place, you can see elegant houses and upscale restaurants. If you like vintage cars of the English, you may access that through your visit here to the London Transport Museum.
Best time to Visit:
Anytime between  10:00 a.m. to 8:00 a.m. But on Sunday it closes at 6:00 P.m. and Saturday's it opens early at 9:00 am
How to Reach:
From Charing Cross and Waterloo underground, you can reach this place.
Things to do:
Enjoy restaurants, elegance on the street, and the some wonderful shopping through a stroll can be absolutely envious for your friend.
Expected Travel Cost:
£2 from Charing Underground. You may travel by bus too.
Other Nearby Attractions:
St. Paul's, Covent Garden, Apple Market.
Buckingham Palace:
All you can get is a glance at this palace which is home to the Royal British Family since 1837. here you can see a private garden that is rather very large, and also has 775 rooms which are majestic. The palace runs a world-famous 'Changing of the Guard' which is open for the public eye as it is a historic tradition of the Royal British. The rest of the palace as it is home for the royal British cannot be seen or entered.
Best time to Visit:
Anytime of the year. If you want to witness the historic tradition then come morning and evening.
How to Reach:
The closest Underground stations are Green Park, Hyde Park Corner, and Victoria. Bus numbers 11, 221, C1 and C10 make stops on Buckingham Palace Road.
Things to do:
Enjoy the visit and historic tradition, queen's Gallery, garden, Royal Mews and The State Rooms are all worth a visit when here.
Expected Travel Cost:
This being a guided tour, especially for the staterooms, the cost is £30.50 for adults, £27.50 for seniors and students, and £16.40 for children between the ages of five and 17 or disabled adults.
Other Nearby Attractions:
Boat Tours, Westminster Abbey and The Jewel Tower.
Natural History Museum, South Kensington:
Located on the exhibition road, the museum houses a wide range of specimens of things related to nature.  You can venture out to picture the wildlife and get the best poses of the animals. Numerous rare species and their specimens are stored well here and you will also find specimens of Dinosaurians.
Best time to Visit:
Any time of the year is good for a visit.
How to Reach:
Travel by Tube with the nearest Tube station is South Kensington on the District, Piccadilly and Circle lines.
Things to do:
Visit other museums around it and picture animals along with knowing about rare species and their specimens.
Expected Travel Cost:
Entry to this place is free and you need to spend about £2 – £3.
Other Nearby Attractions:
Victoria Museum, Science Museum.
Here are the 10 Best Hotels in London
Other than the famous places to visit in London, there are some royal retreats here where you can enjoy your Afternoon Tea tradition when in London. This tradition is popular among all the people which locals indulge in each day after the Afternoon siesta, post-lunch. For this and many more traditions that London is home to, including the famous movies and entertainment, you would leave your heart in London as it unfolds its secrets to you.  Get Engulfed, and enjoy!
[/vc_column_text][/vc_column][/vc_row][vc_row][vc_column][vc_raw_html]JTNDc2NyaXB0JTIwdHlwZSUzRCUyMmFwcGxpY2F0aW9uJTJGbGQlMkJqc29uJTIyJTNFJTdCJTIyJTQwY29udGV4dCUyMiUzQSUyMmh0dHBzJTNBJTJGJTJGc2NoZW1hLm9yZyUyMiUyQyUyMiU0MHR5cGUlMjIlM0ElMjJGQVFQYWdlJTIyJTJDJTIybWFpbkVudGl0eSUyMiUzQSU1QiU3QiUyMiU0MHR5cGUlMjIlM0ElMjJRdWVzdGlvbiUyMiUyQyUyMm5hbWUlMjIlM0ElMjJXaGF0JTIwYXJlJTIwdGhlJTIwdG9wJTIwYXR0cmFjdGlvbnMlMjB0byUyMHZpc2l0JTIwaW4lMjBMb25kb24lM0YlMjIlMkMlMjJhY2NlcHRlZEFuc3dlciUyMiUzQSU3QiUyMiU0MHR5cGUlMjIlM0ElMjJBbnN3ZXIlMjIlMkMlMjJ0ZXh0JTIyJTNBJTIyVGhlJTIwdG93ZXIlMjBvZiUyMExvbmRvbiUyQyUyMFRoZSUyMEJyaXRpc2glMjBNdXNldW0lMkMlMjBCaWclMjBCZW4lMjBhbmQlMjBQYXJsaWFtZW50JTJDJTIwVGhlJTIwQWxiZXJ0JTIwTXVzZXVtJTJDJTIwTG9uZG9uJTIwRXllJTJDJTIwTmF0aW9uYWwlMjBHYWxsZXJ5JTJDJTIwQ292ZW50JTIwR2FyZGVuJTIwYW5kJTIwSHlkZSUyMFBhcmsuJTIyJTdEJTdEJTJDJTdCJTIyJTQwdHlwZSUyMiUzQSUyMlF1ZXN0aW9uJTIyJTJDJTIybmFtZSUyMiUzQSUyMldoYXQlMjBhcmUlMjB0aGUlMjBmcmVlJTIwdGhpbmdzJTIwdG8lMjBkbyUyMGluJTIwTG9uZG9uJTNGJTIyJTJDJTIyYWNjZXB0ZWRBbnN3ZXIlMjIlM0ElN0IlMjIlNDB0eXBlJTIyJTNBJTIyQW5zd2VyJTIyJTJDJTIydGV4dCUyMiUzQSUyMkV4cGxvcmUlMjBCcml0aXNoJTIwTXVzZXVtJTJDJTIwTXVzZXVtJTIwb2YlMjBMb25kb24lMkMlMjBWaWN0b3JpYSUyMGFuZCUyMEFsYmVydCUyME11c2V1bSUyQyUyMENyeXN0YWwlMjBQYWxhY2UlMjBQYXJrJTJDJTIwU2NpZW5jZSUyMEdhbGxlcnklMjBMb25kb24lMkMlMjBIeWRlJTIwUGFyayUyQyUyMFJveWFsJTIwRmVzdGl2YWwlMjBIYWxsJTJDJTIwQ292ZW50JTIwR2FyZGVuJTJDJTIwTGVpY2VzdGVyJTIwU3F1YXJlJTIwYW5kJTIwbWFueSUyMG1vcmUuJTIyJTdEJTdEJTJDJTdCJTIyJTQwdHlwZSUyMiUzQSUyMlF1ZXN0aW9uJTIyJTJDJTIybmFtZSUyMiUzQSUyMldoYXQlMjBpcyUyMHRoZSUyMGNoZWFwZXN0JTIwbW9udGglMjB0byUyMHRyYXZlbCUyMGluJTIwTG9uZG9uJTNGJTIyJTJDJTIyYWNjZXB0ZWRBbnN3ZXIlMjIlM0ElN0IlMjIlNDB0eXBlJTIyJTNBJTIyQW5zd2VyJTIyJTJDJTIydGV4dCUyMiUzQSUyMlNlcHRlbWJlciUyMHRvJTIwT2N0b2JlciUyMGlzJTIwY29uc2lkZXJlZCUyMGlzJTIwdGhlJTIwYmVzdCUyMHRpbWUlMjB0byUyMGJhcmdhaW5zJTIwb24lMjBmbGlnaHQlMjB0byUyMExvbmRvbi4lMjBBbmQlMjBhbHNvJTIwTm92JTIwMSUyMHRvJTIwRGVjJTIwMTIlMjBhbmQlMjBEZWMlMjAyNSUyMHRvJTIwTWFyY2glMjAxNCUyMGFyZSUyMHRoZSUyMGNoZWFwZXN0JTIwbW9udGglMjB0byUyMHZpc2l0JTIwTG9uZG9uLiUyMCUyMiU3RCU3RCUyQyU3QiUyMiU0MHR5cGUlMjIlM0ElMjJRdWVzdGlvbiUyMiUyQyUyMm5hbWUlMjIlM0ElMjJXaGF0JTIwaXMlMjB0aGUlMjBtb3N0JTIwdmlzaXRlZCUyMHBhaWQlMjBhdHRyYWN0aW9uJTIwaW4lMjBMb25kb24lM0YlMjIlMkMlMjJhY2NlcHRlZEFuc3dlciUyMiUzQSU3QiUyMiU0MHR5cGUlMjIlM0ElMjJBbnN3ZXIlMjIlMkMlMjJ0ZXh0JTIyJTNBJTIyVGhlJTIwdG93ZXIlMjBvZiUyMExvbmRvbiUyMHRoZSUyMG1vc3QlMjB2aXNpdGVkJTIwcGFpZCUyMGF0dHJhY3Rpb24lMjBpbiUyMExvbmRvbiUyMHdpdGglMjAyLjg2JTIwbWlsbGlvbiUyMHZpc2l0b3JzLiUyMCUyMiU3RCU3RCU1RCU3RCUzQyUyRnNjcmlwdCUzRSUzQyUyMS0tRkFRUGFnZSUyMENvZGUlMjBHZW5lcmF0ZWQlMjBieSUyMGh0dHBzJTNBJTJGJTJGc2Fpam9nZW9yZ2UuY29tJTJGanNvbi1sZC1zY2hlbWEtZ2VuZXJhdG9yJTJGZmFxJTJGLS0lM0U=[/vc_raw_html][/vc_column][/vc_row]