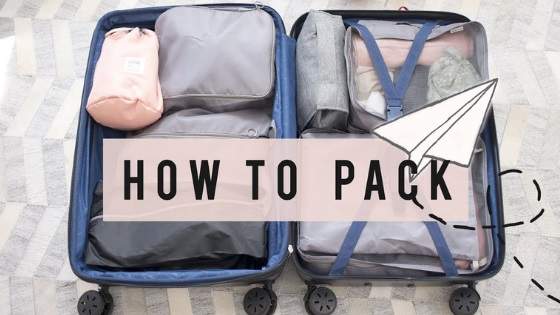 Travel Tips: 7 Best Tips for Packing light
Packing light is the key for any type of trip. Everyone wants to pack light. Few of you are successful and other cant's help but bring everything and the kitchen sink.
Packing light is hard but totally worth it!!! Once you pack smartly and light your life on trip becomes so much easier and you give yourself more chance to enjoy on trip like a free-flying bird.
Your packing list depends on:
Destination
Length of your trip
Weather
What you want to do on trip
So here we bring some expert tips or you can say packing rule which help you to pack your bag smartly and light:
Don't Take Bag
Sound funny??? According to travel writer and author Rolf Potts "the best advice for traveling light is not take a bag".
For me this is the best tips travel free without any bag is like a flying bird in the sky, tell me you thought in the comments.
Choose Right Bag
When it come to packing then size of the bag play a major role. So try to choose smaller bag because the simplest way to pack light is to give yourself less space. Smaller bag force you to prioritize the thing and reduce the temptation to keep adding more things.
Carry on sized bag make your packing more light and comfortable as compare to luggage. It will save luggage fee on airline and also overcome the hassle of dragging bags.
According to travel expert Adam Seper "Never buy a bag or suitcase that is bigger than carry sized. If your travel beg is small then there is no possible way to over pack."
And according to the travel blogger Tony Rulli "Buy a bag 10-20% smaller than you think you want than pack it full. Then return the backpack to the store and buy original size bag and pack what you stuffed into small size bag. Now your bag is lighter and you still have extra space for the stuff you buy along the way".
Always remember packing light required sacrifices!!!
You can't pack bag for every possible situation, you should only pack for a week or what you wear on the average day.
The 80 20 Principle
The Pareto Principle, 80 20 rule means 80% of the effect comes from the 20% of the cause!!!
Try to apply this while you packing your bag "20% of what you pack will represent 80% of what you wear".
Bring your core clothes or wardrobe those you wear over and over at home, those clothes will cover more than 80% of the situation you will face on your trip.
Pack light and stay flexible. Manage according to the situation; you'll get a better solution out of it that way.
Pack for only one Week
You can't bring clothes for every possible situation so try to pack for one week only. If you're traveling for more than a week or month then much easier to do laundry to carry week worth of clothing.
One week is enough time; you can easily choose clothes for one week. Try to bring versatile clothes with simple color which can easily mix with every item.
Try to give priority to that item which will be useful for multiple situations. Keep in mind that you can easily rent gear locally or find a cheap temporary solution. Always remember there are shops all over the world or online as well. So in case, you forget something you can easily buy it there yes they do have toothpaste and shampoo.
Expert Nick Huggins says "Only pack enough for a week, no matter how long is your trip. It is easier to find a Laundromat once a week as compared to carry all the extra weight with you for an entire trip".
Pack Layers not Bulk
Whenever you travel in cold weather or in multiple climates, dress in layer because heavy sweater or jackets take too much space in your bag but multiple thin layers eat less space and offer you more flexibility.
A Thermal shirt or merino wool base layers keep you warm and can easily mix with other items as well. Think about a city with cool morning, warm day and cool nights.
In case you're traveling in very cold weather then don't pack your jacket wear it, the whole trip will be gold.
Don't pack Heavy Item
Heavy item like shoes or woolen eats more space because of these item people can't pack light.
According to some experts "Wear it all at check in."
Fore Shoes
For most trips require two pairs of shoes so don't go with more than two pairs of shoes.
Wear the bulky shoes and pack the flats like you need a pair of sneakers for walking and pair of flats for hanging out.
Travel blogger Matt Long says "Don't pack more than two pairs of shoes. For guys especially because shoes eat lots of space so it is good to be selective while packing. Mostly I take a nice pair of sneaker for every situation like hiking, walking, happy hours etc. and a light pair of loafers for more dressy travel occasion".
Choose the right fabric
For pack light in any weather, consider the fabric you're wearing.
According to the Founder and Editor of Travel Fashion Blogger Alex Jimenez "Whenever you choose clothing for a trip once take a look at each item fabric and keep in mind the following factor quality, thickness, weight, wrinkles, transparency and texture. Your ideal travel clothing must be durable, eat less space and weight, matches with the rest of your clothing style is wrinkle free and opaque."
And according to the travel expert Blaine Ballard "The Key to packing light is your clothing choice. Always favor synthetic materials for undergarments and insulting layers in favor of cotton because they are lighter and eat less space. They also dry quickly if you need to launder while on road. Smart wool is another good choice".
Bonus Tips from Expert:
Founder of the BootsnAll travel network Sean keener says "No matter where you go, everywhere have 99% of what you need. You can buy almost everything you need, anywhere in the world.  So it's good to be pack 1/2 of what you think you'll need."
Taylor Welden says:
One pair of jeans is enough. A second pair only if you're going for more than week
List all items you think you need to bring on your trip. Then remove half of these items. You don't need all that stuff.
Don't use cotton socks. Use smart pair of socks made from wool and synthetics.
So here is some Packing light tips with expert advice, hope these will help you. If you know any tips then please share with us in comments and tell us about your favorite one from the above list mine is first.