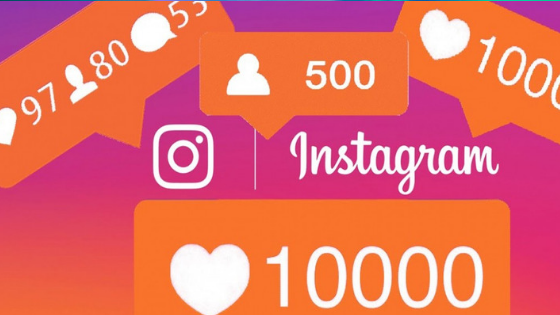 How to Get First 1000 Followers on Instagram
Ohh Instagram!!! In the last 5 years, Instagram became one of the top social media platforms with more than billions of active users.
From last 2 year, the user base of Instagram users get doubled and after the launch of Instagram stories in August 2016 with that the growth of Instagram has exploded.
You know 80% of the account on Instagram following a business; it appears as though advertisers may be sharper than any other time in recent time to get to know Instagram for their business.
If you have a target audience who loves visual content, then you can't afford to ignore the platform like Instagram which see more 100 million photos update every day.
Having larger Instagram family means more sale of business, more views on your blog or strong community for your brand.
If I talk about engagement rate which is the key factor for any business then Instagram has average of 4 times the engagement than on Facebook.
So, today I'm going to tell you some actionable tips to help you to grow your Instagram account from 0 to 1000 follower:
Try to be original and unique
The basic but most important rule that whatever you posting on Instagram that should be original and unique. Don't try to use someone other content because like Google Instagram is very strict to its privacy policy. So be honest, use your cannon or mobile camera for good picture then post it.
Remember one things is that Instagram is visual platform so whatever you're posting it should be in good resolution and clear.
Like Pictures of Your Niche
If you want other user discover your account genuinely then go through and like 5-10 photos of someone account and give some genuine comments. This leads to your name out there and allows other user to discover you.
I know it's old one and very boring but in starting you have to give yourself chance to reach out your account to other users. For ex: You open your account and you notice that someone likes you 10 pictures and put 2 to 5 comments than 70% chance that you discover his/her account and may be you follow them.
It's not a follow for follow or likes for likes technique, it's a genuine one in which you have to reach out your niche accounts and give them a chance to visit your profile. But be in limit because Instagram allows you to 150 likes in one hour. If you overdo then there is a chance that Instagram shadowban your account.
Make a Proper Hashtag Strategy
HashTag is the only way to reach out to the huge amount of people in a very short time. So try to make a good hashtag strategy.
List down the all possible hashtags those relevant to your niche (Use only those hashtag which are relevant to your niche) and try to make a good mix-up of all hashtags, use them in your post.
One thing you should keep in minds that don't overuse one single hashtag because this can lead to shadowban your account. So, try to use one hashtag once or twice in a day.
Utilize Instagram Stories
Instagram users get double after the launch of stories in Instagram. So why don't you use stories to increase your reach???
Instagram stories can be a good option to boost up your reach. So try to put some interesting thing in stories with one or two hashtag and give users more chance to interact with you. A good hashtag will boost your stories view (From 100 to 1000).
One interesting thing about Instagram bot is that it keeps close eyes on your activity like what are you searching, what are you watching, and what are you uploading? Means everything you do on Instagram. So stories can be a good option to tell Instagram bots that who you are? and what you trying to do.
Avoid Instagram Shadowban
Most of you may be heard about the term "Instagram Shadowban" . It is a ambiguous term that means the user content doesn't show up in hashtag searches or in followers feeds due to various reasons. It directly affects the engagement of your content.
Indirectly shadowban restricting the visibility of your content due to this your engagement getting low and you get less interaction, fewer likes or follower. So try to avoid Instagram shadowban.
There is one problem about Instagram shadowban is that you don't get any message or warning before your account get shadowban, you have to analyze it by Instagram insight or activity. But you don't have to worry about that, here is the
All possible reason behind why your account gets Shadowban? And how to avoid Instagram Shadowban?
Due to the use of broken hashtag or using one hashtag multiple times. So try to vary all hashtag in a different-2 post. So you can get full advantage without getting shadowban.
Follow the likes for likes or follow for follow account or using artificial bots. Like Google, Instagram is very smart, Instagram keep an eye on your each activity. So don't use any artificial bots to increase your follower rapidly.
Due to use inappropriate comments. Most of active Instagram user may see a comment like this "You have an amazing account, I would be happy if you follow me" or "Likes for likes" or "Follow for follow" not exactly but something like these comments. And sometime you may have seen that these long comments publish after 1 second of posting the content that is not practically possible. So try to avoid these types of comments.
You're violating the Instagram terms and services
Exceeds the limit of daily and hourly limits. Depending on the age of your account, your daily or hourly limits may vary but most of time it will be 150 likes, 60 comments and 60 follows or unfollows per hour.
In any case if you face Instagram shadowban then follow these steps:
Switch your profile, business to personal or personal to business after switching get back to old one
Try not to use the shadowban hashtag for at least 3 to 4 days
Switch off your account for 3 to 4 days
In some case shadowban last of 3 to 4 days or a week or a month so be patient.
All of the above mention tips test by myself and these works for me. So if you use them properly then these tricks works for you as well. Hope you enjoyed it!!! And if you know any other trick than let us know in below comment section.