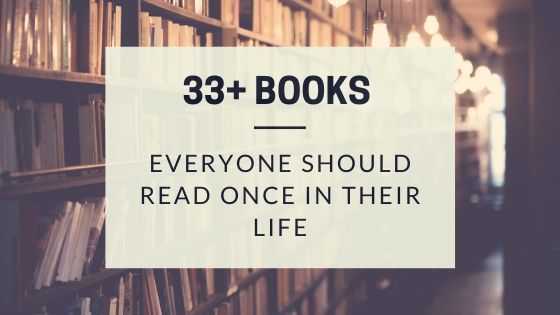 33+ Books Everyone Should Read Once in their Life
Books are the best friend of human because they never lie. Books open the doors of our minds, allowing us to live a full life and travel the world without moving an inch from our comfort zone.
One of my friends says that everyone should read books because books contain the best part of someone's life. So, you can take a lesson from the author life and can make your life better. I know everyone has a different story but mistakes can be the same.
Whenever we read books, we step into someone's life, we see the world through someone's eyes and visit all the places visually which we didn't visit practically.
Books motivate us and teach some important lessons of life like love, heartbreak, friendship, happiness and the resilience of human spirits.
There are so many books but there is less time. So we bring the collection of 23 books everyone should read once in their life according to your interest:
Frequently Asked Questions:
Here are te 10 books everyone should read: the charisma myth by olvia fox, The Great Gatsby by F.Scott Fitzgerald, As a Man Thinketh By James Allen, Pride and Prejudice by Jane Austen, Srimad Bhagavad Gita, The Lord of the Rings by J.R.R Tolkien, The Book Thief by Markus Zusak, The Mahabharata by Ved Vyasa, The Catcher in the Rye by J.D. Salinger and Anything you Want by Derek Sivers.
The Guiness Books of the world record holder Remembrance of Things Past by Marcel Proust is longest book of the world with 9,609,000 characters.
Codex Leicester by Leonardo da Vinci is the world most expensive book with $52.1 million. This book is own by Bill Gates in 1994.
So here is my list of 23 books everyone should read once in their life. If you have read any of the books from the above list then share your thought with us and if I miss your favorite book then let me know in the below comment section.
Hope you love them. Cheers, until next post!!!