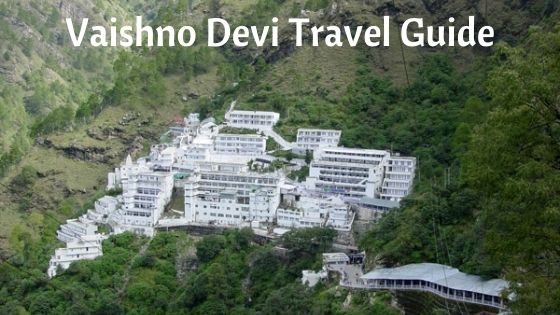 The Ultimate Travel Guide to Vaishno Devi Temple
---
Located on the top of scared Trikuta Mountain, 13 KM from Katra in Jammu Kashmir, Mata Vaishno Devi tucked into a beautiful, ancient cave. Vaishno Devi Temple is one of the most visited temples of India, devotee of Goddess Vaishnavi from all over the world come here to take the blessing of Vaishno Devi.
Check out: Top 10 Temples in India
On Mata Vaishno Devi shrine people make traditional offerings like Chunri, dry fruits, sarees, flowers etc. This place considered the most important shaktipeeth in the Indian subcontinent. And Goddess Vaishnavi symbolizes shakti (power) in the 33 Hindu Gods.
History Behind Vaishno Devi Temple:
Vaishno Devi popularly known as Vaishnavi, Ambe, Matarani, Durga and Trikuta is the incarnation of the Mother Goddess. According to the Legends, the Vaishno Devi shrine is millions of years old.
According to Hindu Scripture, in Terta Yuga Vaishno Devi had incarnated as a beautiful Princess in Sripuram as a Shakti (power) of Tri Devi Goddess Parvati, Saraswati and Lakshmi for the welfare of humanity. She did penances in the cave of Trikuta Mountain. And when the time came her body merged into the astral form of three divine energy which is known as Mahakali, Mahalakshmi and Mahasaraswati.
Also Read: 13 Unsolved Mystery of Mount Kailash
Popular Story of Pandit Sridhar:
The most recent and most popular story about the shrine of Vaishno Devi is about a Hindu Priest, Sridhar. According to Hindu Legend, Pandit Sridhar and his wife were very devoted to Mata Vaishno Devi. Once Goddess Vaishnavi came in his dream and instructed him the way to establish her adobe on Trikuta Hills. After that, he starts the journey and found the cave.
Then Vaishno Mata appeared in her true form and blessed him with four sons and also gave him the boon of being the caretaker of the Cave. Till now his descendant follows the commitment.
Best time to visit:
Vaishno Devi Temple is open throughout the year but the best time to visit it between months of March to October because of cool and pleasant weather. A lot of pilgrims visit Vaishno Mata during the Navratras For more Check this
How to reach Vaishno Devi Temple:
Situated 15 KM away from Jammu from Katra town in Jammu Kashmir, at 52,000 ft in Trikuta Mountain, Goddess Vaishno Devi manifests herself in the natural Cave. A tunnel is used by the devotee to reach the holy site of Vaishno Devi. There are two new tunnels are built to make your journey easier.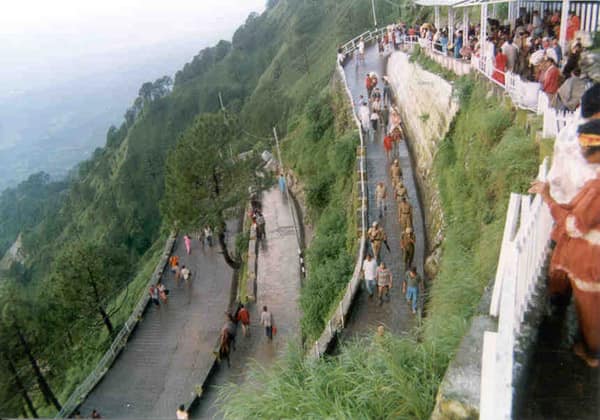 Reaching Katra: Katra is a small town located in Jammu Kashmir. To reach the Vaishno Devi shrine first you have to reach Katra and then you have to 15 KM trek to take the blessing of Goddess Vaishno Mata.
By Train: Katra is home of Sri Vaishno Devi Katra Railway Station which is the nearest railway station to the holy cave of Vaishno Devi. You can get a train to reach here from every big city in India. The train is the most affordable and comfortable medium to reach Vaishno Devi temple.
By Road: Regular bus services are available to reach here. You'll get buses from every big place of India Delhi, Punjab, Jammu Tawi etc. at an affordable price.
By Flight: Jammu Airport is the nearest airport to reach Katra at a distance of 49 KM. From there you can use local transport to reach Katra.
Local Transport: Taxis are the most affordable and popular mode of transportation. To reach the holy cave either you can trek 15 KM distance from Katra or take ponies, palanquins and helicopter ride as well.
Places to Stay near Vaishno Devi Temple:
For the pilgrim's convenience, Vaishno Devi Shrine Board provides a large number of economical accommodation options in Katra. Due to a large number of pilgrims you need to book well in advance.
---
Book Your Hotel Near Vaishno Devi Temple
---
Things you should know before Starting Vaishno Devi Yatra:
The Yatra Slip or Parchi is must be obtained by all pilgrims and is available at the registration counter in Katra.
If want to skip the crowd and want comfortable darshan then try to skip the peak season of Navratras and holidays. You can also check the number of pilgrims visiting at any time on the official website by the Vaishno Mata Shrine Board.
If you're not comfortable in walk while trekking then you can take ponies as well. Helicopter services are also available.
Before taking ponies, porters, palanquin do conform rates.
Facilities like blanket stores, banks, postal services and medical help are available at the Bhawan for the convenience of pilgrims.
Cameras are not allowed on treks so it is good to leave them in locker.
Alcohol is strictly Ban in Katra and Vegan is available in Katra.
Dress appropriately.
Chanting slangs inside the cave is strictly prohibited.
Don't offer any cash or jewelry to Pandits (priest).
For more information visit: Shrine Board of Vaishno Devi
Things to do at Vaishno Devi Temple:
Ardhkuwari, Bhairavanath temple, Dera Baba Banda and do some shopping in Katra.